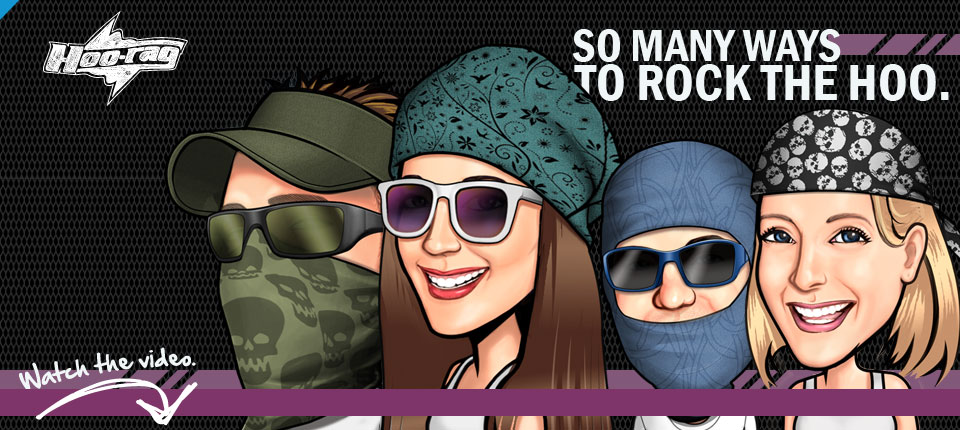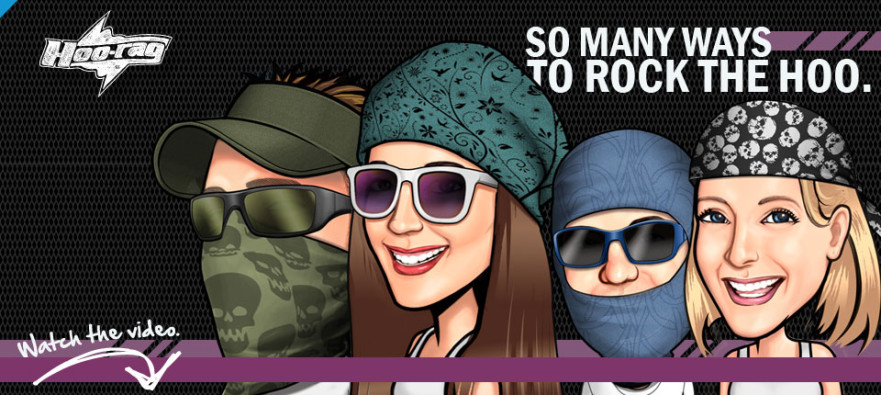 UPDATE: WINNERS ANNOUNCED
Congratulations to all five winner
Valonda Steward, Cynthia Blogs, Karen Dawkins, Deborah Williamson and Daniela Cirillo
Thank you all for participating in the giveaway!
Welcome to the Hoo-Rag Review and Giveaway! Five lucky winners will be chosen at random via PunchTab, to receive their own Rockin Hoo-Rag.
I only do reviews and giveaways for products related to the culinary genre, so you may be asking yourself why I've decided to review a bandanna originally manufactured for sports enthusiasts.  The answer, I believe the Hoo-Rag has great crossover appeal for those working in the culinary arts and professional kitchens. The Hoo-Rag is a fashionable, sanitary head covering for the professional chef and kitchen staff alike.    Hoo-Rag bandannas are seamless cotton-polyester, blended micro-fiber that is light weight, moisture wicking, and fun to wear. Check out Hoo-Rag Chef Bandanas.
FORM AND FUNCTION:  Individuals Rocking the Rag, use them as a traditional bandanna, a beanie, neck gaiter, and so much more.  Chefs, anglers, snowboarders/snow skiers, construction workers, shooting sport enthusiasts, SWAT team members, runners, mountain bikers, backpackers/hikers, and motorcycle enthusiasts and the list continues to grow.
There's no one better than an executive chef to put the Hoo-Rag to the test, so I enlisted my friend Chris Eastment, Executive Chef at JuJu's Bakery and Café, to spend some up-close and personal time with the Hoo-Rag.   After sporting the Hoo-Rag for a week, this is what Chris had to say.
PROS:
1. The Hoo-Rag was light weight and comfortable to wear in a hot kitchen, "I really like the product!"
2. "It preformed the job of a traditional bandanna, keeping my hair covered and containing perspiration."
3. "The material seemed thin at first, but were really durable and offered many fashionable styles and uses."
4. Colorado has seen below zero temperatures over the past few weeks, "the Beanie-Rag kept my head warm, and when I forgot to adjust the style back to a bandanna before work, my head became very hot."
5. "The Hoo-Rag is best worn in the traditional bandanna style in a professional kitchen."
CONS: None!
Thank you, Chef Chris for taking the time to sport the Rag and offering such a glowing review!
Hoo-Rags can be custom ordered with companies logo, special themed designed, or you can choose from the dozens of colorful and eclectic styles already featured at hoorag.com.
Enter the Giveaway today for the chance to win one of five free Hoo-Rags!  Tell your friends too!
[email protected] 1-888-831-9344
At Home with Rebecka will not be held responsible for the actions of advertisers or sponsors. If a reader purchased a product or service based on a link from this blog, the reader must take action with that company to resolve the issue.
Disclosure: You should assume that the owner of this website is an affiliate for providers of goods and services mentioned on this website. The owner may be compensated when you purchase after clicking on a link. The owner may also have received the product for free. Perform due diligence before purchasing from this or any other website.  Compensation received from advertisers and sponsors will never influence the content of this blog.
The potential Prize winners will be selected in a random drawing to be held after Feb. 18, 2013, 7 p.m. (UTC). Winners will be selected from entries received during the Sweepstakes Period. Odds of winning will depend on the number of eligible entries received during the Sweepstakes Period. The potential winners will be notified via email to the email address submitted with the potential winner's entry within twenty four (24) hours after the drawing. The drawing will be conducted by Sponsor, the judge of the Sweepstakes, whose decisions on all matters relating to the Sweepstakes shall be final and binding. In the event that a potential winner is disqualified for any reason, Sponsor may, in its sole discretion, award the applicable prize to an alternate winner selected at random. Any return of prize notification or prize email as undeliverable will result in forfeiture of any prize and an alternate winner may, at Sponsor's discretion, be randomly selected.
PRIZES: One free Hoo-Rag to 5 lucky winners!. Prize will be delivered after Feb. 18, 2013, 7 p.m. (UTC). The Prize will be delivered to the winning entrant's address or at the sole option and discretion of the contest sponsor to a recipient designated by the contest winner. Prizes are not transferable and are not redeemable for cash. All taxes and other charges are responsibility of the winner. No substitutions allowed. All expenses not specifically mentioned herein are not included as part of any Prize package, and are solely the winner's responsibility.
See Official Rules for more details.