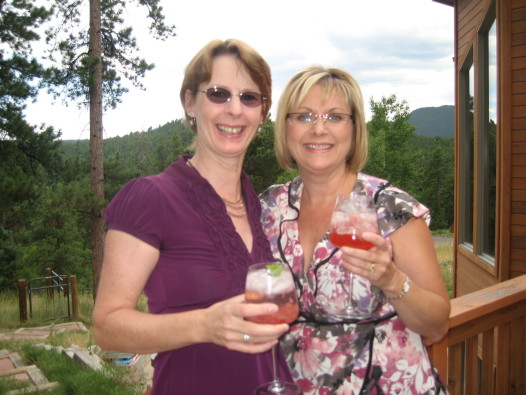 Green Pea Soup, Blueberry Scones and Mixed Green Salad with Fresh Peach Vinaigrette
Reunion Lunch with my BFF Kathie
I've had a good chuckle over the years listening to my two daughter's talk about having a Best Friend for Life, you know the kind they call a "BFF",  but after my recent reunion lunch with my long time friend Kathie, I had to take a step back and look at the possibility that I too, might just have a BFF.
I believe that there are very few "true friends" in our lifetime but the few we have, we cherish with all of our hearts.   If I had to define a BFF, that person would be the kind of friend that after being apart for years you pick your friendship right where you left off.  Six days, six weeks, six months or even six years; no matter how long it's been since the last time you were together, it seems as if no time has passed; never missing a beat. Kathie is that kind of friend!!
I met Kathie when our children were in preschool together.  It seems like ions ago that our children were that young.  Kathie's oldest is now attending college, my oldest is married, and has blessed our family with two beautiful daughters.  How time flies!!
I haven't seen Kathie since we moved to Florida five years ago and now that I've been back in Colorado for several months, I knew we were long over due for a visit.
I invited Kathie to my home for a reunion lunch excited to catch up on the past five years and share some much-needed girl time.  Sharing great food and great conversation with a great friend is the perfect trifecta!
I made lunch and Kathie brought dessert.  Lucky for me, Kathie is a Manager for Dove Chocolate Discoveries! Her business is going great and I had the pleasure of tasting one of her personal creations, Cabernet Mousse Delights with Cabernet Raspberry fudge sauce. Yum!  Don't worry, I've included her recipe here too!
~Reunion Lunch Menu~
Blueberry Scones
recipe from the kitchen of LivLife 

Green Pea and Cilantro Soup
from the kitchen of my dear friend Karen Baldwin

Mixed Greens Salad with Fresh Peach Vinaigrette
from the kitchen of At Home With Rebecka
Cabernet Mousse Delights 
from the kitchen of Kathie S
@ www.Dove-Chocolate-Discoveries.com/sites/Kathie
From the kitchen of At Home with Rebecka
Green Pea and Cilantro Soup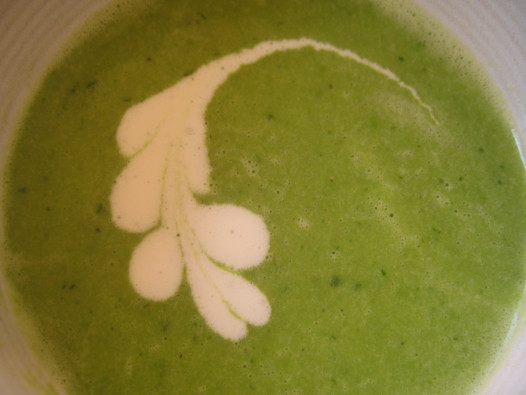 Recipe
4 tablespoons butter
1 cup chopped onion
1 whole green chili pepper seeded and chopped
3 cups frozen green peas
4 cups chicken stock
2 table fresh cilantro chopped
salt and pepper to taste
Melt butter over low heat and sweat onion, garlic and chili for 3-4 minutes, add peas and cover with stock. Bring to a boil and simmer for 7-8 minutes, add freshly chopped cilantro and purée in blender or food processor till creamy, reheat if needed. Season with salt and pepper adding just a pinch of sugar to enhance the flavor. Serve with a swirl of softly whipped cream and a few fresh cilantro leaves.
serves 6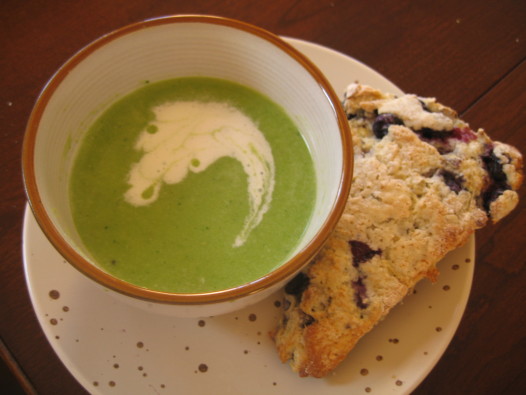 Image by LivLife
Lemon Blueberry Scones
recipe from LivLife
2 cups unbleached flour, plus more for rolling berries
1 tablespoon baking powder
¼ cup unsalted butter, chilled and cut in chunks
¾ cup buttermilk or cream
1 cup fresh blueberries (substitute frozen... do not thaw)
milk for brushing (optional)
raw sugar for sprinkling (optional)
Method:
In a large bowl, sift together flour, baking powder, salt, sugar and lemon zest; mix thoroughly.  Cut in butter using 2 forks, a pastry blender or your fingers. The butter pieces should be coated with flour and resemble crumbs.
In another bowl, mix the buttermilk and the egg together, and then add to the flour mixture. Mix just until partially incorporated, do no overwork the dough.
Toss the blueberries in flour to coat, this will help prevent the fruit from sinking to the bottom of the scone when baked. Fold the blueberries into batter, being careful not to bruise.  Pour sticky dough out onto a well floured surface.  Pat to a ¾ inch height and cut with a pizza cutter into desired triangles or squares.  Place on a non stick baking mat or a baking sheet sprayed lightly with cooking spray.  If desired, brush the tops of the scones with milk and sprinkle with raw sugar.
Bake for 15 to 20 minutes until brown.
Optional: Add lemon glaze for a sweeter version, cool before applying lemon glaze.
Sadly...this is my ugly duckling version...however, all was not lost!  I whipped up a big bowl of sweet whipped cream and we ate our fill!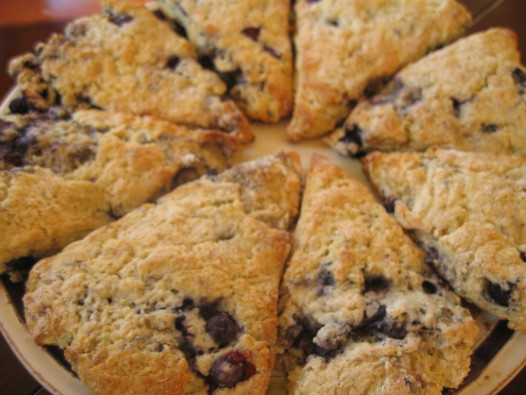 Fresh Peach Vinaigrette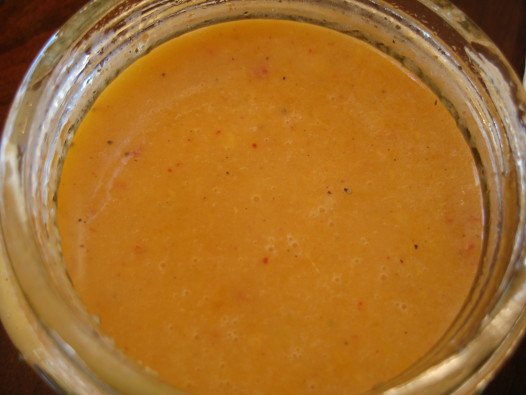 Recipe
¼ cup rice vinegar
¼ cup olive oil
⅛ teaspoon sea salt
1 tablespoon honey
⅛ teaspoon fresh ground black pepper
1 teaspoon green onion chopped white part only
½ juice from ½ lime
1 small ripe peach peeled and stone removed
Method:
Mix together first seven ingredients in a mason jar, cover with lid add shake until honey dissolves,  peel and pit  fresh peach, cut peach into small pieces and place into a small food processor, pour vinaigrette over peaches and blend until smooth.  Toss greens lightly with dressing.  Add fresh sliced tomato wedges for added color and flavor.
Fresh Peach Vinaigrette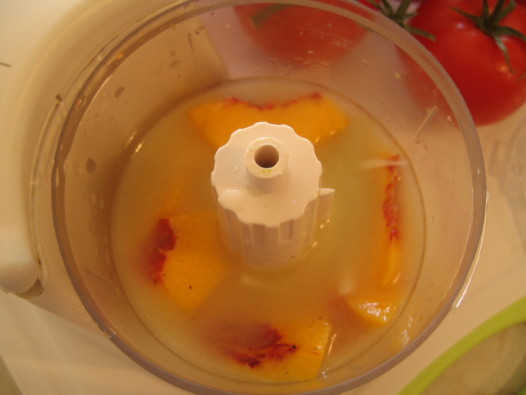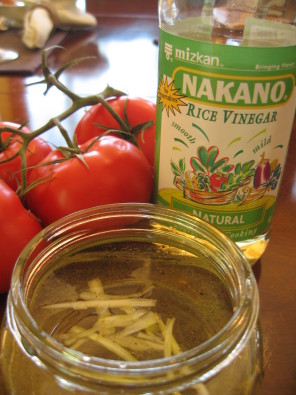 Sorry, no photo of the salad...we ate it all before I remembered to take a photo..
Strawberry Italian Sodas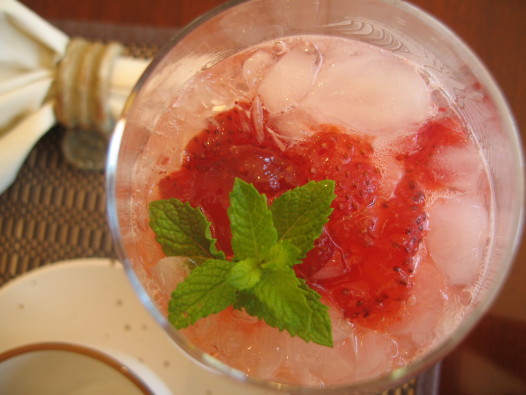 Recipe
4 tablespoons strawberry syrup, I substitute a batch of strawberry jam I canned earlier this month.  The jam didn't jell correctly but it was a great addition to the sodas.  It tasted amazing with the addition the chunky fruit floating about the glass.
1 8 ounce glass ¾ filled with crushed ice
1 bottle Soda Water
1 bottle Tonic Water
mint leaves
1 ½ pint Half and Half optional to make Italian Cream Soda
Method:
Fill glass with crushed ice leaving about ¼ inch head space, add strawberry syrup, fill ½ of the glass with soda water, next ½ with tonic water, garnish with mint and serve.  For Cream Soda add in ¼'s and fill the last ¼ with half and half.  Enjoy
Cabernet Mousse Delights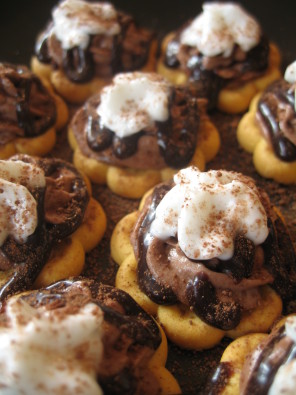 Ingredients:
1-packet Dove Chocolate Discoveries Chocolate Mousse Mix
2-bars (4 oz.) Dove Chocolate Discoveries Chef Series Dark Chocolate
¾-cup Heavy whipping cream
1-package Sugar Free Shortbread Cookies
Dove Chocolate Discoveries Cabernet Raspberry Fudge Sauce
Cocoa powder or Dark Sipping Chocolate powder
Mousse:
~Break the dark chocolate into pieces and melt in the microwave at high power in 20-30 second intervals. Stir between each interval and continue until the chocolate JUST melts. Let it cool slightly at room temperature.
~Pour whipping cream into a medium mixing bowl along with the Mousse Mix and whip the cream on medium to high-speed to light peaks. With a spatula or spoon mix in the melted dark chocolate until fully blended. Be sure chocolate is not too hot when mixing with the whipped cream as the chocolate might form small "flecks" in your mousse.
Cookies:
Spoon mousse into a pastry bag with a star tip and pipe the mousse onto each cookie, refrigerate until mousse has set up. Just before serving, drizzle each cookie with the Cabernet Raspberry fudge sauce, add a small dab of whipped cream to the top and sprinkle with cocoa powder to taste.
Add some SWEETNESS to your day...host a chocolate tasting party!
Chocolatiers wanted...business is SWEET! No Experience necessary!
Kathie Scrimgeour
Manager
Dove Chocolate Discoveries™
www.Dove-Chocolate-Discoveries.com/sites/Kathie
"The glory of friendship is not the outstretched hand, nor the kindly smile, nor the joy of companionship; it is the spiritual inspiration that comes to one when he discovers that someone else believes in him and is willing to trust him with friendship." -Ralph Waldo Emerson