Idaho Potato Bacon and Cheddar Soup & Rutabaga Votives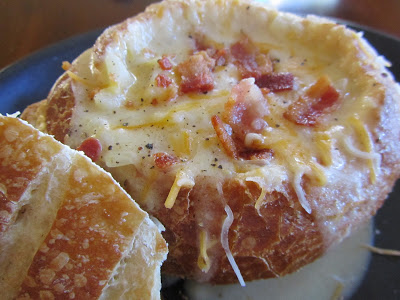 Now that the weather has turned I'm pulling out all my Fall favorite recipes.  Soup has top billing at my house this time of year! My family is always eager to gobble up a warm bread bowl filled with Idaho Potato Bacon and Cheddar Soup.
I've also added a little crafting project to this post inspired by Martha Stewart's Pumpkin Votive Holders and  Apple Votive Holders.   Simple to make and elegant to behold Rutabaga Votive have a natural beauty that will add a new twist to your Holiday table.
Recipe
3 tablespoons chicken base
5 ½ cups shredded cheddar cheese
1 cup half and half cream 
salt and fresh cracked black pepper to taste
Method
Brown rough chopped bacon in a heavy bottom stock pot on medium high heat until crisp, remove cooked bacon and set aside, drain excess fat from pan leaving about 2 tablespoons to sauté onions.  Cook chopped onion until translucent, add cold water, chicken base, bay leaf and chopped potatoes, bring to a boil, reduce heat to medium and add salt and pepper to taste. 
Cook for 30 minutes or until potatoes are fork tender, gently mash the potatoes with a potato masher to thicken soup making sure to leave about half of the potatoes chunky. 
Reduce heat to low, add table cream and 5 cups cheese, reserve ½ cup for garnish and stir until cheese has melted, do not boil.  Add more salt and pepper to taste.
Cut a hole in the top of the bread rounds, set topper aside, create a reservoir in the bread round by pinching out the soft center, leaving a 1/12 inch thickness.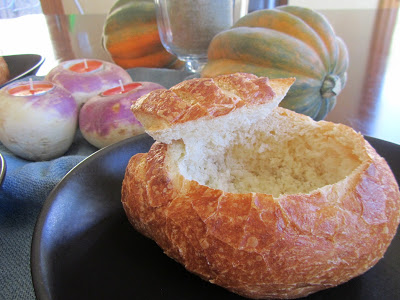 Ladle hot soup into bread bowls and garnish with remaining cheese and crumbled bacon.  Serves 6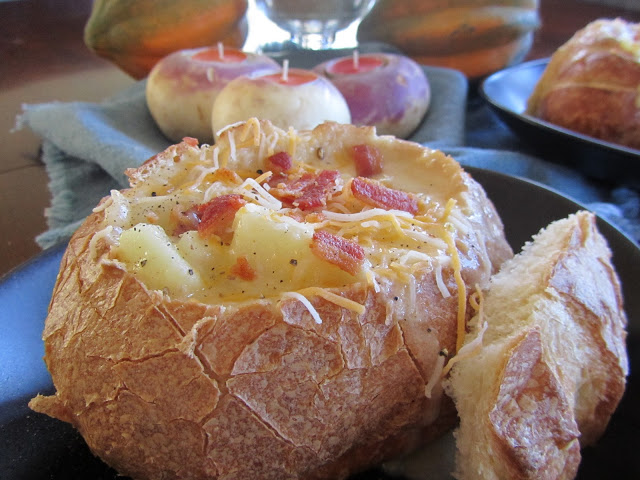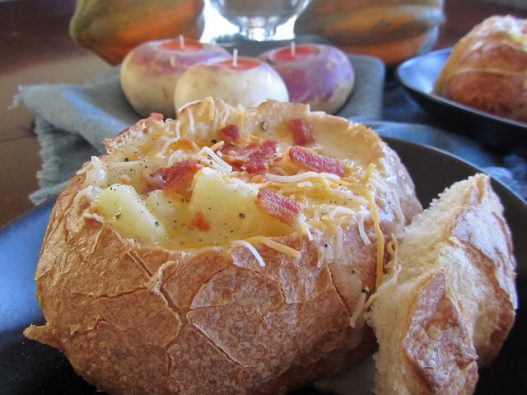 To make Rutabaga Votives
Using a melon ball-er, carve out a well in the center of the root end of the rutabaga, if the bottom of the vegetable is uneven use a sharp knife to create a flat bottom.  Fill with votive candles. Optional, carve a deeper well leaving a very thin layer of rutabaga.  This will create a glowing candle.