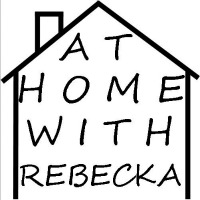 Terms of Use
All content on this blog are the author's personal views and opinions. The information provided is solely for entertainment and does not constitute any legal, medical, or other professional advice. It is not to be taken as fact nor absolute truth and it is not the author's intention to do harm or to injure others. The author will not be held responsible for advice, tips, techniques, and recommendations used. Readers of this blog are to use it at their own free will and at their own risk.
This disclaimer governs your use of athomewithrebecka.com. By using this website, you accept this disclaimer in full. If you disagree with any part of this disclaimer, do not use athomewithrebecka.com or any affiliated websites, properties, or companies. We reserve the right to modify these terms at any time. You should therefore check back periodically for changes. By using this website after we post any changes, you agree to accept those changes, whether or not you have reviewed them.
All information and resources found on athomewithrebecka.com are based on the opinions of the author unless otherwise noted. All information is intended to motivate readers to make their own nutrition and health decisions after consulting with their health care provider. I am not a doctor, lawyer, psychiatrist, therapist, or your mother, and I don't play one on the internet.
The author of this site encourages you to consult a doctor before making any health changes, especially any changes related to a specific diagnosis or condition. No information on this site should be relied upon to determine diet, make a medical diagnosis, or determine treatment for a medical condition. The information on this website is not intended to replace a one-on-one relationship with a qualified health care professional and is not intended as medical advice.
NO information on this site should be used to diagnose, treat, prevent or cure any disease or condition.
By reading this website, you acknowledge that you are responsible for your own health decisions. Do not take anything from any website, including this one, and try it without proper research and medical supervision.
Any statements or claims about the possible health benefits conferred by any foods or supplements have not been evaluated by the Food & Drug Administration (FDA) and are not intended to diagnose, treat, prevent or cure any disease.
Athomewithrebecka.com reserves the right to remove, edit, move or close any content item for any reason, including, but not limited to, comments that are in violation of the laws and regulations formed pursuant to the Federal Food, Drug and Cosmetic Act.
FTC Disclosure:
The FTC requires bloggers to disclose whenever there is a financial interest or bias related to a recommendation or whenever a blogger's opinion may be financially motivated in any way. More importantly, I have a desire to always be transparent and honest with readers and to disclose how I make money from this website.
Some posts may contain affiliate links and/or links to outside sites. By clicking on an affiliate link it is at NO cost to you. Review posts are my own opinions and I am not paid to review the products unless I state otherwise. I only recommend products that I feel are good for my readers. Giveaways on this blog are under the discretion of the host of the giveaway and I am not responsible for shipping unless notified in the post itself. I am disclosing this in accordance with the Federal Trade Commission's 16 CFR, Part 255: "Guides Concerning the Use of Endorsements and Testimonials in Advertising.
Copyright
All text, images, and other content are the property of At Home with Rebecka unless otherwise noted, and may not be used for personal profit. You are welcomed to link to this blog, and to discuss its content in a respectful manner. Use of material from this blog according to fair dealing practices requires proper acknowledgment. When quoting or linking to this blog, please include At Home with Rebecka in the link and a permalink to that page. None of the posts and articles on athomewithrebecka.com may be re-printed without express written permission of the author. At Home with Rebecka will respond to written requests to re-print parts of posts and excerpts/quotes (10% or less) may be reprinted with attribution as long as all links are left intact.
Reserved Rights
The author reserves the right to change the focus of this blog, shut it down, sell, or change the terms of use at her discretion.
Content Validity and Accuracy
Mistakes can be made and every attempt will be made to correct those errors. However, validity and accuracy of content may also change over time and information may become outdated.
Comments
Comments on this blog are the sole responsibility of the commenter and the commenter will take full responsibility and liability for that comment. The accuracy and validity of comments are not guaranteed. At Home with Rebecka will not be responsible nor held liable for such comments. At Home with Rebecka reserves the right to edit, delete, or not publish a comment that is deemed to be disrespectful, hateful, defamatory, or libelous.
Advertisers and Sponsors
At Home with Rebecka will not be held responsible for the actions of advertisers or sponsors. If a reader purchased a product or service based on a link from this blog, the reader must take action with that company to resolve the issue.
You should assume that the owner of this website is an affiliate for providers of goods and services mentioned on this website. The owner may be compensated when you purchase after clicking on a link. The owner may also have received the product for free. Perform due diligence before purchasing from this or any other website.  The compensation received from advertisers and sponsors will never influence the content of this blog.
Limitations of Liability
In no event shall the author be liable for any damages or losses sustained while reading and enjoying the author's personal views and opinions.
Privacy
The owner of this blog does not share personal information with third-parties nor does the owner store information is collected about your visit for use other than to analyze content performance through the use of cookies, which you can turn off at anytime by modifying your Internet browser's settings. The owner is not responsible for the republishing of the content found on this blog on other Web sites or media without permission.
Blog Comments
The owner of this blog reserves the right to edit or delete any comments submitted to this blog without notice due to;
1. Comments deemed to be spam or questionable spam
2. Comments including profanity
3. Comments containing language or concepts that could be deemed offensive
4. Comments that attack a person individually
Terms and Conditions
All content provided on this blog is for informational purposes only. The owner of this blog makes no representations as to the accuracy or completeness of any information on this site or found by following any link on this site. The owner will not be liable for any errors or omissions in this information nor for the availability of this information. The owner will not be liable for any losses, injuries, or damages from the display or use of this information.
This policy is subject to change at anytime.