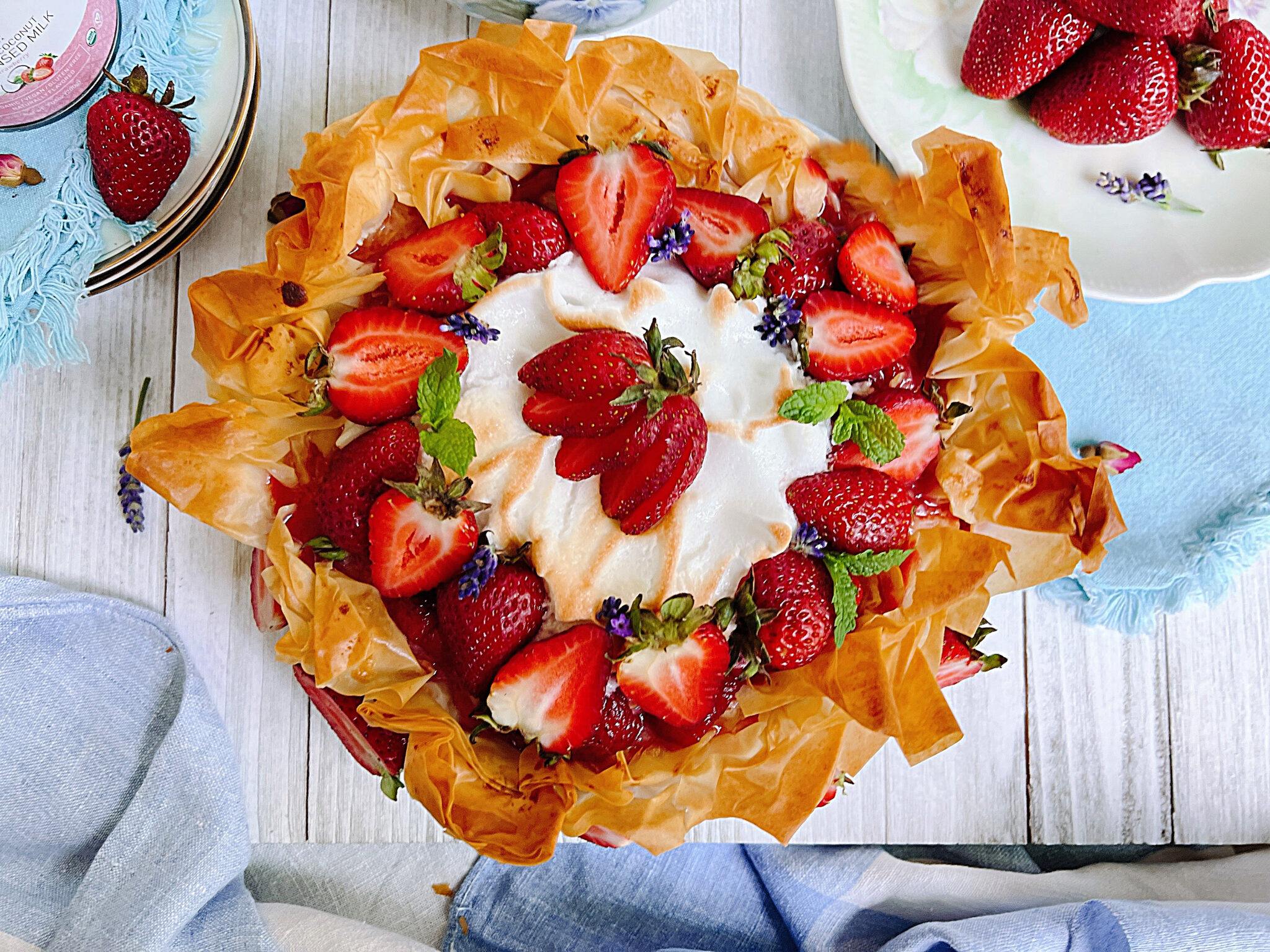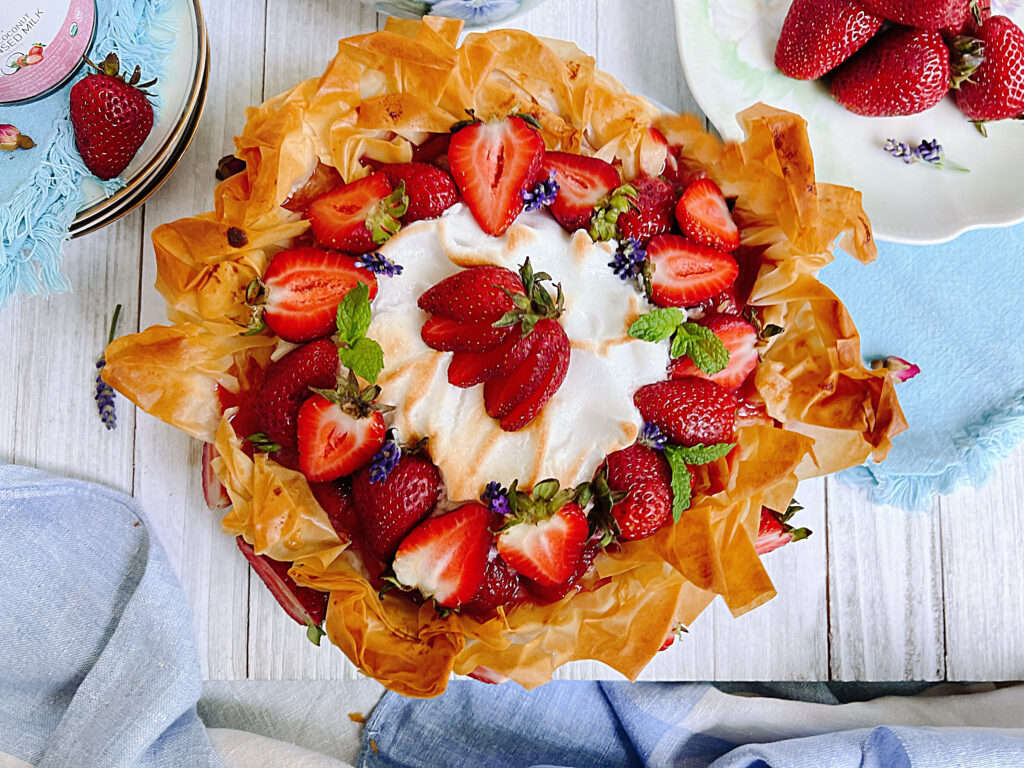 Mementa Strawberry Crème
My sweet friend and owner of The Jelly Queens, Donna Collins recently gifted me a new product line to do some recipe testing. It's one of her new favorites from Mementa, an organic coconut company that makes sweetened condensed coconut milks.
Perfect for a vegetarian, gluten, milk-free diet with the same smooth consistency and appearance of traditional condensed milk. A unique delicious taste with a subtle hint of coconut. Available in Vanilla, Coffee, and Strawberry flavors.

www.thejellyqueens.com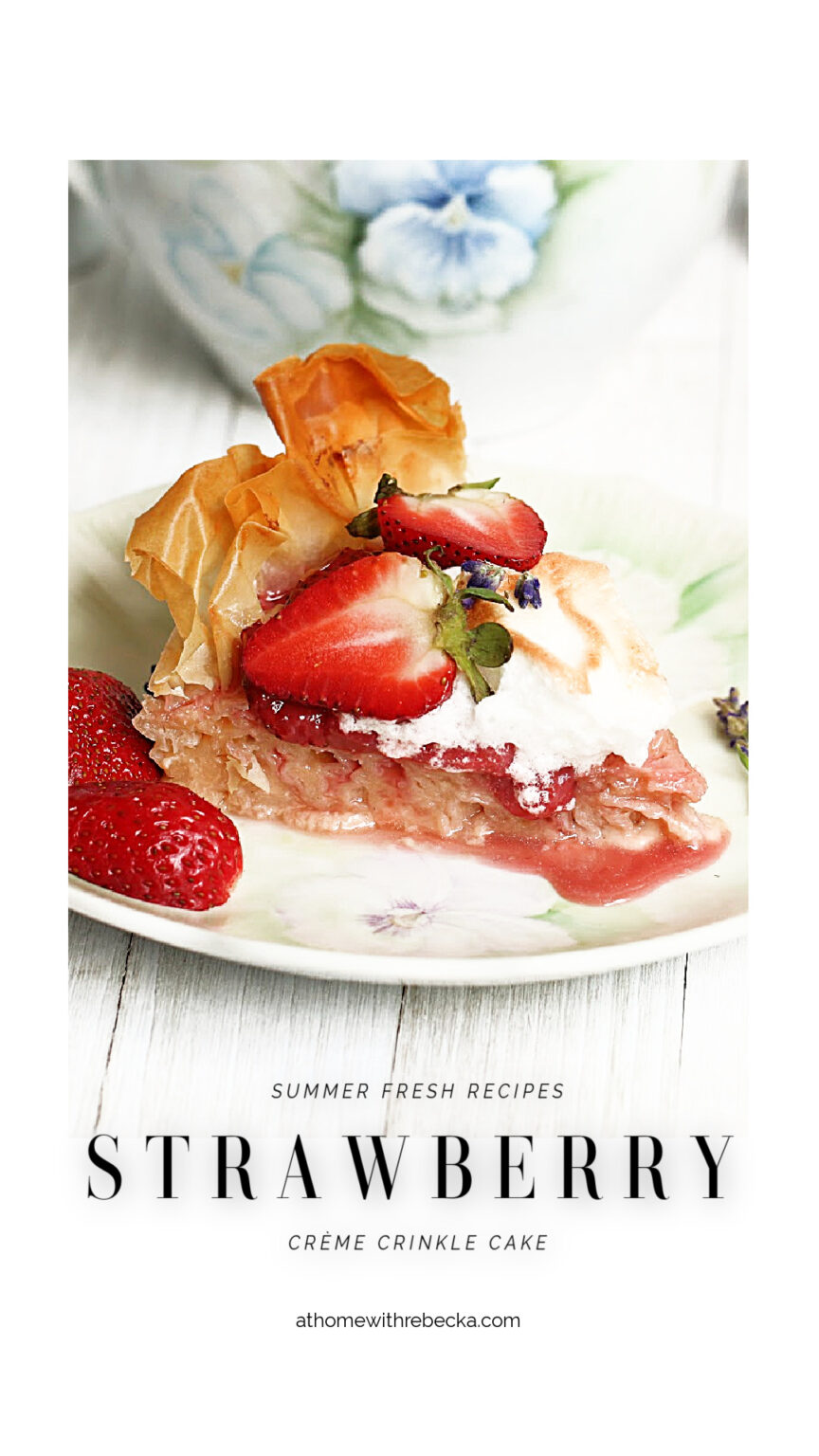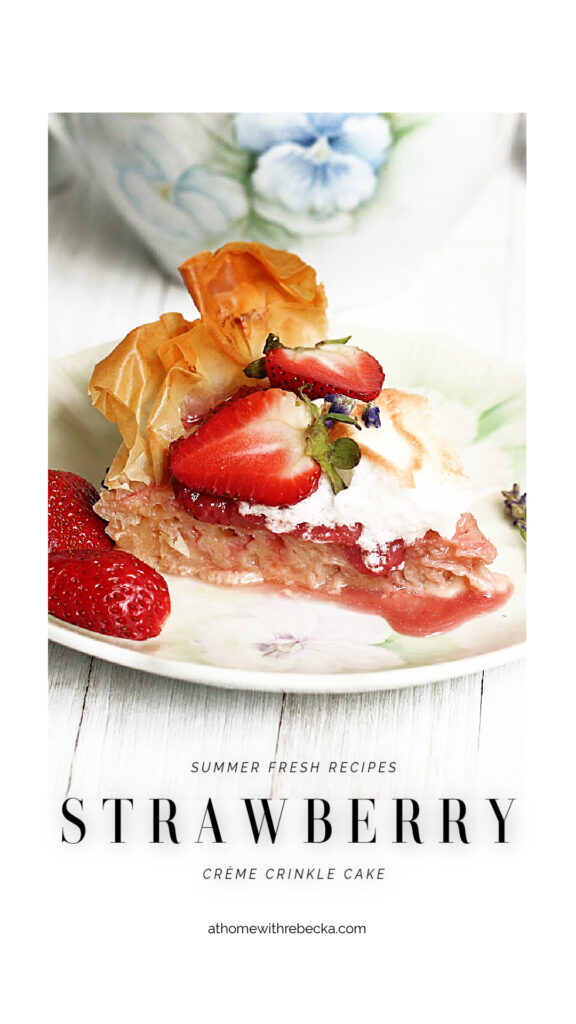 Painstaking Research…
The Jelly Queens painstakingly research to find the best, organic products in the world to sell at The Jelly Queens Shop and to make their award-winning organic sauces, jellies, jams, spices, and pickles. They are all sold online and at the Jelly Shop located in downtown McKinney, Texas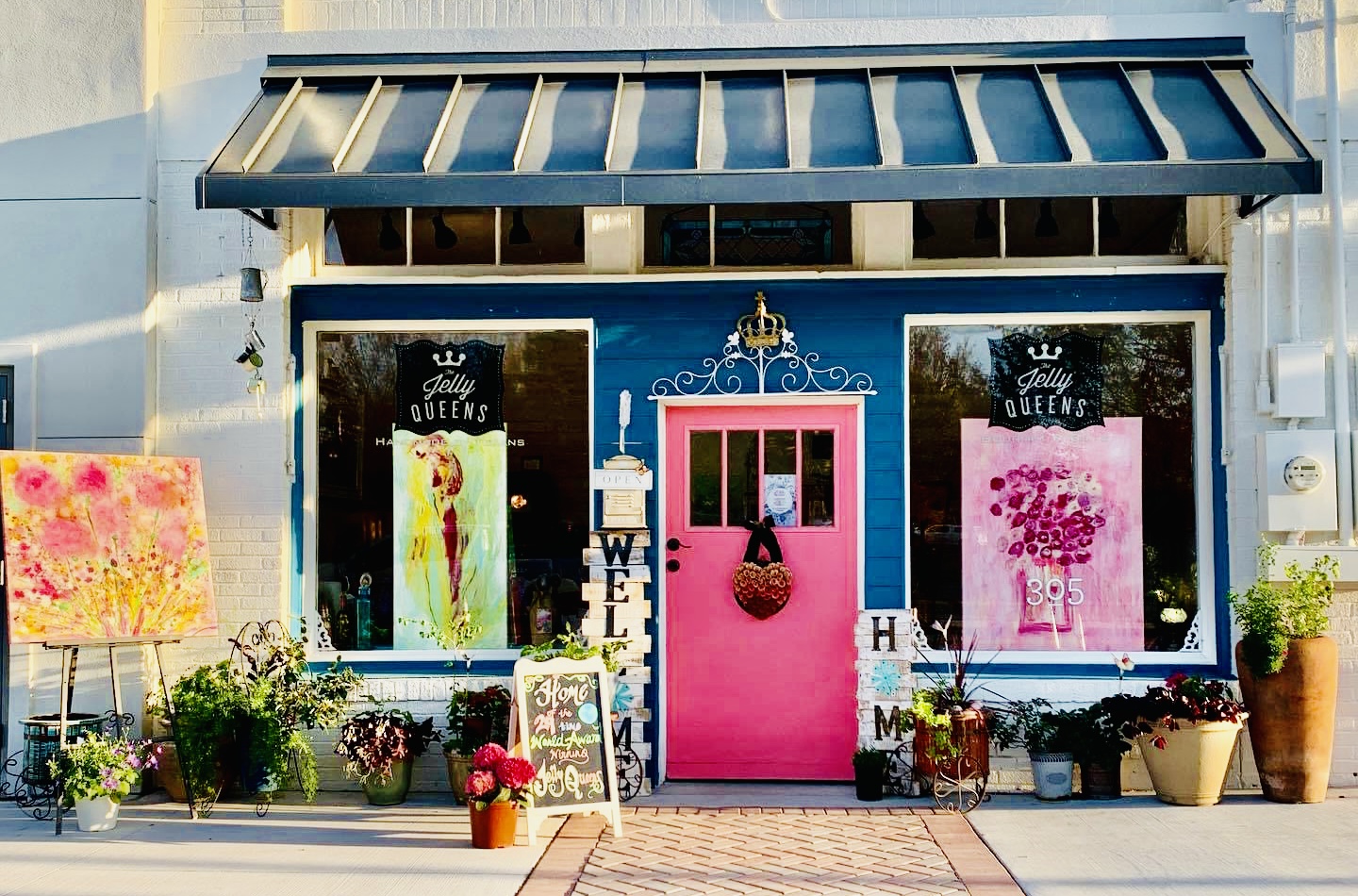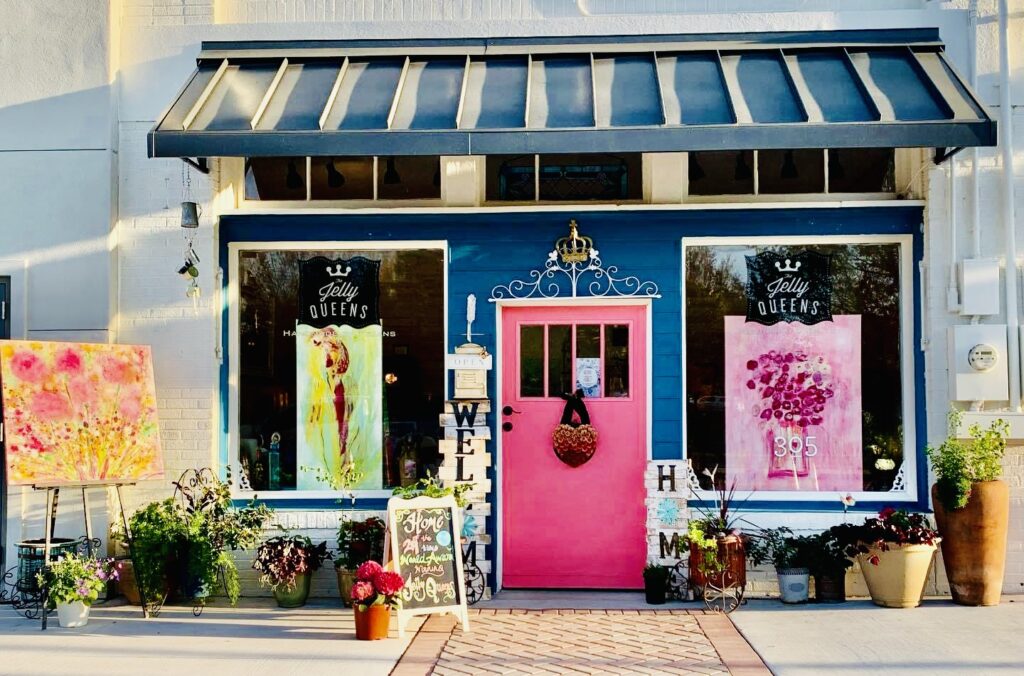 Tik Toks Tending Crinkle Cake
My inspiration for this gorgeous cake comes from Tik Toks super trendy, Greek Crinkle Cake made with vanilla custard, and pistachios, and drizzled with honey. It's a very similar dessert to baklava.
My take on the dessert is a showstopper! The crusty edges look like artwork with crinkled brown edges and a luscious soft meringue topping. The custard-soaked phyllo base becomes soft and creamy during baking, creating the perfectly sweet-creamy crunchy dessert.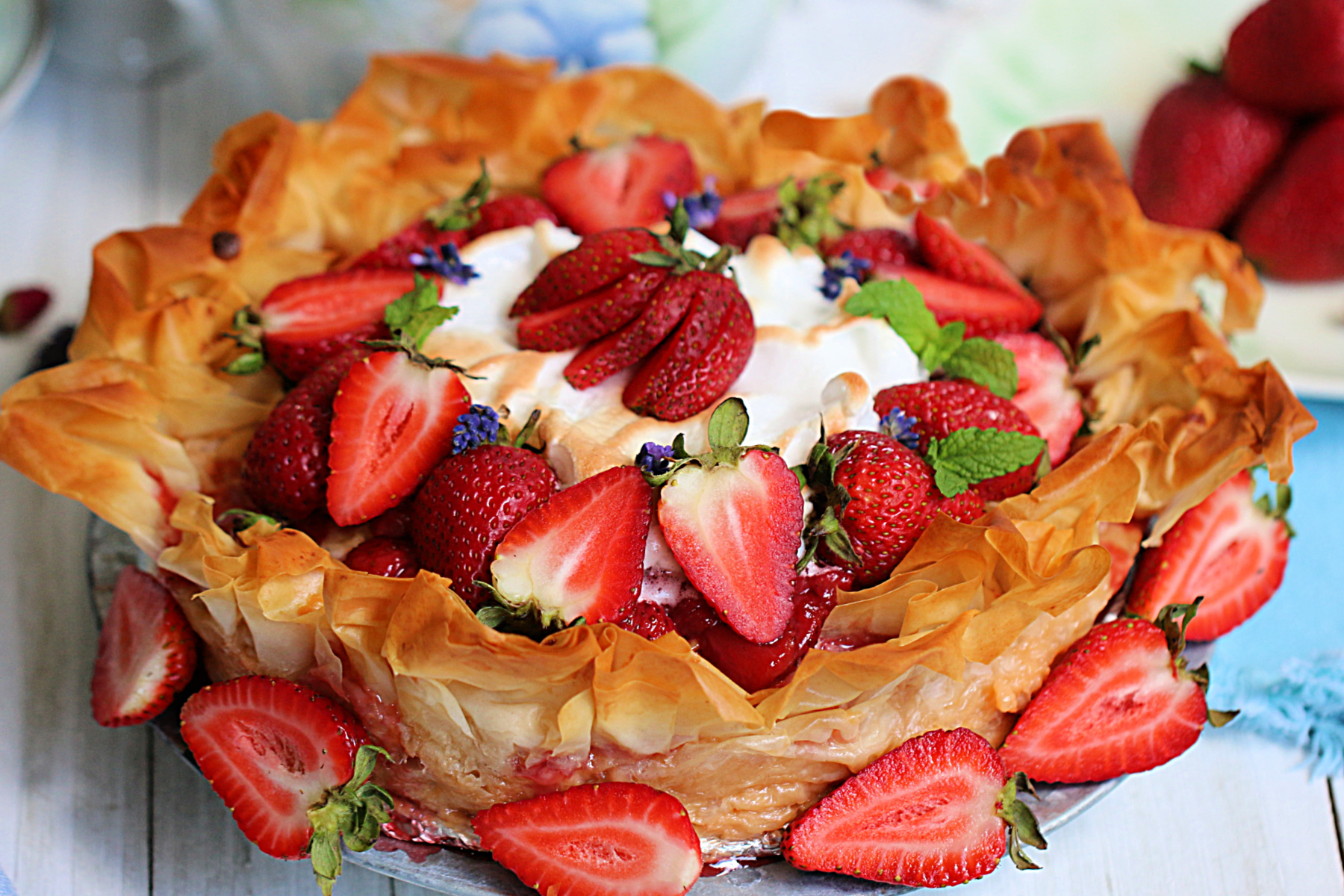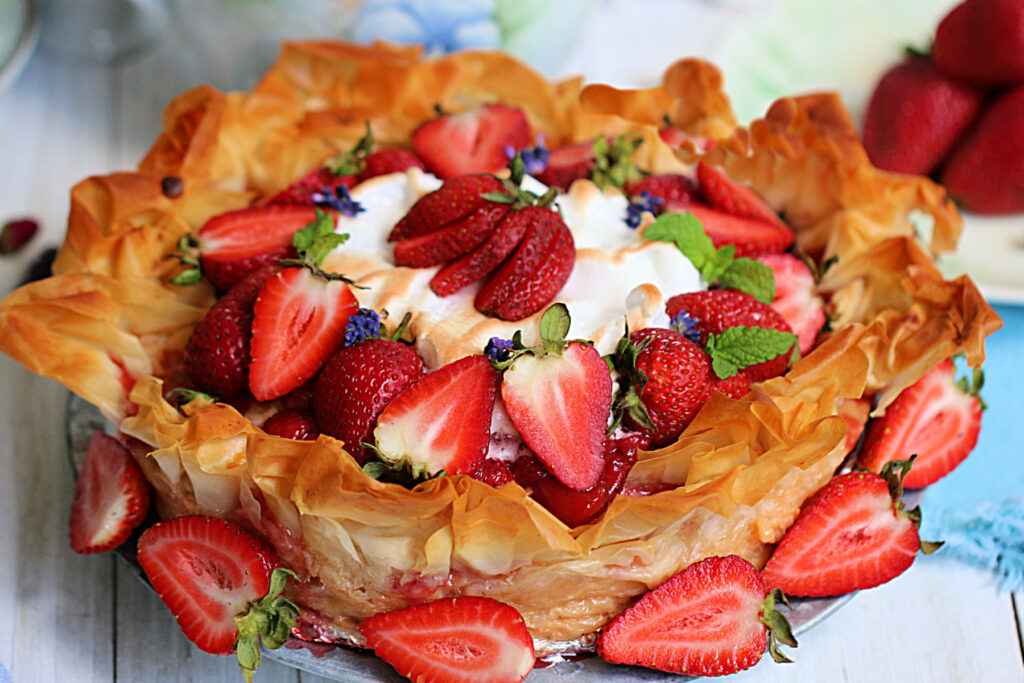 Review
At first taste, the strawberry crème has a velvety texture, a lovely strawberry 'natural' not fake flavor, a hint of coconut that lingers at the end, and a slightly bitter aftertaste. The aftertaste wasn't unpleasant however, it's not the best product to eat from a spoon or use as a finishing creme.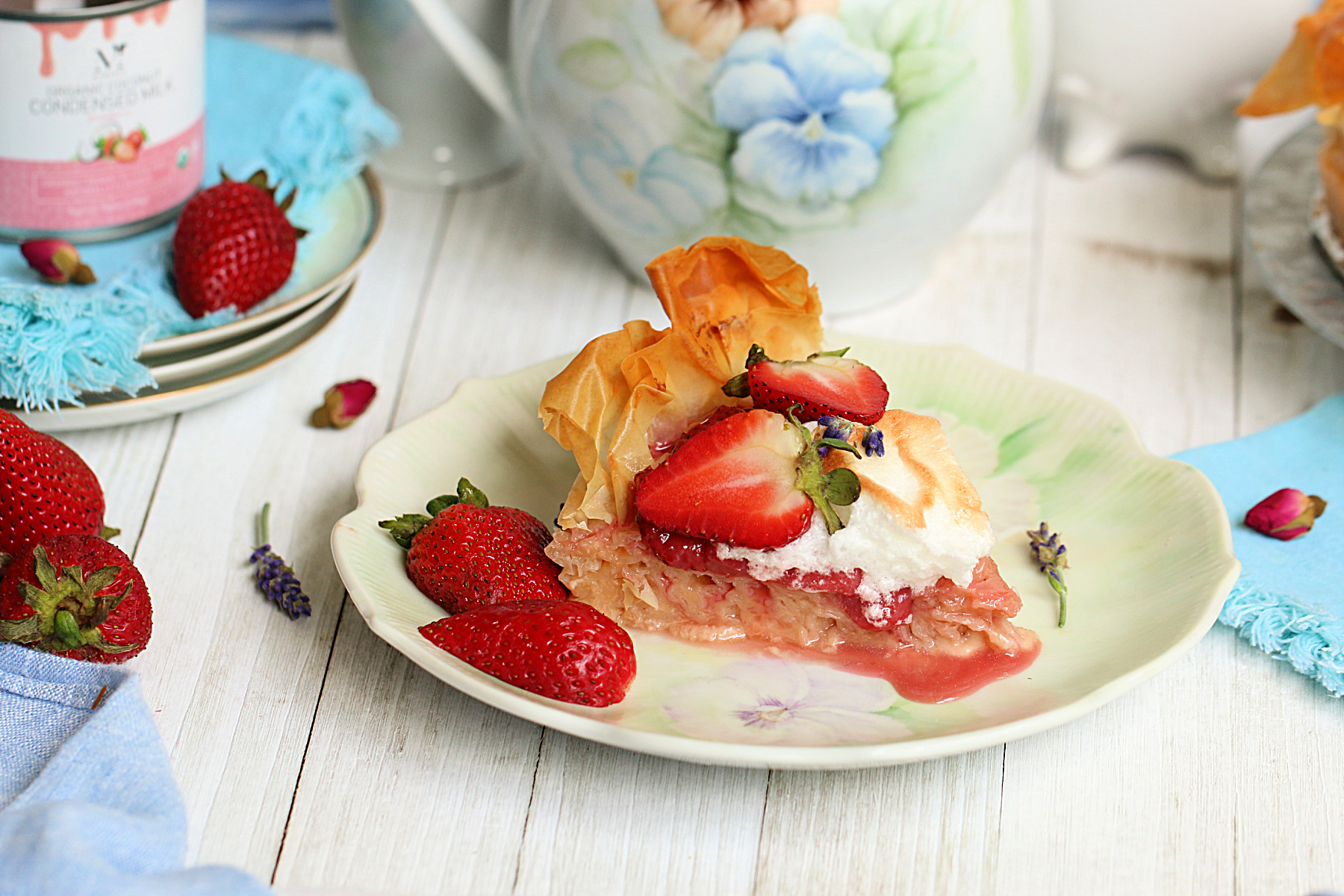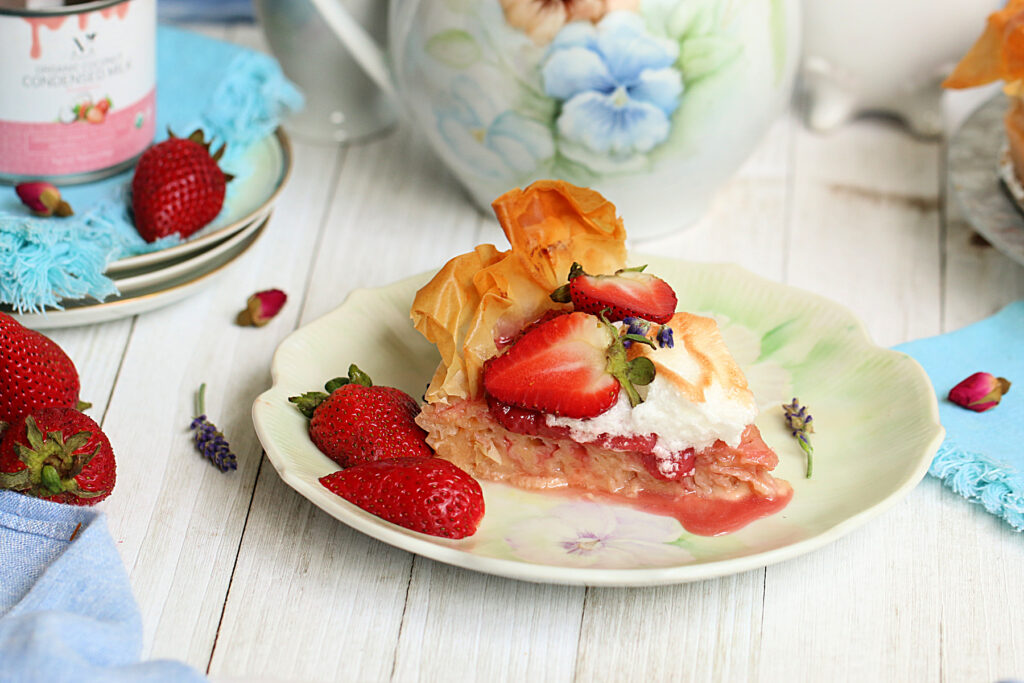 Best Uses
The best uses for these products are to incorporate into baked goods, cook in sauces or add to smoothies, shakes, etc.
The strawberry crème is the perfect addition to my strawberry crème custard, it's so well balanced and not too sweet.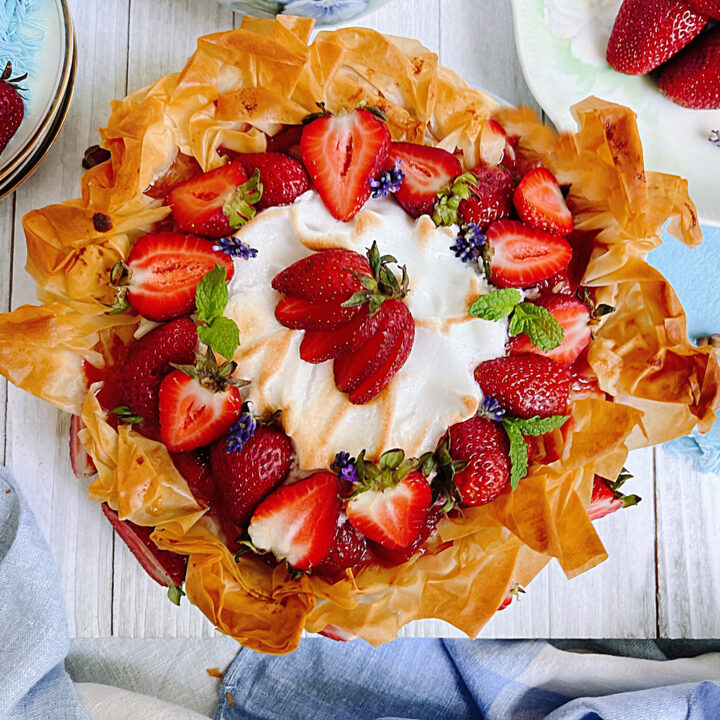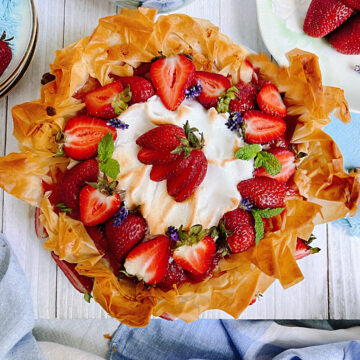 Strawberry Creme Crinkle Cake
Ingredients
1

pound

phyllo pastry dough

thawed, room temperature

1

stick butter

melted and divided

1 7.5-

ounce

Mementa Strawberry Crème

divided
STRAWBERRY SYRUP TOPPING
1

cup

fresh strawberries

chopped

¼

cup

sugar

1

teaspoon

lemon juice

2

Tablespoons

Mementa Strawberry Cream Condensed milk

1

cup

water
CUSTARD
¼

cup

Mementa Strawberry Cream Condensed milk

2

cups

whole milk

¼

cup

granulated sugar

1

tablespoon

corn starch

3

egg yolks plus1 whole egg

reserve whites for meringue
MERINGUE
3

egg whites whipped to stiff peaks

¼

cup

sugar
Instructions
Heat over to 360F or 180C

Line a springform pan with parchment and grease with melted butter.

Take 2 layers of phyllo dough together at a time and lightly brush with the top with melted butter. Holding the sheets together at the top and let them hang from your fingers. Using your fingers to "crinkle" the sheets, gently fold back and forth in an accordion-style drawing from the bottom up to the top then … roll each into a "cinnamon roll style" circle. Make 4-5 of these rolls and place in the bottom of the pan.

Using the same crinkle method, make the sides of the crinkle cake. This time, keep the long and tuck the phyllo along the sides of the pan so that the dough protrudes over the edge of the pan. Be sure the bottom sections are snug in the pan. Continue till the pan is filled. (see photos)

Bake the phyllo for 10 minutes. Remove and drizzle the remaining melted butter over the phyllo. Return to the oven and bake 10 mire minutes

Remove the cake from oven one last time and pour custard mixture over the bottom of the cake. Bake on a cookie sheet for 25-30 minutes or unit the custard is just set.
CUSTARD
In a medium bowl whisk together, eggs, milk, sugar, cornstarch, and Strawberry crème condensed milk, until smooth and no lumps remain.

Set aside until ready to fill cake
STRAWBERRY SYRUP TOPPING
Cook strawberries, water, sugar, lemon juice, strawberry cream over medium heat for 10 minutes. Stir frequently. Mixture should be thick like syrup

Once cake is done, pour the strawberry syrup over the middle of the cake. Allow the cake to rest at room temperature while making the meringue.
MERINGUE
Beat 3 egg whites to stiff peaks with a hand mixer. Add ¼ cup sugar and continue mixing for 3 minutes.

Spread meringue over cake. Make peaks with the back of a spoon. Broil the cake for 1 minute to brown tips of meringue. This can also be done with a hand torch.
Notes
Garnish with Fresh strawberries, mint and wild edible flowers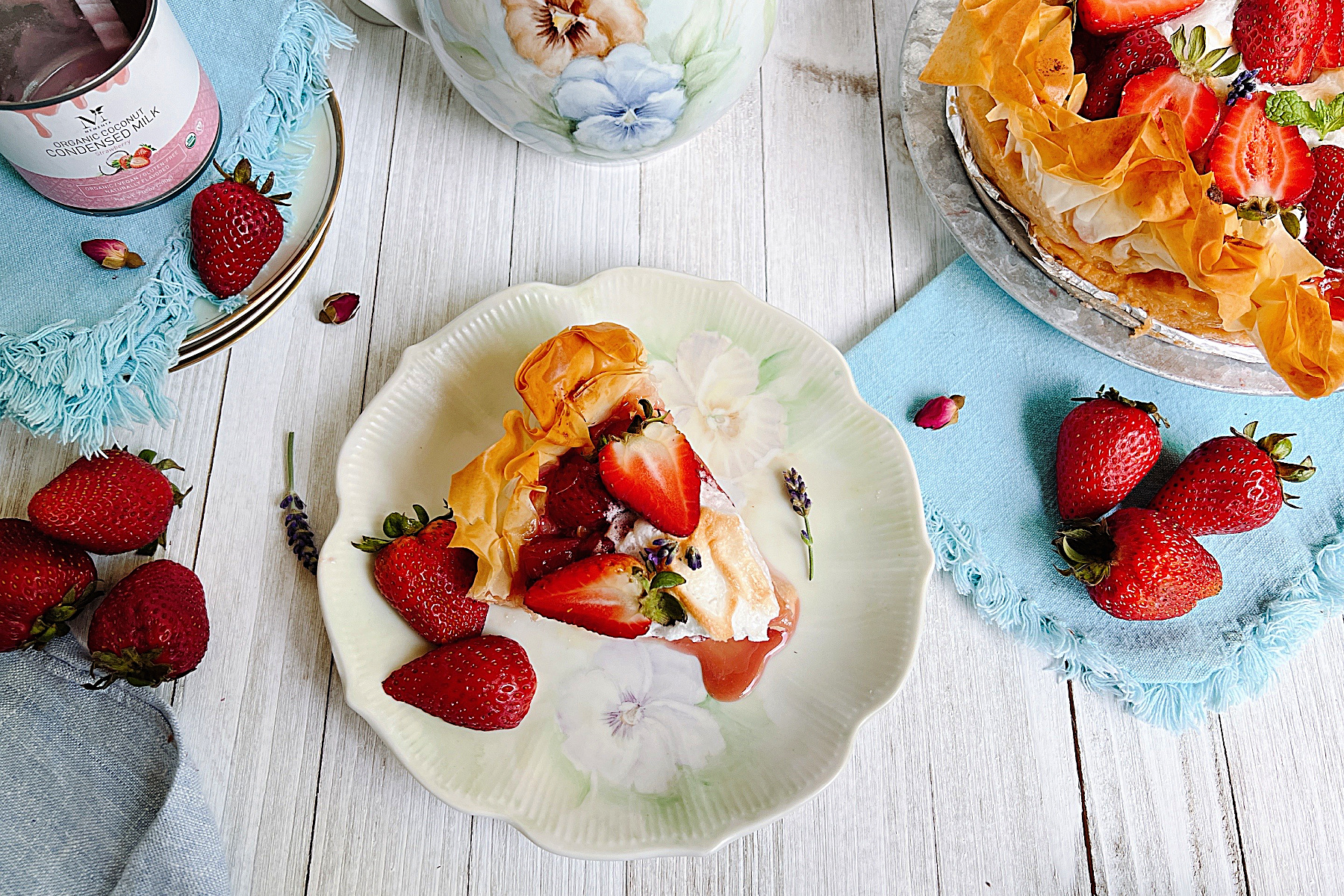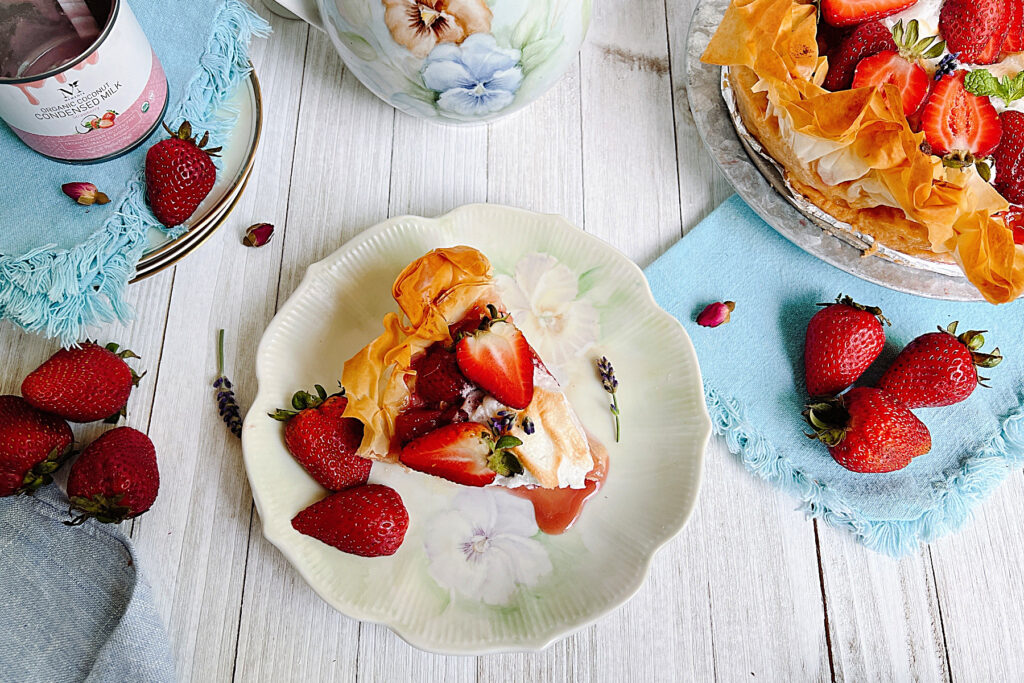 A Love Affair with Phyllo Dough
I use an inordinate amount of the frozen pastry to create all sorts of desserts, appetizers, and entrees. It's so versatile, a super forgiving medium for baking. I truly have a love affair with phyllo dough.
For another delicious phyllo, recipe click this LINK for my Meyer Lemon Curd Phyllo Tarts.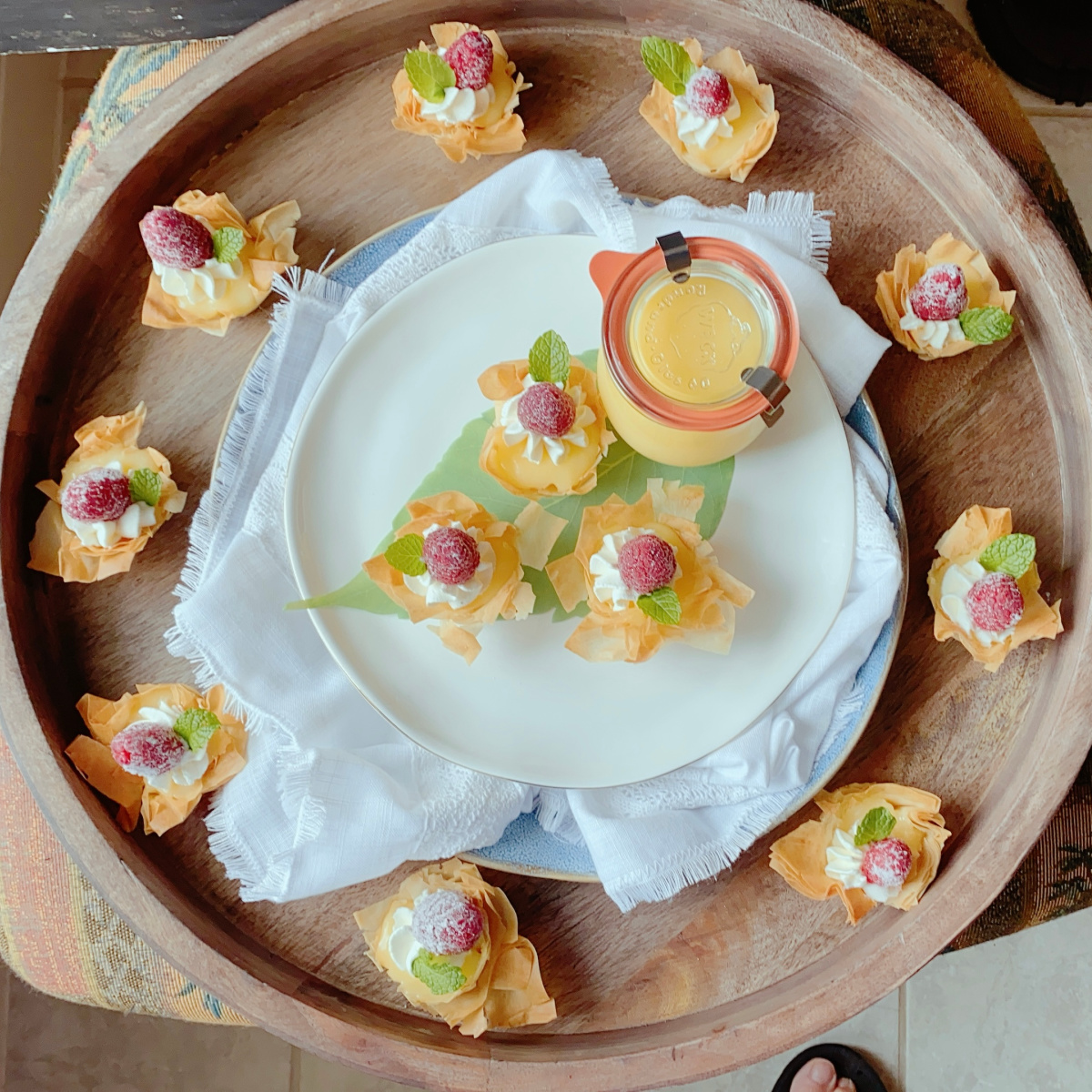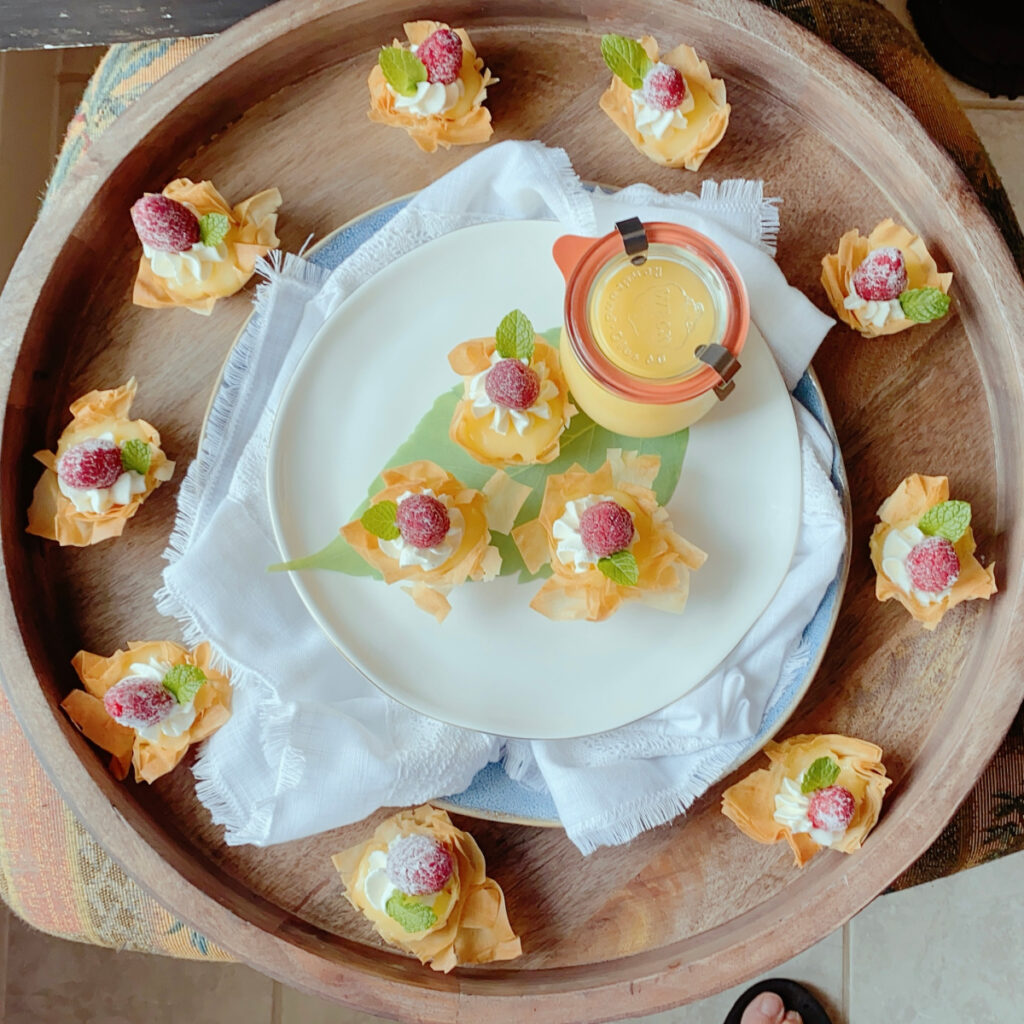 To Purchase Mementa Coconut Condensed Milk
Visit The Jelly Queens online or in person at: 305 W Louisiana St, McKinney, TX 75069