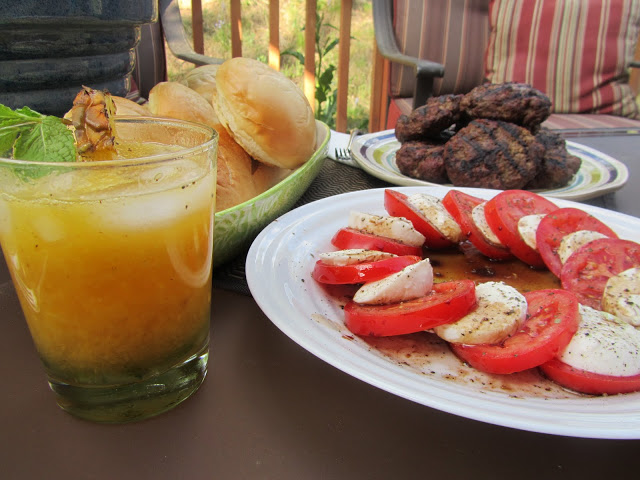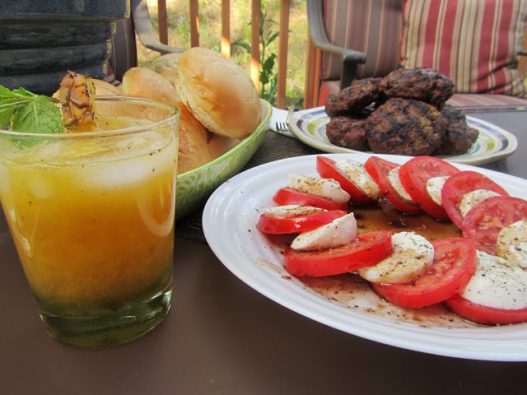 Pineapple Mango Mojitos, Caprese Salad and Jumbo Burger
Finally, summer has arrived and we have the pleasure of dinning alfresco on our back patio. It's such a treat to sit in the outdoors, experience the smells of the pine trees and the rustle of the Aspen leaves while taking in the fresh mountain air.
To beat the heat in the kitchen we've been grilling just about anything that moves. Delicious and simple fare that hits the spot every time!
Caprese salad is one of the easiest dishes to prepare and the flavor is always fresh and satisfying. This recipe benefited from my ability to round up some pretty yummy tomatoes this week. The past few years it's been difficult to find vine ripe tomatoes in the grocer, honestly, it's been close to impossible! The green house variety generally have no taste and there's nothing worse than eating a tomato that lacks in flavor.
I recently purchased a bedding plant with tomatoes already on the vine in hopes of a tiny harvest this summer. However, the deer that visit our yard daily may hinder that end.
I used the freshest mozzarella I could find in the market but forgot to buy fresh basil. I used dried instead. Gasp!! It was a huge disappointment luckily, the salad didn't suffer too much dispute the lack of fresh basil. However, I assure you... I'll be buying a basil plant on my next trip to the garden store to go with my other fresh kitchen herbs.
slice tomatoes and cheese, alternate slices of tomato and cheese and top each with a fresh basil leaf, drizzle with olive oil, vinegar, salt and pepper to taste.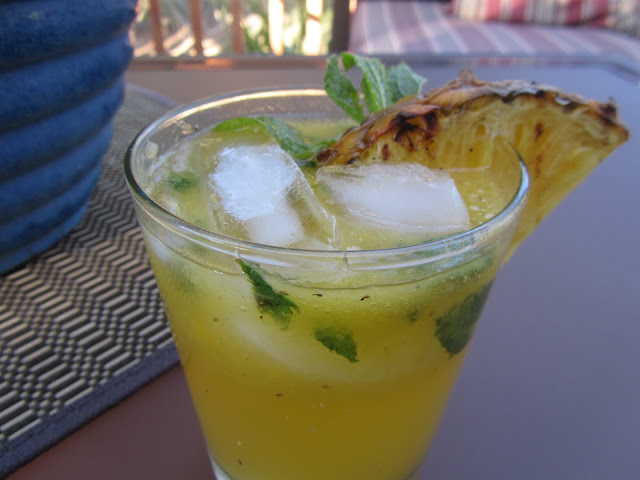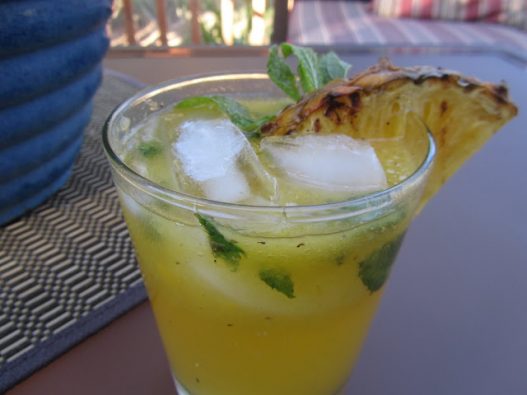 I decided to try a new recipe for my Mojitos and added grilled pineapple mixed with fresh mango. The smokey, caramelized pineapple was a delightful edition but the pulp kept getting stuck in my teeth causing me to get annoyed and taking away from the pleasure of the experience. Next time I'll strain my puree before I mix it into my drink.
4 ½ slices fresh pineapple, roasted
6 ounces Brazilian Cachaca or Tequila
Roast pineapple on hot grill until caramelized, cut in quarters, reserve 4 quarters for garnish, purée remaining pineapple, mint and juice of 1 lime. strain through a fine sieve
add ¼ cup simple syrup to short highball glass, 3-5 mint leaves and muddle with the back of a spoon, add ¼ cup purée mixture and ice, add Cachaca or tequila and cover with soda water, stir to combine.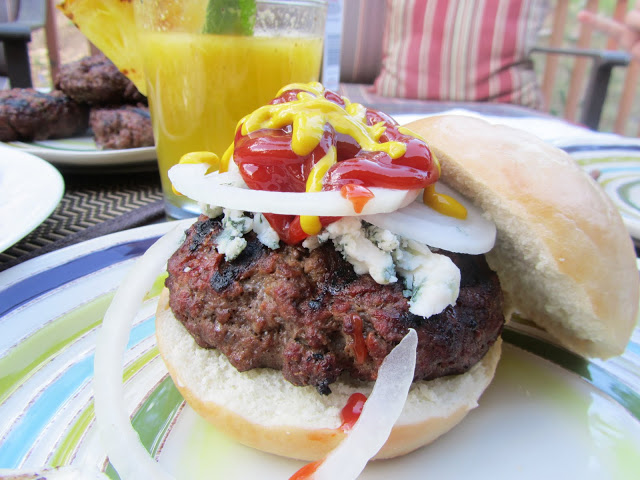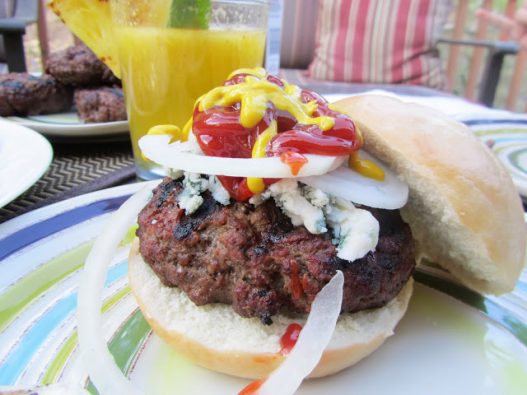 I used 90% grass feed beef and hand formed my hamburger patties. Make sure to press a dent into the middle of the pattiesbefore grilling to get an evenly cooked burger.
Mix ground beef with a little sea salt, fresh ground black pepper, 2 teaspoons fresh thyme and 1 tablespoon Worcestershire Sauce, top cooked burgers with Saga blue cheese crumbles and Maui onions then finished off with a fresh-baked Kaiser roll.