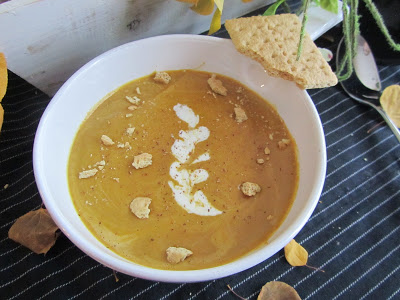 This is a highly classified recipe, so much so, that the only recipe known to man is locked away in the mind of my friend, Chef Joe.
Joe is the executive Chef at Brooks Place Tavern, the restaurant where I'm currently employed. I call Chef Joe the "Soup Dude", because he is a stellar soup creator. His other foods are extremely good but the gift for soup making runs deep in his soul.
I've asked Joe for several of his famous soup recipes only to be denied! Pfft! Really, the nerve of the guy! As a home cook and food blogger I can't help but share my recipes with the world. On the other hand, I can understand Joe's unwillingness to divulge his secret recipes for fear of being copied and used by a competitor! I guess I'll have to cut him a little slack...this time!
Joe's Pumpkin Pie Soup is the bomb! The very first time I tried a taste, the flavors literally moved me to tears. Leave it to me to get all verklempt over a bowl of soup. The rich pumpkin flavor balanced by the pumpkin pie seasoning and savory base is pure nirvana! What I wouldn't give for a bowl of that hot, creamy heaven! So, what am I to do without the recipe?
There's a simple answer to that question. My passion for recreating dishes that evoke sweet memories is what this blog is all about.
Here's my version of Chef Joe's Pumpkin Pie Soup, I hope it brings as much joy to you as it has to me!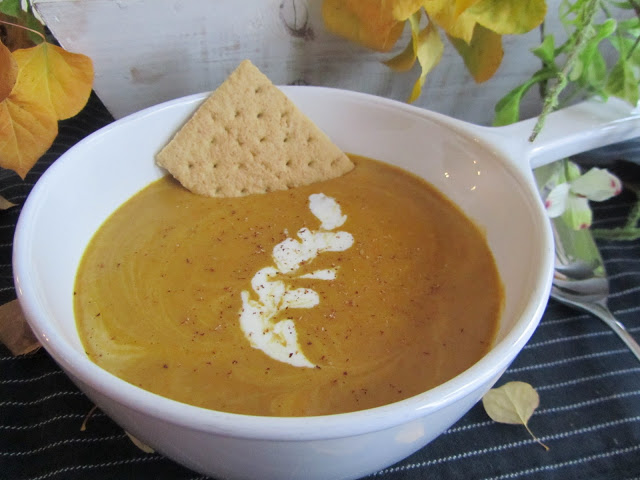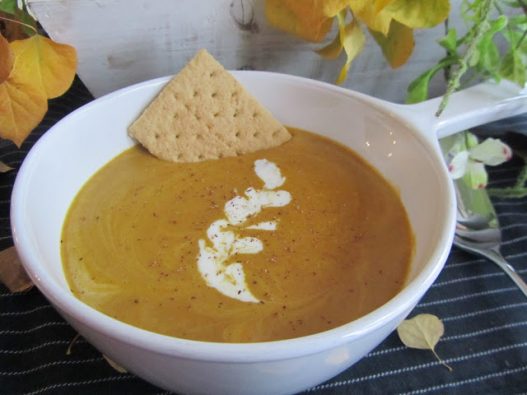 1 tablespoon vegetable oil
2 teaspoons chicken base (substitute vegetable stock for vegetarian version)
½ teaspoon ground allspice
1 ½ teaspoons ground cinnamon
Roughly chop onion, carrot, and celery, add vegetable oil to a heavy bottom 5 quart stock pot, cook vegetables on medium high heat, until onions are translucent, do not brown. Season with salt and pepper
Add water, apple cider and chicken base to vegetables, stir and cook for 5 minutes. Lower heat to medium and add canned pumpkin and spices, stir to combine and cook for 5 minutes more.
Remove from heat and blend ingredients with a immersion hand held blender until mixture is smooth, return to heat
Reduce heat to low and return stock pot to stove top, add heavy cream and simmer for 30 minutes.
Serve with ginger snaps or graham crackers and a dollop of whipped cream.
Enjoy your bowl of this hot liquid heaven!
These beautiful Awards were past on to me by Biren at Roti and Rice. I've learned so much about food blogging and all that goes with it from Biren. She is a master food blogger, stylist and food photographer. Thank you Biren for bestowing me with the honor!
As part of the awards presentation I'm to share 7 things about myself and then pass the awards onto 15 of my favorite blogger friends...so here it goes!
1. I will eat just about anything you set in front of me.
2. I won't eat cooked raisins, goat cheese or lamb.
3. I want to be a snowbird; living on the Florida Gulf Coast in the Winter months and in the Colorado Rocky Mountains in the Summer months. Guess I need a better job!
4. I'm a food competitor junkie!
5. I adore my French Press coffee maker!
6. I also adore my newest kitchen gadget; Cuisinart coffee grinder. I purchased it for $1.75 using my Kohls' coupons.
7. I have a small addiction to makeup and hair products.
My Top 15
1. Gloria's Blog Viva La Vida
2. Shirely's Luxury Haven
3. Crafty and Cooking Momma
4. CW's Cafe Today
5. kitchen flavors
6. Krakilette
7. Mommy Blog Designs
8. Jade Louise Designs
9. My Dish Washer's Possessed
10. Rate the Plate Utah
11. Not Your Ordinary Recipes
12. Icing and Crumbs
13.Cravings of a Lunatic
14. My Nuggets of Truth
15.Hoopfinity's Happenings
This recipe is being linked to
Friday Shout Out Pumpkin Blog Hop
Tablescapes Seasonal Sundays