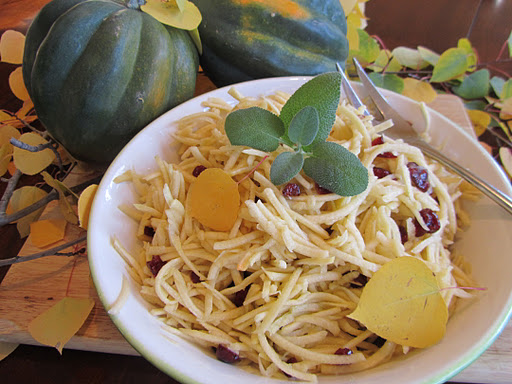 This past week I had the pleasure of dining with my mother at the Mount Vernon Country Club in Golden Colorado. The Country Club has been around for decades and serves one of the finest brunch buffets is in the Denver area. Our brunch was laden with hot and cold dishes, most of which I enjoyed however, one particular bowl on the salad table caught my eye.
The salad was so visually appealing with its bright orange shredded "something" served in a large silver bowl, dotted with dark cherry craisins. The look of it made my mouth water with anticipation.
I asked myself if this slaw could be shredded papaya? The color was right but the texture was all wrong. The shreds had a crisp crunch and delicate flavor that I couldn't distinguish. I have a pretty good palate but was stumped after eating my first helping! I finally gave up guessing and asked the wait person for the ingredients. She told me that the shreds were made from Acorn Squash and dressed with a light vinaigrette.
I was really surprised I was eating raw acorn squash, it was delicious!
My repertoire or recipes using acorn squash has been limited. I've prepared them baked with brown sugar and butter or pan-fried with sea salt and sage, but I've never tried acorn squash raw.
One of the best things about buffets is that you get to go back for seconds, I found myself going back for thirds. I've tried to recreate the recipe with relatively good success. I used green acorn squash for my recreation of the recipe but found the color a bit more pale than the restaurant version. My dressing turned out a bit more tangy but suited my taste perfectly.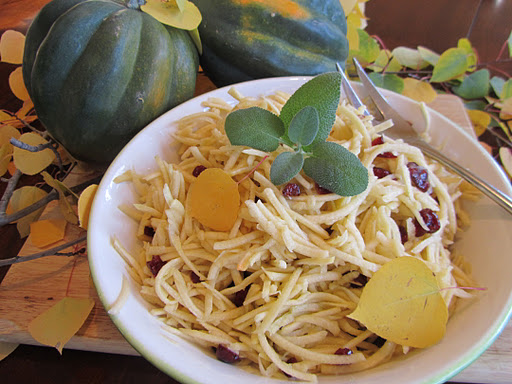 Acorn Squash Slaw
Ingredients
1

large acorn squash

any variety squash

2

tablespoons

scallions

white part only

¾

cups

rice vinegar

½

cup

water

1 ½

tablespoons

lemon juice

2

tablespoon

extra virgin olive oil

2

teaspoons

brown sugar

1 ½

tablespoons

granulated sugar

1

cup

craisins
Instructions
Cut acorn squash in half and remove seeds, remove green skin with a vegetable peeler, from stem to stem, cut into thirds or fourths, this way the shreds will be a little longer and texture less like coleslaw.

Using a food processor, using the shredder attachment, process pieces in batches, place shreds in a large mixing bowl sprinkle with 1 tablespoon lemon juice, reserving the other ½ tablespoon for the dressing.

Vinaigrette

Using a food processor blend together scallions, vinegar, water, ½ tablespoon lemon juice, olive oil, and sugars until emulsified, 30 seconds to 1 minute. Pour dressing over shredded squash, add craisins and toss to combine. Cover and refrigerate for 20-30 minutes before serving.
Notes
I plan to experiment with the recipe using different varieties of squash to determine which has the best flavor. This year my holiday table will be dressed with this beautiful and delicious side dish!