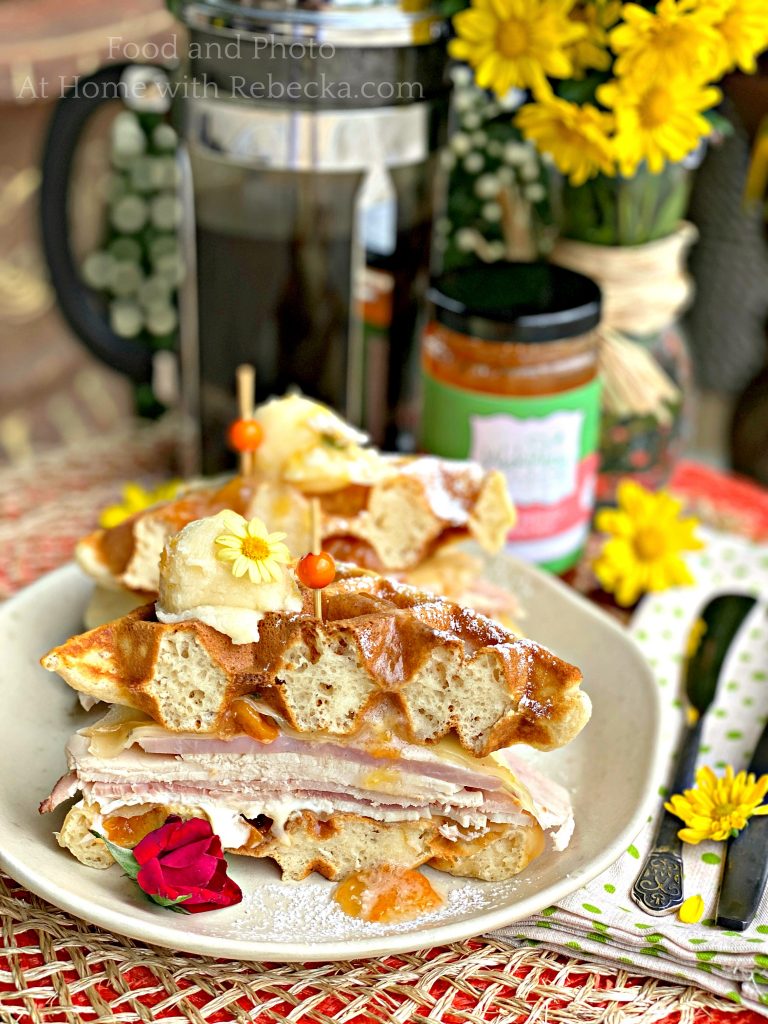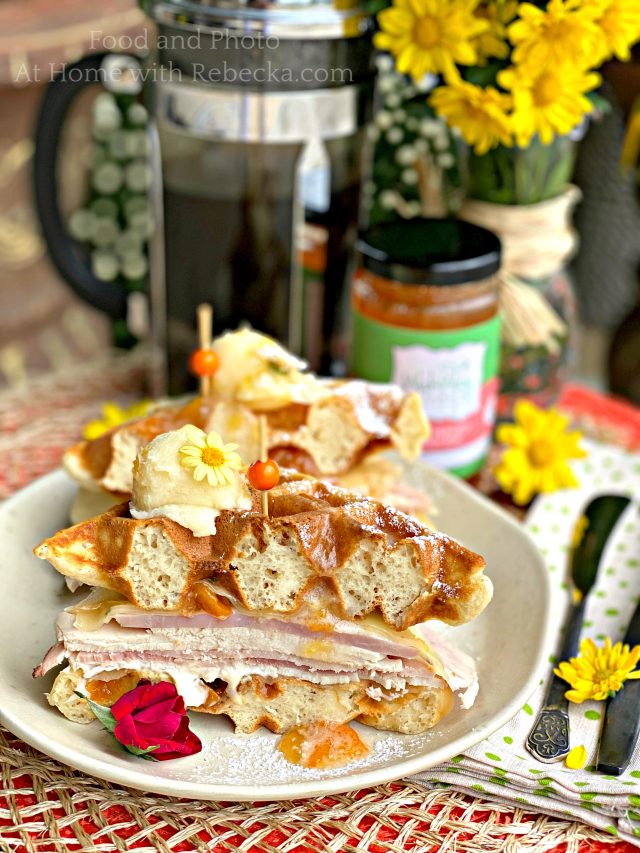 Texas Ranger Baseball and Food Sport Unite
The marriage of Major League Baseball and food sport is a philanthropic union of epic proportions. Together, food sport and the MLB provide a unified sense of community for all people; bringing everyone together to enjoy one thing: delicious food.
The Players
Don Wakamatsu, American former professional baseball player, scout, coach, manager, and current Bench Coach of the Texas Rangers; along with my friend, award-winning jelly maker, jelly maven, and owner of the Dallas based Jelly Queens, Donna Collins, have joined forces to serve the elderly through food.
Wakway Farms
Don Wakamatsu is the founder of The WakWay Foundation and a fourth-generation farmer. His background in farming and his good samaritan spirit-bore the idea to feed the elderly in Dallas through the Denton County chapter of Meals on Wheels by getting players involved with serving seniors.
As the idea progressed, fate led Don to Donna Collins where their collective generosity opened the door for players to learn the art of jelly making; influencing them to share their jelly creations with organic, sustainable, Non-GMO jellies and nut butter(s) served to homebound elderly on a weekly basis.
The Food Sport Angle
Invited to participate in the next level of this endeavor, I'm the first up to bat in the line up of 10 Texas Food Sport Chefs that have been paired with Major League Baseball's Texas Rangers to create a one of a kind recipe, featuring the jams and jellies made by the Coach and team players.
I was teamed up with Coach Don - how cool is that?
Home Run
Teaming up Major League Baseball coaches and players with award-winning food sport chefs from Texas, all with the desire to promote the welfare of others is a home run! I'm honored to be part of the team!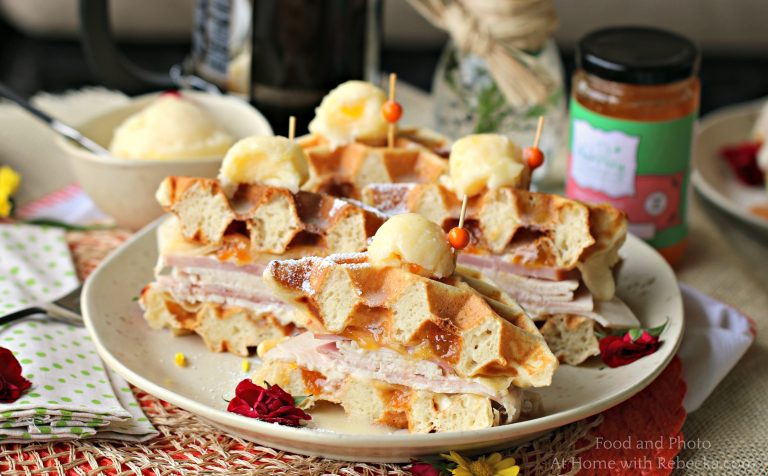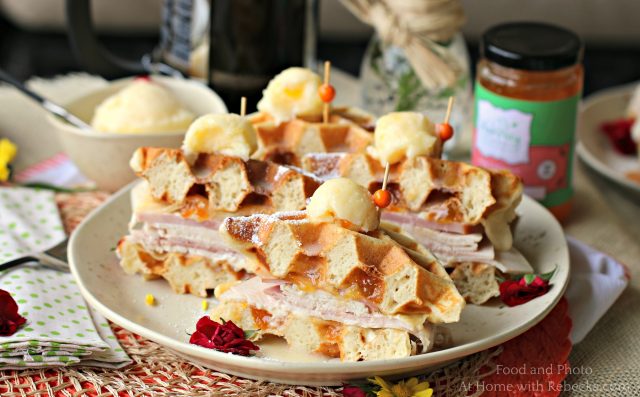 Recipe Flavor
Don's recipe flavor is Peach Jam with a hint of cinnamon aptly named, Wak's Perfect Peach Jam. It tastes just like peach pie in a jar...DELICIOUS!
I was lucky enough to catch up with him while on the road between practices for the first round of away games.
When I asked why he chose peach jam he stated, "growing up in Oregon on my grandmother's pear farm, we always had several albino peach trees." Don describes the peaches as having a "sweet vanilla flavor," with some growing as large as a softball.
Leaving an indelible mark on his memory, it's clear now why Coach Don chose to create this wonderful peach jam.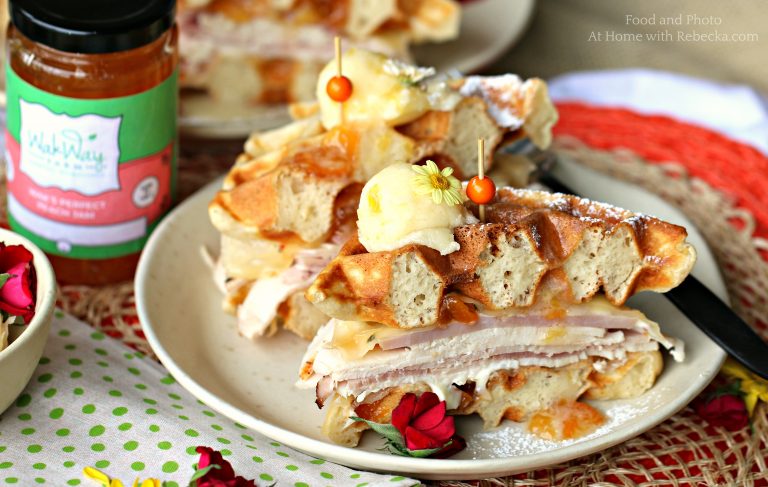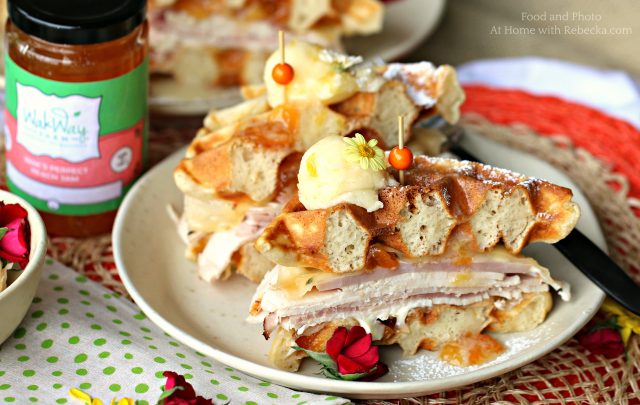 Why Breakfast?
As Coach Don reminisced, I learned that his favorite meal of the day is breakfast, "I'll eat breakfast any time of the day which probably stems from all the late-night games and eating out at the Waffle House because it's the only restaurant that's open at 3 AM."
Wakamatsu's Peachy Good Waffle Sandwich
With the holidays right around the corner, Wakamatsu's Peachy Good Waffle Sandwich is the perfect fit for this delectable peach jam.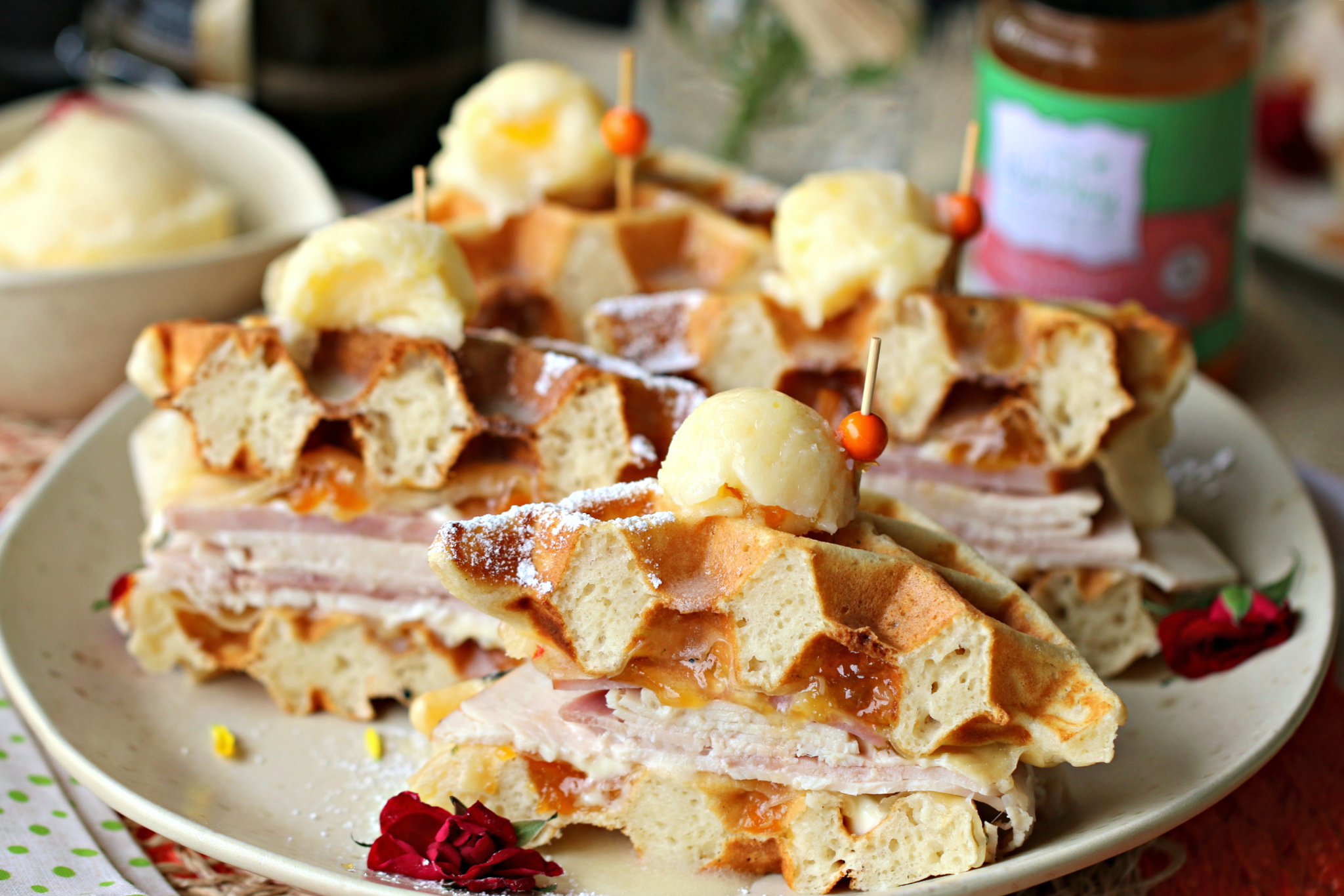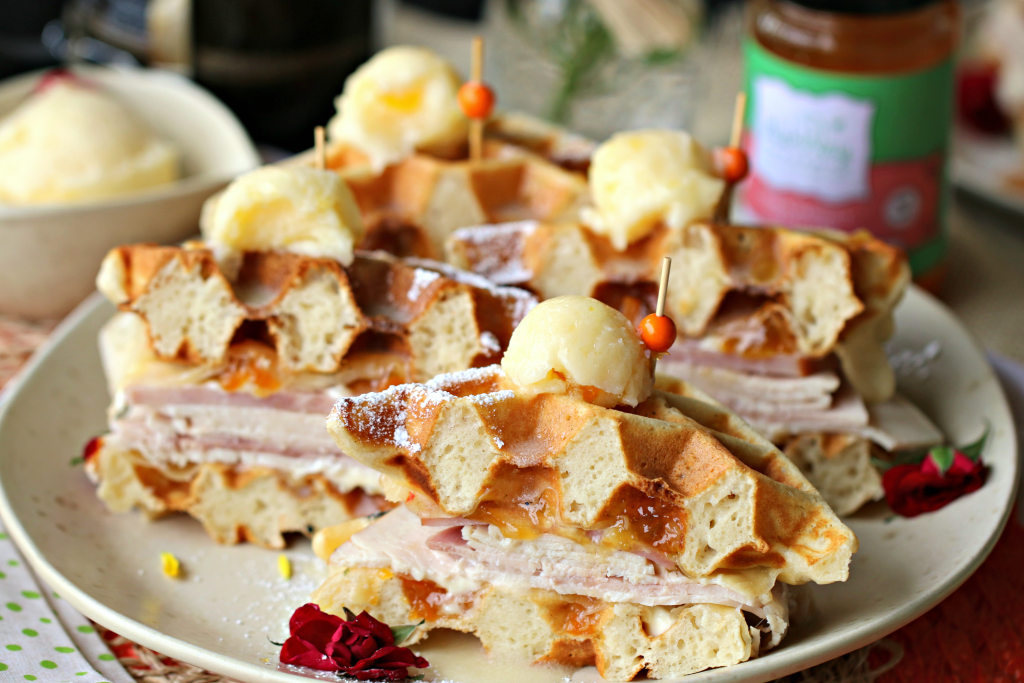 Dressed with Wak's Perfect Peach Jam, the crispy waffles are then spread with real mayonnaise and layered with leftover sliced turkey, ham, and jalapeno Havarti. The dish's finishing touches include a whipped peach honey butter to create the perfect bite. 
Add More Stuff-ing
If you're an adventurous eater like me, add a layer of stuffing or any combination of holiday leftovers to create your version of this mouthwatering waffle sandwich.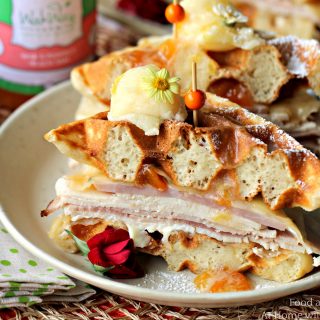 Wakamatusu's Peachy Good Waffle Sandwich
Ingredients
2

cups

all-purpose flour

1

tablespoon

baking powder

½

teaspoon

salt

2

tablespoon

sugar

2

eggs divided

1 ⅔

cups

whole milk

⅓

cup

melted butter

or oil

¾ - 1

pound

leftover turkey

sliced

¾ - 1

pound

leftover ham

sliced

½

pound

jalapeno Havarti cheese

sliced

2 6-

ounce

jars

1 ½ cups Wak's Perfect Peach Jam

¼

cup

mayonnaise

16

long sandwich picks

¼

cup

powdered sugar

garnish
Instructions
Preheat waffle iron to manufacturer's directions

Place flour, baking powder, sugar, and salt in a bowl. Whisk to combine.

In a small bowl, mix egg yolks, milk, and melted butter. Set aside.

In a separate bowl, beat egg whites with a mixer on medium-high speed until stiff peaks form.

Add yolk mixture to the flour mixture and stir to combine. Fold in egg whites.

Drop large spoonfuls onto a greased waffle iron, close the lid and cook about 3-5 minutes.

When the waffles are done, lay them on a baking sheet. Spead ½ teaspoon Wak's Perfect Peach Jam over the waffles. Add a layer of Havarti cheese and place under the broiler for 1 minute to melt the cheese.

Spead ½ teaspoon mayonnaise over each waffle and add layers of ham and turkey.

Place two of the waffles together to make a sandwich.

Secure the waffle sandwich with two sandwich picks and cut them in half, diagonally making 8 triangles

Continue the process until all the batter is gone and sandwiches are made.

Serve with a dollop of Whipped Peach Honey Butter (Recipe in Notes)

Dust with ¼ cup powdered sugar for garnish

This recipe makes 8 full-size Belgium waffles.
Notes
Whipped Peach Honey Butter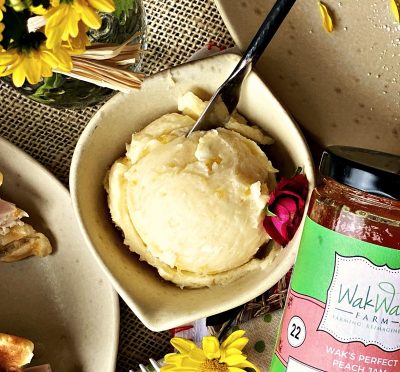 2 sticks, room temperature butter (1 cup)
¼ cup whipped honey
3 tablespoons Wak's Perfect Peach Jam
Instructions:
In a medium bowl, using an electric mixer, whip room temperature butter on medium-high speed until light and fluffy (about 3 minutes)
Add whipped honey and Wak's Perfect Peach Jam. Mix until well combined. Refrigerate until ready to use
Sports and Food Celebrated in FYI50+ Magazine
To learn more about Coach Don's Wakway Foundation, check out FYI50+ Magazine November, December Edition HERE.
You'll find my recipe for Wakamatsu's Peachy Good Waffle Sandwich, along with some exciting news about me.
Purchase Texas Ranger Jams and Jellies
To purchase the Coach and Team players jams and jellies, contact Donna Collins at [email protected]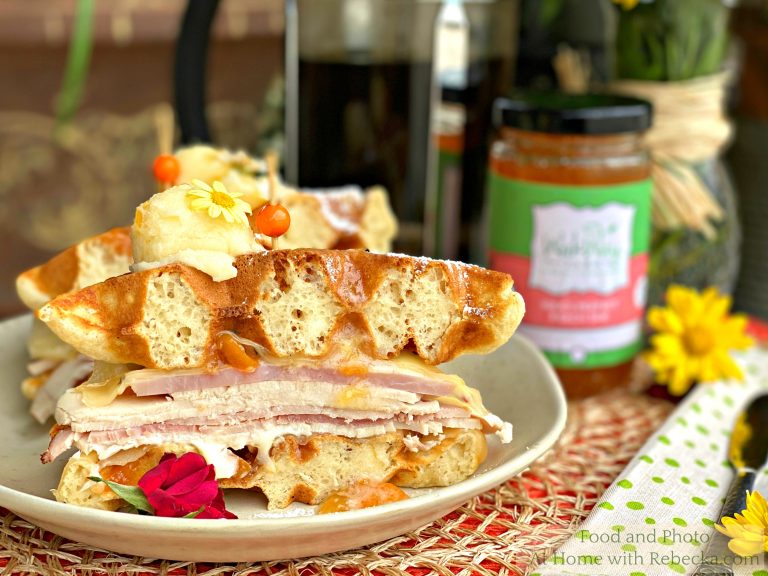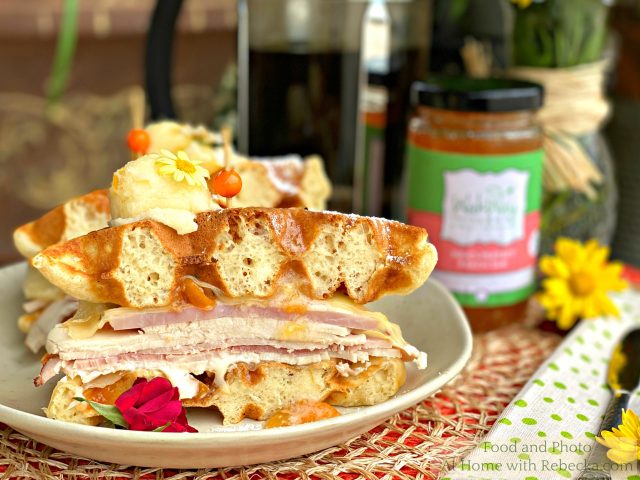 The magazines expose chronicling the union of Major League Baseball and food sport is the culmination of Founder/Publisher Heidi Frankel and writer, Leslie Baker.