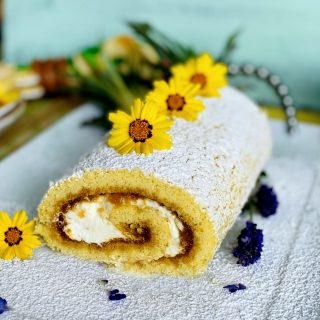 My most recent jelly roll recipe is the 'Upside-Down" Pineapple Filled Jelly Roll. The filling is reminiscent of the golden, caramelized pineapple that occurs when making a pineapple upsidedown cake. I love that buttery-sweet pineapple flavor and knew it would be the perfect fit for my swiss roll cake. The only thing missing is maraschino cherries, but I didn't have those on hand the day I made the cake. I have to make this again to add a dollop of whipped cream and the cherries; nevertheless, it was delicious without them!
What Inspired Me?
I made this one of a kind Cranberry Jelly Swiss Roll a few weeks ago for the folks at Cape Cod Select Frozen Cranberry - 2020 Blogger Recipe Challenge. It's filled with homemade cranberry jelly, cranberry whipped cream, covered in buttercream frosting and topped with sugared cranberries. This incredibly delicious showstopper inspired me to make more, especially when considering the ease of preparation and beauty when plated.
For the recipe click HERE: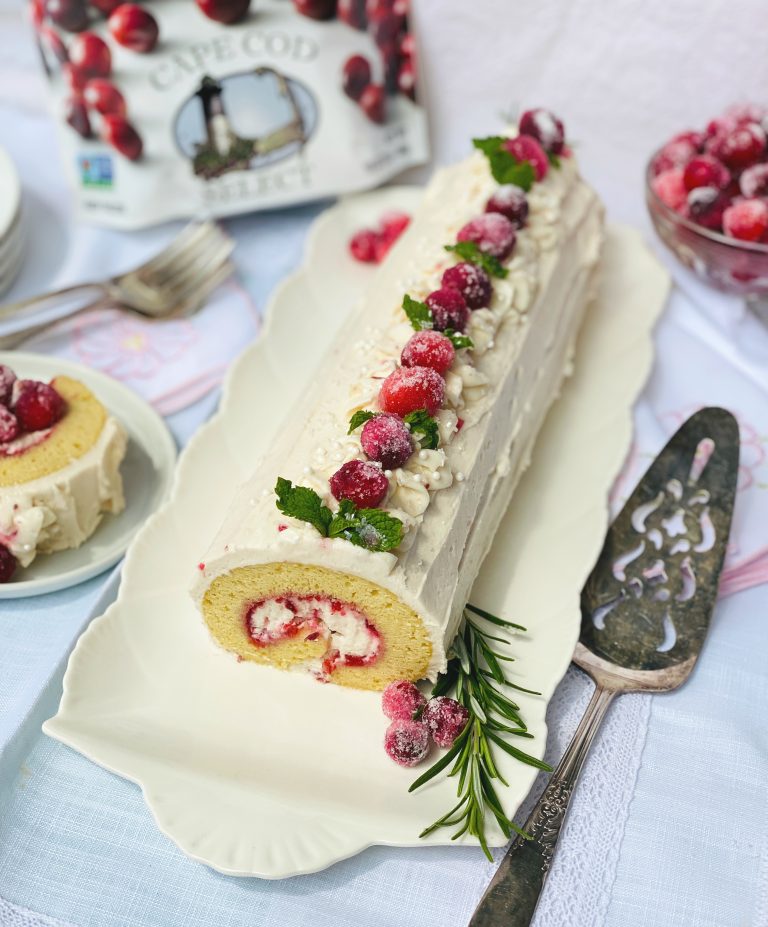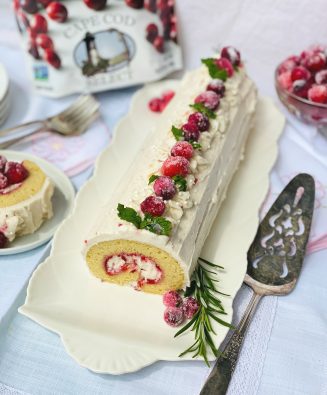 How Do You Like Your Sponge?Dense versus Light
First, you must know I'm not a fan of the traditional dense textured jelly roll sponge cake. I like an airy sponge. I'm curious If I'm the only one that feels this way? Please feel free to add your personal preference in the comment section below. I'm also eager to try new recipes so please feel free to share your favorites, I'd love the chance to make them too.
What Makes a Good Sponge?
I've tried several different recipes on my journey to find the perfect sponge. I've learned that it takes not only a great recipe to make a good sponge; but also technique. The perfect sponge must be able to be manipulated into a jelly roll without becoming too dense, squishy, or collapsing when rolled warm, it also needs to hold its shape when filled.
In my opinion, the key to the best sponge is using cake flour and taking the time to combine the eggs with sugar until they are a beautiful light yellow and doubled in size. Additionally, overfilling the cake before rolling can lead to mistakes; and as you can see with this recipe, I got a little heavy-handed with the whipped filling and ended up with an uneven roll.
The Joy of Sharing Recipes
On a recent trip to Corpus Christi, Texas I had the opportunity to share some quality time with my friends, Chef Gail Huesmann, Owner of the Black Marlin Restaurant, and Bar, Vita Jarrin, Owner of the A La Mode Gelateria and Katie Meyer-McDowell, Sous Chef and Superstar at the Black Marlin.
True to form, when I'm with my foodie family we talk a lot about food and food sport. Somehow the topic of swiss jelly rolls came up and before you know it, Gail was sharing her highly acclaimed genoise recipe with me. I used it to make this cake. I love you all to pieces. Thank you.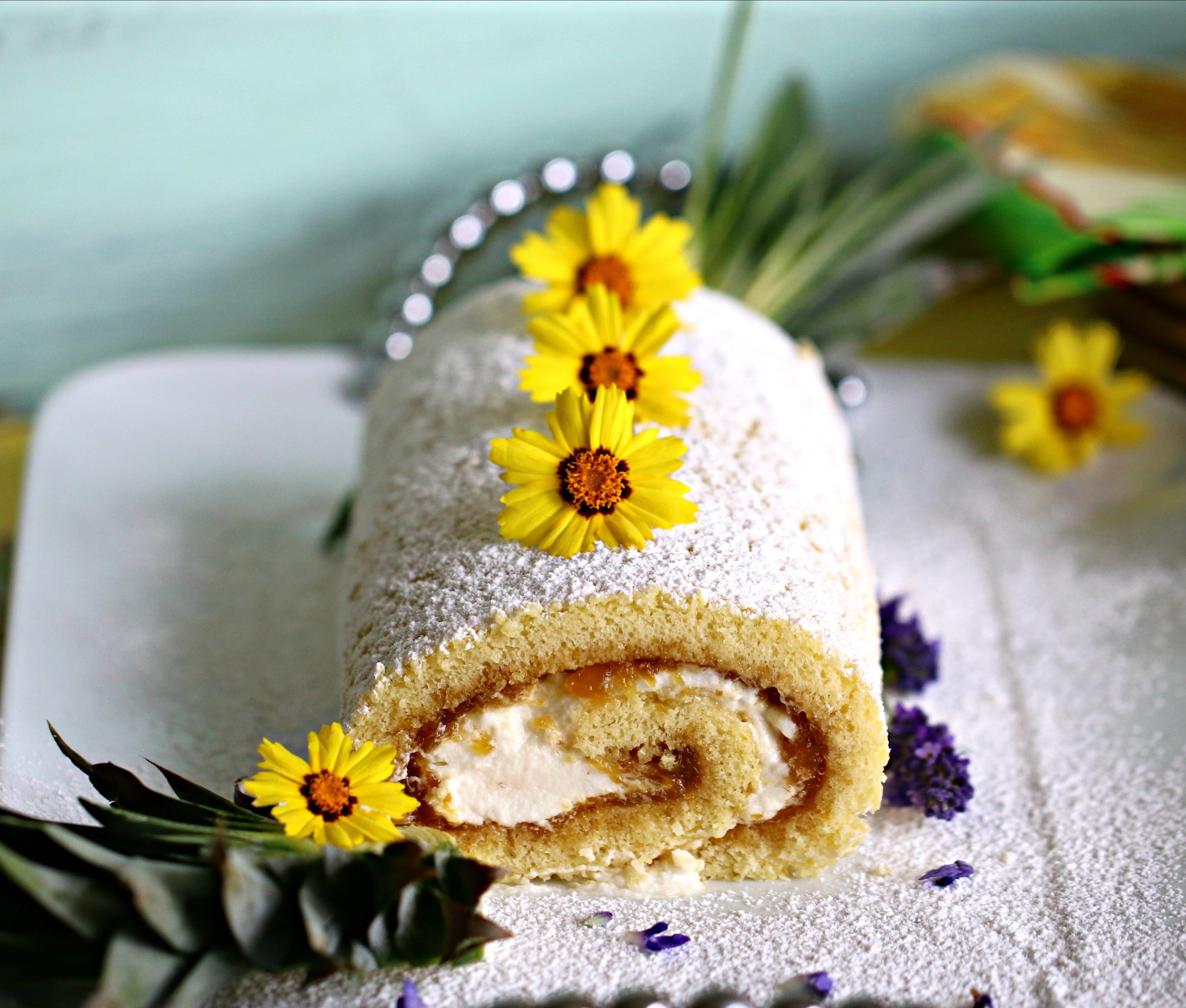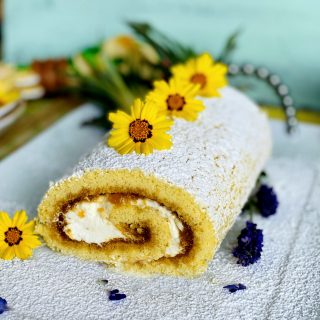 The "Upside-Down" Pineapple Filled Jelly Roll
The filling is reminiscent of the golden, caramelized pineapple that occurs when making a pineapple upsidedown cake. I love that buttery-sweet pineapple flavor and knew it would be the perfect fit for my swiss roll cake.
Ingredients
For the Genoise Sponge:
⅛

cup

butter

melted⅔ cup sugar4 large eggs (room temperature)2 tablespoons powdered sugar for dusting cotton cloth towel1 cups cake flour¼ tsp. salt⅛ tsp. vanillapinch of salt
Pineapple Upside-Down Filling:
3

cups

chopped fresh pineapple½ cup brown sugar1 tablespoon salted butter
Whipped Filling:
1

cup

heavy cream½ teaspoon granulated sugar¼ teaspoon vanilla1 tablespoon pineapple filling

recipe above
Instructions
Genoise Sponge:
Spray 8″ x 12″ or 9″ x 13″ baking sheet pan with cooking oil and line with parchment paper.Preheat oven to 350°F.Sift flour and salt together in a medium bowl.Separate egg yolks and egg whites into separate bowls.Add sugar and vanilla to egg yolks. Whisk to combine. Set aside.Whip egg whites on high until they have soft peaks using a standing or handheld mixer and whisk attachment. Scrape into a clean bowl and clean mixer.Whip egg yolk mixture on high for approximately 5 minutes until the mixture has grown 3 to 4 times in size and batter has reached the ribbon stage. If you remove the whisk, you should be able to draw a figure 8 with the batter and have it hold for 4-5 seconds before it disappears.Fold in the flour mixture.Fold in the egg white mixture.Pour the batter into the prepared pan, even with an offset spatula.Bake for 10 minutes. If not fully baked at 10, you can go up to 12. Don't over bake.Meanwhile, lay a clean cloth towel on the counter and dust it with 2 Tbsp. of powdered sugar.When the cake is baked, carefully flip it immediately onto the towel and remove the parchment paper. It should peel off easilyFold the cloth towel over end nearest you, and begin to slowly roll up the Swiss Roll cake until the whole cake is rolled.Let the Swiss Roll Cake cool completely rolled in the cloth.
Pineapple Filling and Cream Filling:
Melt butter in a shallow sauté pan

Add chopped pineapple and brown sugar.Cook mixture for 30 minutes, stirring often. Cook until the mixture is thick and all the liquid has evaporated. The consistency of jam. Cool 
Whipped Cream Filling:
Combine heavy cream and powdered sugar in a mixer fitted with the whisk attachment. Whip on high until mixture is thick and resembles whipped cream. Add 1 tablespoon pineapple filling and fold into the whipped cream.
Build the Jelly Roll:
When the cake is completely cool, add the filling. Carefully unroll the cake and spread pineapple jam (or your desired filling) on the cake, leaving a 2″ gap from one short end and a 1″ gap on the long sides.Spread the whipped cream on top.Carefully re-roll the cake. Some filling may come out. Chill cake for 20 minutes in the fridge. Slice ½″ off each end to show off filling. Pipe additional cream on top if desired and a few maraschino cherries.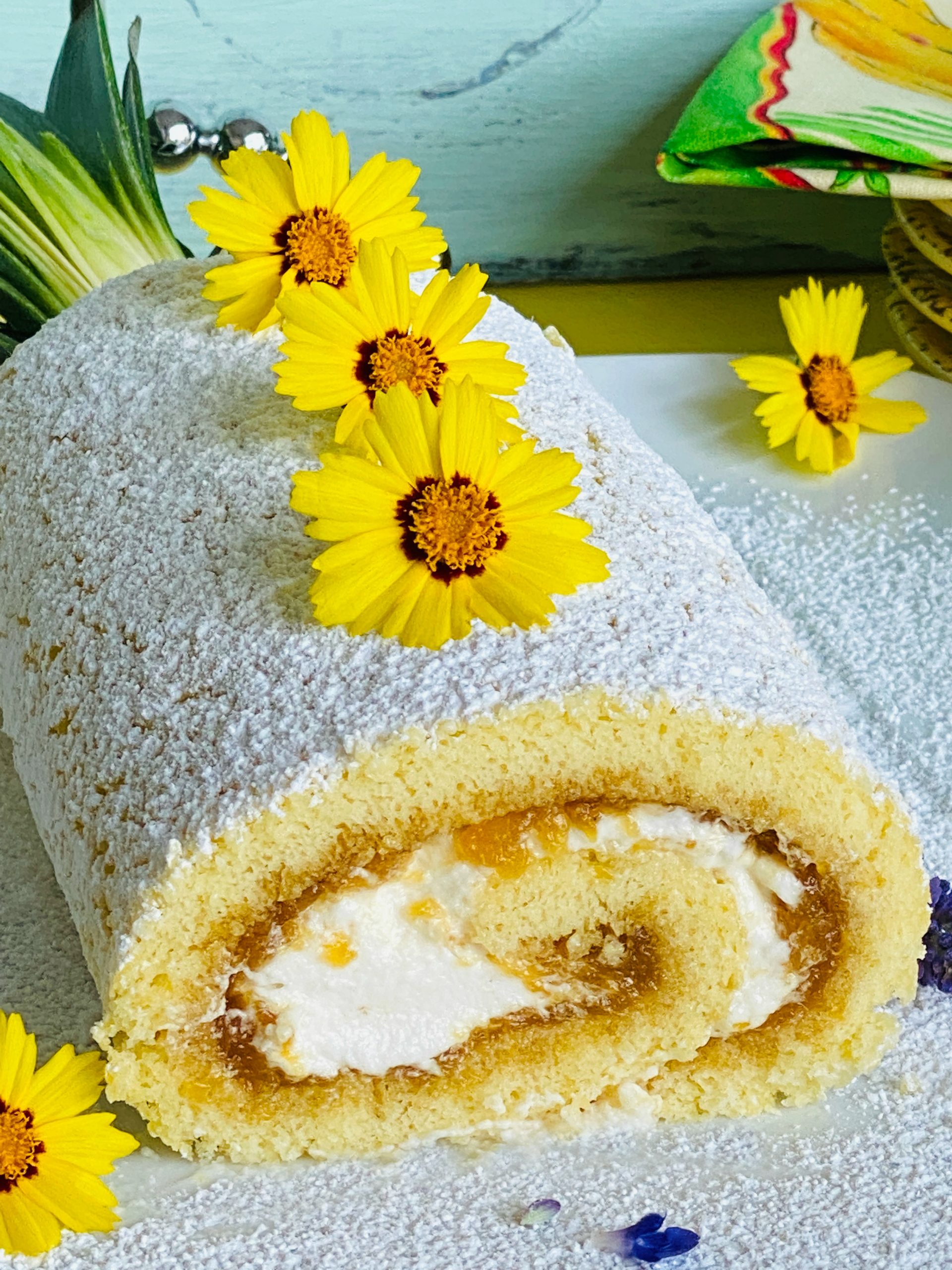 Once you have the basics down make more jelly rolls...