Southwestern Posole Stew is a hearty, spicy pork stew, rich with southwest flavors. Served with with Jalapeño Cheddar Corn Sticks, this dinner recipe is a family favorite.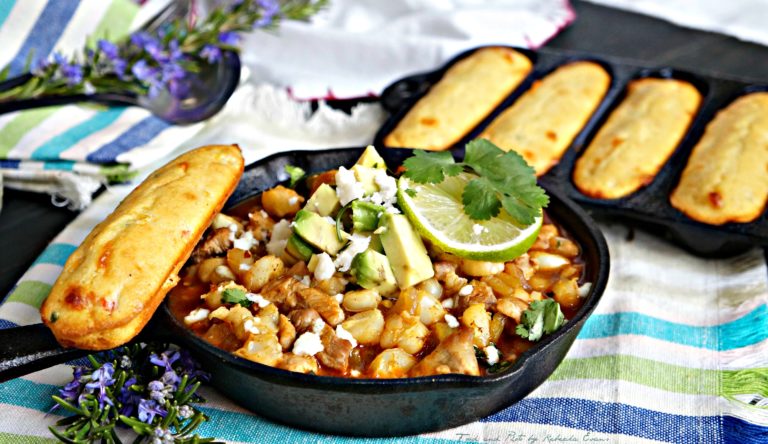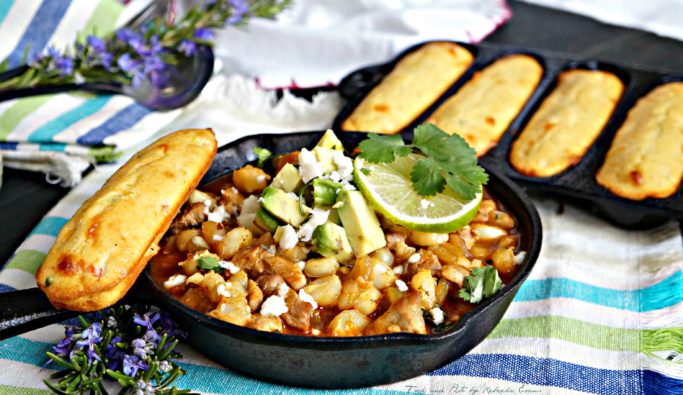 The old adage "If you snooze you lose" comes to mind when I look back at 2016 Lodge Cast Iron-National Cornbread Cooking Contest. I won a coveted spot in the 2016 cook-off with my Southwestern Posole Stew with Jalapeño Cheddar Corn Sticks but had to decline the offer to compete due to prior travel plans the same weekend.
Instead, I went to see my grandchildren and grown kids on what I lovingly call my 2016 grand baby tour. It was bittersweet to say "no" to competing at the Cornbread Festival because this grandma loves to compete, but she loves her sweet grand-babies even more! Just look at their beautiful smiles and tell me you wouldn't do the same!

I didn't publish my 2016 recipe to the blog so I could resubmit it for this year's contest. Sadly, my recipe wasn't chosen as a finalist. Hence, if you snooze you lose.
I'm posting my Southwestern Posole Stew with Jalapeño Cheddar Corn Sticks recipe today, in homage to my dear friends that will be competing at the Cornbread Festival this weekend.
Their names are highlighted below.
The 2017 finalists are as follows:

Robin Kessler, Sarasota, FL; Butternut and Sage Sausage Skillet Tart with Mushrooms and Smoked Gouda

Pamela Gelsomini, Wrentham, MA; Cornbread Crusted Catfish Jambalaya

Ashlyn Morgan, Englewood, TN; Cornbread Cuban Sandwiches with Mojo Sauce

Devon Delaney, Westport, CT; Seared Steakhouse Cornbread Crepes with Horseradish Caper Sauce

Felice Bogus, Raleigh, NC; Smokey Chicken Tinga Street Gorditas

Hidemi Walsh, Centreville, VA; Chili Shrimp and Coconut Cornbread

Sherry Kozlowski, Morgantown, WV; Seafood Pot Pie

Shauna Havey, Roy, UT; Steak & Eggs Cornbread Dutch Baby

Mary Edwards, Long Beach, CA; Cajun Spoon Bread

Michele Kusma, Columbus, OH; Shakshuka-Topped Cornbread Skillet

Each year during the last full weekend in April our hometown of South Pittsburg, Tennessee lights up to celebrate a staple in the Southern kitchen: cornbread. As a part of the National Cornbread Festival, Lodge sponsors the National Cornbread Cook-off, a search for the nation's best main dish cornbread recipe
I'm sending all my best to each and everyone of you. Happy contesting and may the best recipe WIN!
I hope you enjoy the recipe for my Southwestern Posole Stew with Jalapeño Cheddar Corn Sticks.
By the way...these are some of the best Jalapeño Cheddar Cornbread sticks I've ever made!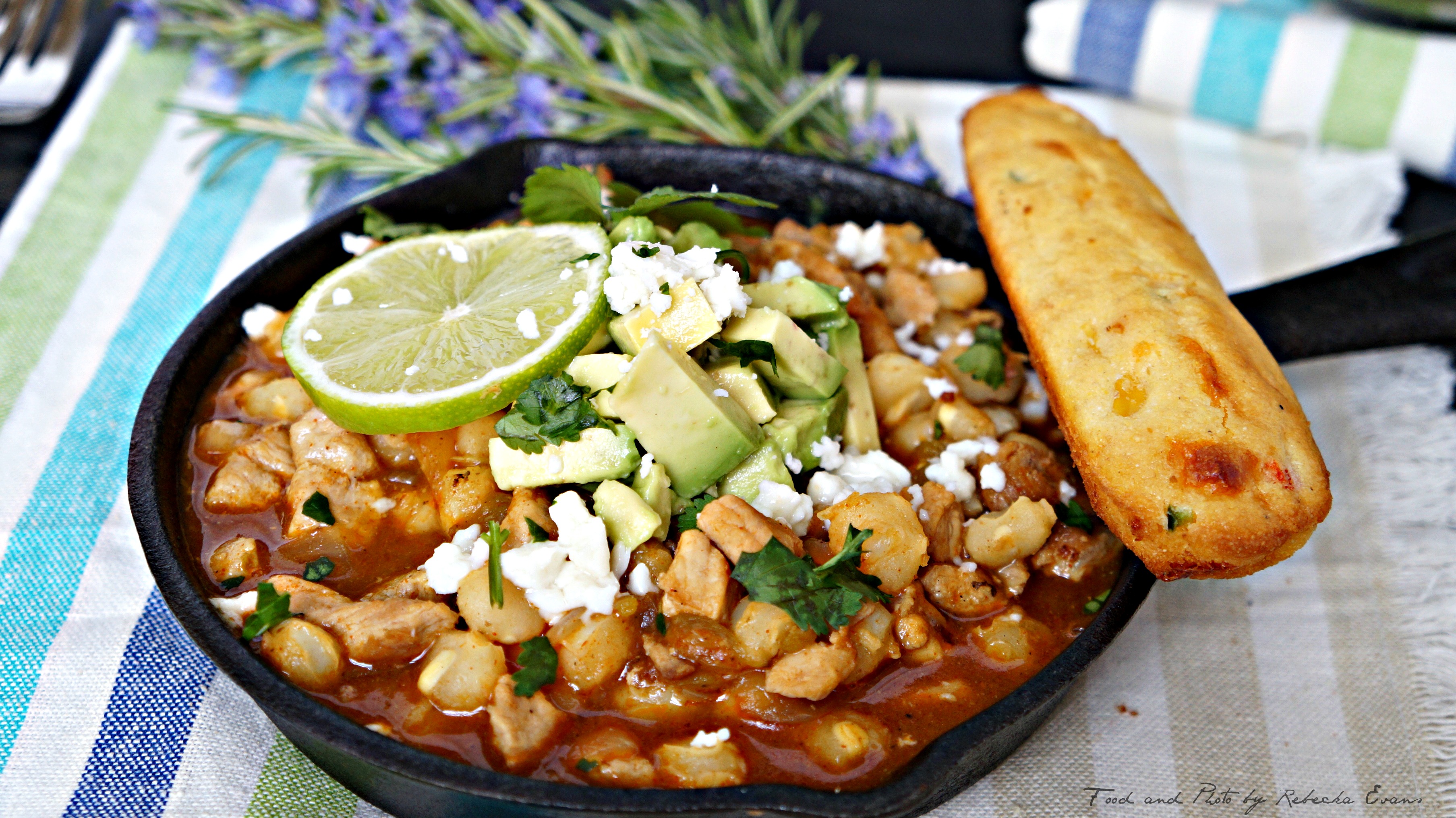 Southwestern Posole Stew with Jalapeno Cheddar Cornbread Sticks
Lodge Cast Iron and Martha White Cornbread Festival Recipe by Rebecka Evans
Ingredients
Main Dish

1 12-

inch

Lodge Cast Iron Skillet

1

Lodge Cast Iron Cornstick pan

7 piece

Utensils: 2 large metal or wooden spoons

Sharp 10-inch chef knife, Sharp 6 inch pairing knife, 3 spatulas, 3 mixing bowls, misc. measuring bowls, cups, and spoons

2 7-

ounce

packages Martha White Sweet Yellow Cornbread Mix

½

cup

canned creamed corn

1

teaspoon

minced onion

½

cup

shredded cheddar cheese

2

tablespoons

fresh diced jalapeño

red and green

1

cup

buttermilk

¼

cup

vegetable oil

divided

2

cups

cubed pork loin

1

cup

chopped onion

2

cloves

garlic

minced

1

teaspoon

red chili powder

1 4

ounce-can chopped green chili

1

tablespoon

chicken base

1 14-

ounce

white hominy

with liquid

½

cup

water

2-4

tablespoon

red tomato salsa

salt and pepper to taste

1

cup

cotija cheese

1

tablespoon

fresh cilantro

1

lime
Instructions
Pre-heat oven 375 Degrees F.

Pour 2 packages Martha White Sweet Yellow Cornbread mix into a medium mixing bowl, add ½ cup canned creamed corn, 1 teaspoon minced onion, ½ cup shredded cheddar cheese, 2 tablespoon diced jalapeño, and 1 cup buttermilk. Mix with a spoon until ingredients are incorporated

Heat Lodge Cast Iron Cornstick Pan in oven at 375 degrees F. for 5 minutes. Using a pastry brush, oil pan liberally with vegetable oil.

Pour 2 tablespoons cornbread mixture into oiled pans and bake at 375 Degrees F. for 12-14 minutes, or until golden brown. Gently remove cooked cornsticks to a plate and continue process until batter is all gone. Be sure to brush any excess bread bits out of the pan, and brush with more oil for each batch.

While cornsticks are baking, cube pork into ½-inch cube. Season meat with a ⅛ teaspoon of salt and pepper.

Heat 1 teaspoon oil over medium high heat, sauté meat until browned, about 5 minutes. Remove cooked pork to bowl

To the same skillet, add 1 teaspoon oil and sauté onions until translucent, add garlic and sauté for 1 minute more. Add 1 14-ounce can white hominy with liquid to skillet and stir to remove browned bits from the bottom of pan. Add red chili powder, chicken base, red tomato salsa, and canned chopped green chili, stir to combine. Bring to a boil then reduce heat and cook stew for 20-45 minutes. Season with salt and pepper to taste. Add ½ cup water if stew gets too thick

Serve Southwestern Pasole with Jalapeno Cheddar Cornsticks. Garnish with, lime wedges, and cotija Mexican cheese
Notes
Alternate preparation: Pour stew into individual size Lodge Cast Iron skillets (6.5 inch), dollop 2 tablespoons uncooked cornstick mixture over the Posole. Bake at 375 F. until cornbread is golden brown