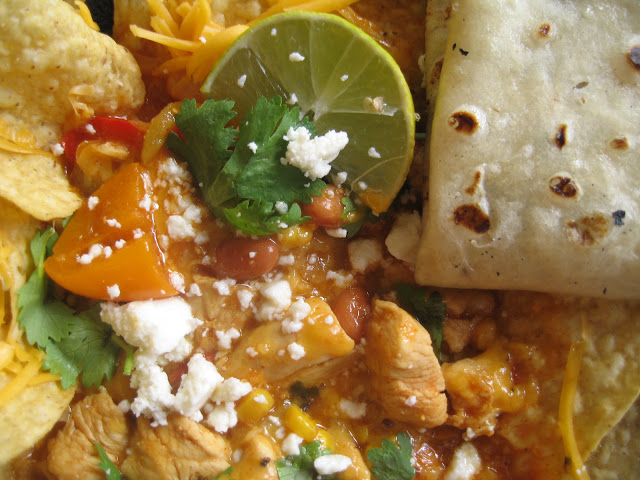 ​
Rebecka's Tortilla Soup Challenge Recipe
I would like to challenge my followers to join in the competition as well. What a wonderful way for us to meet food bloggers and share all our versions of Tortilla Soup with the illustrious girlichef. Take a moment to click on the Contest widget to read girlichef's thoughts and ideas about the many versions of tortilla soup and her inspiration for hosting this contest!
4 tablespoons vegetable oil
1 cup red and orange bell peppers chopped
1 Serrano chili pepper chopped
2 cups chicken breast diced
2 heaping tablespoons fresh roasted green chilies
1 teaspoon red chili powder
1 teaspoon Spice Hunter Fajita Seasoning
1 can black or pinto beans
1 teaspoon Lawry's Garlic Salt
2 tablespoons Better Than Bouillon
½ cup crushed tortilla chips
½ cup shredded cheddar cheese
In a large stock pot use 2 tablespoons vegetable oil to saute onion and bell pepper, cook on medium high heat until skin on peppers is seared, about 5-8 minutes; reduce to medium heat and remove onions and peppers, set aside, add 2 tablespoons of vegetable oil to the same stock pot, salt and pepper chicken breast and cook for 5 minutes making sure to sear all sides of meat, add garlic, Serrano pepper and greens chilies to chicken and cook for additional 5 minutes. Add next 10 ingredients and simmer for 1-2 hours, stirring frequently. Just before serving add ½ cup crushed tortilla chips and cook for 5 minutes to thicken soup. Serve with cheddar cheese and a large bowl of tortilla chips. Sprinkle the top with Queso Fresco, add a few cilantro leaves and a squeeze of lime juice. For a heartier meal, serve soup with soft tortillas and a big pitcher of margaritas.