Food Blogging Parents show off their kitchen talents through their posts!
I rejoice today in the knowledge that the voiceBoks online community, is looking for the Top 10 Food Blogs of 2013 and At Home with Rebecka has been chosen as one of the contenders.
"Some of you were especially selected, because of your creativity, organization, and passion expressed through your blogs."
The top 10 food blogs are now listed on the top of the home voting page. Every Monday for the next 4 weeks, we will list the top 10 in order. Others will follow but in no particular order.
 The top 10 will be recognized for 2013, but the person with the highest number of votes will receive 1 month of free ad space on voiceBoks and its community along with $50 Paypal Cash and of course a beautiful badge that only that one person will have recognizing them as the top food blogger for 2013.
Almost four years ago I began food blogging, in that time I have poured my passion for cooking new recipes, culinary competitions, learning new video, food styling, and photographic techniques, honing my writing skills and countless hours of social networking; culminating in an enormous amount of personal as well as professional growth.  I didn't start blogging with the intention of making money, and it's a good thing as little, to no money has been made throughout my blogging career however, the gift of being recognized for my efforts has sufficed to make the entire journey a true blessing.
I would love to be in the top 10 Food Bloggers as well as win the coveted prize of Top Food Blogger of 2013!  I need your Thumbs Up to make it happen, so please visit the link here  and cast your vote daily.  Links are also provided to share my site and the contest on all social media.  Please follow my RSS feed as well as share the information with all your social networks.
A big thank you to the voiceBoks community for giving me the opportunity to promote and improve recognition and placement in the Blogosphere for At Home with Rebecka.
Voting Period:
Voting ends March 24, 2013 11:59PM
Top Blog FAQs
Have questions about how the Top Blog Lists work? Click here now.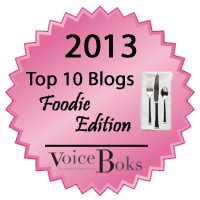 Thank you loyal readers and friends!