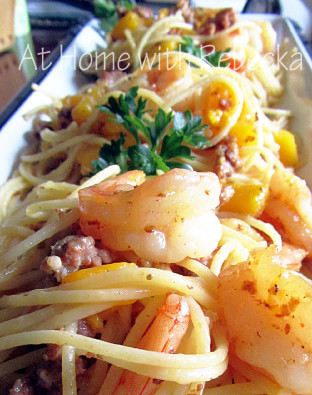 Press Contact: Mary Eva Tredway of The Butin Group, For The Shrimp Council asked me to add my personal culinary touches to create a new and delicious Shrimp & Pasta Dish, in conjunction with the second annual "Shrimp & Pasta Party!" which debuted (Feb. 13) on the Eat Shrimp Facebook page and runs through Easter Sunday, March 31. 
Hosted in partnership with OLD BAY Seasoning and McCormick & Company, the promotion this year invites fans to whip up their favorite shrimp-and-pasta recipes for a chance to win one of five $100 gift cards to the grocery store of the winner's choice, plus some nifty OLD BAY swag, including the famous blend of 18 spices that truly makes shrimp shine!
I've already added my personalized recipe to the interactive recipe contest which invites fans to create their own shrimp-and-pasta recipes using preselected ingredients from six categories:  pasta, protein, sauce, veggies, cheese, and, of course, herbs and seasonings.  Each selected ingredient will automatically populate on a plate, ultimately displaying a final "dish" that the contestant submits for judging.
The second annual Shrimp & Pasta Party can be found on The Shrimp Council's Eat Shrimp Facebook page.
Prize packages include a $100 gift card – redeemable at the winner's grocery store of choice – and branded items from OLD BAY, including a T-shirt, a hat and the world-famous and deliciously unique blend of 18 herbs and spices known as OLD BAY® Seasoning.  The five winners will be announced April 5, 2013.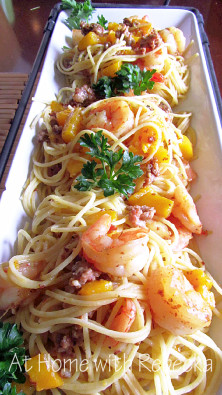 Originally, I planned to make my favorite Shrimp & Pasta recipe, "Shrimp Amore" which calls for passion fruit;  unfortunately, passion fruit is not in season.  I had to make some adjustments to the dish, substituting mango in place of the passion fruit. 
At first taste, the dish just didn't sing like it does with the addition of passion fruit, I added a few more ingredients to enhance the flavors and came up with an entirely new recipe I call, Shrimp & Pasta Carbonara Amore!   Equally flavorful, and the brand new cousin to my original recipe; a restaurant quality dish, and just plain good eating!
I'll share the original recipe and mark the changes so you can try both recipes and decide for yourself which one you prefer.
Recipe
1 pound Florida Gulf pink shrimp, peeled and deveined
1 pound thin dry spaghetti
1 tablespoon OLD BAY® Seasoning
2 passion fruit, pulp (substitute, 1 large cubed mango)
1 fresh peach peeled, cubed (omitted in my recipe)
1 pound unsalted butter
½ cup passion fruit liquor (substituted, apple brandy)
5-6 strips bacon, or pancetta, diced
4 garlic cloves, minced
2 large eggs
½ cup dry white wine
1 cup fresh grated Parmigianino-Reggiano, more for serving
1 tablespoon fresh chopped parsley
salt and pepper to taste
Method
Prepare sauce while pasta is boiling in salted water. Pasta should be hot when adding the egg mixture in order to cook the raw eggs in the sauce
Cook pasta per manufactures instructions until Al dente, reserve ¼ cup of pasta cooking water to use if necessary for the sauce
Meanwhile, cook chopped bacon in a deep saucepan over medium heat until crisp, remove from pan and set aside
Remove bacon grease from pan, return to burner
Add butter to pan and cook over medium heat, until butter is melted,
Toss cleaned shrimp in 1 tablespoon OLD BAY® Seasoning, cook in butter over medium heat until shrimp turn pink, about 4 minutes, do not over cook
Remove shrimp from pan and set aside
If pan is too dry add 1 teaspoon olive oil or another teaspoon butter,
Add minced garlic, and fruit, to pan and cook until fruit is heated through
Return shrimp to pan, toss shrimp in sauce cooking for a minute or two
Remove pan from heat, add liquor, tilt pan away from you slightly, and light with match or lighter to flambé
After flame has subsided, in separate bowl mix together two eggs and white wine
Add cooked pasta to pan of cooked shrimp, toss slightly, add egg mixture and toss until spaghetti is coated thoroughly
Toss in cooked crumbled bacon and chopped parsley, combine
Sprinkle with more Parmigianino-Reggiano and serve
If pasta seems dry, add a few tablespoons reserved pasta water
Since launching the Eat Shrimp Facebook page in 2011, The Shrimp Council has amassed a fan base in excess of 40,000 – a flood of professed shrimp lovers who engage with the page and each other frequently.  The Shrimp Council connects with these fans in various ways, from sweepstakes such as the popular Shrimp & Pasta Party! to surveys about nutritious and delicious shrimp.
Photos were taken before adding the Carbonara part of the recipe, so will look slightly different from the new version.