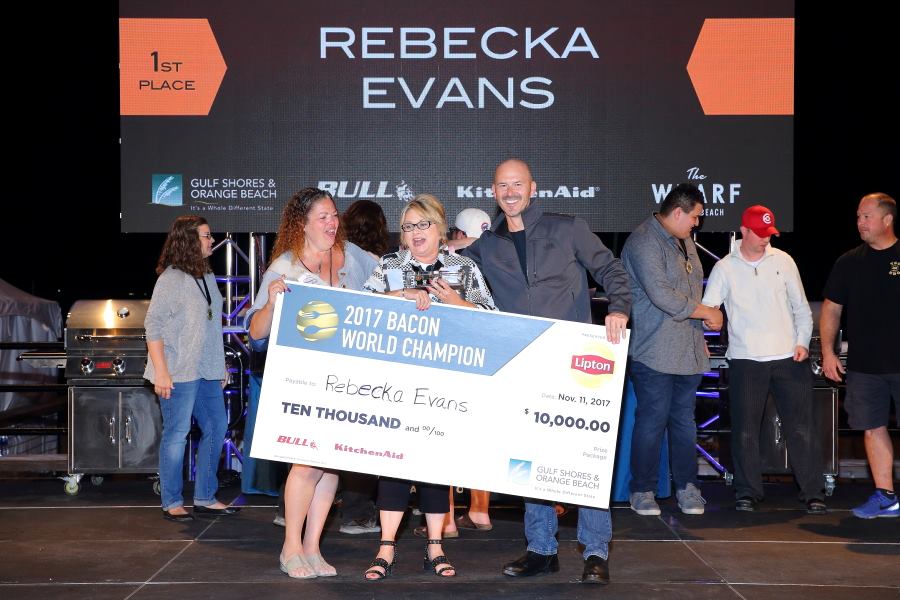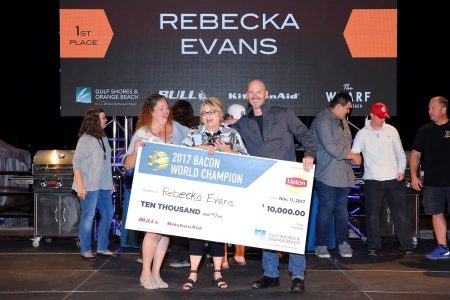 2017 Bacon World Champion Rebecka Evans
This Home Cook is the 2017 Bacon World Champion!!
I'm so blessed to take home top honors at the 2017 World Food Championships held in Orange Beach, Al November 8-12. I beat out professional chefs and some very seasoned home cooks with my Dutch Crunch Baby Pancakes and won $10 thousand dollars in cash and prizes. Stay tuned for the Final Table, April 2018 where I will battle it out to win 100 Grand.
Thank you Team Saucy Mama for believing in me and being the best sponsor in the world!!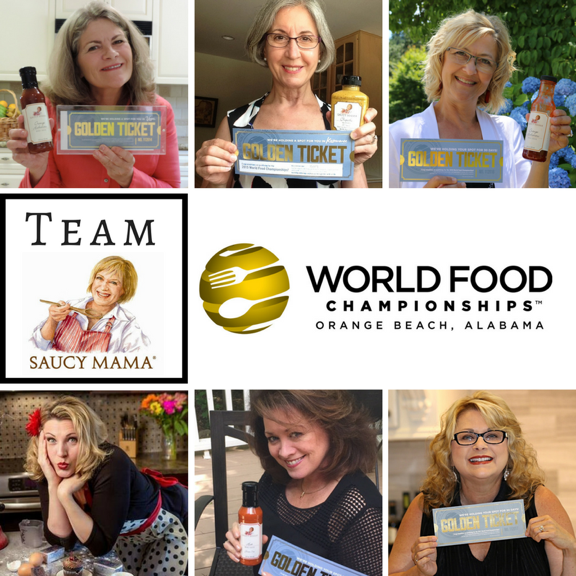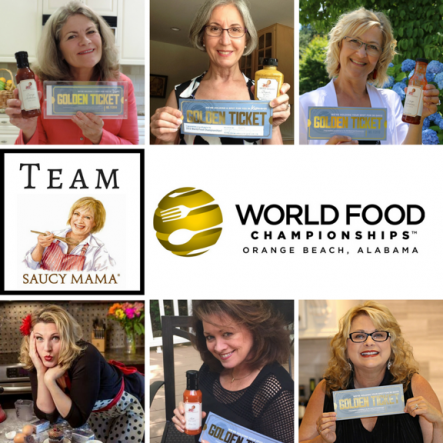 The group, which includes one returning champion and an international professional cook team, will now battle it out for a $100,000 prize package in the Spring of 2018 at WFC's Final Table. The winners who emerged from the main event were crowned 2017 champions in the following categories: BBQ, Bacon, Burger, Chef, Chili, Dessert, Recipe, Sandwich, Seafood and Steak. They came from all types of culinary backgrounds, proving once again that WFC's E.A.T. methodology is providing a level playing field for Food Sport enthusiasts.

The 2017 World Food Champions Include:

Chef Tommy Shive from Memphis, Tenn., who won the World Burger Championship with a Benedict Bubba Burger on Brioche.

Chef Acie Vincent from Oviedo, Fla., who won the World Sandwich Championship with a Smokey Lionfish Crabcake Sandwich with Bacon Tomato Jam.

Canadian and Pro Team Cook Mike Callaghan from London, ON, who won the World Recipe Championship with a Bao Springin' Chicken Wow.

Home Cook Rebecka Evans from Houston, Tex., who won the World Bacon Championship with Dutch Crunch Baby Pancakes.

Home Cook Kim Banick from Salem, Ore., who won the World Seafood Championship with Alabama Crawfish Thai Bowl with Coconut Gulf Shrimp.

Home Cook Liz Kraatz, from St. Louis, Mo., who defended her title as the World Open Chili Champion with a Creamy Ancho White Chili.

Home Cook Ann Jones from Browns Summit, N.C., who won the World Dessert Championship with her Dutch Apple Pie with Apple Brandy Sauce.

Chef Craig Baker from Indianapolis, Ind., who won the World Chef Championship with Berries & Cream with Candied Nuts and Strawberry Basil.

Home Cook Lisa Gwatney of Memphis, Tenn., who won the World Steak Championship Steak Africana Oscar with Asparagus.

Pro Cook Team Fred Robles from Weslaco, Texas, who advanced through the first Dual Duel BBQ Sanctioned Challenge at WFC to win the WFC World Barbeque Championship.

The 10 Champions will now start preparing for the dish of their lives, as they will be featured in a live-streaming, timed cooking challenge for a shot at a $100,000 prize purse. The location for the Final Table has not yet been announced, but the date will be the weekend of April 21st/22nd. Source:World Food Championships
To review all the 2017 World Food Championship scores and results, visit https://worldfoodchampionships.com/scores or like the event's Facebook page. Click HERE for more information about World Food Championships.