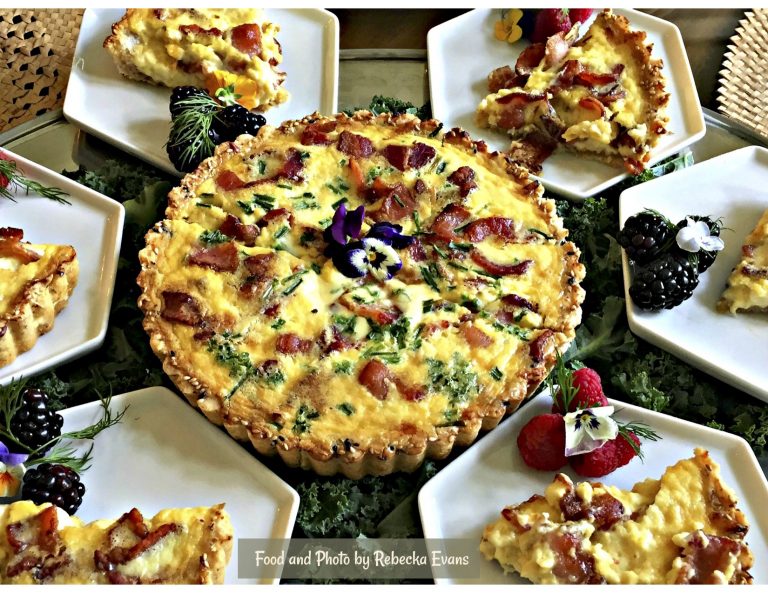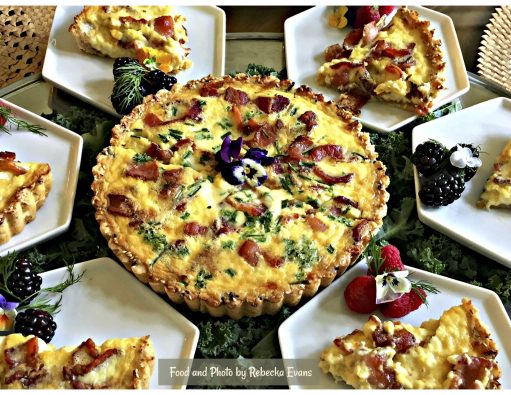 Three Cheese Quiché Lorraine - WFC 2017-Structure Build
It's time to share my Bacon World Food Championship Structure Build recipe, Three Cheese Quiché Lorraine. I was so busy competing this year that I only had the opportunity to get one photo of my completed dish (see below). The photo above was taken of my final practice dish before competing in the Bacon World Championships on November 9, 2017.
Let me first thank my wonderful sponsor Saucy Mama. Suzie Barhyte and her wonderful company allowed me the pleasure to compete on Team Saucy Mama and use their amazing products in my recipes. Also, Thank you Mary Alice and Collette for your support and love throughout the competition.
Competing at such a large and prestigious event requires a lot of preparation and planning. One very important element in competing is adhering to the official rules. Below are a few of the details about the official rules for the opening round(s).
OPENING ROUND
STRUCTURED BUILD:
The Structured Build for the Bacon World Championship is "Quiche Lorraine." Competitors
are not required to use a specific bacon brand. Competitors will need to bring their own
bacon for this build. The Structured Build creates an even "playing field" by requiring all competitors to create the same type of dish. The competitors who set themselves apart from the field will have proven their culinary skills in creativity and execution within this structured requirement.

As defined, a Quiché Lorraine is savory open crust pie, filled with custard flavored with, but not limited to, bacon and cheese. Source: World Food Championships 2017 Competitor Packet
I love that professional chefs have to make the same dishes as home cooks just as much as I love that I have to cook like a professional chef to bring a restaurant worthy dish to win.
Competitors are also instructed to write a brief description that best showcases our recipe for the judges. Here's mine.
My Quiché Lorraine recipe is the perfect blend of French Gruyère, Applewood smoked cheddar, and goats milk white cheddar cheeses. The Gruyère satisfies with its traditional nutty and assertive flavors while the fruity, sweet aroma of Applewood smoked cheddar complements the hickory smoked flavors of thick cut bacon. The goats milk cheddar lends a certain and familiar tang; while a mixture of heavy cream and eggs create a creamy custard that rests atop a black and white toasted sesame seed and smoky bacon dust infused pie crust. For added depth of flavor, champagne honey mustard is infused into the filling and the crust receives a light brushing of the mustard before baking. Fresh snipped chives finish the Quiche adding color and mild onion flavor.
Without a doubt this is the best Quiché I've ever made or eaten. One of my competitors, Two Smokin Guys, NY (Galuski, Dave) made a perfect rendition of Quiché Lorraine. WOW! I need a slice of that pie!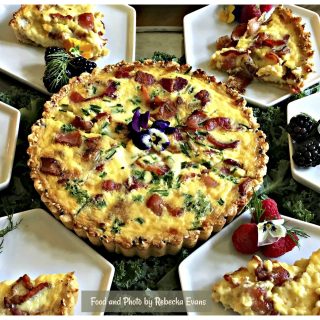 Three Cheese Quiche Lorraine
Bacon World Food Championships Required Structure Build
Ingredients
FOR THE PIE DOUGH
3

CUPS

FLOUR

¼

TEASPOON

SEA SALT

20

TABLESPOONS

COLD BUTTER

2

EGGS

¼

CUP

BACON DUST MADE FROM PRE-PACKAGED "REAL BACON" BITES OR COOKED CHOPPED BACON

½

CUP

SAUCY MAMA CHAMPAGNE HONEY MUSTARD

TO BRUSH PIE CRUST

4

TABLESPOONS

WHITE SESAME SEEDS

1 ½ TABLESPOONS PER PIE

1 ½

TABLESPOONS

BLACK SESAME SEEDS

½ TABLESPOON PER PIE
FOR THE FILLING
1 - 4

LB

PACKAGE THICK SLICED BACON

ABOUT 24 BACON SLICES, CHOPPED ½ INCH THICK, COOKED AND DRAINED ON PAPER TOWEL

4

WHOLE LARGE EGGS

4

EGG YOLKS

3

CUPS

HEAVY CREAM

1 CUP KROGER THICK STYLE, 2 CUPS LAND O LAKES

1

TEASPOON

SALT

½

TEASPOON

WHITE PEPPER

2

TABLESPOONS

SAUCY MAMA CHAMPAGNE HONEY MUSTARD

1

CUP

APPLE SMOKED CHEDDAR CHEESE

GRATED

1

CUP

Gruyère CHEESE

SHREDDED

½

CUP

GOATS MILK WHITE CHEDDAR

GRATED

1

TEASPOON

FLOUR

TO TOSS CHEESES

4

TABLESPOONS

½ INCH LENGTH SNIPPED CHIVES
Instructions
FOR THE BACON
1. CHOP BACON INTO ½ INCH PIECES. DIVIDE IN HALF AND COOK IN 2 LARGE SKILLETS UNITL JUST BROWNED. DON'T OVER COOK. DRAIN ON PAPER TOWEL UNTIL READY TO ASSEMBLE PIES.

2. PLACE ¼ CUP PRE-PACKAGED "REAL BACON" BITES INTO COFFEE GRINDER OR FOOD PROCESSOR. BLEND UNTIL FINE DUST (OR USE PREPACKAGED BACON DUST)
FOR THE FILLING
1. IN A LARGE MIXING BOWL WHISK TOGETHER, 4 WHOLE LARGE EGGS, 4 EGG YOLKS, 1 CUP KROGER BRAND HEAVY CREAM, 2 CUPS LAND O LAKES HEAVY CREAM, (USE 3 CUPS FAVORITE BRAND HEAVY CREAM IF KROEGER IS NOT AVAIBLE) 1 SEA TEASPOON SALT, ½ TEASPOON WHITE PEPPER, 2 TABLESPOONS SAUCY MAMA CHAMPAGNE HONEY MUSTARD

2. IN A LARGE MIXING BOWL, COMBINE 3 PRE-GRATED CHEESES TOGETHER SPRINKLE 1 TEASPOON FLOUR OVER CHEESE. TOSS TO COMBINE. THIS KEEPS CHEESE FROM STICKING TOGETHER AND MAKES FOR EASIER SPREADING OVER CRUST
FOR THE CRUST
1. IN A SMALL FOOD PROCESSOR OR COFFEE MILE, PULSE ¼ CUP COOKED CRUMBLED BACON UNITL IT REMESBLES FINE SAND

2. IN A LARGE FOOD PROCESSOR COMBINE, 3 CUPS FLOUR, ¼ TEASPOON SALT, 20 TABLESPOON COLD BUTTER, 2 EGGS, AND ¼ CUP BACON DUST

3. PULSE UNTIL DOUGH JUST COMES TOGETHER. DOUGH WILL BE CRUMBLY

4. POUR CRUST OUT ONTO A FLOURED SURFACE AND GENTLY PRESS DOUGH INTO A BALL. CUT DOUGH INTO THIRDS. PLACE ONE DOUGH IN THE MIDDLE OF EACH 8" FLUTED TART PANS. GENTLY START PRESSING DOUGH FROM MIDDLE TO EDGES WITH FINGERS UNITL ¼ INCH THICK.

5. USING A PASTRY BRUSH, LIGHLTY BRUSH THE 3 PIE CRUSTS WITH ½ CUP SAUCY MAMA CHAMPAGNE HONEY MUSTARD. (ABOUT ¼ CUP EACH SHELL) BE SURE TO BRUSH ALL THE WAY TO THE TOP FLUTED EDGES

6. SPRINKLE EACH PIE EVENLY WITH SESAME SEEDS, MAKING SURE TO SPRINKLE ALL THE WAY TO THE FLUTED EDGES

7. EVENLY DISTRIBUTE COOKED CRUMBLED BACON OVER THE BOTTOM OF EACH PIE SHELLS

8. DISTRIBUTE MIXED SHREDDED CHEESES EVENLY OVER PIES

9. POUR FILLING EQUALLY INTO PIES, LEAVING ABOUT ¼ INCH HEAD SPACE

10. SPRINKLE SNIPPED CHIVES EVENLY OVER TOP OF EACH PIE

11. BAKE FOR 28-36 MINUTES OR UNTIL KNIFE INSERTED INTO MIDDLE OF PIE COMES OUT CLEAN.

ASSEMBLE: CUT ONE PIE INTO 6 TRIANGLE SLICES. ARRANGE ON PLATES AND GARNISH WITH FANED STRAWBERRY AND MINT SPRIGS.
Notes
GARNISH:
OPTIONAL: CHIVES, CHIVE BLOSSOMS, FRESH STRAWBERRIES SLICED AND FANED OUT, MINTS SPRINGS, EDIBLE FLOWERS
As you can see the scores below are ridiculously close. I placed 8th in the Top Ten Round and then went on to take First Place in the Final Round winning 10,000 thousand dollars and becoming the 2017 Bacon World Champion!
BACON WORLD CHAMPIONSHIP
| Place | Competitor | Structured Build | Signature Dish | Round 1 | Top 10 | Final Score |
| --- | --- | --- | --- | --- | --- | --- |
| 1. | Team Saucy Mama-At Home with Rebecka (Evans, Rebecka) | 92.375 | 91.625 | 92 | 93.8889 | 93.13334 |
| 2. | farleys (Trumpold, Elizabeth ) | 99.625 | 84.75 | 92.1875 | 92.0556 | 92.10836 |
| 3. | Bob's BBQ Emporium (Brumley, Robert) | 95.875 | 87 | 91.4375 | 91.4444 | 91.44164 |
| 4. | Culinary Assault (Coe, Stephen) | 98 | 90.5 | 94.25 | 89.4444 | 91.36664 |
| 5. | Maximum Chefort (Hurst, AJ) | 93.875 | 94 | 93.9375 | 89.3333 | 91.17498 |
| 6. | Blazin' Blues BBQ (Richard, Dan) | 89.625 | 96.375 | 93 | 89.4444 | 90.86664 |
| 7. | Two Smokin Guys,NY (Galuski, Dave) | 100 | 94.125 | 97.0625 | 86.3889 | 90.65834 |
| 8. | Croix Valley Foods (Holter, Lu) | 88.75 | 93.75 | 91.25 | 87.5556 | 89.03336 |
| 9. | Lowcountry Wild Child (Kohn, Shannon) | 96.25 | 92.375 | 94.3125 | 81.2778 | 86.49168 |
| 10. | Jonathan (Giovannoni, Jonathan) | 92 | 95 | 93.5 | 80.1111 | 85.46666 |
| 11. | Sugarfire Smokehouse (Johnson, Mike) | 95.875 | 86.375 | 91.125 | -- | -- |
| 12. | pitmasterIQ BBQ (Kennington, John) | 89.75 | 92.125 | 90.9375 | -- | -- |
| 13. | Taste Of Wisconsin (Medes, Lorraine) | 91.25 | 90.25 | 90.75 | -- | -- |
| 14. | Fork and Company (Little, Chera) | 96.25 | 83.75 | 90 | -- | -- |
| 15. | Smokey Treats Bbq (Beranek, Matthew) | 87.875 | 91.625 | 89.75 | -- | -- |
| 16. | Cuisine with Colleen (Curley, Colleen) | 89.875 | 89.375 | 89.625 | -- | -- |
| 17. | Buzzcatz coffee & sweets (Hendrix, Juanita) | 85.625 | 93.375 | 89.5 | -- | -- |
| 18. | Yard Lobster BBQ (Lampkin, Craig) | 84.375 | 94.125 | 89.25 | -- | -- |
| 19. | Flora-Bama Ole River Grill (Gibson, Jon) | 87.75 | 90 | 88.875 | -- | -- |
| 20. | Fivestar Nacho MKE (Gonzalez, Nichole) | 87.125 | 90.5 | 88.8125 | -- | -- |
| 21. | Culinary Cartel (Griffitt, Elisha) | 84.375 | 92.375 | 88.375 | -- | -- |
| 22. | The Promo Addict (Bird, Russell) | 92.125 | 84.5 | 88.3125 | -- | -- |
| 23. | GastreauxNomica (Rivera, Sean) | 87 | 88.375 | 87.6875 | -- | -- |
| 24. | Wind Creek Montgomery Casino &Hotel (Hargroves, Kelly) | 90 | 84.875 | 87.4375 | -- | -- |
| 25. | Oink-A-Doodle-Moo 1559 (Bayless, Mark) | 91.25 | 83.125 | 87.1875 | -- | -- |
| 26. | Bowers, Jason | 83.125 | 90.625 | 86.875 | -- | -- |
| 27. | Sean Streete (Streete, Sean) | 82.875 | 90.5 | 86.6875 | -- | -- |
| 28. | Team Spruytte (Spruytte, Lois) | 90.875 | 82.375 | 86.625 | -- | -- |
| 29. | STI COLLEGE - Philippines (Montojo, Rhealyn) | 91.625 | 81.5 | 86.5625 | -- | -- |
| 30. | Workaholics Services (Talley , Jeremy ) | 84.625 | 88.25 | 86.4375 | -- | -- |
| 31. | My-Big-Fat-Greek-Kitchen (Geise, Andreann) | 87 | 85.375 | 86.1875 | -- | -- |
| 32. | Spice Your Life Rub Your Meat BBQ (Hogan, Michael ) | 86.125 | 85.75 | 85.9375 | -- | -- |
| 33. | Forrest Dilmore (Dilmore, Forrest) | 88.625 | 81.875 | 85.25 | -- | -- |
| 34. | the lamb and the wolf (athanasopoulos, michael) | 88.75 | 77.375 | 83.0625 | -- | -- |