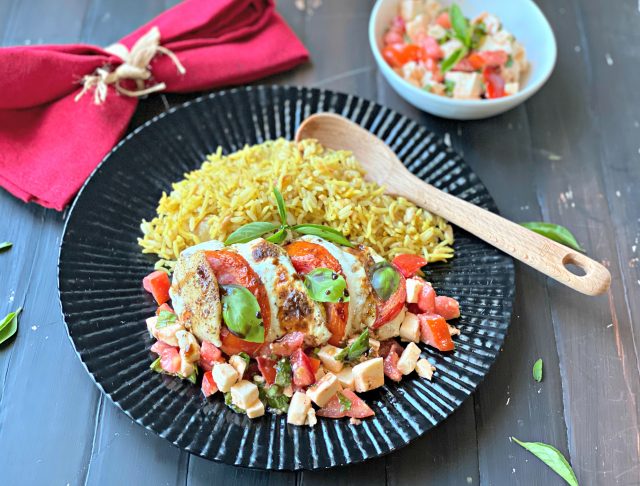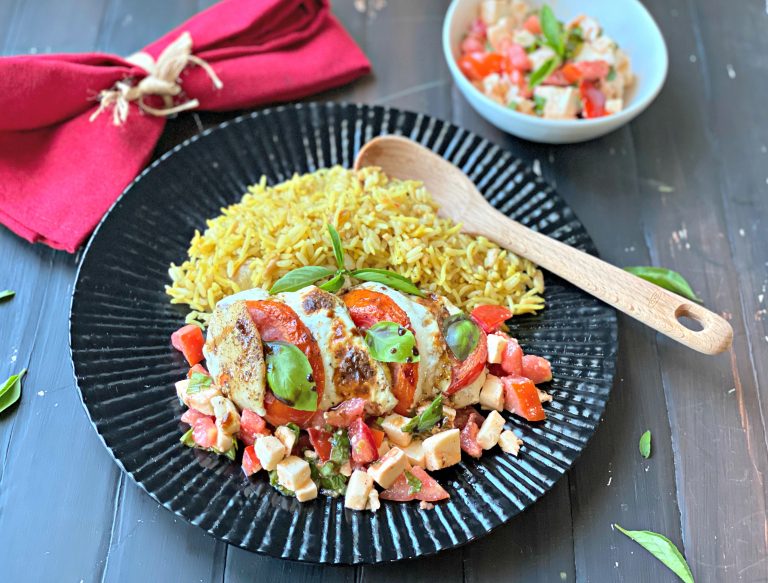 Delicious One Pan Meal
My darling neighbor and friend Nina served me this delicious one-pan meal, Baked Chicken Caprese, during the COVID-19 quarantine. I loved it so much that I've made it several times for my family, who adore the dish almost as much as I do.
The recipe is simple to make and filled with all my favorite flavors of summer.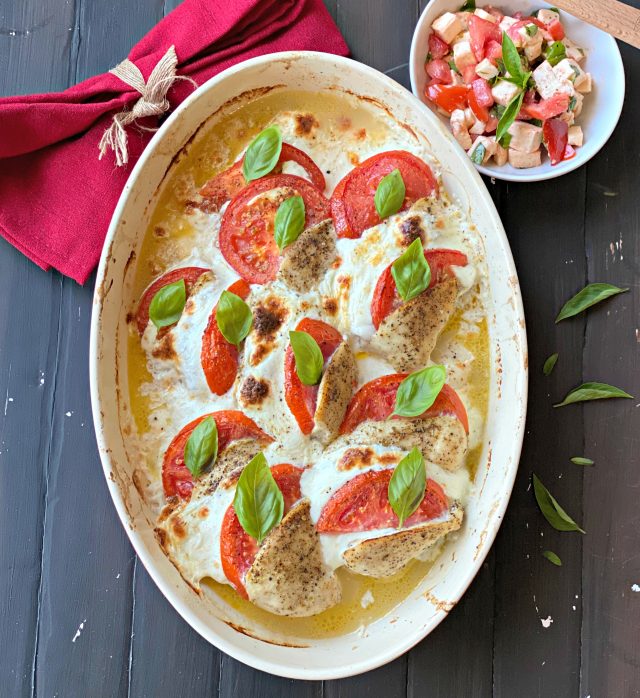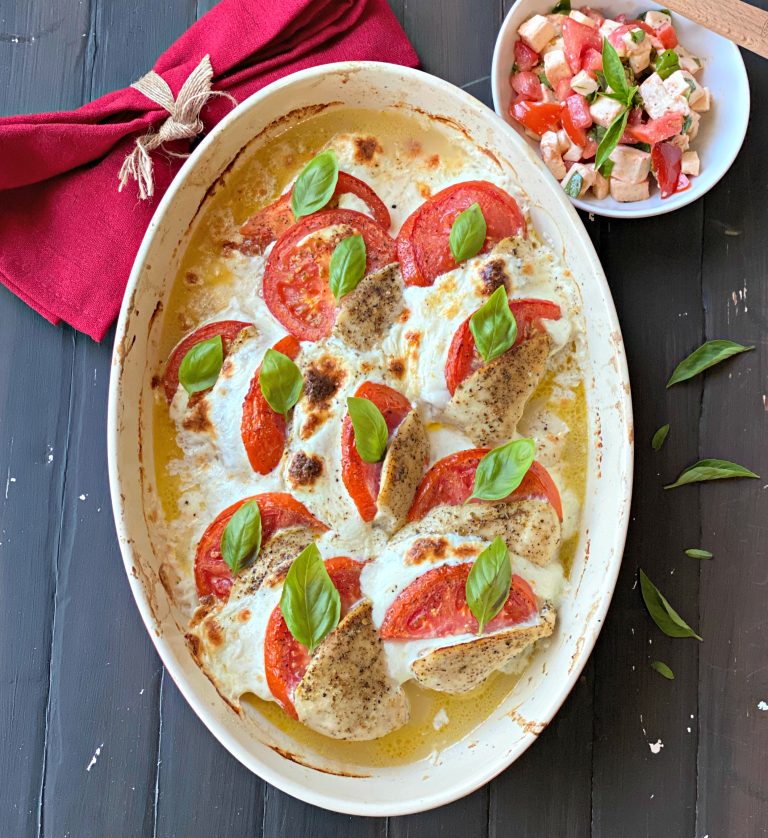 Great Friends - Great Food
During the COVID-19 lockdown, I've been so blessed to have a like-minded friend to share recipes with, great food, lots of laughter, and healthy, socially distanced adventures. Now that Nina has returned to work in the medical field, we've had to squeeze in shorter blocks of time to cook and enjoy each other's company.
COVID-19 was good for bringing us together for quarantine cooking adventures and long talks; nurturing a friendship that will last a lifetime.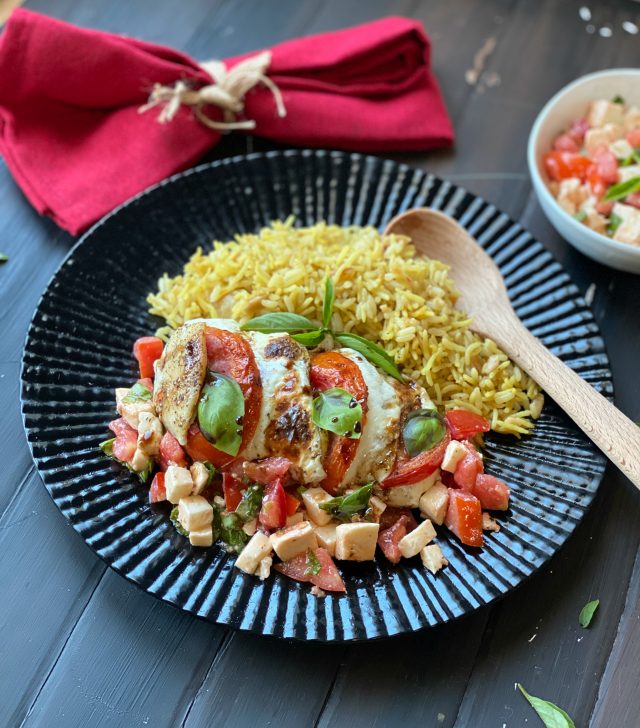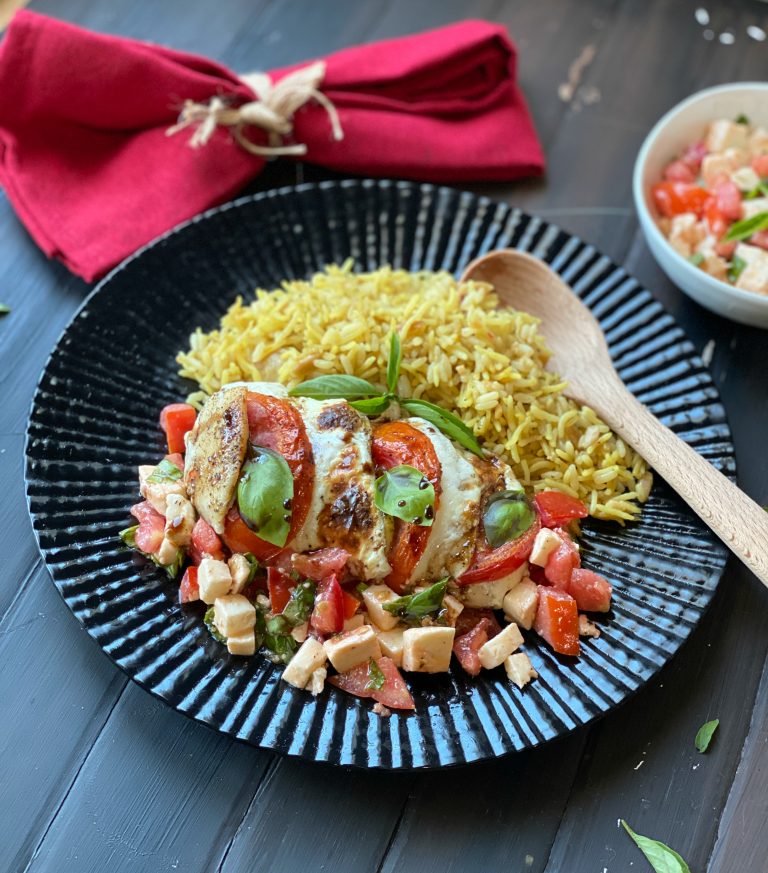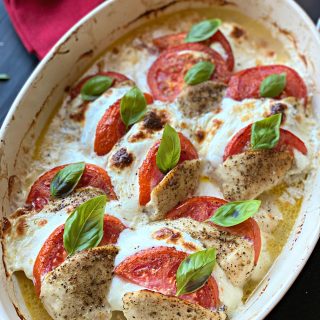 Baked Chicken Caprese
Ingredients
FOR THE CHICKEN:
4

Marketside Antibiotic-Free Boneless Skinless Chicken Breasts1 ½ tablespoon Fiesta Italian Spice Blend½ teaspoon Great Value salt½ teaspoon Great Value black pepper1 tablespoon Great Value extra virgin olive oilGreat Value cooking spray for pan2 8-ounces tub Great Value fresh mozzarella cheese. Cut 1 tub into 8 slices and the other tub into small chunks3 Vine Ripe tomatoes

divided1 cup whole basil leaves, divided
FOR THE BALSAMIC REDUCTION
½

cup

balsamic vinegar2 tablespoons Great Value honey
Instructions
Preheat oven to 400 degrees F.

To make the balsamic reduction, add balsamic vinegar and honey to a small saucepan over medium heat. Bring to a slight boil and reduce by half, about 6-8 minutes; set aside and let cool.

In a small bowl, combine Fiesta Italian season blend with salt and pepper, to taste.

Slice the chicken breasts diagonally about ¾ way through the meat. Leave about ¼ inch intact to hold cheese and tomato slices. Sprinkle spice mixture evenly over the breasts and with your fingers, work the mixture onto the cuts and both sides of the chicken.

Spray an 11 x 7-inch baking pan with Great Value cooking spray

Place chicken into the pan. Insert one slice of mozzarella cheese and 1 slice of tomato into slits on chicken. Drizzle ½ teaspoon olive oil over chicken and roast in the oven until the chicken is completely cooked through, reaching an internal temperature of 165 degrees F, about 25-30 minutes.

While chicken is cooking, combine chopped mozzarella with chopped tomato. Add 2 tablespoons chopped basil, pinch salt and pepper, and drizzle mixture with ½ teaspoon olive oil. Set aside until ready to plate.

Remove chicken from the oven when the cheese has melted completely and chicken is done.

Top with whole basil leaves and serve immediately, topped with mozzarella and tomatoes, drizzled with balsamic reduction and garnished with more basil, if desired.