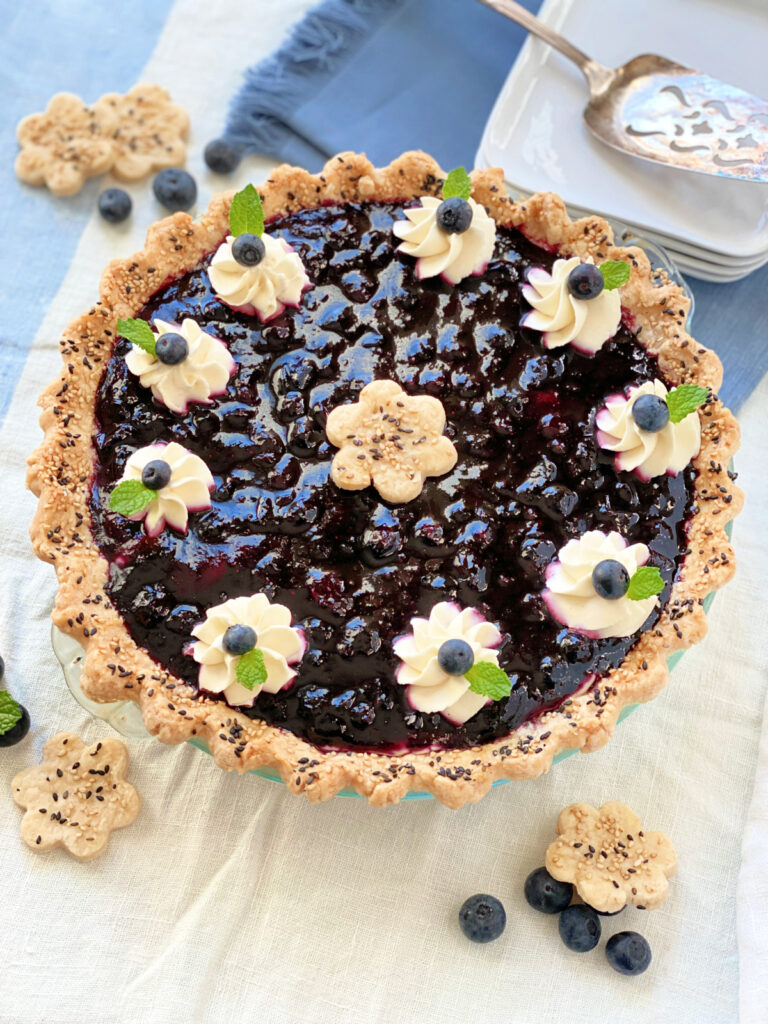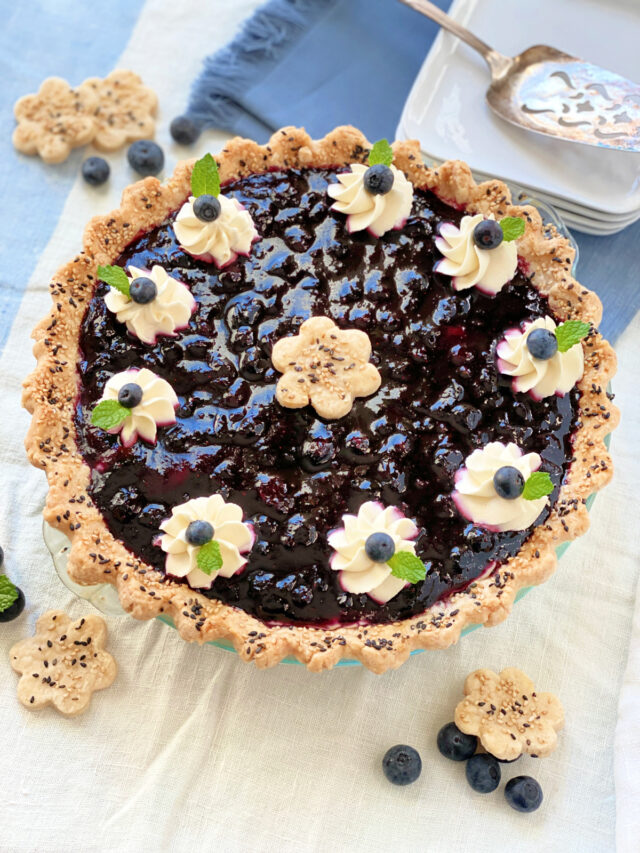 This post is featured in the incredibly informative publication, fyi50+ Magazine a Senior Life Magazine committed to inspiring, informing, and entertaining the 50+ audience. To read my monthly recipe article(s), subscribe to the online magazine, or order the hard copy version, visit this LINK.
Texas Blueberries
Texas blueberries have been absolutely delicious this year. I've been so inspired by their beauty and flavor, I just had to share my Blueberry Cream Cheese Pie with Sesame Seed Crust in this month's edition of FYI50+. The buttery sesame seed crust adds a depth of nutty flavor to the whipped cream cheese filling covered with unctuous blueberry topping. The recipe is super easy to make and the perfect complement to any holiday table.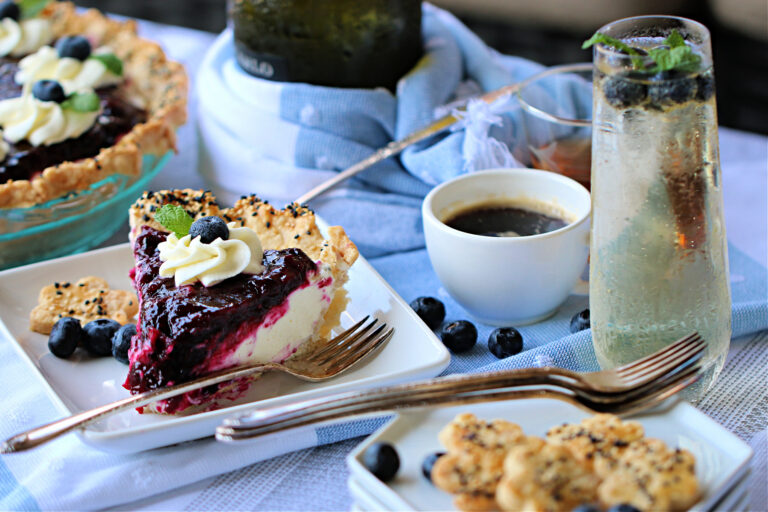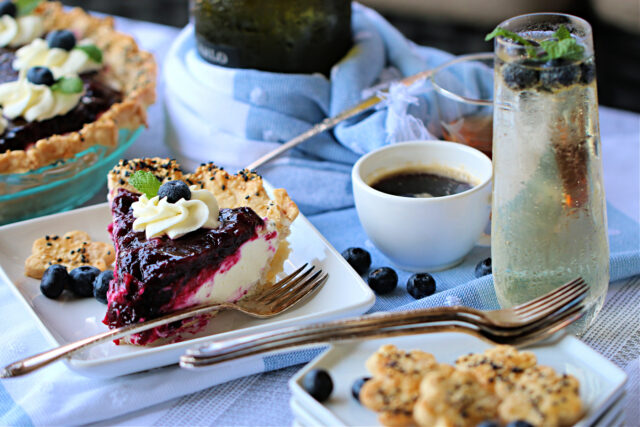 Serve with a tall glass of ice-cold Prosecco or an after-dinner shot of espresso spiked with Amaretto liquor.
America's Best Blueberry
Pie Contest 2021
I submitted this recipe to the 2021 America's Best Blueberry Pie Contest Hosted by: The U.S. Highbush Blueberry Council
The contest's winning recipe will become the official pie of the blueberry industry! How cool is that?
No Win For Me-Another Delicious Recipe Creation
No, win for me this time but I couldn't be more proud of my delicious blueberry pie submission.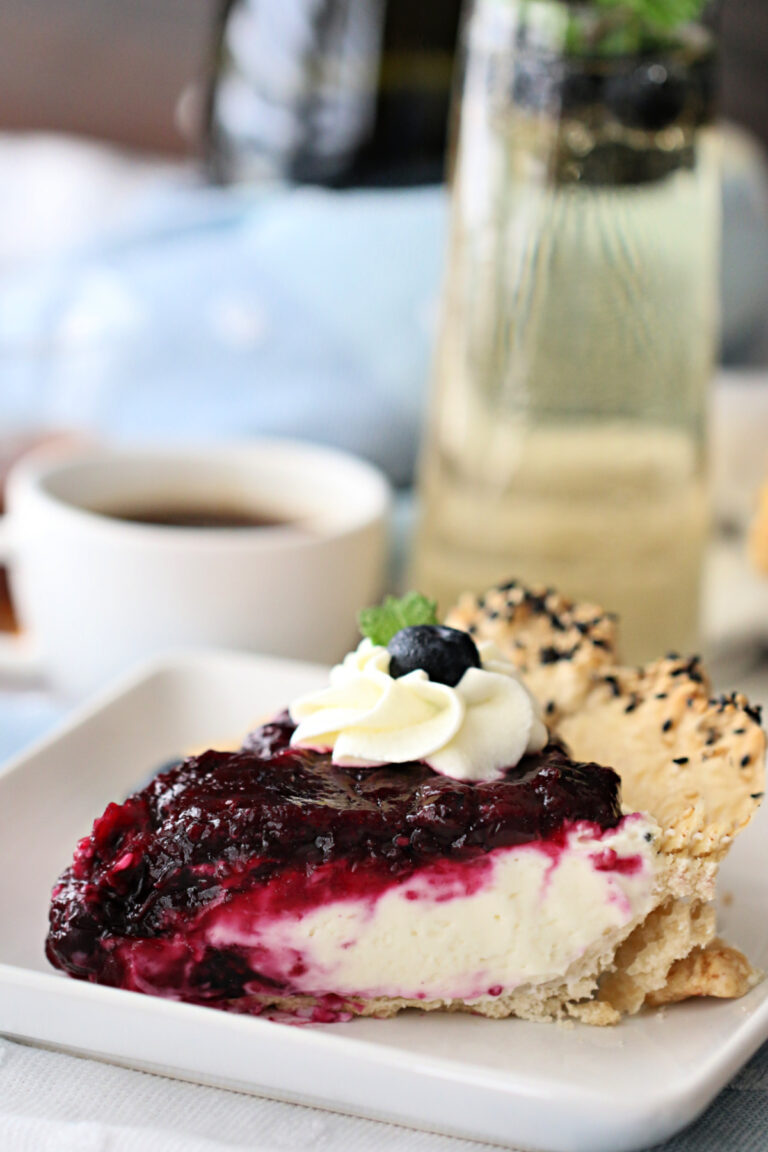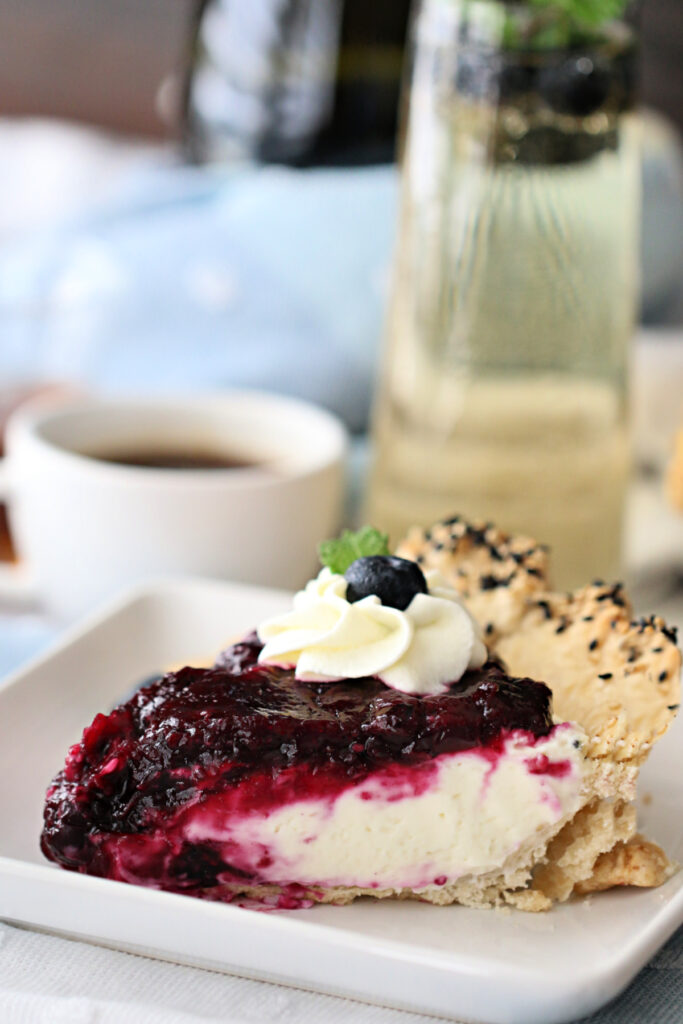 Fierce Competition
The competition was fierce with some of the most beautiful blueberry pies I've ever seen. Get a load of the winning recipe!
Get ready to put a delicious spin on a classic dish, with the official pie of the U.S. Highbush Blueberry Council and winner of America's Best Blueberry Pie Contest, Ginger 'n Spice Bubbling Blueberry Pie! A sweet way to wrap up any day, the added hints of ginger and orange marmalade make this pie one for the books.

blueberry.org
Created by Barbara Estabrook for America's Best Blueberry Pie Contest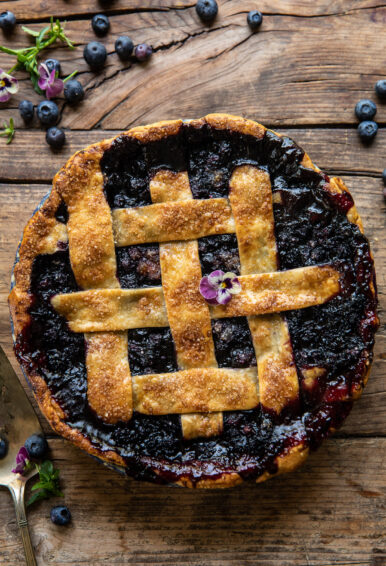 It's so nice to see my fellow food sports competitors win big in this year's contest. I know all 3 of the winners in the blueberry pie contest! Congratulations Barbara Estabrook, Renata Stanko and Veronica Callaghan! I'm so proud of all 3 of you!!
Judged by: Tieghan Gerard of Half baked Harvest
Tiegan Gerard is the perfect choice as a guest judge for the contest. She's such an incredibly talented home cook and baker and her photography skills are off the charts. She has been featured on The Cooking Channel, Food Network, HGTV, Crate & Barrel, Shape Magazine, Self Magazine, the Huffington Post, and PopSugar, among others. Half Baked Harvest was named Readers' Choice Favorite Food Blog by Better Homes and Gardens in both 2014 and 2016. It was also the recipient of Saveur Magazine's 2016 Award for Most Inspired Weeknight Dinners as well as the 2016 Bloglovin' Best Food Blog Award.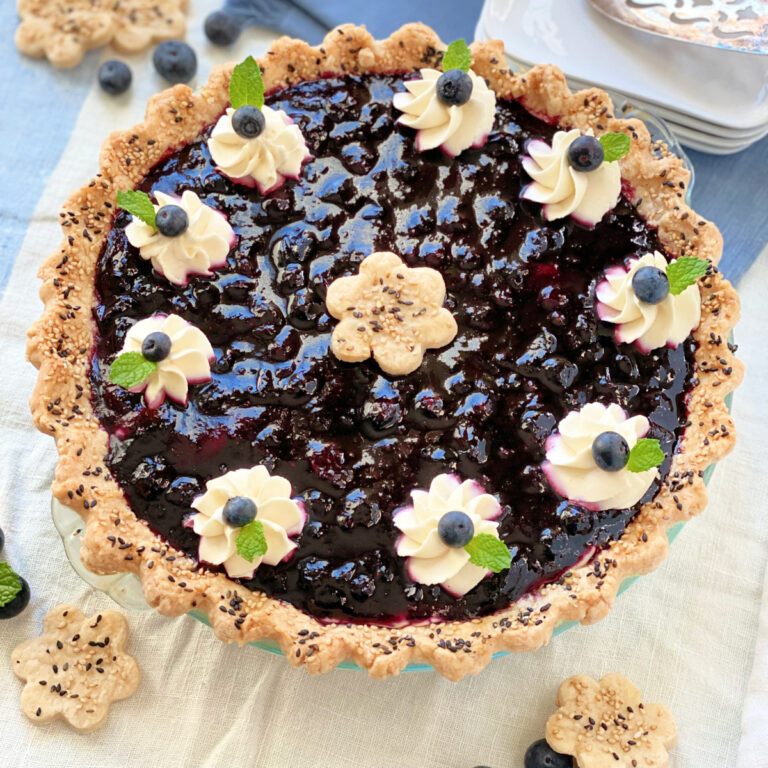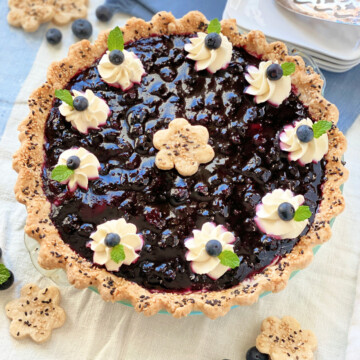 BLUEBERRY CREAM CHEESE PIE WITH SESAME SEED CRUST
American Blueberry Cream Cheese Pie with Sesame Shortbread Crust is the perfect summer dessert.
Ingredients
Sesame Shortbread Pie Crust
2 ½

cups

all-purpose flour

1

tablespoon

granulated sugar

6

Tablespoons

butter

(chilled and cut into cubes

¾

cup

shortening

(chilled and cut into cubes)

¼

teaspoon

salt

½

cup

ice water

2

tablespoons

mixed color sesame seeds

set aside for egg wash step
Cream Cheese Filling:
12

ounces

cream cheese

room temperature

1

cup

heavy cream

¾

cup

powdered sugar

divided

1

teaspoon

vanilla extract
Blueberry Topping:
1

cup

granulated sugar

3

Tablespoons

cornstarch

2

tablespoons

lemon juice

12

ounces

fresh blueberries

2 ½ cups
Egg Wash:
1

large egg

1

Tablespoon

water
Instructions
Pie Crust:

Place flour, sugar, and salt into the bowl of a food processor. Pulse two times to combine dry ingredients. Add butter, and shortening and pulse to incorporate until mixture resembles coarse cornmeal.

Next, add water, one Tablespoon at a time until the dough begins to come together in lumps. it should hold together but not be sticky.

Place the dough on a lightly floured surface, and knead a few times to disperse the butter and shortening. Separate the dough into two equal balls and place in plastic wrap. Refrigerate dough for at least 2 hours.

Roll pie one crust into a circle, place in a 9-inch pie dish cut off any excess overlapping dough, and crimp edges. Using the tines of a fork, dock the bottom and sides of the raw pie crust to make holes for ventilation.

Mix egg wash. Brush a thin layer of egg wash over the crimped edges of the pie. Sprinkle the edges with mixed sesame seeds.

Cut a 14-inch piece of parchment paper, Crumple it into a ball. Unfold the ball and place it inside the pie. Fill the parchment with dry beans to BLIND bake the pie crust.

Blind bake the pie crust at 350F. for 20 minutes. Remove parchment paper with the beans and finish cooking for 12-15 minutes or until golden brown. Allow the crust to cool completely before assembling the pie.

Filling:

In a large bowl with an electric mixer, beat room temperature cream cheese, ½ cup powdered sugar, and vanilla until light and fluffy, (about 4 minutes). In another bowl, whip the heavy cream and ¼ cup powdered sugar until stiff peaks form. Fold the whipped cream into the cheese mixture. Refrigerate until ready to build the pie.

Topping:

In a medium saucepan, whisk the sugar and cornstarch together. Add the lemon juice and blueberries. Stir over medium heat. Bring to a boil; cook and stir until very thick. Remove from heat. Refrigerate until ready to build the pie.

Assemble:

As soon as the ingredients are cool enough, spread the cream cheese filling evenly over the bottom of the pie. Dollop the blueberry mixture on top of the cream cheese layer. Smooth with an offset spatula. Cover with plastic wrap and chill for 4 hours or overnight. Serve with additional whipped cream.
Notes
Variations: substitute with your favorite berries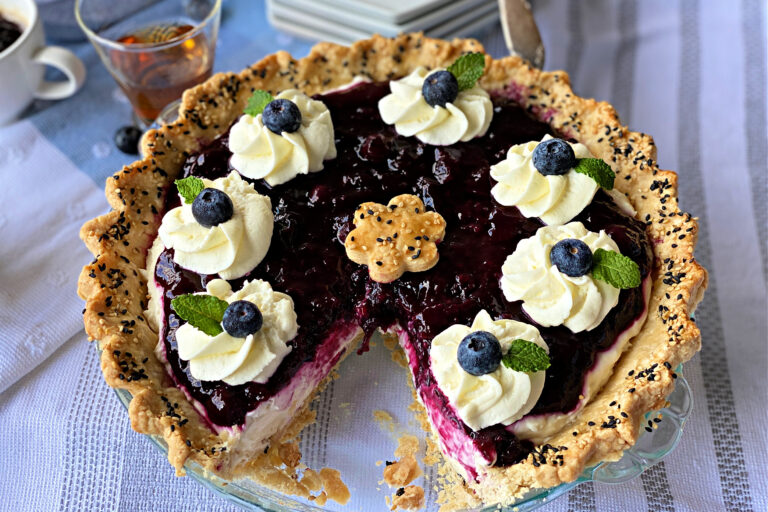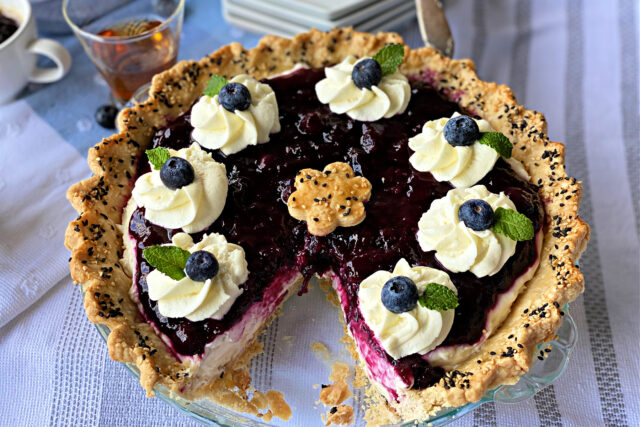 You Might Also Like:
My Award-Winning Savory Bacon Crackers with Blueberry-Fig Jam