The bright orange skin of the kumquat is so inviting but with one taste your mouth will twist up into a pucker. The tart pucker can be eased by adding sugar allowing the complex citrus flavor the perfect vehicle for consumption. In contrast, the soft almost furry skin of the apricot beacons me for a bite, revealing it's sweet tart flavor and juicy flesh. Apricots are filled with natural pectin and are perfect fruit for preserving.These two distinct flavors sounded like a perfect pairing for a marmalade and since I'm in "canning mode" that's exactly what I decided to make. I also wanted to add an element of surprise to my recipe so I incorporated the rich flavor of Madagascar Vanilla Bean and a touch of almond extract.
Filled with inspiration from these fresh ingredients I rendered one of the most flavorful marmalade's in my canning history! A mouthful of nectar fit for a king!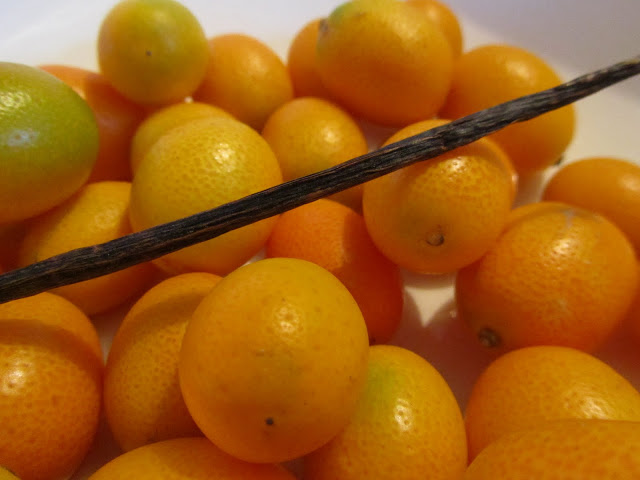 Recipe:
2 cups kumquat sliced skin on, seeds removed
6 pounds fresh apricots (10 cups) cut into quarters, pits removed
4 cups sugar
1 Madagascar Vanilla Bean
1 teaspoon almond extract
Method
In a large stock pot combine kumquat, apricots, whole vanilla bean and sugar, stir to combine, cover and cook on medium heat until kumquat release their liquid about 15 minutes, remove lid and bring to a boil. Skim foam from top of hot mixture, remove vanilla bean and split with a sharp knife, remove seeds by scraping a sharp knife inside seed pod, add all seeds to mixture and return seed pod to hot mixture; simmer uncovered for 30 minutes on low heat, stirring occasionally. Add almond extract and stir mixture vigorously with a metal spoon to break apart apricots, mixture will thicken naturally, do not add pectin.
Ladle hot mixture into prepared jars and cover with clean lids and rims. Return sealed jars to a hot water bath and boil for 15 minutes, remove jars to a clean dry towel, rest jars until seals form, this can take 15 minutes to 24 hours (see instructions for jar preparation and how to create a proper seal)


The tart sweet flavor of this marmalade makes for a fabulous light picnic paired with Morbier cheese and crackers. French Morbier is from the eponymous town in the Jura Mountains, this raw cow's milk cheese is traditionally made from two milkings, an evening and a morning, separated by a layer of vegetable ash. Legend has it that Comté cheese-makers with extra curds at the end of each day sprinkled them with soot to protect their bounty from flies until they could add milk the following morning to complete a smaller wheel of cheese for personal consumption. Thus, Semi-Soft, pressed and uncooked cheese with pronounced aroma and hearty flavor, which is Morbier. Today the layer is one of vegetable ash, usually decorative, and the paste remains supple and sweet.(source, shopwiki.com)

A fine bottle of Proseco and sweet ice coffee accompanied my picnic.