A strawberry margarita on the rocks is the perfect summer cocktail!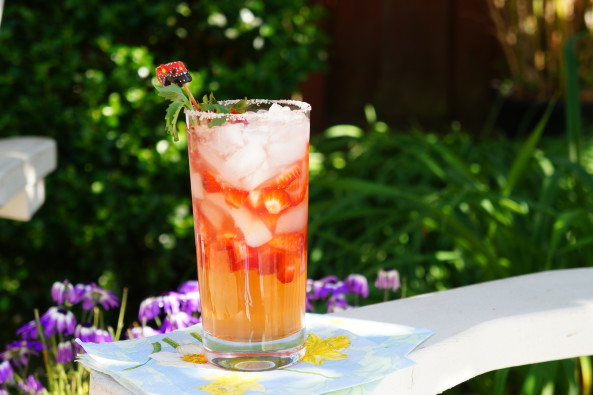 There's nothing more refreshing than a margarita after a long hot day. Give your margarita recipe a twist by adding fresh strawberries. Strawberry margaritas are delicious served with Mexican dinner recipes like enchiladas, fajitas, or burritos. Follow up with a dessert of sopapillas, and maybe another margarita.
This easy strawberry margarita recipe is perfect for Cinco de Mayo or anytime you need a refreshing fruit cocktail.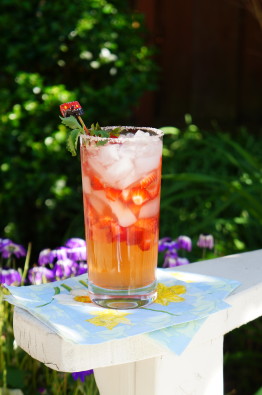 Easy Strawberry Margarita Recipe
2014-05-18 16:46:34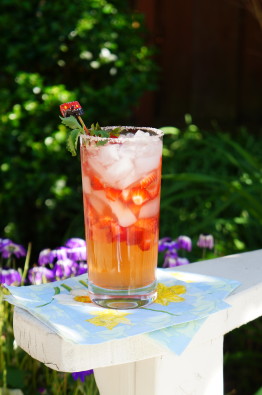 Serves 2
The easiest recipe for a quick afternoon refreshment; Strawberry Margarita
Ingredients
2 cups of your favorite brand margarita mix (I use the Costco brand, it's yummy)
4 ounces tequila
2 cups quartered strawberries
1 cup sugar
½ juice from one lemon or lime
¼ cup pink sea salt
Instructions
Quarter cleaned strawberries
Macerated strawberries
Add sugar and lemon, stir to combine, rest 5 minutes at room temperature
Place pink salt in a shallow dish
Wet rim of highball glass with lemon/lime wedge, dip in salt to coat glass rim
Fill glass with ice
Fill a cocktail shaker with 2 tablespoons macerated strawberry mixture, 2 ounces of tequila, then fill with shaker ice, pour margarita mix over ice leaving ¼ headspace, cover and shake ingredients until well mixed
Pour margarita over ice, serve
Repeat process for second drink
AT HOME WITH REBECKA https://athomewithrebecka.com/