Sweet strawberry shortcake starts with tender biscuits, infused with fresh strawberry puree. The addition of rhubarb compote gives this dessert a wonderful tart-sweet flavor.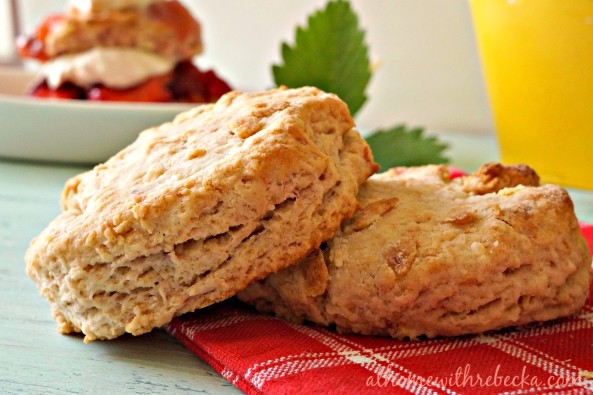 I'm not as skilled a baker as I would like, so when I decided to create a new recipe for sweet strawberry shortcake, I was feeling a little apprehensive. Despite my worries, I forged ahead hoping my shortcake biscuits would marry well with the addition of strawberry purée.
The recipe creation proved one of the best experiments I've ever attempted. With a few measurement adjustments of flour vs liquid, the sweet flesh of the berries blended into the batter before baking worked perfectly.
I substituted heavy cream instead of milk or half and half, and added a few tablespoons of the strawberry liquid/syrup to the batter.
I went a step further with my new recipe by adding a hot rhubarb compote.
The combination of sweet tart rhubarb, fresh strawberries, and whipped cream blends perfectly with the tender strawberry shortcake biscuits.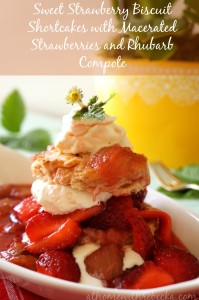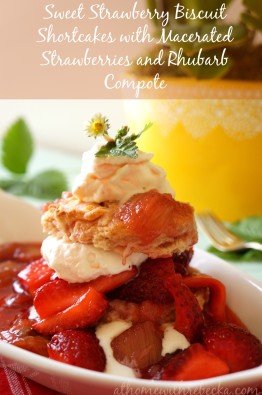 The sweet strawberry shortcake biscuits would be delicious for breakfast or brunch, served with jelly or lemon curd. Or even better, serve them for High Tea slathered in Devonshire cream.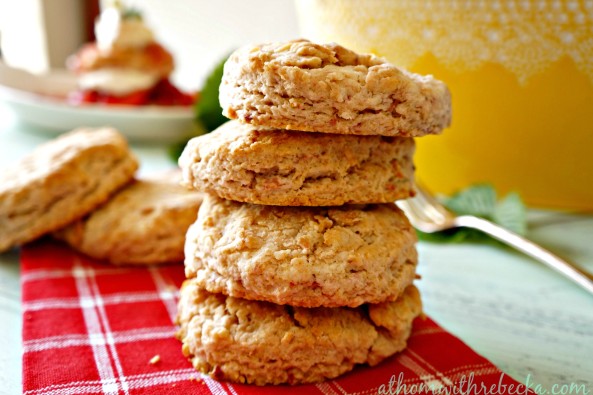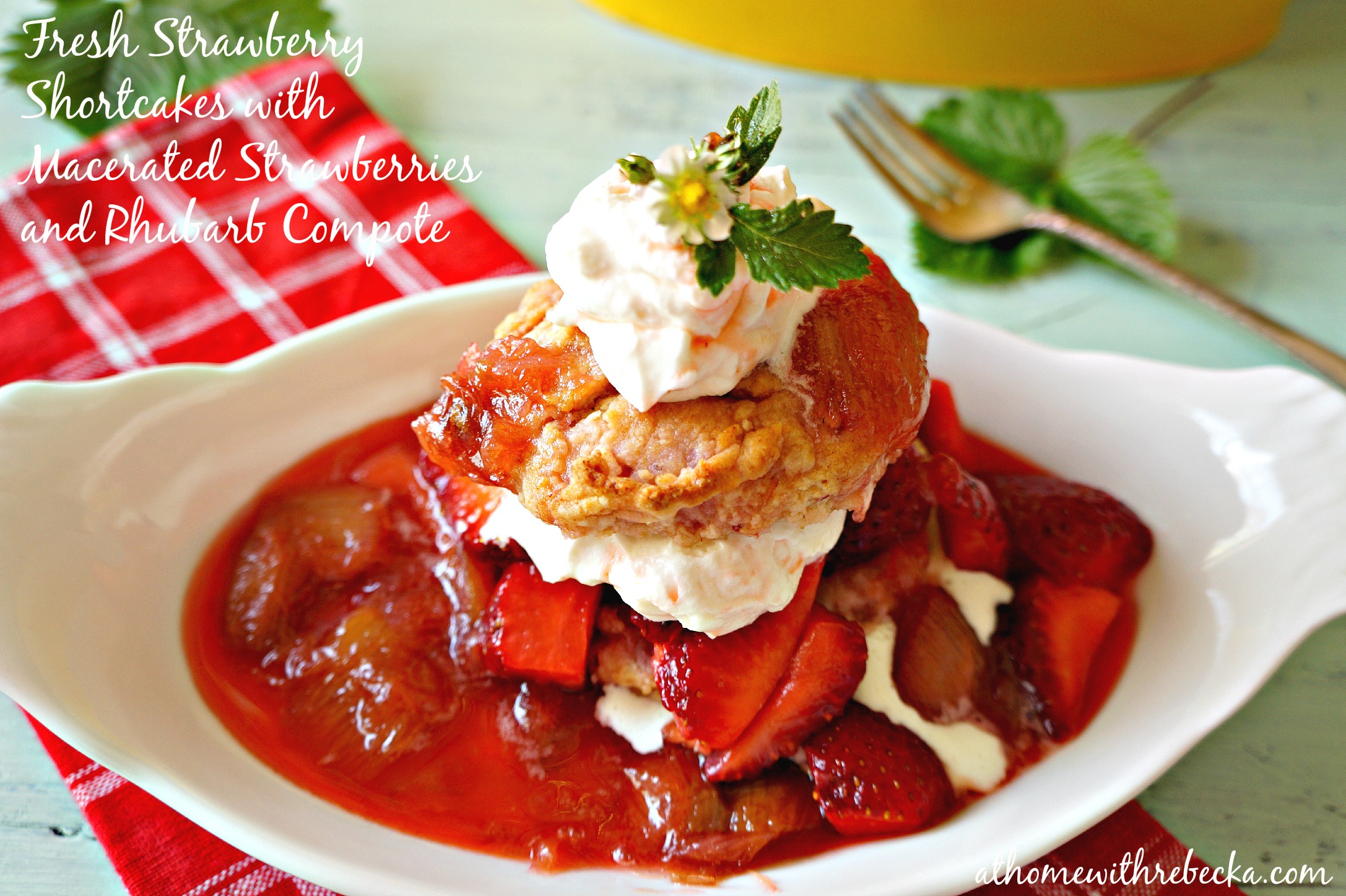 Sweet Strawberry Biscuits with Macerated Strawberries and Rhubarb Compote aka Strawberry Shortcakes
Ingredients
2 ⅓

cups

flour

plus ¼ cup flour for rolling surface

1

teaspoon

salt

1

tablespoon

baking powder

¾

cups

powdered sugar

1

stick cold butter

½ cup

1 ⅓

cup

heavy whip cream

⅓

cup

macerated strawberries

see strawberry preparation below

¼

cup

strawberry liquid/syrup

Additional: 1 cup heavy whip cream and ¼ cup powdered sugar

for serving
For The Macerated Strawberries
3

cups

sliced strawberries

½

cup

fresh lemon juice

½

cup

sugar

1

ounce

Cointreau liqueur

optional
For the Rhubarb Compote
3

cups

sliced rhubarb

1 ½

cups

granulated sugar

½

lemon juiced

1

ounce

Cointreau Liqueur

optional
Instructions
Preheat oven to 400 degrees F.

Place rack on lowest position
Macerated Strawberries
Wash and slice strawberries

Pour lemon juice, Cointreau and sugar over the berries, mix well and set aside at room temperature
Shortcakes
Combine dry ingredients

Cut in cold butter until flour resembles coarse sand

Combine ⅓ cup macerated strawberries, 1 ⅓ cup heavy cream, ¼ cup strawberry liquid, cointreau in a food processor

Pulse until just blended

Stir liquid into dry ingredients until dough pulls away from the sides of the bowl, add more liquid if dough is too dry

Pour additional ¼ cup of flour onto cleaned surface and dump dough onto the flour

Gently turn dough until all sides are covered in flour

Knead by gently rubbing the dough into the flour, turning 6-10 times (do not overwork the dough)

Pat the dough into a 1 inch slab

Cut into rounds with a sharp biscuit cutter, scrape scraps together to make more biscuits

Place biscuits ½ inch apart on an insulated cookie sheet (layer two regular sheets if you dont have an insulated sheet)

Bake in a hot oven for 12-14 minutes or until puffed and sides are golden brown
For the Rhubarb Compote
While biscuits are in the oven, slice cleaned rhubarb

Combine rhubarb and remaining ingredients in a medium heavy bottom saucepan, and cook over medium high heat, stirring occasionally until rhubarb is soft and thickened, about 10 - 12 minutes

Remove biscuits from oven, cool slightly

Whip heavy cream until thickened (firm peaks), add 2 teaspoons strawberry liquid/syrup, and powdered sugar, combine. Refrigerate until ready to use
Notes
To serve: Cut biscuit in half, ladle hot rhubarb compote onto the bottom of serving dish, place bottom layer of biscuit on top of compote, spoon macerated strawberries over biscuit, next spoon whipped cream over strawberries then place biscuit top over the ceram. Finish, with another dollop whip cream, strawberry liquid/syrup and compote over, enjoy!