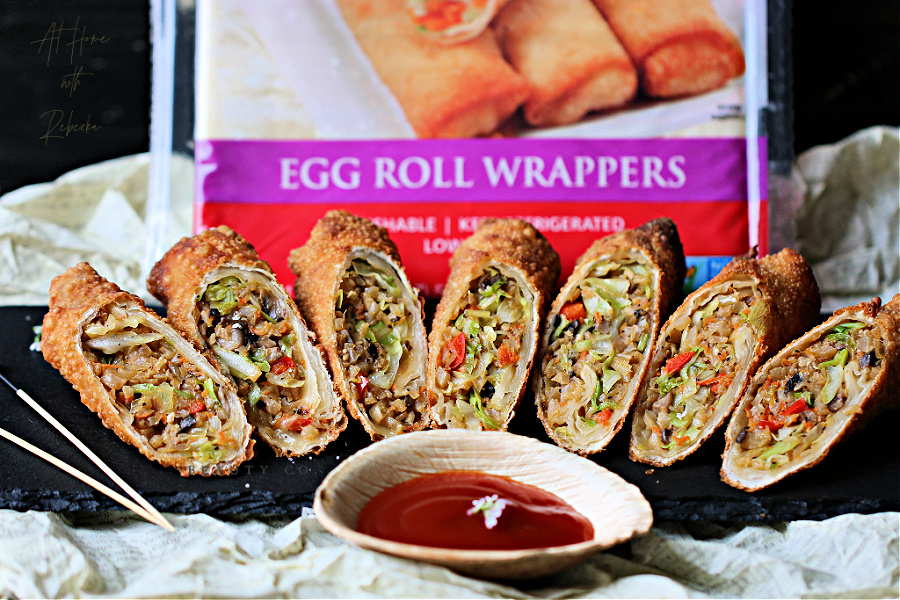 NONE OF THE GUILT - ALL THE FLAVOR
You'll be screaming "SCORE" on game day while enjoying my Vegan Game Day Egg Rolls with Mango Sriracha Sweet and Sour Sauce. The rolls are deliciously guilt free with all the traditional flavor of non-vegan versions.
These little gems are filled with a mixture of riced cauliflower, mushrooms and cabbage. A vegan recipe sure to please even the pickiest meat eaters.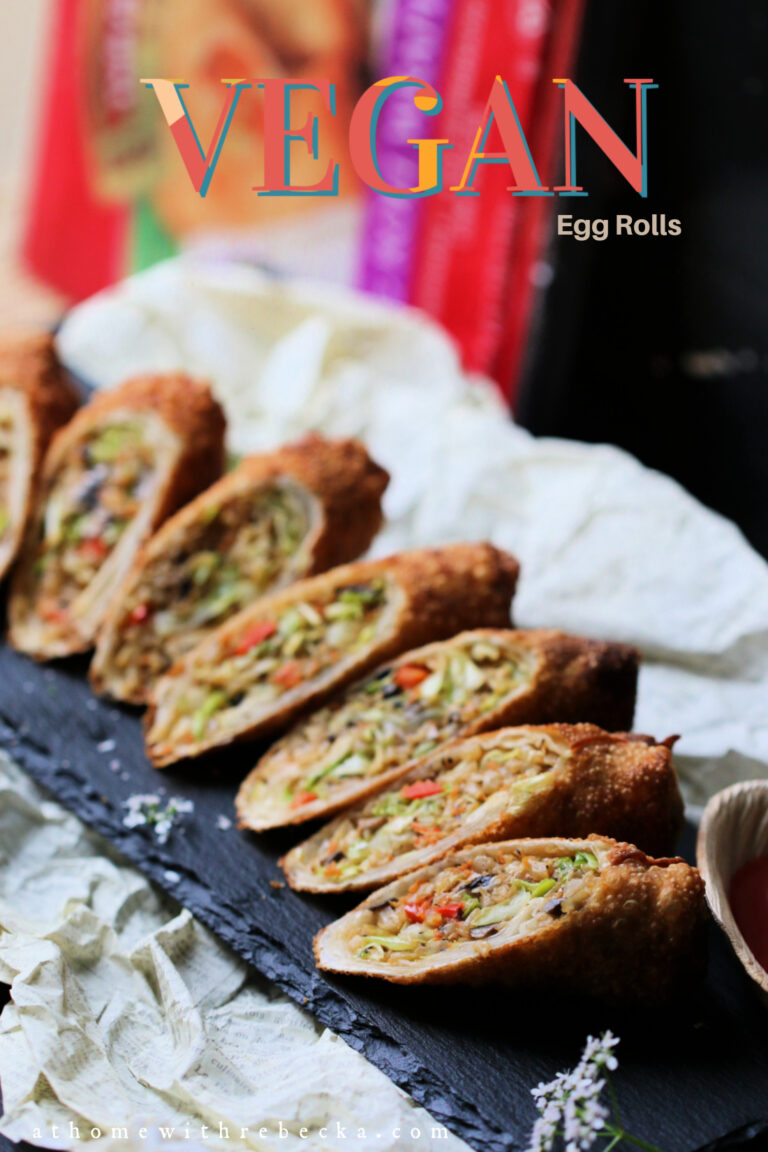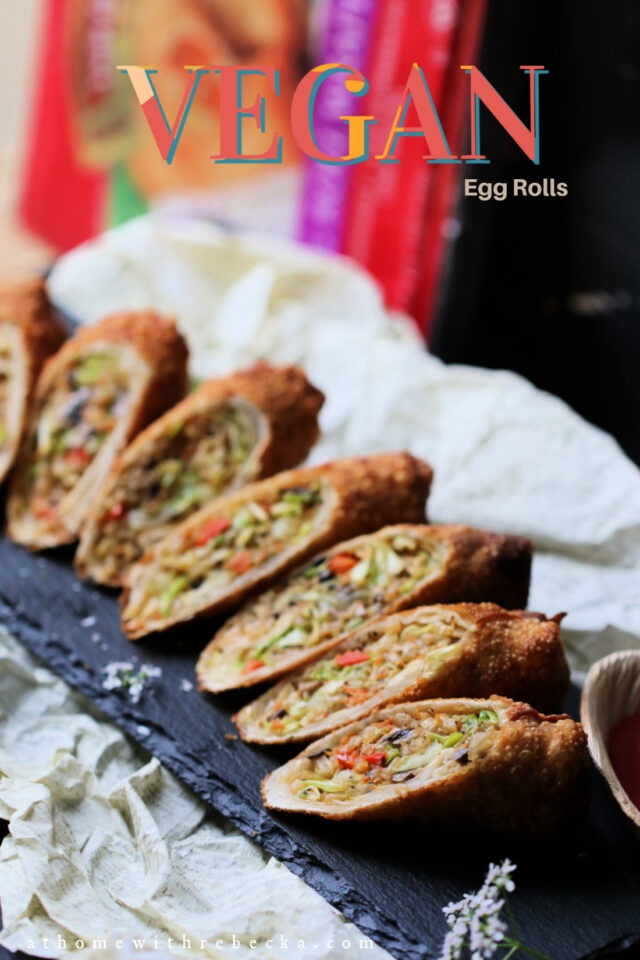 ABOUT THE CONTEST
GAME DAY APPETIZERS: SCORE big this football season by making Twin Dragon Asian Wrappers part of your game day menu. We're looking for recipes using Twin Dragon Asian Wrappers that completely change how you envision and present "Game Day" finger foods that will leave us saying "TOUCHDOWN."
HOLIDAY APPETIZER PRIZES
First Place: $1,000.00
Second Place: $500.00
Third Place: $200.00
Honorable Mention: $100.00
VEGAN EGG SUBSTITUTE
When making vegan recipes that require binding agents such as eggs, I use Aquafaba, the liquid from canned or carton garbanzo beans. Aquafaba is a very simple ingredient that's cholesterol free and can be found in most kitchens around the world.
Aqua = Water
Faba = Beans
Aqua + Faba = VEGAN
Don't have garbanzo beans? No problem! Any white bean liquid will do.
Conversion amounts: ¼ Aquafaba (bean juice) is equivalent to 1 egg.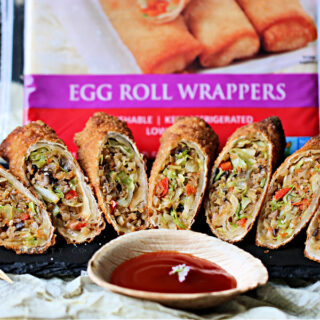 Game Day - Vegan Egg Rolls
Ingredients
12

sheets Twin Dragon Egg Roll Wrappers

1 10-

ounce

bag frozen riced cauliflower

2 ½

cups

shredded cabbage

¼

cup

shredded carrot

¼

cup

chopped green onion

¼

cup

chopped button mushrooms

1

teaspoon

minced garlic

½

teaspoon

minced ginger

½

teaspoon

soy sauce

¼

teaspoon

sesame oil

2

tablespoons

Aquafaba

Garbanzo or other white bean liquid see notes

1

teaspoon

cracked black pepper

2

cup

vegetable oil

plus 2 teaspoons
Mango Sriracha Sweet and Sour Sauce:
2

tablespoons

mango jelly

1

teaspoon

sriracha sauce

½

cup

ketchup

¼

cup

water
Instructions
Remove the Twin Dragon Egg Roll Wrappers from the package. Cover with a damp paper towel

Drain 1 can garbanzo beans into a small bowl. Set aside the liquid to use as egg substitute. Beans can be reserved for another use

Shred cabbage and mince mushrooms, garlic, and carrot. Fine chop mushrooms and green onions

Heat a wok or large heavy skillet over high heat. Add 2 teaspoon vegetable oil and 1 teaspoon sesame oil to hot pan. Add all the ingredients and cook until all the liquid is evaporated, about 3-4 minutes.

Remove mixture from heat and allow to cool for 10 minutes. Add Aquafaba and mix well.

Place the square egg roll wrapper on a flat surface in a diamond configuration (so that a corner is facing toward you).

Place ¼ cup of the filling on the corner closest to you

Roll the corner closest to you over the filling once, gently tucking it under the mixture.

Next, fold over both the left and right sides of the wrapper towards the middle.

Brush Aquafaba over the opposite corner of the egg roll wrapper, taking care only to brush it on the wrapper itself.

Now, with your fingers on top of the roll, continue tightly rolling the egg roll into a cigar shape until completely sealed.

Fry egg rolls in 2 cups hot oil until golden brown. Drain on clean paper towel
Mango Sriracha Sweet and Sour Sauce:
Add all 4 ingredients to a small saucepan, whisk to combine. Cook over medium heat for 5 minutes
FOLLOW JSL FOODS
Please include JSL Foods social media links and website in the blog post:
PURCHASE TWIN DRAGON WRAPPERS
You can purchase Twin Dragon Wrappers at: Walmart, Albertsons, Shaw's, Von's, Stater Bros, Fred Meyer, QFC, Safeway, Associated Stores, Giant Stores, Shop N Shop, Winco, and Price Chopper!
If they are not in your local store, ask them to carry Twin Dragon Wrapper products!