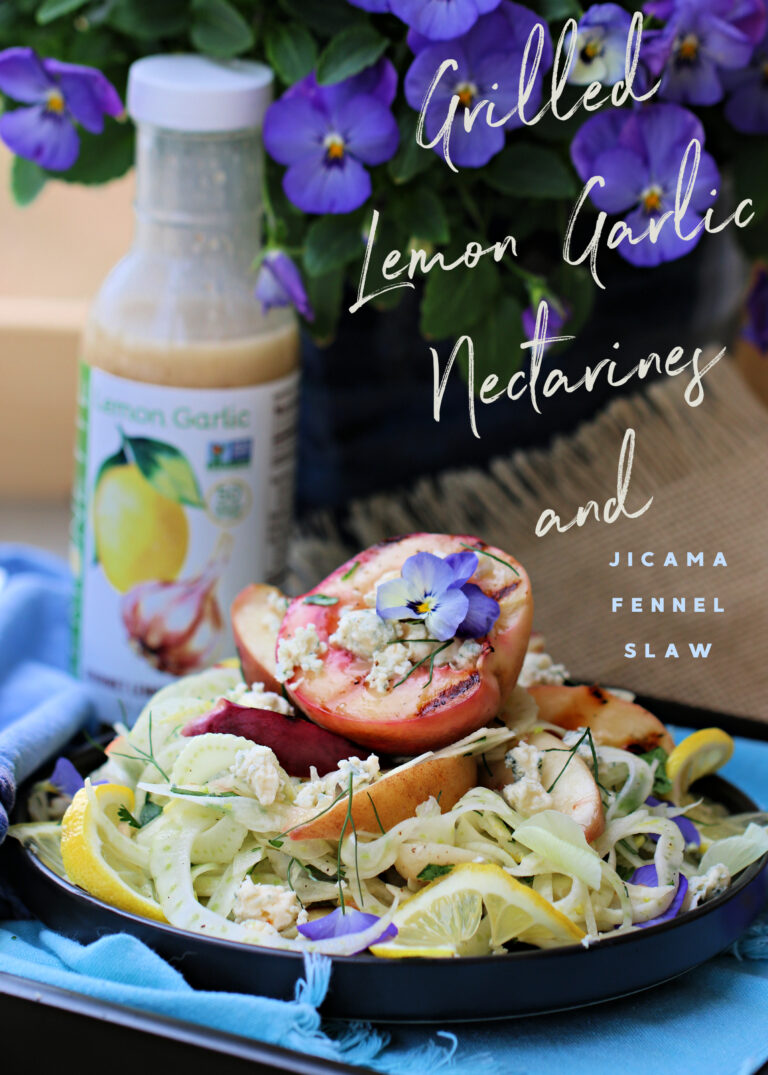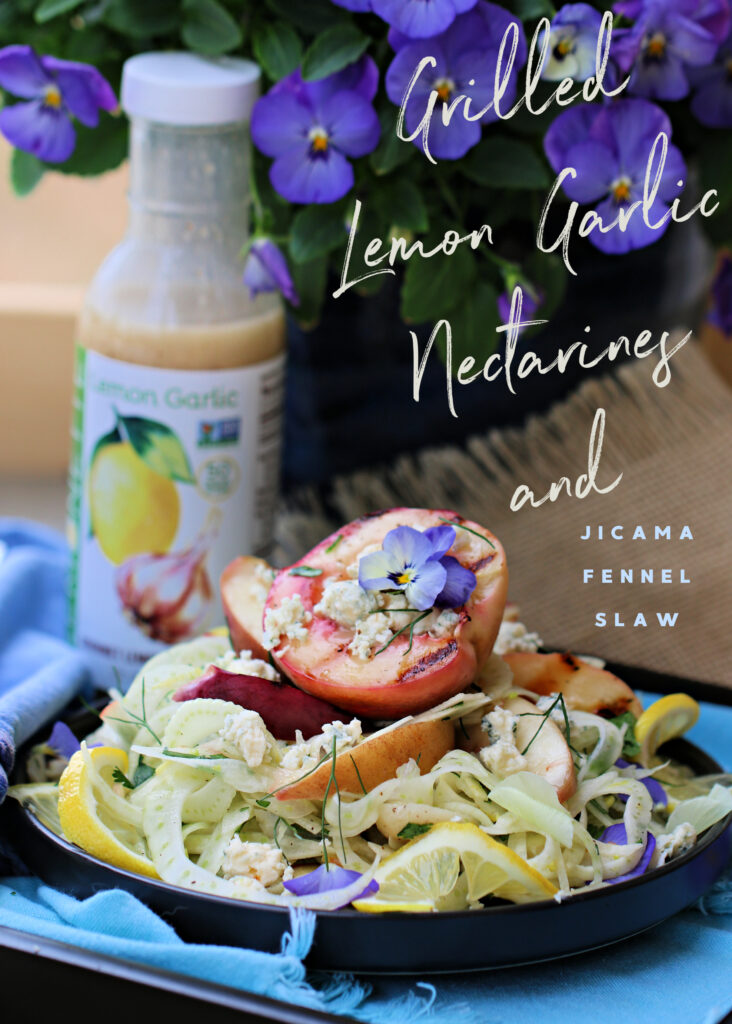 New LEMON-BASED Salad & Marinades by Lemonette
The beautiful ladies at Lemonette Dressings were kind enough to send me a couple of bottles of their new, exclusively, LEMON-BASED salad dressings and marinades to use for recipe testing.
If you've been following my site in recent years, you're already aware of my obsession with lemons from reading numerous recipes here on the blog. Suffice to say, I'm crazy about lemon, which is why this recipe and my style are a match made in heaven!
Inspiration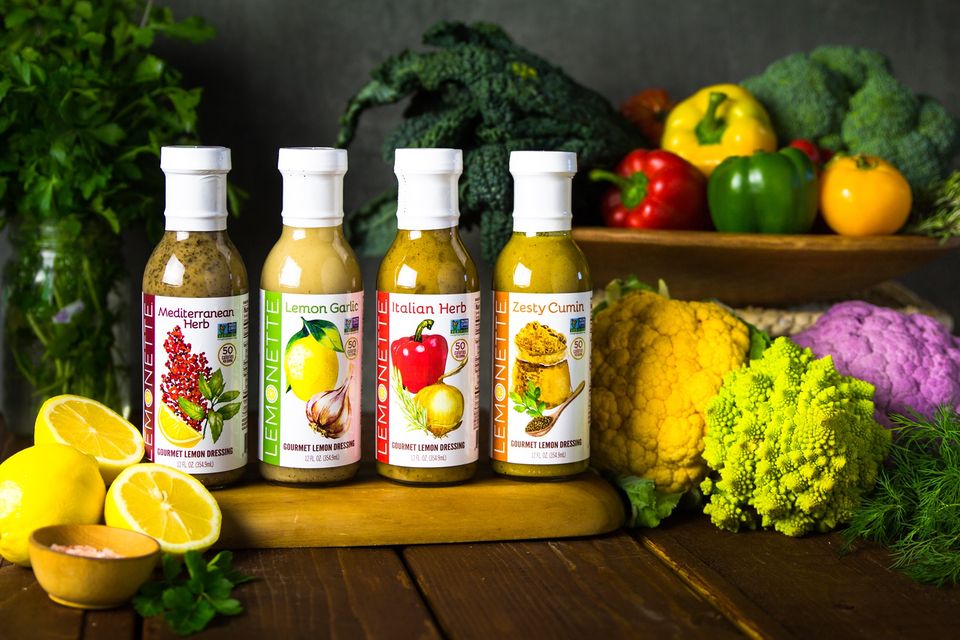 Lemonettes lemon-based dressing and marinades were the inspiration for my summer-crisp salad: Grilled Garlic Lemon Nectarines and Jicama Fennel Slaw made with the Lemonette Gourmet Lemon Garlic Dressing.
The combination of the dressing's clean citrus flavor and garlic is the perfect match for the light licorice notes of fresh fennel, and the slightly sweet crunch of jicama, apples, and water chestnuts. Grilled nectarines perched atop this summer wonder create a mouthful of decadent flavors. I topped my salad with a little blue cheese; however, feta crumbles will do just fine to add a touch of creaminess to the salad. Don't be afraid to add your favorite grilled protein for the perfect summer meal.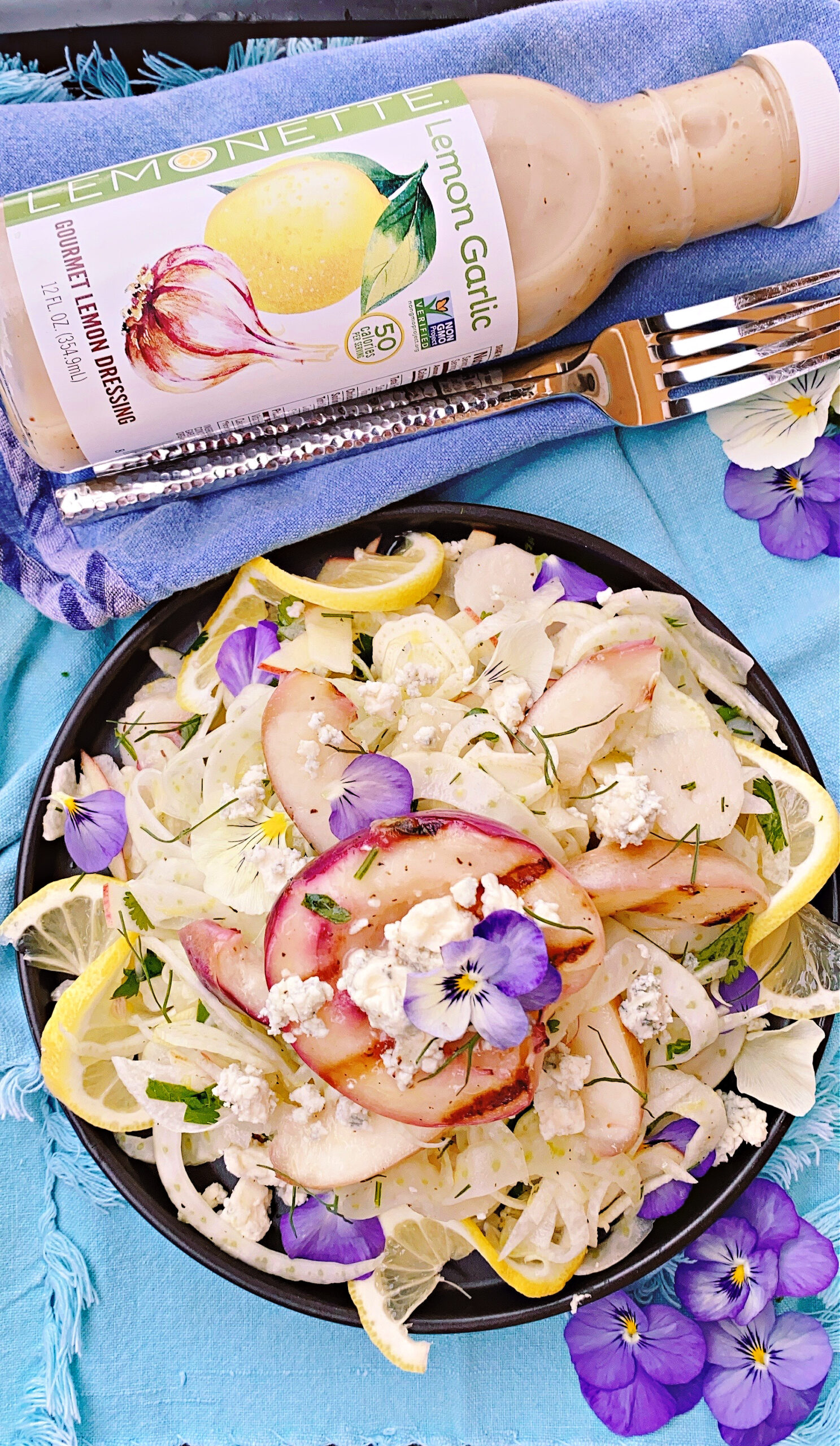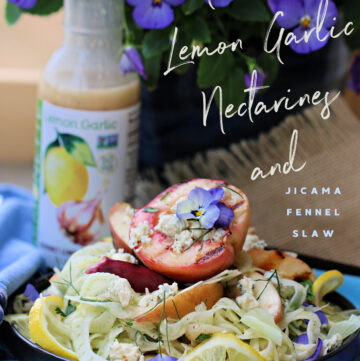 Grilled Garlic Lemon Nectarines with Jicama and Fennel Slaw
Ingredients
4

nectarines cut in half

pitted (or substitute peaches, plums, etc.)

¼

cup

plus 1 teaspoon Lemonette Gourmet Lemon Garlic Dressing

1

jicama

peeled, sliced, and cut into thin strips

1

fennel bulb

cut into thin strips

1

small red apple

sliced, and cut into thin strips. Unpeeled.

1 4-

ounce

drained

canned water chestnuts

2

tablespoons

chopped fresh coriander or parsley

1 ¼

teaspoon

sugar

divided

¼

teaspoon

salt

¼

teaspoon

black pepper

5-6

edible pansy flowers

¼

cup

crumbled blue or feta cheese

divided
Instructions
Cut nectarines in half and remove the stones. Brush the cut sides of the nectarines with 1 teaspoon Lemonette, Lemon Garlic Dressing. 

Sprinkle each nectarine half with a pinch of sugar

 

Place nectarine, cut side down on a hot gas grill or cast iron pan. Cook without turning for 3-5  minutes or until caramelized. Remove to a plate, and set aside.

 

In a medium bowl, combine jicama, fennel, water chestnuts, apples, and coriander. Sprinkle with ¼ teaspoon sugar, salt, and pepper. Add ¼ cup Lemonette Garlic Lemon Dressing as toss to coat.

Serve grilled nectarines on a bed of Jicama Fennel Slaw. Crumble blue or feta cheese over the dish and finish with more Lemonette Gourmet Lemon Garlic Dressing.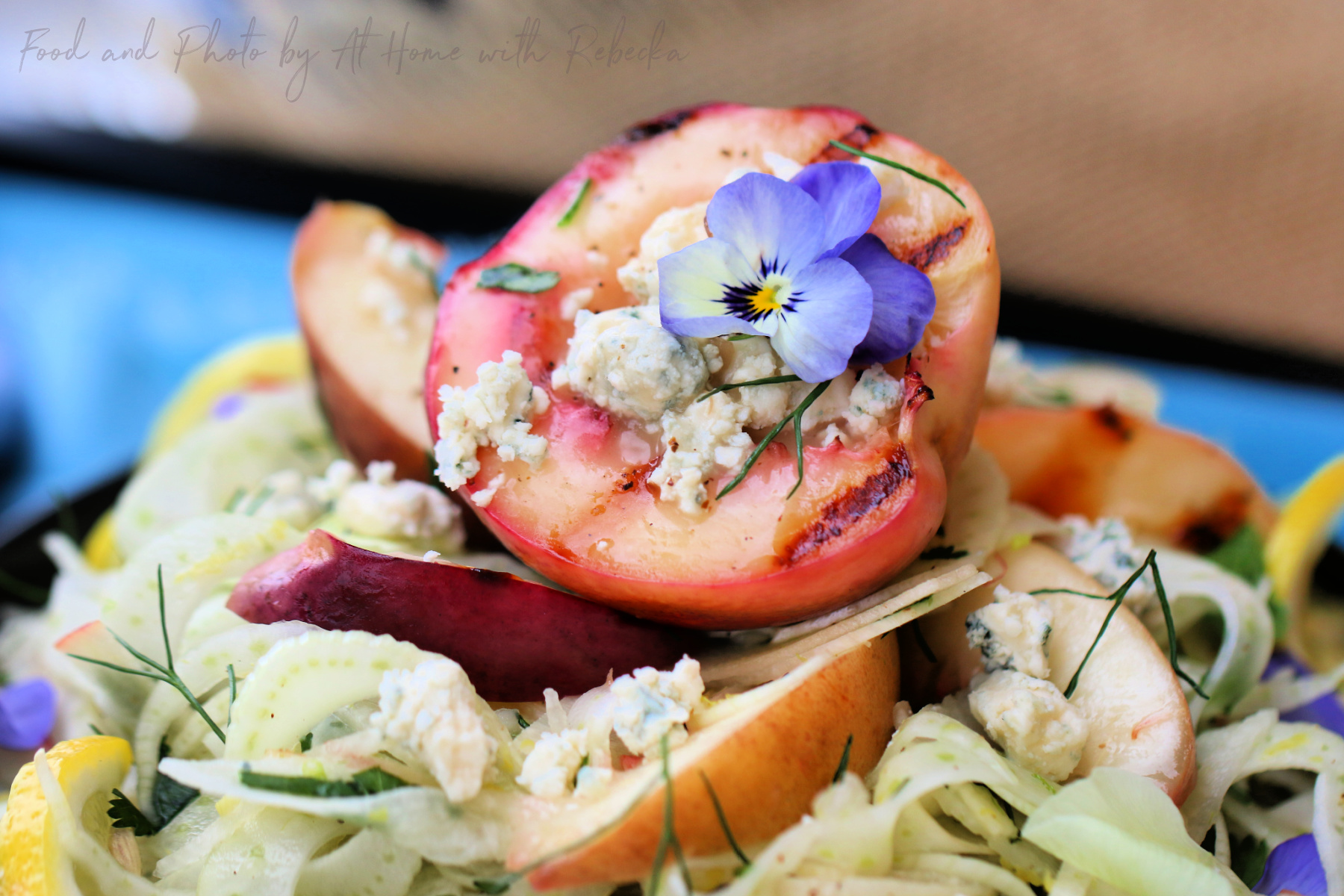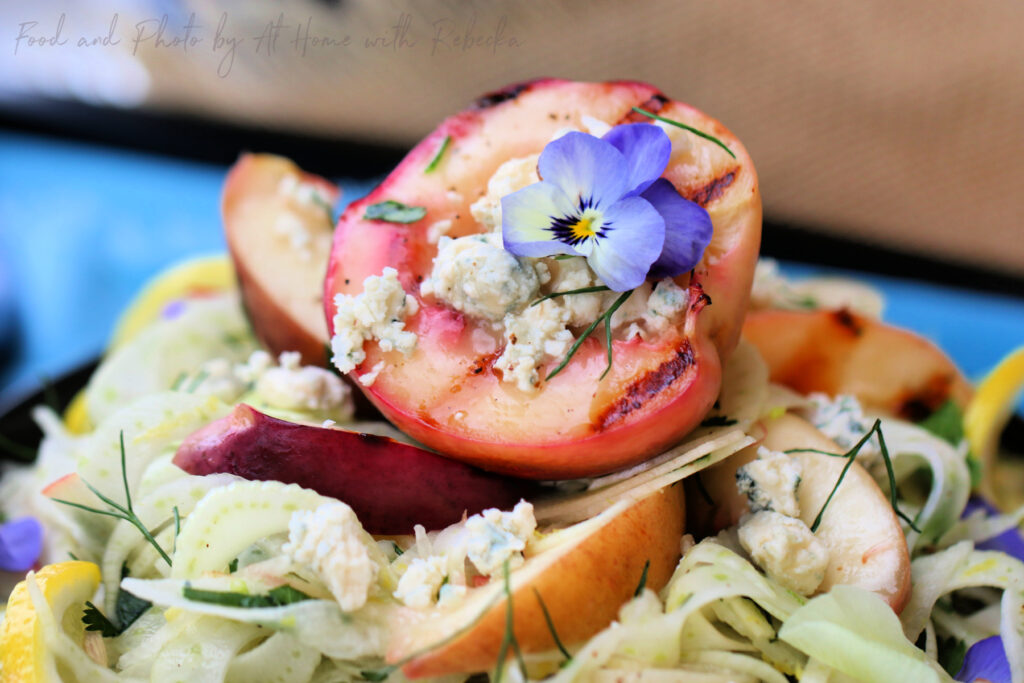 Non-GMO
Lemonette Gourmet Lemon Dressings are Non-GMO, contain no sugar, sweeteners, canola oil, gluten-free, dairy-free and so much more.
Follow and Purchase Lemonette
To learn more about this WOMEN-OWNED company or purchase its gourmet dressings and marinades visit their website Lemonette and follow them on Instagram and Facebook