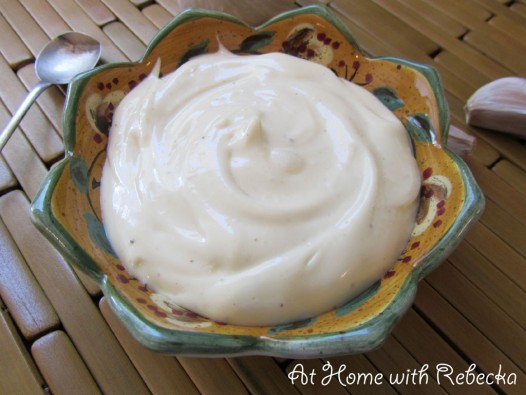 If you haven't already tried making homemade mayonnaise, today is the day to get out the egg yolks, lemon juice, garlic and olive oil to whip up a batch.  It's just that simple.  Throw in a pinch of salt and pepper and you've taken your every day mayonnaise to spectacular heights.  
The flavor is beyond any store bought version and the health benefits of making your own out shine the store bought version by a mile.   Packed with protein, minus the preservatives as well as the health benefits of using olive  oil, this is a must try recipe.
Emulsion Facts: Mayonnaise is classified as an emulsion.  An emulsion is made up of two or more liquids that when blended together slowly become a stable cohesion.   Culinary emulsion can take two different forms; fat dispersed into water and water dispersed into fat. Common fat in water emulsifications include hollandaise, mayonnaise, aioli, milk, cream, and pan sauces. Water in fat emulsifications are most commonly found in the form of vinaigrettes and whole butter.  
Amazing Eggs Facts: Egg yolks have a natural molecule called lecithin and when added to lemon juice and olive oil, the lecithin acts as a stabilizer. Without the addition of the egg yolk,
the oil and lemon juice are unable to create an emulsion and will eventually separate.
Let me be clear,
I'm not claiming to understand emulsions in a scientific manner, or profess to be an expert in the area, all I know is that when you mix egg yolks, oil and lemon juice, you get a delicious, creamy condiment called mayonnaise.
Safety Issues: The recipe calls for raw egg yolks which can carry the

risk of salmonella,
so it's vital you purchase the freshest eggs possible.   Food science experts say that citrus juices and olive oil kill bacteria
but y
ou can elevate any worry by using pasteurized eggs.
Pasteurization: is the process of heating food to a specific temperature for a certain duration and immediately cooling.  Pasteurization slows the process of microbial growth which in turn slows spoilage.   
Safe Storage: To store homemade mayonnaise safely; keep any unused portion in an air tight container and keep refrigerated up to 42 hours
Personal Note: I've never had a "bad" batch of homemade mayonnaise in all the years I've been cooking.
Other considerations: I use a pure olive oil or a mixture of safflower, and corn oils to insure the mayonnaise will not break after being refrigerated.  Extra virgin olive oil has a tendency to break after refrigeration.  
Fixing a Broken Emulsion: If your mayonnaise breaks after being refrigerated it doesn't mean you have to throw it out.  Just beat a room temperature egg yolk in a medium bowl and slowly whisk in the leftover mayonnaise.
Roasted garlic imparts a nutty flavor to the rich and creamy texture of this homemade condiment.  Other options for flavored mayonnaise; add a pinch if chili powder, chopped green chilies, fresh herbs such as basil or tarragon; the sky is the limit when making your own mayonnaise. 
Homemade Roasted Garlic Mayonnaise
makes about 1 ½ - 2 cups
preparation 15 minutes
Recipe
 
2 raw egg yolks
¾ cup pure olive oil
2-3 tablespoons fresh lemon juice
pinch of salt and white pepper
1 whole head garlic
2 tablespoons olive oil 

Method
Preheat oven 350 degrees
slice through the top off the garlic bulb as shown in the photo above.  Place the bulb on a square piece of aluminum foil, drizzle with 2 tablespoons olive oil.
Wrap foil around bulb, twist top closed and bake at 350 degrees for 45-50 minutes.  If roasting just one garlic bulb use a toaster oven  to save energy.
Mayonnaise
using a blender or hand held blender wand, mix egg yolks, lemon juice, a pinch of salt and pepper for a few seconds

with mixer running on medium speed, slowly drizzle a thin stream of olive oil into egg yolks

mayonnaise will begin to thicken after about ¼ cup oil is added, at that point adding a faster stream of oil is fine and will make the process go faster

continue to add oil until mixture is thick, it's possible that not all of the olive oil will be used to complete your mayonnaise, you may also add more lemon juice to thin the recipe if it becomes too thick

remove roasted garlic from oven and allow to cool slightly 

hold garlic bulb by the back end and squeeze the roasted flesh into a small bowl, you may need to use a paper towel to hold the bulb if it is still to warm to handle

add garlic to mayonnaise and blend until incorporated

taste for seasoning
Roasted Garlic Mayonnaise is the essential flavor component in my Veggie Sandwich, made with Homemade Sandwich Rolls. 
Thinly slice fresh squash, zucchini, sweet or red onion, cucumber, tomato, avocado, lettuce and a handful of spicy sprouts. Enjoy!