Hot Giardiniera Recipe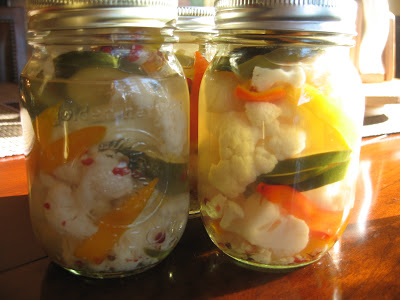 My recipe for Hot Giardiniera Recipe is filled with the fresh flavors of white vinegar, scotch bonnet peppers and red peppercorns. This simple recipe can served immediately, canned for later use or kept in the fridge for up to two weeks. My my mouth waters just thinking about canning some jars for my pantry.
Giardiniera is an Italian or Italian-American relish of pickled vegetables in vinegar or oil. Giardiniera is available as either mild or hot. In the United States, hot giardiniera is often referred to as "Hot Mix"
Common vegetables in the Italian version, also called sotto aceti, include onions, celery, zucchini, carrots and cauliflower, pickled vegetables in red- or white-wine vinegar. It is typically eaten as an antipasto, or with salads.
In Chicago, giardiniera is a condiment, typically used as a topping on Italian beef sandwiches.[1] Giardiniera is commonly made with Serrano peppers and some combination of assorted vegetables, such as bell peppers, olives, celery, pimentos, carrots and cauliflower and sometimes crushed red pepper flakes, all marinated in vegetable oil, olive oil, soybean oil or any combination of the three oils. SOURCE: wikipedia
Hot Giardiniera Mix
3 cups white vinegar
3 cups water
¼ cup sugar
2 teaspoons Maldon Sea Salt
2 teaspoons red peppercorns
2 bay leaf
3 cups cauliflower, cut into bite sized pieces
1 red bell pepper seeded and cut into strips
1 yellow bell pepper seeded and cut into strips
2 serrano peppers seeded and cut into strips
1 whole scotch bonnet pepper split
Directions:
Combine all ingredients in a large stock pot and cook over medium heat for 5 minutes, reduce heat and cook for additional 5 minutes or until vegetables are aldente, don't over cook. Discard the scotch bonnet pepper and bay leaf.
If you're going to use the Giardiniera right away let the mixture cool and transfer to container with a lid and refrigerate.
If you want to can the Giardiniera, place the hot vegetables in sterilized jars, pour hot liquid over the vegetables, remove air bubbles and seal jars. Process in a hot water bath for 15 minutes.