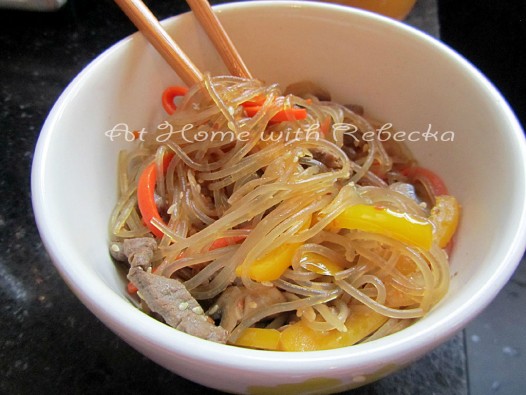 Japchae: Stir Fried Noodles – 잡채, is among my favorite dishes when eating Korean cuisine. Bulgogi: Marinated Beef BBQ – 불고기, ranks a close second and when accompanied by the distinct flavor of Kimchi: Fermented Cabbage – 김치, this delicious meal is as close to nirvana as they come.
Japchae is one of the most popular Korean dishes both inside and outside of Korea and when you taste it you will understand why. Originally japchae was made without noodles – it was invented for the King by one of his chefs and he loved it so much that it became famous across Korea. In more recent times the noodles were added and now they are an essential element to the dish. The noodles used are sweet potato starch noodles which give japchae it's very distinct chewy texture. The vegetables are all lightly cooked so they retain all their flavor. Source: Top 10 Korean Foods

Stir fried in sesame oil with various vegetables (typically thinly sliced carrots, onion, spinach, and mushrooms), sometimes served with beef, and flavoured with soy sauce, and sweetened with sugar. It is usually served garnished with sesame seeds and slivers of chili. It may be served either hot or cold. This dish is served at Korean parties and special occasions, with seasonal vegetables added. Japchae is most commonly served as a side dish, though it may be a main dish. It is often served on a bed of rice; together with rice it is known as japchae-bap (잡채밥), bap (밥) meaning "rice." Source Wikipedia
The most difficult element to making Japchae is finding the Korean Style Sweet Potato Starch Noodle (Vermicelle Coreen). You most certainly will find them in your local Asian market however, finding them in the noodle isle can be a daunting task. It took me over 20 minutes to find the package, as it was nestled on the top shelf between 30 other varieties of Rice Starch noodles.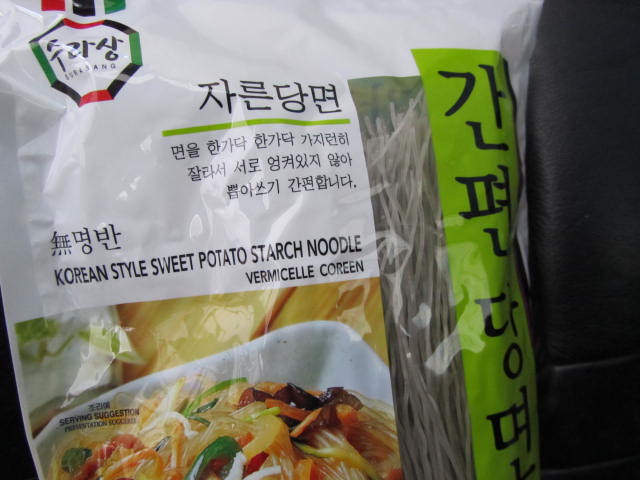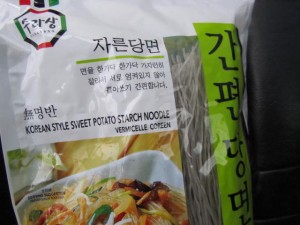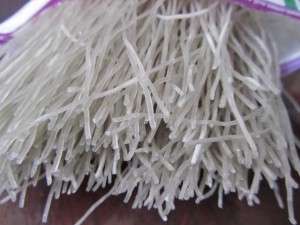 Korean Style Sweet Potato Starch Noodles, have a distinct light purple/grey color; once familiar with the color they become much easier to find, in difference to their white rice cousins. I've tried the recipe with rice starch noodles, and although the taste is similar, the texture of the potato starch noodle is what really makes this dish.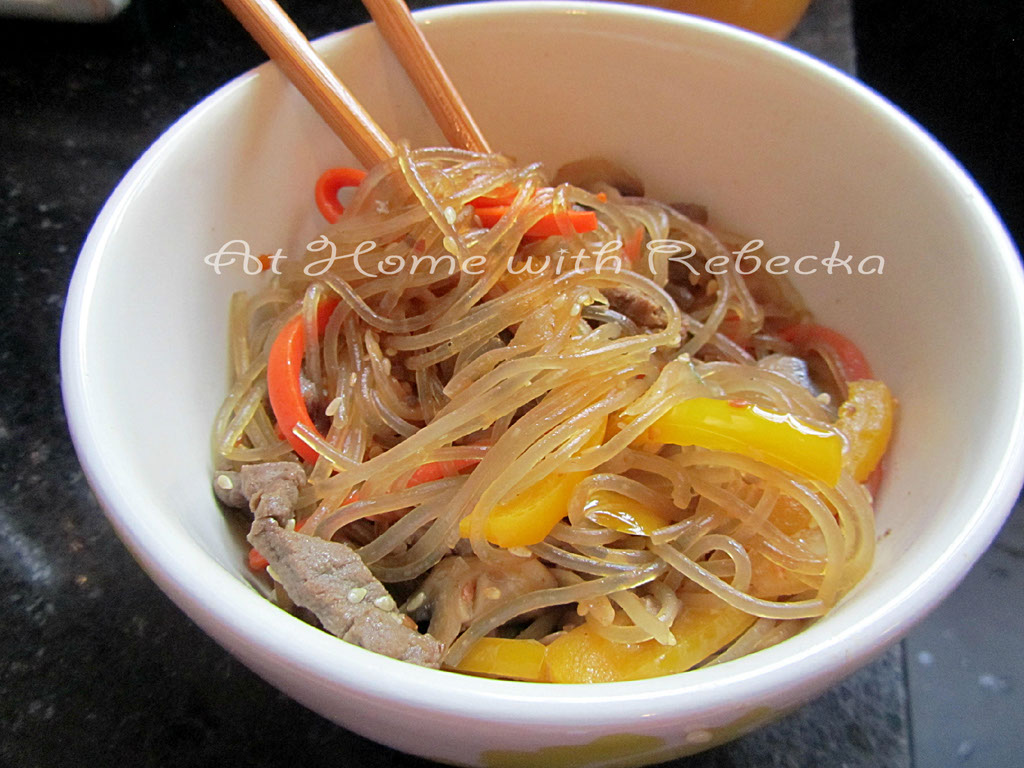 Japchae (Chapchae) - Korean Sweet Potato Noodles and Brussels Sprouts Kimchi
Ingredients
4

lean pork shoulder or rib eye cut into ¼ inch wide and 2½ inch long strips

½

bunch spinach

about 4 ounces, rinsed and trimmed

3-4

shiitake mushrooms

sliced

2

garlic cloves

minced

1

tablespoon

plus 2 teaspoons sugar

2

tablespoons

plus 1 teaspoon soy sauce

2

tablespoons

sesame oil

1

tablespoon

toasted sesame seeds

4

ounces

of dangmyeon

sweet potato starch noodles

2 to 3

green onions

cut crosswise into 2-inch-long pieces

1

medium onion

1 cup, sliced thinly

4 to 5

white mushrooms

sliced thinly

1

medium carrot

¾ cup, cut into matchsticks or shredded

½

red bell pepper

cut into thin strips (optional)

ground black pepper

salt

vegetable oil
Instructions
Cook the sweet potato noodles in a large pot of boiling water for 4 to 5 minutes. Immediately drain and rinse thoroughly under cold water. Be sure not to overcook the noodles, or they will lose their chewy texture.

Blanch the spinach in boiling water. Rinse immediately under cold water, squeeze the water from the leaves and form into a ball, and then cut the ball in half. Combine the spinach, half the garlic, ½ teaspoon of the sesame oil, and ¼ teaspoon salt in a small bowl. Set aside to marinate.

Heat the vegetable oil in a large skillet over medium-high heat. Add the pork or beef, the remaining garlic, 1 teaspoon of the soy sauce, and 1 teaspoon of the sesame oil. Stir-fry until the beef is cooked, 3 to 4 minutes. Add the onion, mushrooms, and carrot and cook until the onion is translucent, about 3 minutes. Add the green onions and stir-fry for another minute. Remove from the heat.

In a large bowl, thoroughly combine the noodles, beef mixture, spinach, remaining ¼ cup soy sauce, 1 tablespoon sesame oil, and the sugar. Serve warm, sprinkled with sesame seeds.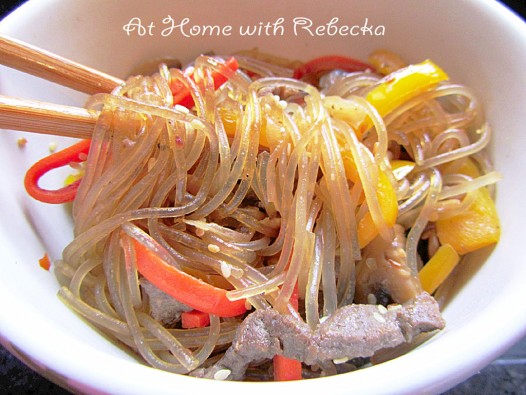 Brussels Sprouts Kimchi served with white rice and Japchae is the perfect Korean style family meal.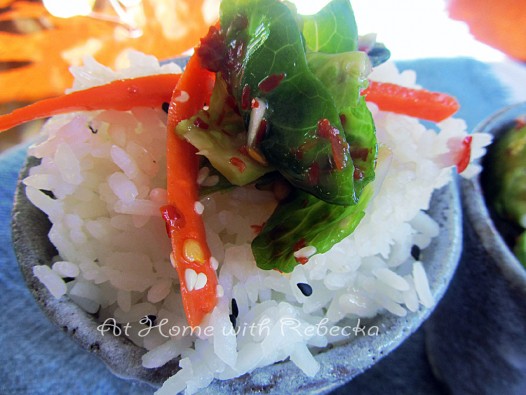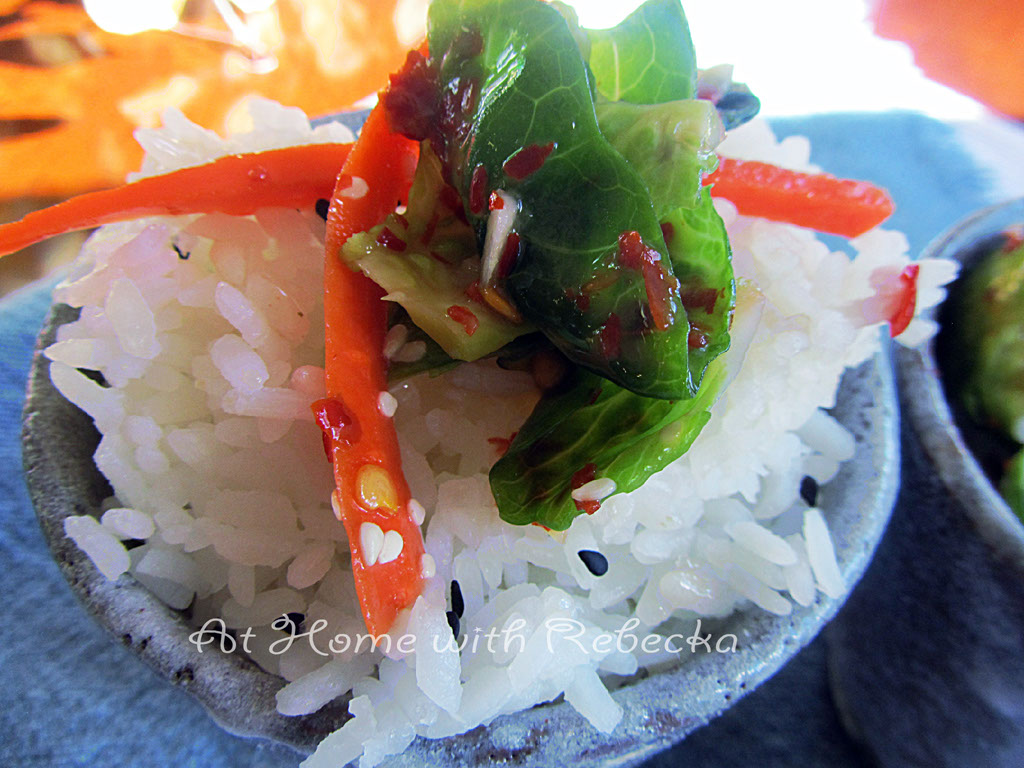 Brussel Sprouts Kimchi
Ingredients
4

cups

Brussel sprouts leaves and ribs

½

cup

kosher salt

About 12 cups cold water

plus more as needed

8

ounces' daikon radish

peeled and cut into 2-inch matchsticks

¼

cup

of julienned carrot

4

medium scallions

ends trimmed, cut into 1-inch pieces (use all parts)
Kimchi Paste
⅓

cup

Korean red pepper powder

¼

cup

red pepper flakes

¼

cup

fish sauce

¼

cup

peeled and minced fresh ginger

from about a 2-ounce piece

1

tablespoon

minced garlic cloves

from 6 to 8 medium cloves

2

teaspoons

Korean salted shrimp

minced (optional)

1 ½

teaspoons

granulated sugar
Instructions
Cut root end off Brussel sprouts and pluck off as many leaves as possible. Cut the center rib/leaves in half. Place leaves and rib into a large bowl with daikon radish and carrots.

Add 1 cup cold water and ¼ cup kosher salt. Mix well with your hands to combine. Set aside for 10 minutes. Rinse the mixture under cold water and drain.

Mix the kimchi paste into the vegetable mixture thoroughly.

Put the kimchi into an airtight container, glass jelly jar, or plastic bag.

Press the top of the kimchi down with your hands to protect your kimchi from being exposed to too much air.
Notes
Kimchi can be eaten immediately or stored in the refrigerator for up to two weeks.
Adapted from Maanchi