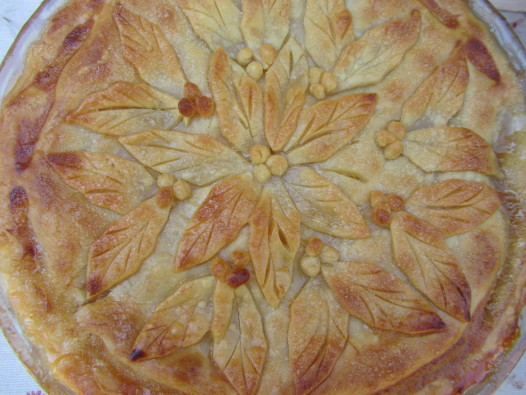 It's that time of year when the sweet and juicy Palisade peaches are in season and fresh peach pie is on my mind.  I made this pie for my Labor Day Celebration as well as a goat cheese and phyllo appetizer that is savory and sweet.
Fresh Peach and Nectarine Pie
1 package pre-made refrigerated pie crust
½ teaspoon ground cinnamon
1 teaspoon vanilla extract
Preheat oven to 425 degrees.
Roll out one refrigerated pie crust into baking dish, in a large mixing bowl combine sliced fruit, flour, sugar, cinnamon, vanilla and stir to blend.  Pour mixture into prepared pie plate, dot with butter, cover with remaining pie crust and pinch edges together.  Cut 3 - 4 slits in the top of the crust to allow steam to release.  (optional: decorate with addition pie crust)
brush top of crust with egg wash:
and sprinkle top with 2 tablespoons granulated sugar 
Place a foil covered cookie sheet below pie to catch any drips and bake for 35-40 minutes or until bubbly and golden brown.  If edges start to become to dark cover with foil.  Remove from oven and cool on a wire rack for 15 minutes before serving.   
Goat Cheese and Marmalade Phyllo Pastry Bites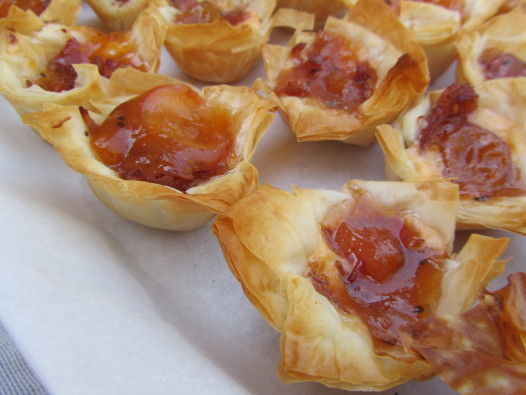 These little Phyllo Bites were also a smash hit at the party.  Filled with a mixture of rich Saint Andre` goat cheese, cream cheese and sharp cheddar; the smooth creamy texture of the filling blended with the crunch of the phyllo pastry, the saltiness of prosciutto and the decadent sweetness of my homemade Cots and Quats Marmalade, made them irresistible. 
1-7 ounce tub Saint Andre` Goat Cheese
5 ounces Philadelphia Cream Cheese
1 cup grated sharp cheddar cheese
1 cup diced prosciutto
1 egg
1 package phyllo pastry
1 stick melted butter
1-16 ounce jar Cots and Quats Marmalade (orange marmalade)
salt and pepper to taste
preheat oven to 425 degrees
Remove phyllo from package and place on a cutting board, cover with a clean damp cloth.  In a Cuisinart, blend together the cheeses until smooth, salt and pepper to taste.
Cut prosciutto into small dice and saute in a dry pan until crisp, set aside until ready to use.  (if pan becomes to dry add a few drops of olive oil)
Melt butter in a microwave safe bowl for 30-40 seconds, set aside until ready to use
Begin making phyllo shells by placing one sheet of phyllo dough onto a second cutting board or other clean surface, remember to cover the remaining phyllo with damp towel, brush pastry with a thin layer of melted butter, add another layer of phyllo and brush with butter, continue this process until you have 6-8 layers of pastry
slice phyllo with a very sharp knife into 4 inch squares, gently press 1 square pastry into small muffin tins allowing a small amount of pastry to drape over the edge, bake on the middle rack of oven for 1-2 minutes or until edges become light brown, remove from oven and fill shell with ½ teaspoon cheese mixture, ½ teaspoon crumbled prosciutto and then top with ½ teaspoon marmalade, bake for additional 3 minutes, cool and serve.