Review and Recipe - Radicchio Roma Tomato Salad with Sudachi Tomato Caviar Dressing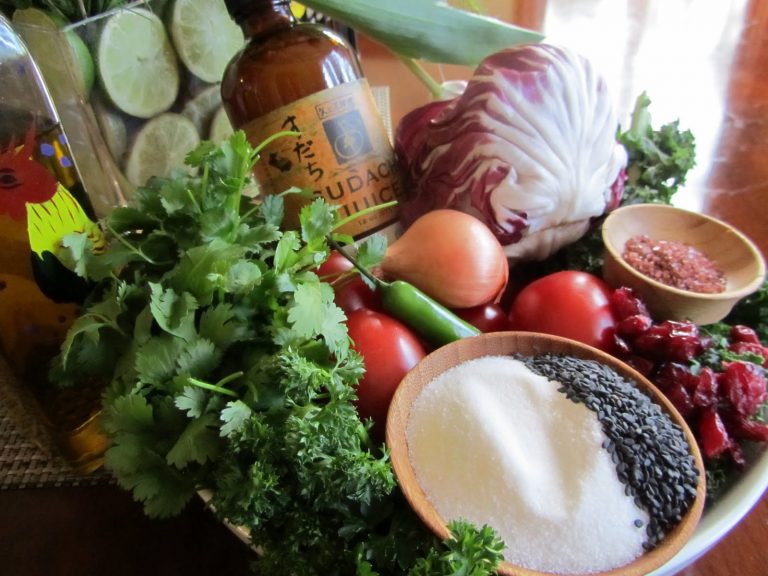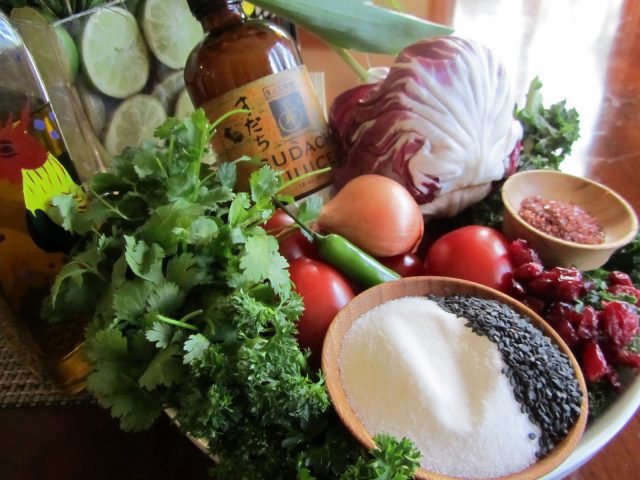 Thanks to Justin Marx the owner of Marxfoods, my favorite online wholesaler of fine bulk foods and amazing kitchen stuff, I've been experimenting in the kitchen with one of their newest products, Yuzu, Sudachi, and Kabosu citrus juices.
"Niban shibori" juices are from the second pressing of the fruit. This makes them less intense, more affordable, and more approachable than the first pressing. They're an excellent choice for home chefs and have been pasteurized to make them shelf-stable before opening.
Yuzu juice is the most well known of the three varieties. It has an extremely complex, slightly flowery flavor that is difficult to describe but is something like a blend of orange/tangerine, lemon, and grapefruit. It is slightly less acidic than lemon juice.
Sudachi juice's flavor is creamy, lemony, and quite tart. It has a similar acid content to conventional lemons.

Kabosu juice's flavor can be described as complex and lime-Esque with layered tangy & savory notes. It is considerably less acidic than lemon juice, yuzu juice, and Sudachi juice. Source: Marxfoods
To give an honest review of these complex new products it's not adequate to just sip a bit from the bottle. I like to spend time in the kitchen getting to know my new cooking companions adding them to new and old recipes alike.
My first taste of Sudachi juice reminded me of my Sanibel Island home and sweet memories of foraging through my lush tropical island yard. Fresh avocados, oranges, and native papayas dotted between the dense green wild coffee, royal palms, and flower-laden trees were my pride and joy, Meyer Lemon Tree.
I chose Sudachi Juice first because it reminded me most of the delicate, creamy, tart flavor of Meyer Lemons; not overly acidic or overpowering in flavor; Sudachi juice is a perfect balance of tartness and rich smooth flavor.
Recipe & Review-Sudachi Juice: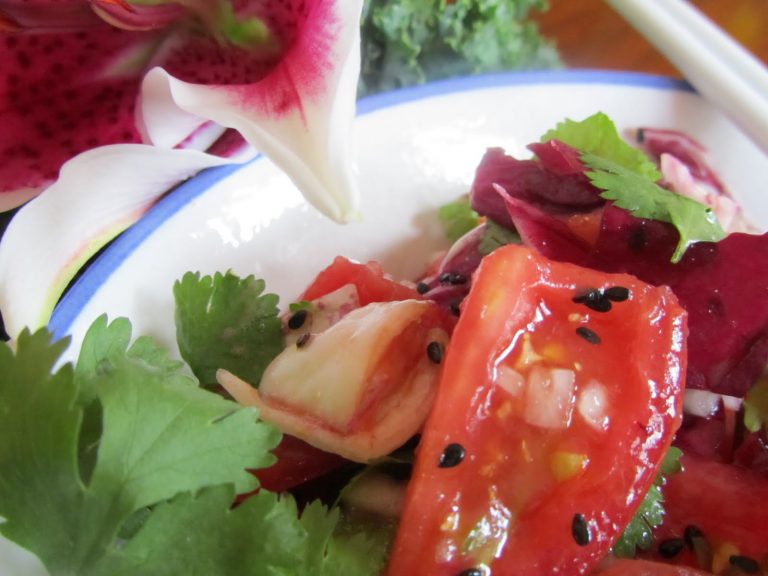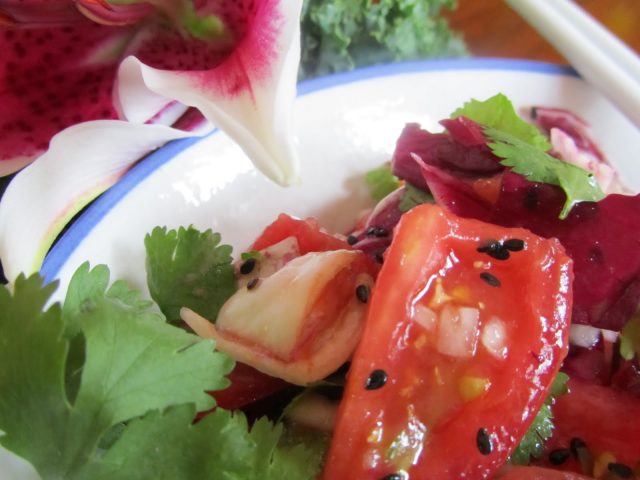 Radicchio Roma Tomato Salad with Sudachi Tomato Caviar Dressing
10 ripe Roma tomatoes (reserve caviar/seeds and pulp)
¼ cup lose packed cilantro leaves
¼ cup flat-leaf parsley, leaves
1 small head radicchio lettuce
1 tablespoon chopped dried cherries
1 tablespoon minced shallots
1 whole Serrano Pepper
sea salt and pepper to taste
Sudachi Tomato Caviar Dressing
6 tablespoons Sudachi juice
all the reserved tomato caviar, ribs removed
¼ cup extra virgin olive oil
2 teaspoons sugar
1 teaspoon premium soy sauce
1 tablespoon black sesame seeds
pinch sea salt
Method:
In a large mixing bowl combine chopped radicchio, whole cilantro, and parsley leaves, stems removed.
Cut Roma tomatoes into wedges and remove seeds and pulp, reserve for dressing. Chop dried cherries, and Serrano chili and minced shallot, add all ingredients to mixing bowl.
In a small Cuisinart blender, blend tomato caviar with Sudachi juice, olive oil, sugar, salt, and soy sauce.
Lightly dress greens and tomatoes with 3-4 tablespoons dressing. Garnish individual servings with black sesame seeds and a pinch of sugar, serve.
What makes each of these juices so spectacular is their complex nature. Although they are all citrus, they each have completely different overtones of flavor. All of the juices are delicious with endless possibilities for recipe creation!
Next up, Kabosu ROOTbeer Cream Cocktail!