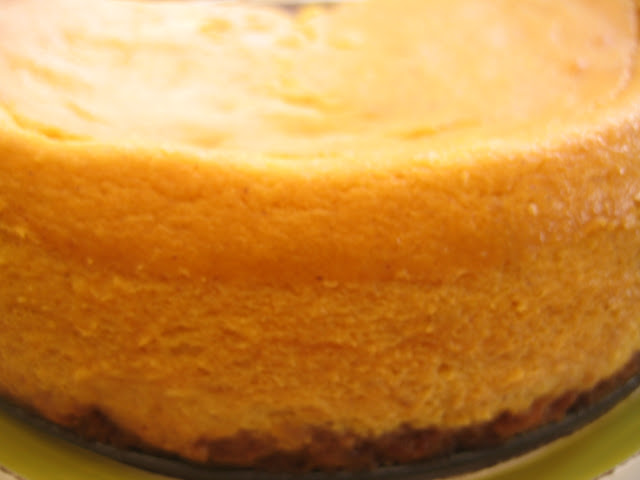 This is the best ever, Pumpkin Cheesecake recipe! 
I wish I could boast and tell you that I'm a fabulous baker but alas, I'm not! I've always been challenged when it comes to baking. I think it's my need to add a pinch of this and a pinch of that to my recipes, that throws me off course. Being forced to measure ingredients is my undoing every time! Luckily, this style of cooking has worked well for me in the kitchen, developing new recipes, making soups, stews, appetizers and main dishes.
Now that I'm food blogging I've tried to change my ways and follow the directions!!  Thanks to the Food Network and Paula Deen, this recipe has lifted my spirits and given my inner baker a voice.....yeah! Finally, I accomplished making a cheesecake that didn't look or taste like the funky tan blankets on the beds at motel 6!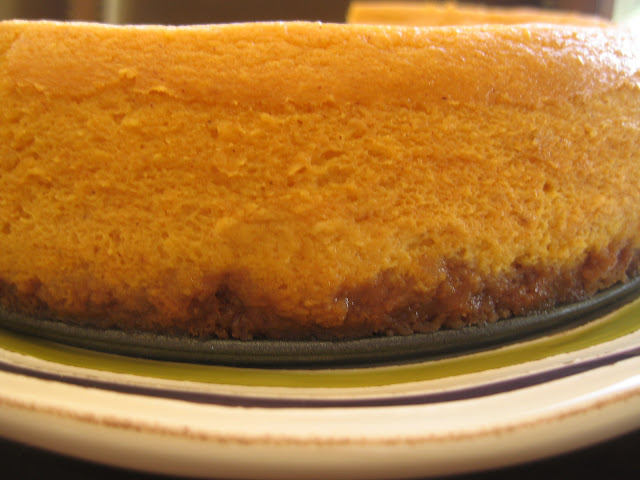 This recipe is so creamy and moist and the pumpkin flavor isn't over powering.  Just the right blend of ingredients, to make even the most novice baker look like a star!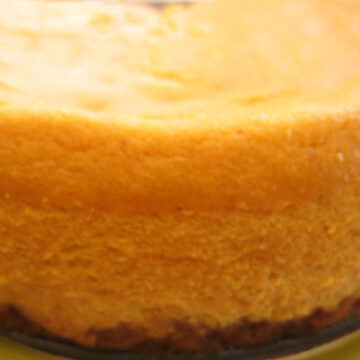 Pumpkin Cheesecake
Ingredients
For the Crust
1 ¾

cup

graham cracker crumbs


2

Tablespoons

light brown sugar

½

teaspoon

ground cinnamon

1

stick

melted salted butter
For the Filling:
3

8-ounce

8 ounce packages cream cheese, room temperature


1

15-ounce

1 (15-ounce) can purée pumpkin


3

whole

eggs, plus 1 yolk

¼

cup

sour cream

1 ½

cups

granulated sugar

½

teaspoon

ground cinnamon

⅛

teaspoon

ground nutmeg

⅛

teaspoon

ground cloves

2

tablespoons

all purpose flour

1

teaspoon

vanilla extract
Instructions
Preheat oven to 350 degrees F.
For Crust:
In medium bowl, combine graham cracker crumbs, sugar, cinnamon.  Add melted butter. Mix well. Press mixture down flat into a 9-inch springform pan.  Set aside
For Filling:
Beat cream cheese until smooth, add pumpkin purée, eggs, egg yolk, sour cream, sugar and spices.  Add flour and vanilla.  Beat together until well combined.

Pour into crust, spread mix evenly and place in oven for 1 hour.  Remove from oven and let sit for 15 minutes. Cover with plastic wrap and refrigerate for 4 hours
Notes
Serves 8
I can never wait the 4 hours...warm cheesecake is sooo yummy! Serve with whipped cream