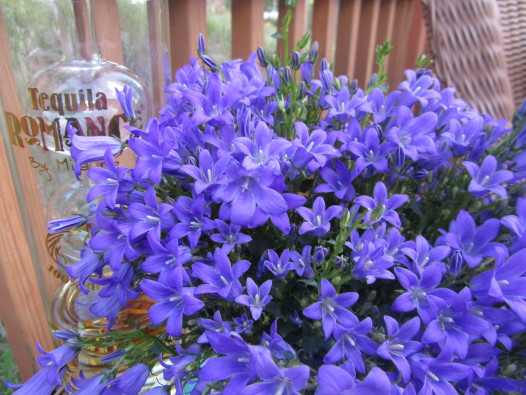 Tended with care and flourish, my Mom's garden was filled with a delightful array of herbs, fruits and vegetables. Witnessing the miracle of dried seeds being bedded in late Spring, transformed into the first shoots of life, was a much a joy to me, as was my mother's promise of one day growing "my own green thumb" just like hers!
Fascinated by the growth of tiny green seedlings that became crispy sweet snow peas, and watchful as meandering, rough leaves gave birth to brightly colored, crooked-neck squash; I was rapt, by the age of six to the bond I shared with God's creation.
Lacy blue borage flowers found their way into wilted spinach salads, accompanied by tender fried squash blossoms; while nasturtiums lent their bright orange color and spicy bite to an array of meals. Each new planting beckoned to be picked then transformed into delectable dishes in my mother's kitchen.
I helped my mom weed and harvest the garden each day, early in the mornings and in the late afternoons.  It was just about dusk on a balmy summer day when moms garden proved to be much more than a place to find fresh garden fare for our family table.
I was sitting on the hot brick patio, in our small backyard shelling peas, and watching as my mother pick lettuce and tomatoes for dinner, when my two oldest brothers, "the twins" come out to join us.  They both had a peculiar expression on their faces, reminding me of the one I had, when mom heard me utter the "F" word for the first time only a few weeks earlier.  Unfortunately, that moment didn't turn out so well. Brother Brad was fidgety standing above me and Brother Jeff had his hands stuffed deep in his pockets. Mom continued gardening in silence while the boys waited to gain enough courage to spit out their request. "Mom", they both blurted out at the same time (being twins they did that a lot), "we were wondering if, um…can we try to smoke, um…some of your garden herbs?"  Not even looking up from her work and without a second thought she said, "Sure, go right ahead". What? Did I hear my mother correctly? I was only twelve so maybe I was missing something. Astonished by the fact that she really meant it, I watched in disbelief as my brothers started smoking weeds from mom's garden.
Mother went right back to gardening with very little expression or concern as the boys starting picking herbs, grass, weeds and blossoms.  I felt a little light-headed about the prospect of seeing my brother's attempt such a bold act, right in front of mom, especially after the grounding dealt for using bad language.
Mother's garden ran the length of our house and then around the side; filled with yellow squash, pumpkins and zucchini we learned that this was a place to tread carefully. The boys, stayed clear of the area concentrating on the mint, borage, dill and chives. Gathering their sampling of "tobacco" they began the process of pulling apart the herbs placing the stems in one pile and the flowering bits in another. As I recollect, they seemed very adept at their work.
After much care separating and sorting, the boys began to discuss which combination of herbs they would try first. Once decided, they both produced cigarette rolling paper from their trouser pockets and deftly, began to roll.  Another, moment of clarity washes over me now, knowing full well they had this moment planned for some time. My brothers were seniors in high school and it was smack dab in the throes of the 60's, so seeing this shouldn't have phased me in the least. I mean, I did watch the evening news with my parents, and knew about free love, hippie vans, peace signs and the like, and I'd even seen the movie "Hair". Armed with my twelve years of knowledge, I sat there with my mouth on the ground and watched in horror as my Mom just kept on picking.
The times were ripe with curiosity about marijuana, magic mushrooms and other mood altering drugs, so I had to suppose this is what drove my brothers quest to experiment in such a way, I just couldn't get over the fact that mom continued to ignore them with such blatant disregard.
The first experimental joint seemed to excite the boys as they puffed the wet tobacco; giddy and so proud of themselves, they shared a high-five, all the while looking to me, to be a bit deranged.
The next paper filled with the flowering bits, and after a few puffs into the borage laced dooby, I noticed a strange green tint come over their faces. Jeff eyes crossed and glazed over, and Brad looked as if he would keel over at any moment. The fun came to an abrupt halt as I heard a slight moan escape their heaving bodies. Slowly, then at a dead run, they both sprinted to the family bathroom! Gruesome, were the sounds emitting from the back of the house. As if ripped from a trance, I saw movement coming from my mother's direction.  Collecting the basket of freshly picked tomatoes and lettuce, stealth fully calm, she walked deliberately into the house.  As she passed me, taken aback to see her stoic demeanor crack for a moment, I saw a familiar and all knowingly gentle smile creep over her face.
Leading by example, Mom not only taught me how to garden, but to cook with heart and to be an adventurous eater. Now that I'm a mother and have experienced some teenage angst from my own children, I understand how Mom had remained so calm in the face of such defiance. You see, after years of experience and mature grace, mother's and some father's, are able to see into the future, read minds and see out of the back of the heads!