I started canning alongside my mother when I was very young. One of my favorite memories of canning was when our family lived in Elmwood Illinois. Together with mom, dad and my three older brothers we lived close to an open track of meadow that went from Elmwood all the way into Chicago. Covered in a canopy of lush trees, meadows, filled with beautiful flowers and ponds and surrounded by nature's harvest. Almost everywhere you looked there was a huge bush of ripe black berries, gooseberries, boysenberries and wild strawberries.
When Mom decided she was going to put up some jam or jelly we'd gather several buckets or tubs and prepare for a day in the woods.  My three older brothers and I would put on our long pants and long sleeve shirts, tie the sleeves and trouser legs shut with twine. This ritual gave us some protection from the thorny bushes and helped stop bugs and snakes from climbing our legs and arms while foraging for ripe berries. 
Wearing our protective gear and looking a bit silly, the four of us would take off in search of wild berries. As we made our way to our favorite berry picking site I would listen to my older brothers talk about their week at school. The conversations were very informative for a girl my age!  I learned a lot about "boy stuff" during those hot summer days.
Finally, reaching our destination we would stand back and asses our plan of action.  The bushes were dense and filled with long thorns, they were also about 2 feet taller than me.  I had to let one of the older boys blaze a trail before it was safe enough to walk among the berry laden bushes. It was very tricky business. 
I would follow the boys into the thicket of  monstrous, tangled bushes eager to collect my bounty.  The most delicious berries awaited us and beckoned to be plucked from their spindly branches.  I'd find handfuls of beautifully plump black and red berries and fill my bucket to the brim.  Several berries made it into my tummy instead of the into my bucket; their juicy goodness served as a sweet treat as we worked in the hot sun.
Remember the twine around our trousers and cuffs?  Well, no matter what precautions we took we would still get bitten by chiggers, mosquitoes and spiders. On almost every occasion we would narrowly miss being struck by some sort of poisonous snake. Yikes! 
By the time we were ready to leave we were covered in scratches from the spiky bushes and dripped with perspiration from the 90 degree weather and humidity. Our faces and hands were stained from the juices that ran down our arms from fat berries that had been handled too roughly. It felt really good!
The walk home was always a little harder to manage laden down with buckets filled with fruit. With intent...I would begin to complain about my bucket being to heavy, how hot I was and how tired my feet were, as we trudged towards home.   After a few choruses of whining, one of my brothers would finally give in and offer to carry my bucket. I was then free to fall behind to pick wild flowers and search for other treasures that might present themselves along the way.
Mom was always ready for action when we walked in the door.  We would deposit our buckets in a predetermined spot in the kitchen and she would begin her dance with the berries.  Deep pots on the stove filled with boiling water, bubbling while the sound of the glass canning jars gently bobbed in the vapor pressure.
My mother would spend hours preparing and canning the juicy fruit while we  waited, exhausted from our day in the heat to take a cool shower. I almost always went first!!   Being the youngest and the only girl has its advantages.  Feeling squeaky and clean we would compare our war wounds to see who got the deepest gash or the biggest bug bite.
The following morning we would wake to the smell of fresh brewed coffee, mom's sweet fluffy waffles and bacon.  Creamy butter and maple syrup rounded out our breakfast feast.  Like the guest honor, a jar of moms freshly made jelly sat waiting on the table, poised to be smeared onto the hot crispy waffles.   YUM!




I began canning on my own in my early 20's using several different cookbooks.


"The Household Searchlight recipe Book" was my all time favorite cookbook to use for canning and it remains my favorite to this day. I found the book while shopping for antiques in Colorado Springs, CO. I love hard bound cookbooks and this one was in great shape. It was published in 1914 and I paid $4.00. When I got the book home and began reading through it, I was so please to see the first page hand written inscription, "To Faye, Aug 26/42". Just knowing that, "Faye" used this cookbook in her kitchen so long ago made this find even more special.


For complete description and definition of Conserves, Jams and Jelly HERE


Basic Apricot Ginger Conserve Recipe
5 Cups fresh Apricots


¾ Cup sliced Candied Ginger
½ Cup Orange Juice
¼ Cup Lemon Juice
5 cups cold water
2 Teaspoons Grated Orange Rind
1 Teaspoon grated Lemon Rind
2 ¼ Cups Sugar
opt. ½ cup chopped nuts
1 3 oz. pkg Liquid Pectin


Wash apricots and cut in half removing the pits, add water to a large heavy stock pot, combine the apricots, ginger, orange, lemon juice, grated rind and sugar, mix well and simmer slowly until tender about 35-40 minutes.


Add Pectin and cook added 5 minutes.


Optional ingredients:
walnuts or pecans
add nuts to mixture at the end of the cooking process and  cook added 5 minutes


1 cup of chopped dried Mango, add mango at the beginning of the cooking process to soften with other fruit.
Pour into
prepared jars
and process for 10-15 minutes in a water bath.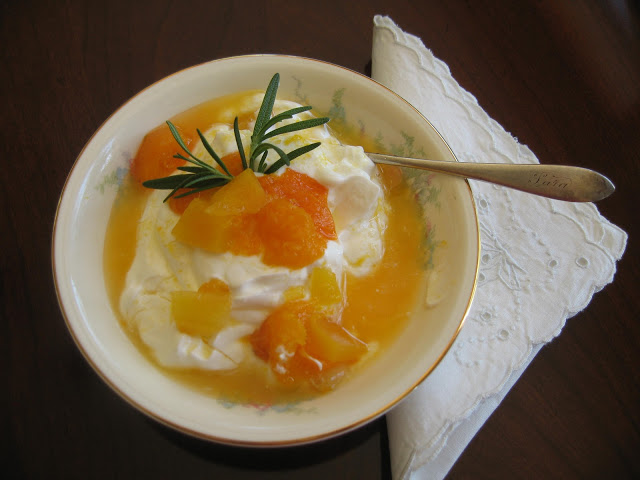 Apricot Ginger Conserve over yogurt