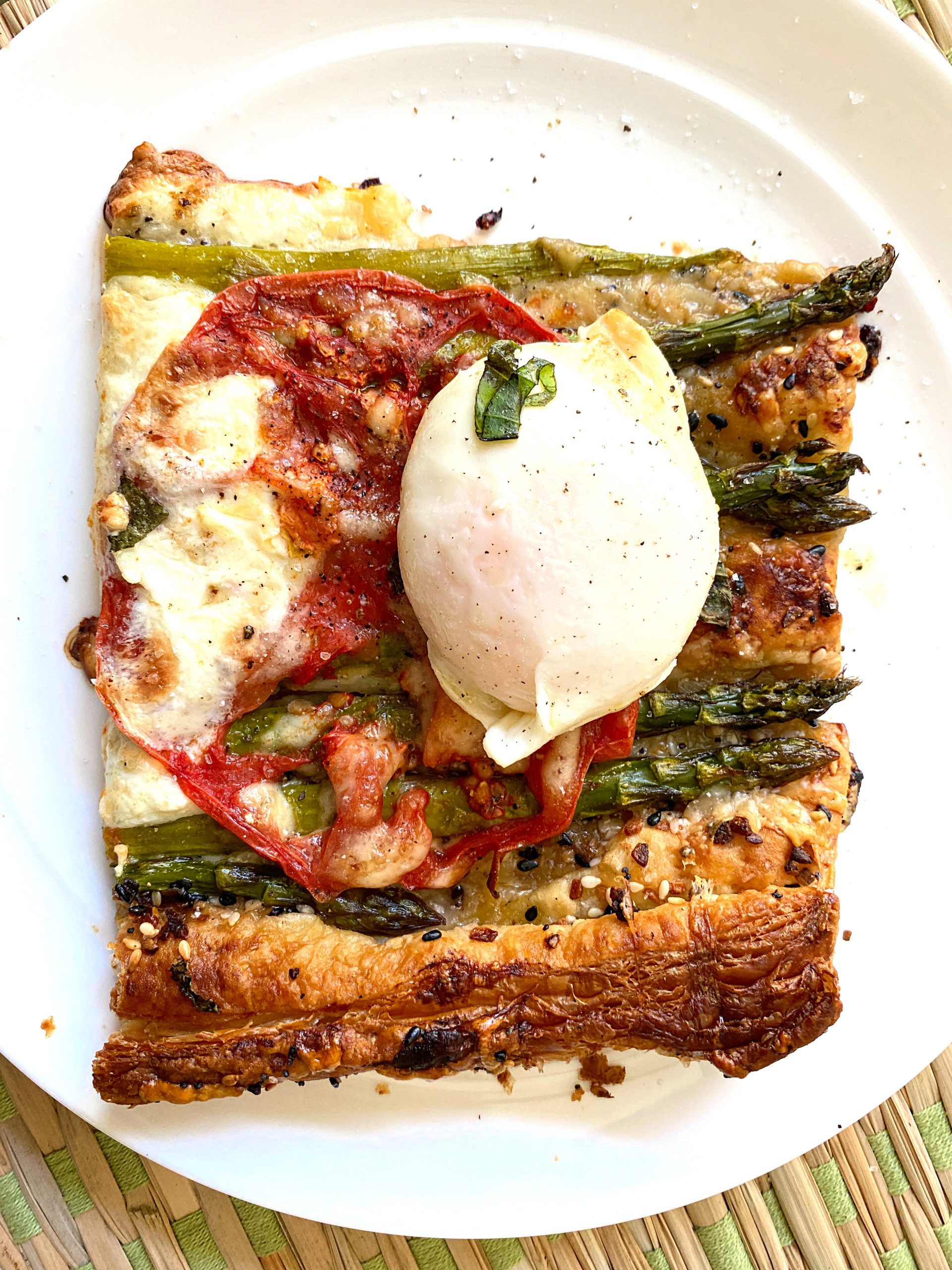 Perfect for Entertaining
Asparagus tomato tarts are one of my go-to menu items when entertaining at parties and family gatherings. The ease of making this recipe comes from utilizing pre-made puff pastries, which gives you the ability to cut the tart into various sizes for individual servings. Depending on your preference, you're also able to serve the dish at room temperature.
The base recipe has thousands of applications, from savory to sweet, making this dish a real show stopper.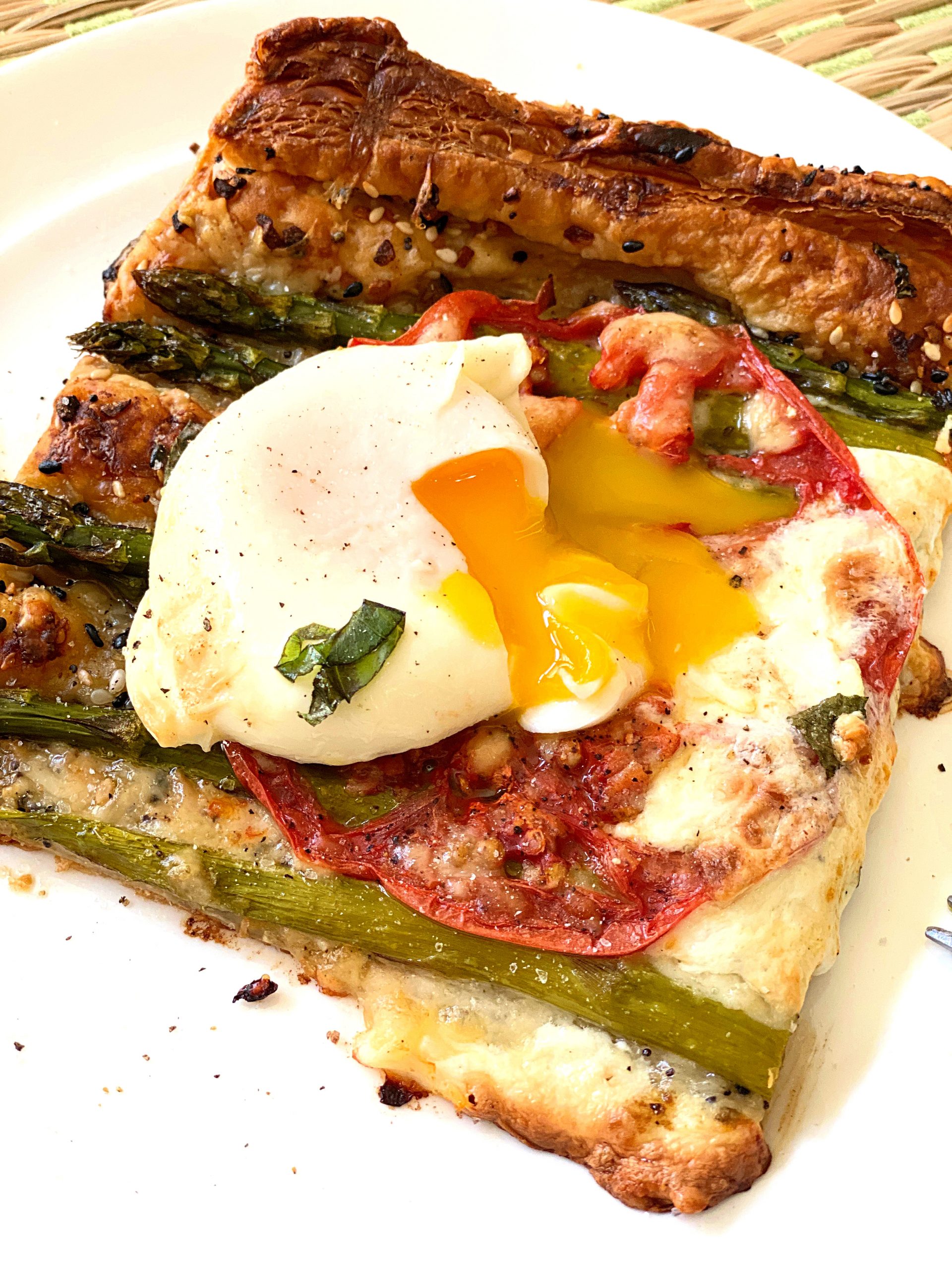 Everything Bagel Spice Blend
The key to making this pastry tart sing with flavor is the utilization of high-quality cheeses like gruyere or fontina to compliment the unique Everything Bagel Spice Blend.
I've fallen in love with the stuff and use it on "everything," LOL!
The Spice Blend provides the dish with a lovely texture, and adds layers of nutty flavor to many of my recipes.
Disclaimer: This is not a sponsored blog post for Everything Bagel Spice Blend. This post is published and paid article for the FYI50+ Magazine.
Layers of Fresh & Creamy Flavor
Fresh heirloom tomatoes lend acidity while melted burrata adds a rich creaminess to the dish. The poached eggs are sumptuous when the soft yolk is broken to reveal their bright yellow interior; creating a natural sauce.
The dish is finished with fresh basil chiffonade and a drizzle of good olive oil and thick balsamic vinegar.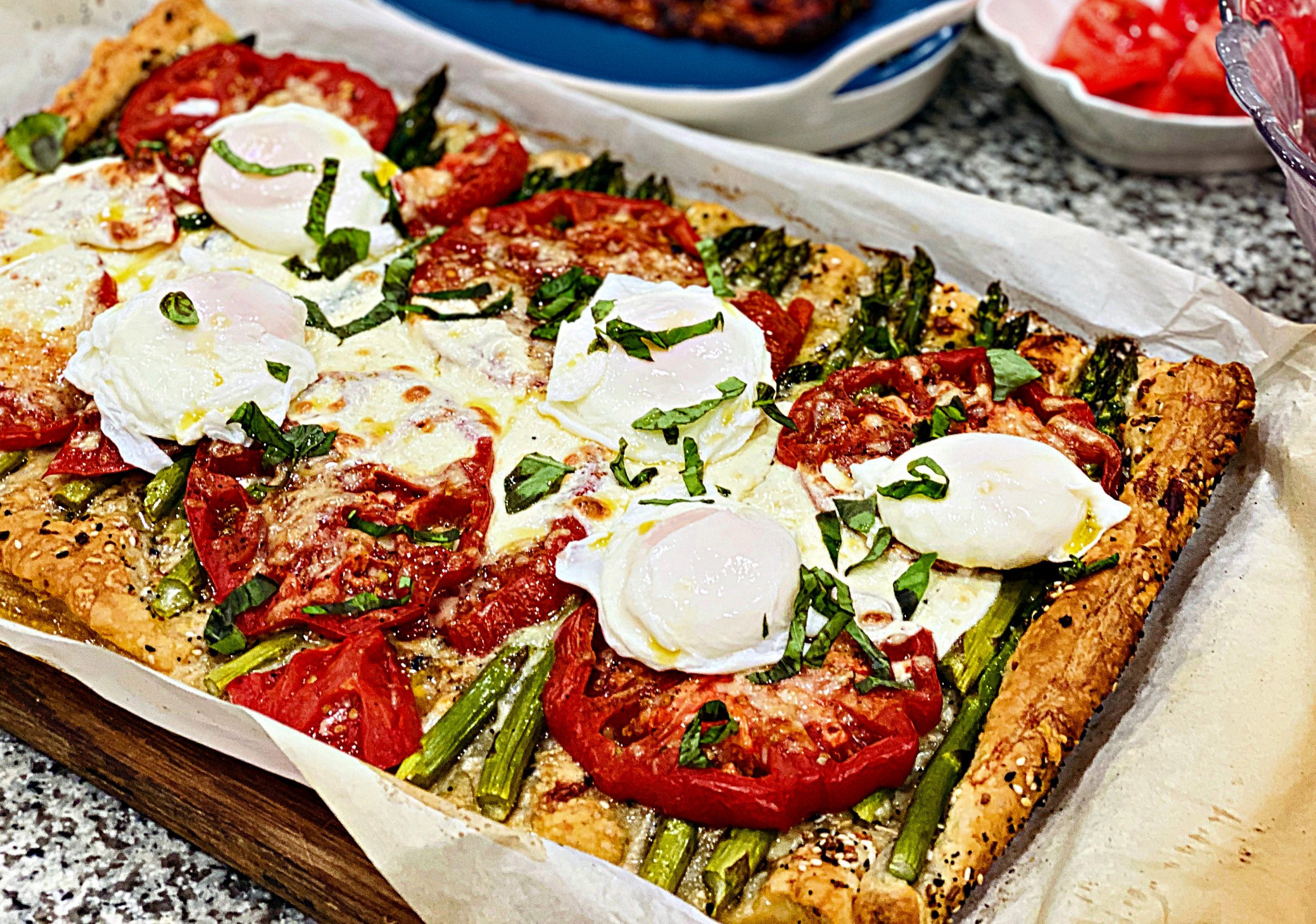 Note
Tomatoes have a lot of natural juice so it's imperative to par-cook the puff pastry keep it from becoming too soggy.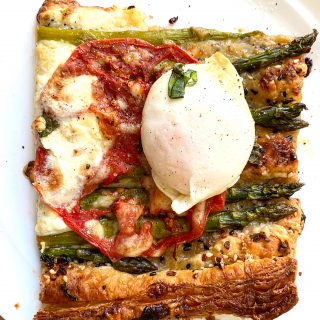 Asparagus Tomato Tart
Another COVID19 recipe creation made for my friend, Nina!
Ingredients
Preheat oven 400F

Ingredients:1-pound fresh asparagus

trimmed1 large heirloom tomato, sliced1 sheet frozen puff pastry, thawed2 tablespoons olive oil, divided2 tablespoons Everything bagel seasoning, more to taste2 cups shredded gruyere or fontina cheese or a mix of both2 4-ounce balls Burrata cheese in water, drained 6 poached eggs3 tablespoons fresh basil, chiffonade (sliced)½ teaspoon fresh black pepper¼ teaspoon slat¼ cup thick balsamic vinegar, garnish
Instructions
Par cook trimmed asparagus in ½ inch boiling water for 3 minutes. Remove to a paper-lined plate and pat dry.

On a lightly floured surface, roll thawed pastry into 16x12 in a rectangle. Transfer to a parchment-lined baking sheet. With a sharp knife, score 1 inch from the edge to mark the rectangle. Use a fork to pierce dough inside the marks at ½ inch intervals to keep the pastry from rising too high during the first bake.

Brush pastry evenly with olive oil, be sure to brush the edges. Sprinkle the entire surface evenly with Everything Bagel Spice. Bake pastry for 10-15 minutes.

Remove pastry from the oven. Add ½ of the cheese and arrange asparagus in a single layer over the cheese. Place sliced heirloom tomatoes over the asparagus. Season with pepper and salt and finish by adding remaining shredded cheese over the vegetables.

Bake for 10 minutes

Remove from oven and add two balls of burrata cheese. Bake an additional 5 minutes or until burrata is just soft.

While the pastry is cooking, poach 6 eggs to soft center and drain on a paper-lined plate

Remove pastry from the oven. Garnish with the eggs and drizzle with more olive oil and dress with a fresh chiffonade of basil. Cut into wedges and drizzle with balsamic vinegar.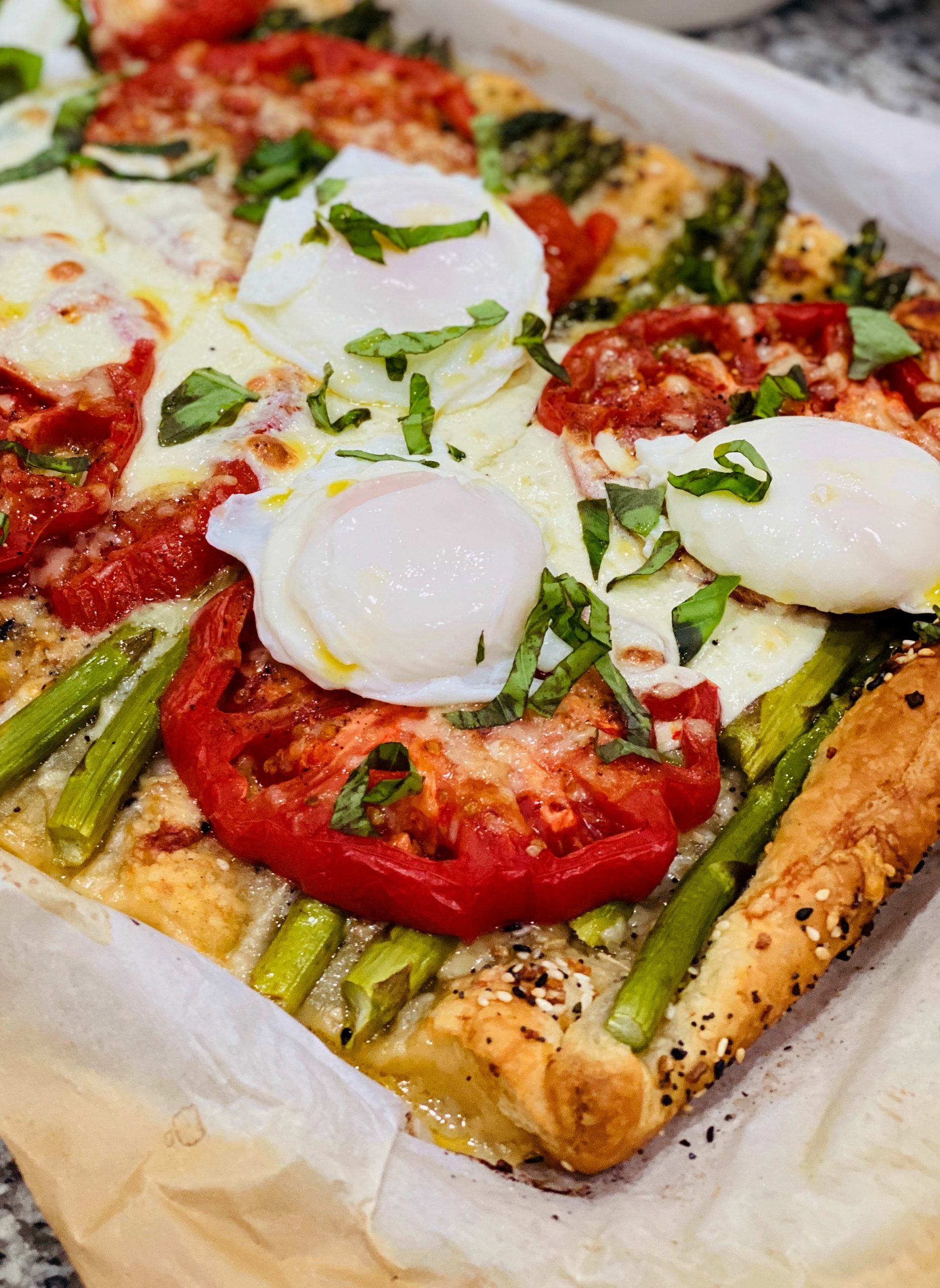 More Tart Recipes
Like I mentioned above, I've made this recipe several times over the years. Below is one rendition I made for a pasta contest a few years back - Avocado Pesto Whole Grain Elbows in Puff Pastry with Asparagus & Four Cheeses.
I hope you enjoy making puff pastry tarts as much as I do!