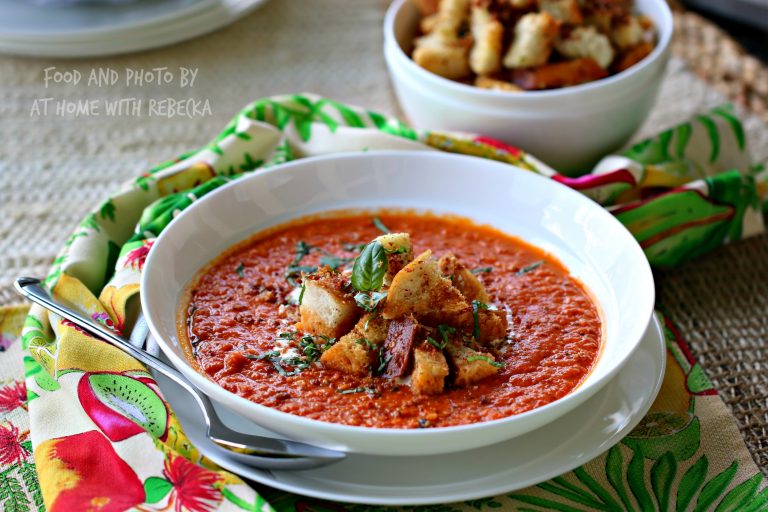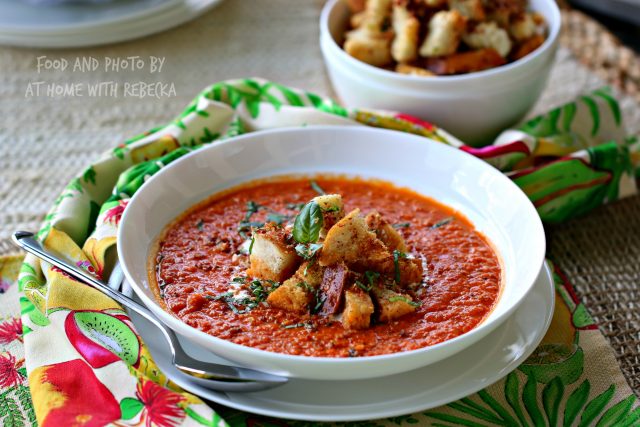 Freezing weather got you down? Try my heart-warming Bacon Sriracha Tomato Soup with Bacon Croutons made with Red Gold Diced Sriracha Tomatoes & Red Chilies to warm your chilly bones.
Inspired by the World Food Championships 2018 Bacon Category Sponsor, Red Gold Tomatoes, I created this 30-minute recipe that will satisfy your hunger with delicious Red Gold Tomato flavor and a kick of sriracha spice.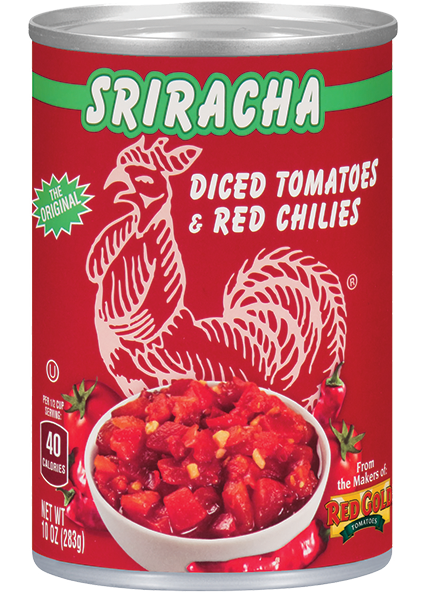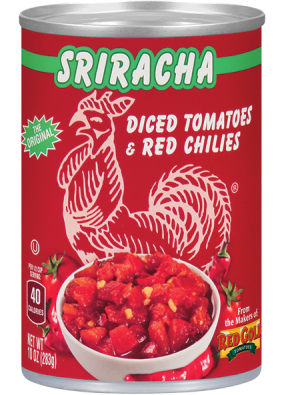 Check out the Fox Recipe Box Video for step-by-step video instructions below. ENJOY!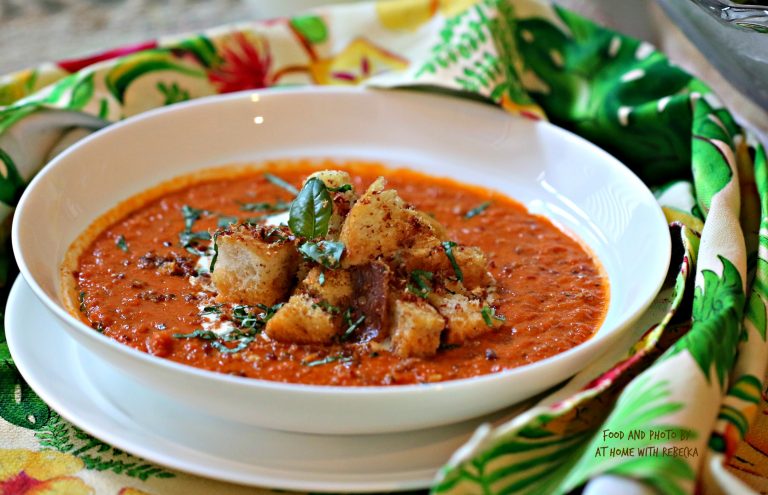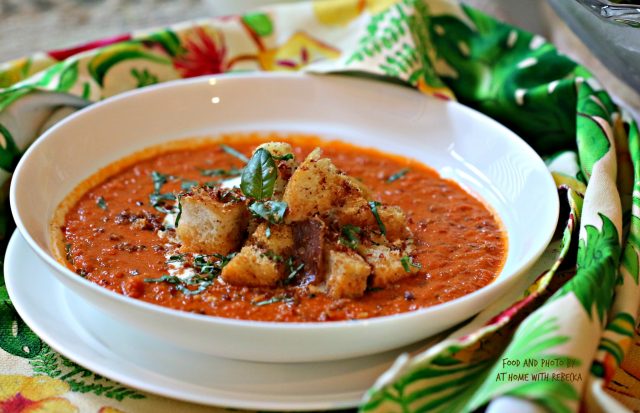 Print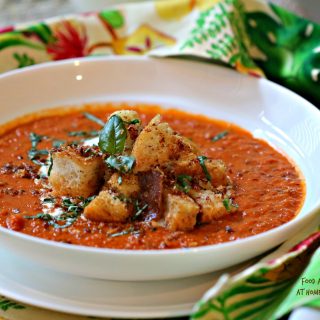 Bacon Sriracha Tomato Soup with Bacon Croutons - Red Gold Tomatoes
Author:

athomewithrebecka

Prep Time:

10

Cook Time:

20

Total Time:

30 minutes

Yield:

4
---
Description
Bacon Sriracha Tomato Soup with Bacon Croutons
This heartwarming soup is made with canned Red Gold Tomatoes
---
3 strips bacon (about 1 cup) cooked and chopped
1 teaspoon fresh garlic
1 cup sliced fresh cherry tomatoes
1-14.5 ounce can Red Gold Tomatoes - Diced Tomatoes Basil, Garlic & Oregano
1-10 ounce can Sriracha Red Gold Tomatoes - Diced Tomatoes with Red Chilies
¼ cup sundried tomatoes
1 cup water
¼ cup heavy cream
¼ cup fresh basil chiffonade, divided
4 tablespoons Mexican table cream for garnish
3 cups Italian bread, cut into cubes
4 tablespoons olive oil
½ teaspoon garlic salt
1 teaspoon grated parmesan cheese
½ teaspoon fresh ground pepper
---
Instructions
Preheat oven to 400 Degree F.
In a large cast-iron stockpot or heavy bottom saucepan
Cook bacon over medium-high heat until crisp. Remove bacon from pan and drain on a paper-lined plate for 10 minutes.
To make bacon dust: pulse bacon in a coffee mill until it resembles fine dust. Set aside
Sauté the garlic in the bacon fat for 30 seconds, add sliced cherry tomatoes and cook for 3 minutes, stirring to combine.
Add both cans of seasoned tomatoes as well as, sundried tomatoes and water. Bring to a boil. Reduce heat and cook for 25-30 minutes. Remove from heat. Using an immersion blender, pulse the mixture until smooth. Add ¼ cup heavy cream and stir to combine. Keep soup warm
While the soup is simmering; cut bread into cubes. Drizzle with 2 tablespoons olive oil, garlic salt, parmesan cheese, 1 tablespoon fresh chiffonade of basil, and fresh black pepper. Toss to combine. Evenly spread seasoned bread onto a baking sheet. Drizzle with remaining olive oil and bake at 400 degrees F. for 10 minutes. Remove from oven and sprinkle with bacon dust reserving some dust for garnish. Bake for additional 5 minutes or until golden brown. Keep bacon croutons at room temperature until ready to plate the soup.
---
Notes
Garnish soup with Mexican table cream, fresh chiffonade of basil, bacon dust, and several crunchy croutons. Serve with a crisp green salad. ENJOY!
By Rebecka Evans
Keywords: Bacon Sriracha Tomato Soup