Sam's Fresh Salsa-Blogger Recipe Challenge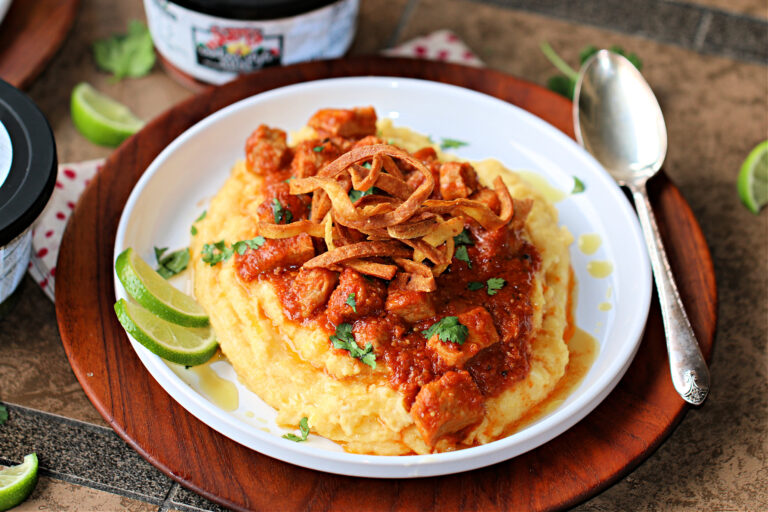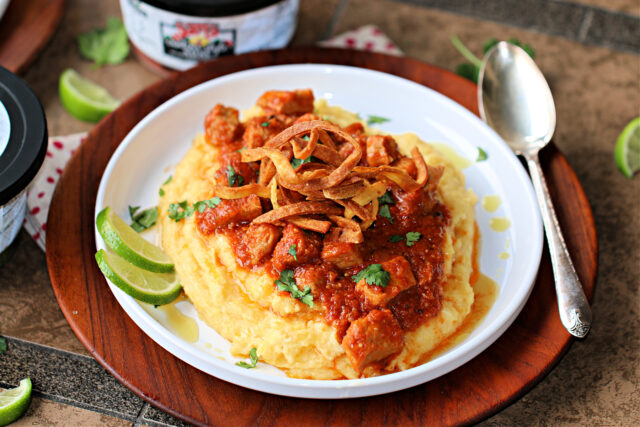 Fresh, Not Fake
Sam's Fresh Salsa has set the stage for culinary-focused bloggers, to compete in their premier Blogger Recipe Challenge #freshnotfake. Only 30 bloggers were chosen to share their culinary creativity using Sam's Fresh Salsa products. I'm honored to be chosen to compete.
Three New Flavors
Sam's Fresh Salsa supplied bloggers with their 3 new flavors of salsa for testing, Cantina Medium Salsa, Salsa Verde, and Watermelon Jicama Salsa.
Tasked to create inspirational recipes with unique twists that will "WOW" the judges, my first recipe submission, Cantina Pork Ragu with Creamy Polenta is sure to meet that mark.
The recipe is entered in the Entree category.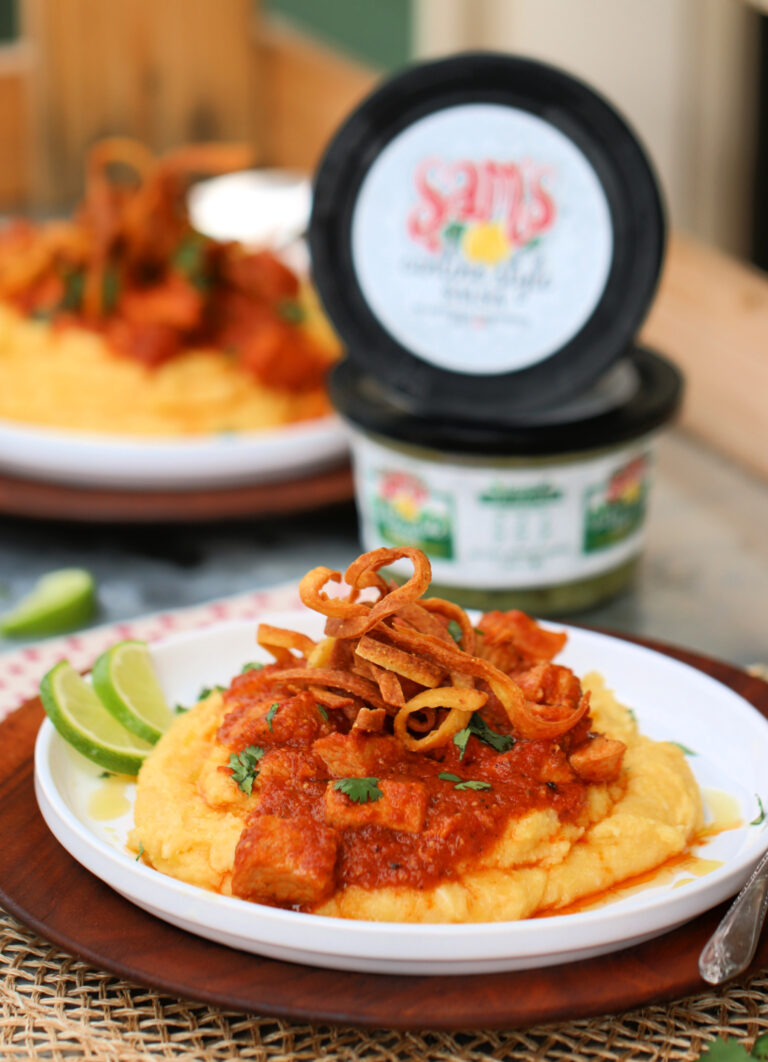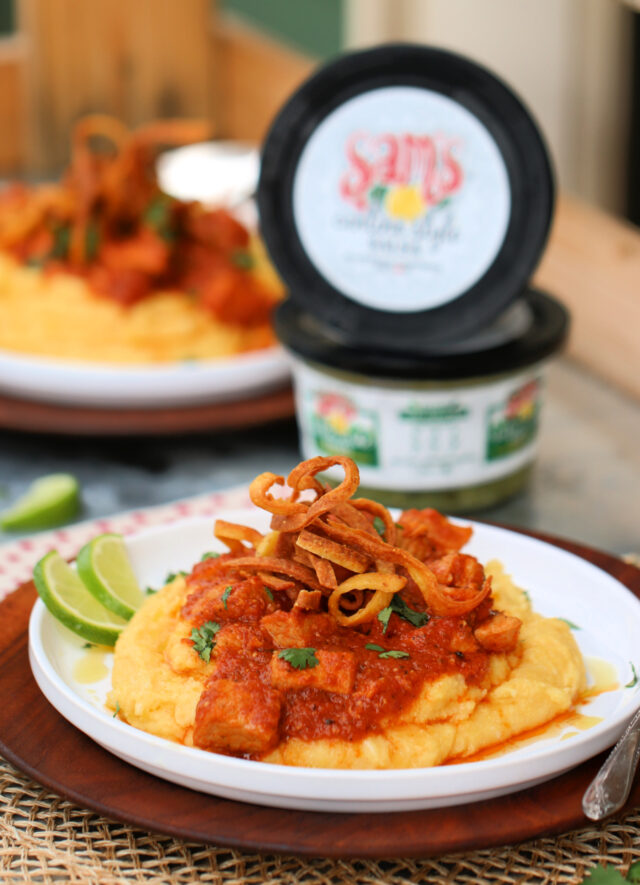 Easy and Delicious Eats
The recipe was so easy to make so, so delicious. I combined Sam's new Cantina Medium Salsa and the Salsa Verde with sauteed pork and just a few other pantry items to create the most flavorsome ragu. I served it up on a bed of creamy polenta with tortilla crisps and a drizzle of jalapeno olive oil. Every bite tastes better than the last...YUM!
Leftovers...
I used the leftovers to make puffy tacos the next day for lunch. They were crazy good and economical way to feed the family using leftovers.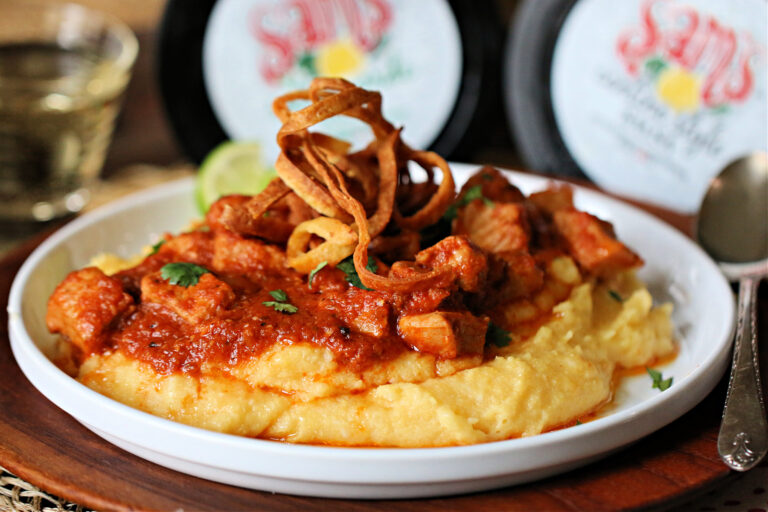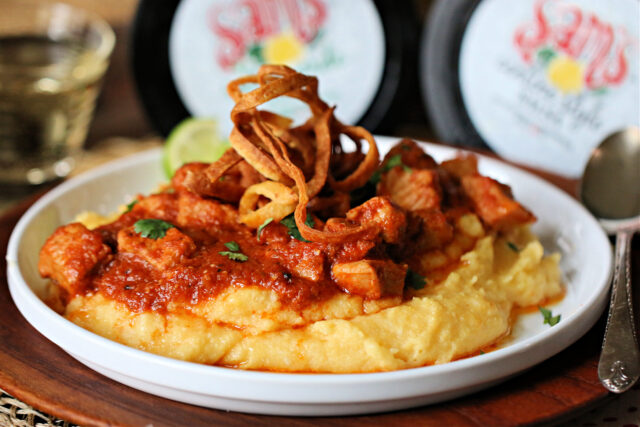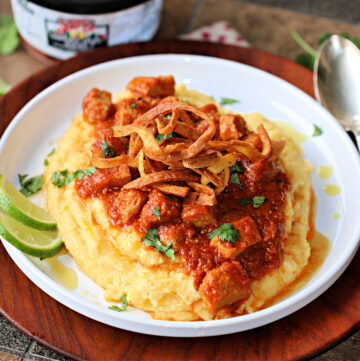 Cantina Pork Ragu over Creamy Polenta
Ingredients
CANTINA PORK RAGU

1 12-

ounce

tub of Sam's Fresh Cantina Style Salsa

4

Tablespoons

Sam's Salsa Verde

2

pounds

skinless

boneless pork, cut into cubes

1

tablespoon

vegetable oil

½

cup

chopped red onion

2

Tablespoon

tomato paste

½

cup

chicken stock

½

cup

water

½

teaspoon

Mexican oregano

2

bay leaves

1

teaspoon

salt

1

teaspoon

black pepper

POLENTA

1 ¾

cups

coarse polenta

follow manufactures instructions for cooking

2 ½

cups

chicken stock

2

cups

water

4

Tablespoons

butter

1

cup

grated Pecorino Romano cheese

Salt and pepper to taste

2

Tablespoons

Jalapeno olive oil

6

corn tortillas

½

cup

vegetable oil for frying tortilla crisps
Instructions
Step 1
Cut pork into cubes. Season with salt and pepper. Heat oil in a large heavy bottom pot. Cook pork in batches turning often until evenly browned; about 10-12 minutes. Transfer to a platter
Step 2
Add onions, to the pot and stir until they begin to caramelize for about 12 minutes. Add tomato paste and cook stirring occasionally, until thickened about 3-5 minutes. 
Step 3
Add chicken stock and water to the pot and stir to release browned bits from the bottom of the pan. Add Sam's Cantina Style Salsa, 4 Tablespoons Sam's Salsa Verde, and oregano. Return pork to the pot and bring to a boil stirring occasionally. Reduce heat and simmer partially covered for 2 ½ - 3 hours. Stir the sauce several times during cooking. The sauce will be quite thick. More water can be added to achieve desired constancy.

 POLENTA
Step 4
Bring 4 ½ cups liquid to a rolling boil, add polenta gradually, whisking constantly. Cook until polenta is tender and creamy whisking often. (polenta can be loosened by adding more water)
Step 5
Add butter and parmesan to the hot polenta and whisk until melted. Season with salt and pepper
Step 6
Slice fresh tortillas into strips. Cook in hot vegetable oil until crisp
Step 7
Spoon polenta into bowls or deep plate and top with Cantina Pork Ragu and drizzle with jalapeno olive oil and top with tortillas crisps.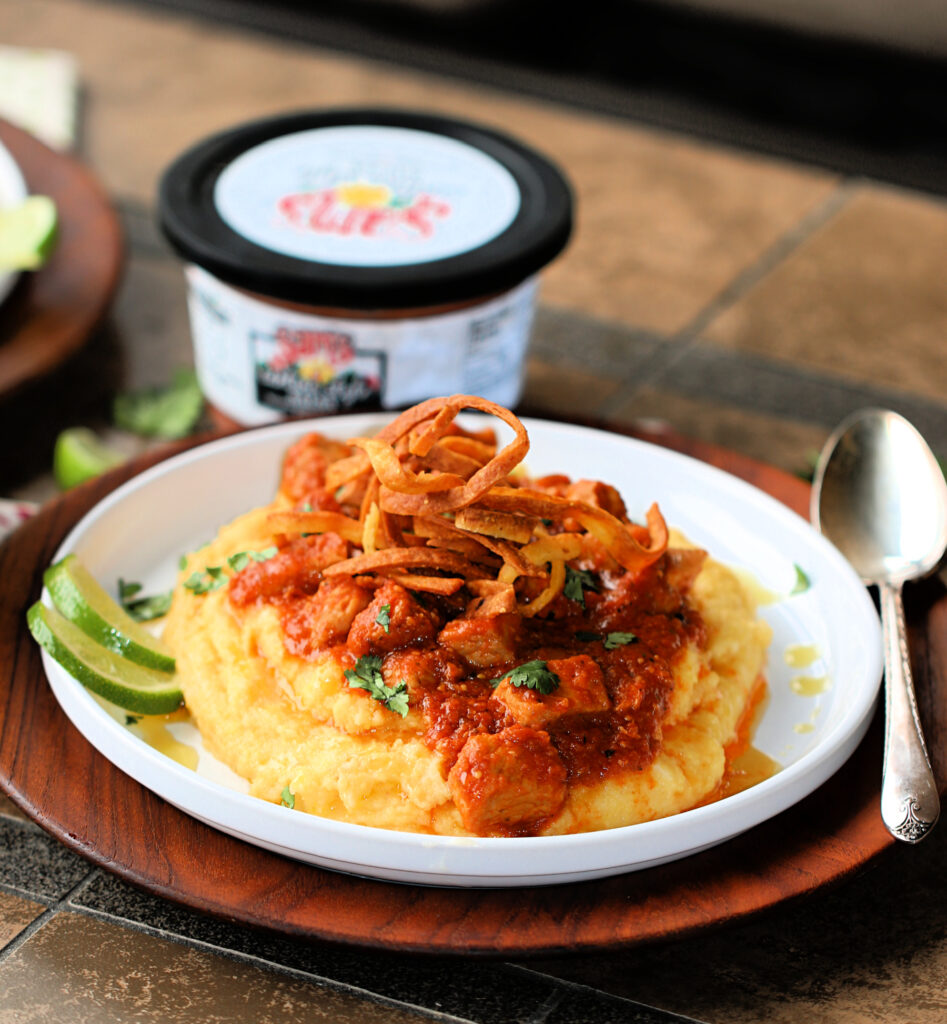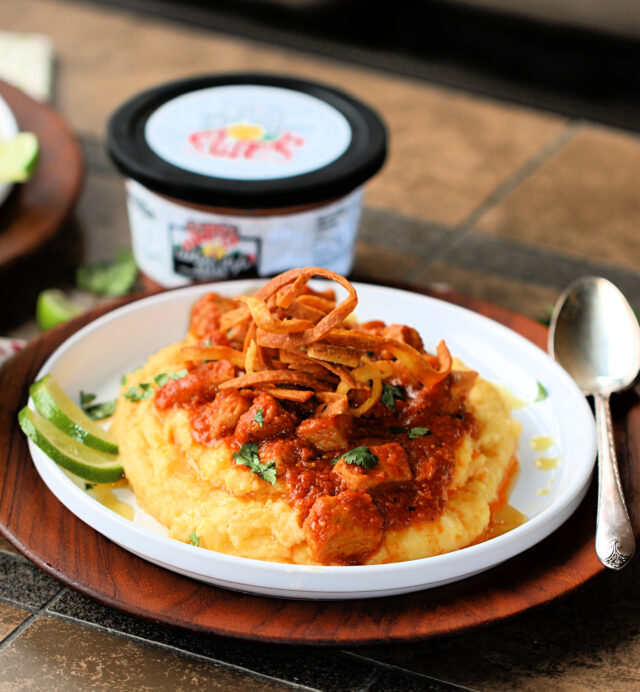 Follow Sam's Fresh Salsa
Website: https://samssalsa.com/
Facebook: https://www.facebook.com/SamsOriginalFreshSalsa
Instagram: https://www.instagram.com/samsfreshfood/
Find Sam's Fresh Salsa
You can purchase Sam's Fresh Salsa at ShopRite, Acme, and Safeway.
If they are not in your local store, ask them to carry Sam's Fresh Salsa products!