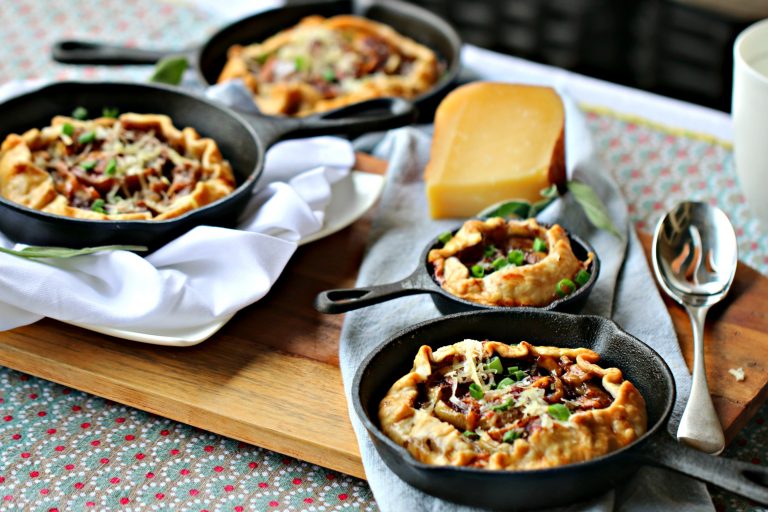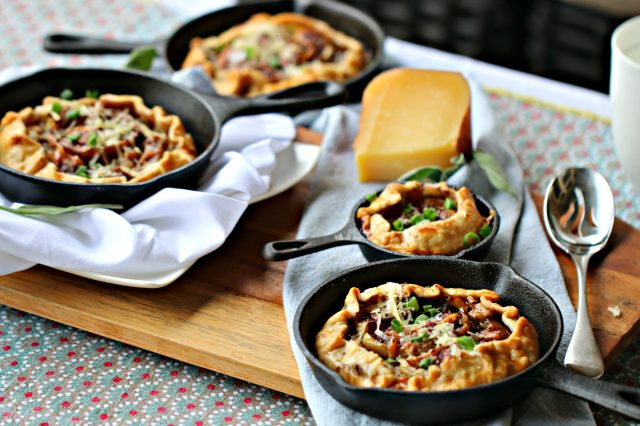 Your Holiday menu will be complete with my Cheesy Butternut Squash and Apple Galettes - Side Dish
Galettes may look difficult to make but nothing could be further from the truth. These savory-sweet pastries are made with store-bought pie dough and cooked to perfection in individual cast iron skillets. There is no need for perfectly shaped pie crust either as this recipe is made freeform style to create delicious crusty cakes stuffed with holiday flavor. These Galettes are an irresistible side dish made with very little effort.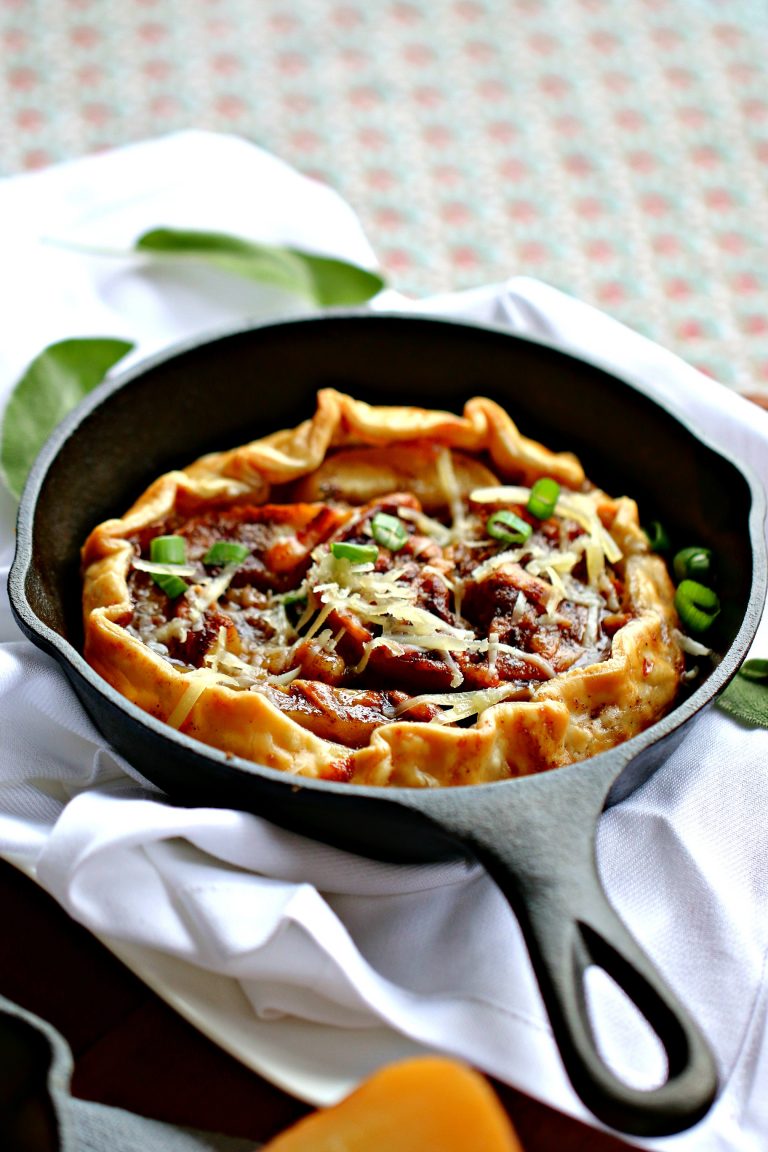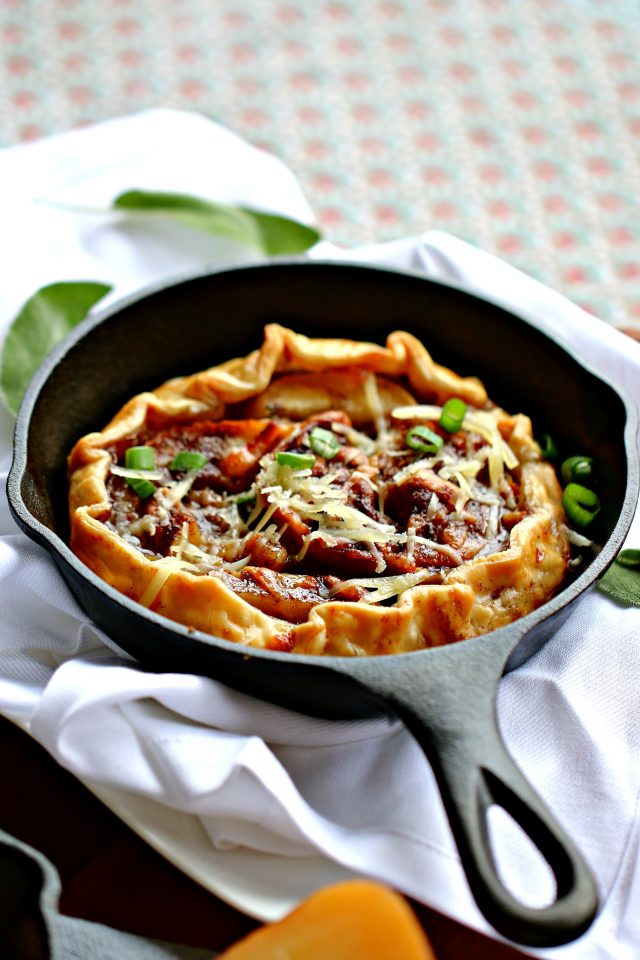 My Inspiration:
Mahón-Menorca Hard - Curd cheese is my inspiration for this recipe and my 2018 holiday menu
Sliced butternut squash is lightly dressed with a mixture of extra virgin olive oil, chopped fresh sage, minced garlic, sea salt, and pepper. The squash is then roasted slightly before building the galettes. The ingredients are then layered with shredded HARD-CURD Mahón-Menorca Cheese (which has been aged more than 5 months), honey-crisp apples, a mixture of brown sugar, and allspice. The intense flavor of the mature aged cheese pairs perfectly with butternut squash and tart apples creating a sublime holiday side dish.
There are 3 varieties of Mahon-Menorca Cheese:
Tender: Soft Yellowish-white in color, with very little developed crust. Soft and creamy, the flavor is milky with a slight reminiscence of butter.
Semi Cured: Characteristic and unmistakable, the rind is an orange color or brownish-grey if it is a farmhouse cheese. It has a firm texture and is easily sliced and it is a yellowish/ivory colour. It has a variable number of small holes, distributed irregularly. The milky taste and flavors are more developed, with slight buttery reminiscences of toasted nuts and dried fruit, with a moderately persistent aftertaste.
Hard - Cured: A delicacy for cheese lovers the texture is firm and hard, less creamy and in an advanced curing state . The taste and aroma are very developed, complex and intense with a long persistent aftertaste; with hints of old wood, tanned leather or a wine cellar.
This recipe is my third entry in the inaugural Mahón-Menorca Cheese Holiday Blogger Recipe Challenge - Side Dish Category.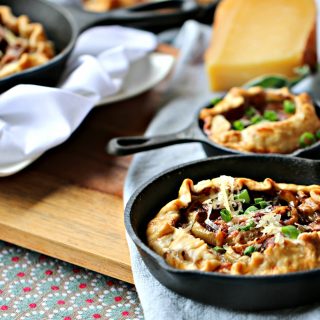 Cheesy Butternut Squash and Apple Galettes
Ingredients
INGREDIENTS:
1

medium butternut squash

peeled and sliced ¼ slices

4

medium tart apples

2

cups

shredded Mahón-Menorca Cheese

2

tablespoons

extra-virgin olive oil

1

packages

2 pie crusts

3

tablespoon

green onions

chopped, divided

3

tablespoon

minced garlic

2

tablespoons

fresh chopped sage

1

cup

brown sugar

1

tablespoon

allspice

5

tablespoons

butter

cut into small chucks

1

teaspoon

salt

divided

½

teaspoon

pepper

1

egg

beaten (1 teaspoon water)
Instructions
Peel butternut squash and slice into ¼ inch slices. Cut slices in half. Remove seeds from the lower half of the squash and slice into rounds. Cut these rounds into four pieces.

Blend olive oil, garlic, fresh sage, ½ teaspoon salt and pepper in a small bowl to combine. Pour mixture over cut squash and toss to coat

Roast squash for 10 minutes in a 375F. oven until fork tender. Remove from oven and cool

In a small bowl combine brown sugar, ½ teaspoon salt and 1 tablespoon allspice

Slice and core apple (leave skin on). Cut apple slices in half

Remove pie crust from package. Roll out dough on a floured surface and cut rounds of dough to fit cast iron pans. Use the pan as a guide for cutting. Using a rolling pin, roll rounds to make them slightly larger. The dough should go up the sides of the pan and slightly over the edge.

Poke holes in the bottom of the pie dough with a fork to release air as they bake

Begin to assemble the galettes starting with a sprinkle of cheese (about ½ teaspoon. Arrange apple slices to fit the bottom of the pan and sprinkle with a teaspoon of the brown sugar mixture and a few small squares of butter and green onions. Arrange a few slices of squash over the apples and onions. Add more sugar, butter and sprinkle of cheese and continue the process until all the pans are done. Dot the top of the galettes with butter, cheese and remaining brown sugar mixture.

Gently fold the pie dough around the filling, pinching slightly to create a bundle leaving the center open.

Brush the edges of the pie dough with egg wash (1 teaspoon water and 1 egg beaten)

Place the cast iron pans on a large cookie sheet and bake for 25-35 minutes or until the pie is bubbling and pie crust is browned.

Garnish with more grated cheese and green onion. Serve hot or at room temperature. ENJOY!
Building the Galettes:
Galette Perfection:

ABOUT THE CHALLENGE:
SOURCE Mahon-Menorca Cheese

Grand Prize – A Five Day Trip To The Beautiful Island Of Menorca, Spain

MENORCA, Spain, Oct. 3, 2018 /PRNewswire-PRWeb/ — The Board of Control of Mahón-Menorca Cheese is looking for spectacular bloggers to compete in their inaugural "Mahón-Menorca Cheese Holiday Blogger Recipe Challenge." The challenge date has been set, the pans will be banging and the creative juices will be flowing to see who becomes the Grand Prize Winner of the "Mahón-Menorca Cheese Holiday Blogger Recipe Challenge."
CATAGORIES:
There are three categories for the challenge; appetizers, side dishes, and entrées. Bloggers are encouraged to participate in all three categories. One winner will be selected from each category and each winner is then awarded $500.00. The winning recipes from each category will then compete to see who will become the grand prize winner of the "Mahón-Menorca Cheese Holiday Blogger Recipe Challenge." The Grand Prize Winner will win a five day trip to the beautiful Island of Menorca, Spain. The Grand Prize includes airfare for one, lodging (for two people) and rental car (for two people). The contest starts on October 1, 2018, and ends December 31, 2018. NO PURCHASE NECESSARY.

Mahón-Menorca Cheese is looking for inspirational ideas to create "Simply Better Recipes" that occurs when creativity is fused with unexpected flavors and wholesome ingredients that deliver a full range of flavors that makes every seem extravagant.

MORE ABOUT MAHÓN-MENORCA CHEESE:
Mahón-Menorca Cheese is produced on the island of Menorca, one of Spain's Balearic Islands. A paradisiacal Biosphere Reserve Island (certified by UNESCO) located in the Mediterranean Sea. Mahón-Menorca Cheese is a Protected Denomination of Origin (P.D.O.) based upon the geographic and distinct climate factors including its temperature, humidity, light, wind, and salty pastures, and its ancient farming methods mastered by generations of the Menorca family farms. Made from Menorcan cow's milk (pasteurized or raw), exclusively matured on the island of Menorca. The Mahón-Menorca Cheese Holiday Blogger Recipe Challenge is being implemented by Thought For Food & Son. READ MORE>>>>
Mahón-Menorca Cheese can be purchased nationwide at Whole Foods or at other fine retailers such as Fairway Markets, Harris Teeter, Safeway, Kroger, Murray's, Central Markets, Costco, Gourmet Garage, West Side Markets, Zabar's, Central and Town & Country Markets in Seattle.