Imagine a Christmas Cookie that is Good for You and Still Tastes Delicious
Look no further because my Holiday Peanut Butter and Jelly Thumbprint Cookies will not only make your mouth say "thank you," but will also supplement your body's nutrition with 100% natural The Nutty Peanut's Premium Nut Butter, Butterscotch Crunch Blend, and the nutritious and super delicious Norm's Farm Organic Elderberry Jelly.
The Nutty Peanut's website states: "[t]he Nutty Peanut is 100% Natural - Small Batch - Craft Peanut Butter made only with Natural ingredients for all Gluten, Soy, and Dairy free. The peanut butter is also Vegan friendly and GMO free."
I had the pleasure of meeting Norm, the owner of Norm's Farms, at World Food Championships 2018. Norm graciously offered to send me a package of his company's products for recipe testing. This recipe is made better with the distinct flavor of elderberries. Thank you for the amazing products Norm! To learn more about how to boost your immune system with elderberries and shop other products from Norm's Farms click HERE.
Norm's Farm's proudly states: "All natural Elderberry Jelly is made with pure elderberry juice, lightly sweetened with pure cane sugar, and then finished with a touch of lemon juice. This is a brighter, lighter version of our best-selling Elderberry Jam."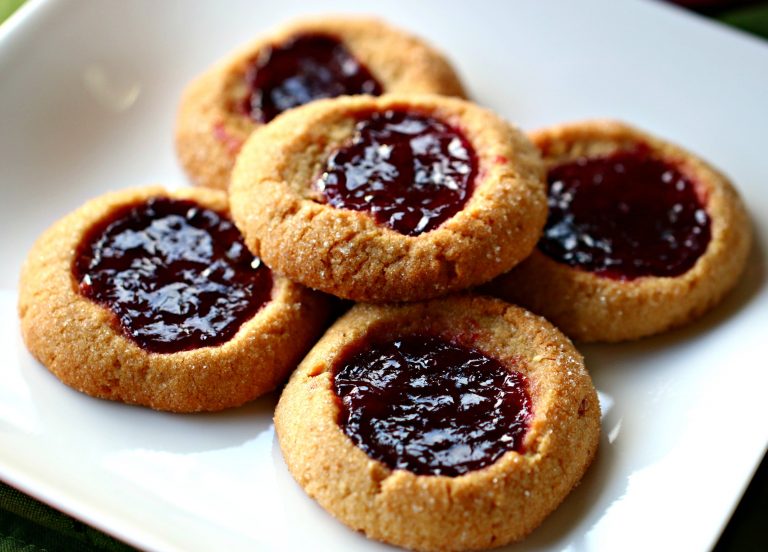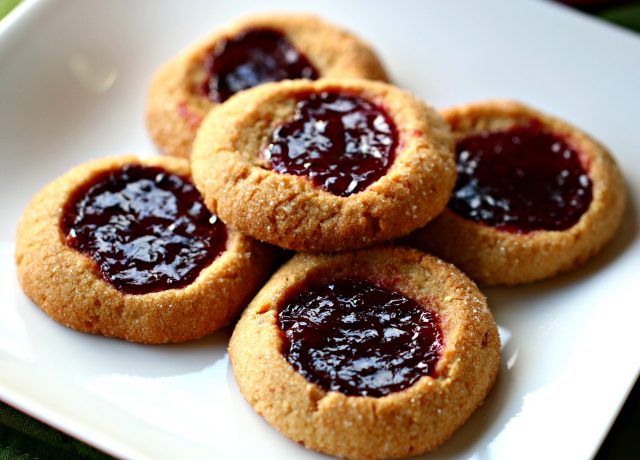 I'm using Food Network TV personality Sunny Anderson's recipe today with the addition of these lovely products sent to me for recipe testing by Norm's Farms and The Nutty Peanut via my friend Ava Maria Romero. Thank you Ava for thinking of me with this sweet gift at Christmas.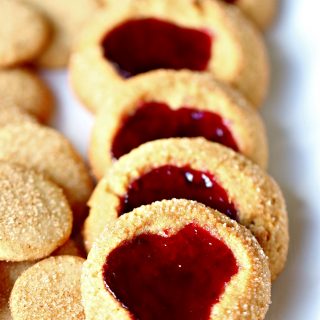 Holiday Peanut Butter and Jelly Thumbprints
Ingredients
1

stick unsalted butter

½ cup, room temperature

½

cup

The Nutty Peanut Butterscotch Crunch Blend peanut butter

½

cup

light brown sugar

½

cup

granulated sugar

½

teaspoon

vanilla extract

1

egg

beaten

½

teaspoon

salt

1 ½

cups

all-purpose flour

1

cup

turbinado or raw cane sugar

recommended: Sugar in the Raw

⅓

cup

Norm's Farms Elderberry Jelly
Instructions
In a stand mixer with the paddle attachment, add the butter, peanut butter, brown sugar, and granulated sugar, and blend on medium-high speed until creamy.

Turn off the mixer and use a rubber spatula to scrape the sides of the bowl, pushing everything back towards the center. Then add the salt, vanilla and egg, and blend until combined. Lower the speed of the mixer and add the flour in ½-cup intervals.

Between each addition be sure to completely blend in all the flour and scrape the sides as before. Once completely combined, scrape the dough out of the mixer, add to a container with a lid and refrigerate for at least 2 hours.

Preheat the oven to 350 degrees F. Line baking sheets with parchment paper.

Remove the cookie dough from the refrigerator and, using a tablespoon, scoop out the dough and roll into a ball between your hands. Then roll the formed ball in the turbinado sugar and place on the prepared baking sheets.

Repeat for the rest of the balls, making sure to separate them on the sheet by about 1 inch. Try chopping roasted peanuts and adding them to the sugar before rolling out all the balls or add a drop of food coloring to the sugar to make the cookies even more festive!

Once all the balls are on the baking sheet, make an indentation in the center of each using the rounded end of a wooden spoon, the back of a rounded teaspoon or your good old-fashioned thumb. Fill the center of each with about ½ teaspoon strawberry preserves. Bake until lightly golden, about 12 minutes.

Remove to a wire rack. Let cool before serving.