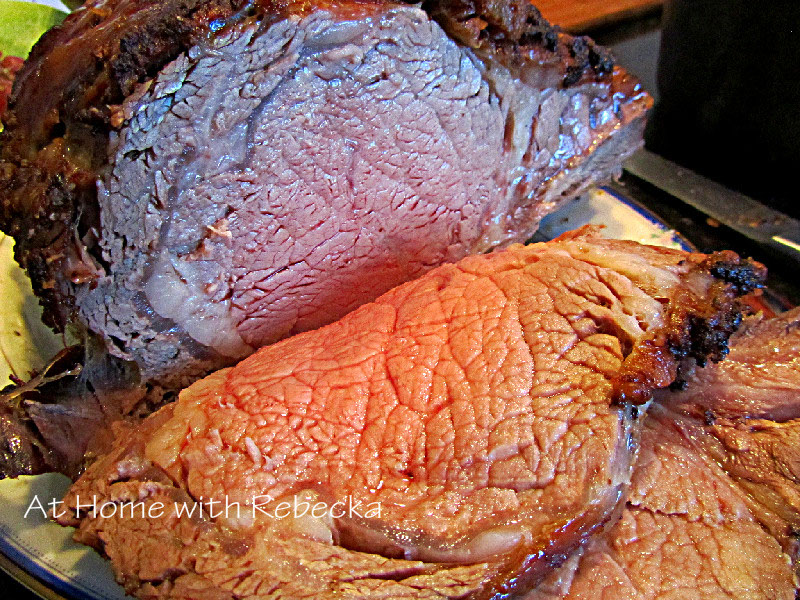 It's already well past the first weeks of the New Year and I'm finally posting my Christmas Rib Roast Recipe! Unfortunately, the week before Christmas was fraught with frustration and angst, putting me way behind on publishing my holiday blog posts.
The reason for the frustration and angst, a down right nasty Christmas "Humbug" moment! My husband's car was stolen December 21, 2012 right from our garage, while we were home, at dinner time! We were home with our two youngest children, and enjoying some quality time with our grand daughters, while our oldest son and his wife were out Christmas shopping.
Without wavering and just like any other evening, my husband Blake, parked in the garage when he arrived home from work, leaving his keys in the console. As a general rule, he closes the garage door but on this particular evening, he left it open with the intent to take our teenage son Chris, to a holiday party right after dinner, and to allow easy entry for our son Zach and his wife Emily, after shopping.
We ate dinner at 6:00 PM, Chris took the trash out at 6:30 PM. We know the car was in the garage at 6:30 PM because Chris had to walk around it to get the garbage cans. Zach and Emily walked in the garage door which leads directly into the kitchen, exactly at 7:30 PM.
With a quizzical look, Zach asked where the TSX was parked and why it wasn't in the garage. Blake shot back a scowl, and told Zach in no uncertain terms, making a joke about his car not being in the garage wasn't funny, at all! I felt my heart sink.
You can't really prepare yourself for a moment like this! At first, shock washes over you, then disbelief and finally, you just get really pissed off! The realization that a brazen thief had walked into our garage, knowing full well we were home, slipped the keys into the ignition and drove away with our vehicle, sucks! This kind of brazen behavior really takes a lot of balls!!
I called 911 and the police were at our home in less than five minutes. We filed a report with the officer as he detailed the most recent car thefts in our area. He explained that our county had seen six Acura and Honda vehicles stolen from garages exactly like ours, in the past few weeks. He elaborated with details about Denver gangs targeting affluent bedroom communities and about two specific car thefts ending in high-speed chases, and in gun fire. The first thought that crossed my mind as he elaborated was, "why the hell didn't someone tell us that this had been going on?" Media are supposed to cover stories like this, to warn stupid citizens like me. I would have been all over the family to close the garage door, put the keys inside the house and watch the streets for unsavory sorts, possibly, averting the "would be" thieves!
The next realization, is that the thief has my house keys, garage door opener and any personal items we left in the car. Immediately, momma and papa bear instinct takes over. The first course of action, Blake changes the garage door code, it's too late in the evening to have the door locks rekeyed so he props a chair against the front door and loads his revolver. I run through the house checking, locking and re-checking all the doors and windows. If the thief had returned to our home with ill intentions, I can guarantee he would NOT have left the house moving. I can't speak for anyone but myself and immediate family when I say, that I would not hesitate to put someone "down" if they entered my home under this kind of circumstance. When the threat of home invasion, or thought of persons unknown, entering my private residence with intention to do harm to my family, I'm deftly aware of my willingness to protect them at all costs! Maybe I'm wired differently than most people but I truly believe that if the circumstances were similar, any parent, mother, father, cousin or friend, would do all they could to save and protect. As a victim of crime, even as menial as a car being stolen from our home, I'm aware that my consciousness was changed in an instant. My primal human nature to keep and protect, trumps all!
On a side note, our 2004 Pearl White, Acura TSX was a beauty, and in perfect condition. We'd just spent several hundred dollars on new tires, replacing old parts, adding new breaks and maintenance. The car was in top running condition. BALLS!
The Good News:
1. No one was hurt! My son could have easily walked into the garage just as the thief was backing out! Or, the thief could have had intentions on stealing more than just our car. If I let my mind go there, the possible scenarios get really ugly.
2. Neither my husband or myself had to shoot a home intruder. As much as I know our collective capabilities to protect the family, shooting a person is not on my bucket list!
3. My awareness of our personal surroundings is heightened. My diligence for home and family safely has grown exponentially.
Lessons learned:
1. Don't leave you keys in the car, ever!
2. Close the garage door, immediately!
UGH!
Christmas went on without any further drama and a blessed time was shared by all! I thank God for His protection!
And finally, the Christmas Roast!

Prime Rib Roast
Simply ingredients prove to be the best when cooking a rib roast.
Ingredients
1 16-20

pound

bone in prime rib roast

2

large heads peeled

and grated garlic

¼

cup

coarse ground sea salt plus a few pinches for veggies

2

tablespoons

olive oil

Aromatics: 1 large onion

3 large carrots, 4 stalks celery, 2 bay leaves, 1 cup water or beef bouillon.
Instructions
Pat dry a room temperature rib roast using paper towels or a clean cloth

pre-heat oven to 450 degrees

place a large wire roasting rack into large roasting pan

roughly chop all aromatics and toss into the bottom of the roaster, add fresh ground pepper to taste, drizzle with extra virgin olive oil

In a small mixing bowl, combine garlic, ¼ cup seal salt and 2 tablespoons olive oil. Combine to create a thick paste

Cover entire rib roast with garlic rub, massaging firmly

Place meat on roasting rack, loosely cover with aluminum foil

cook in 450 degree oven for 35 minutes, do not open the oven door but reduce heat to 400 degrees and continue cooking until internal meat thermometer reaches 140-145 degrees. About 3 hours

Remove tin foil 20 minutes before serving, test for doneness. If desired temperature is acceptable, remove roast from oven and loosely cover with previously used tin foil and then cover foil with a clean dish towel

allowing roast to stand for 30 minutes or up to 1 hour before serving,

The result, perfectly cooked, rare center roast and medium rare ends

My family prefers medium to medium well roasts, so I generally add 10 minutes to the cooking time after the meat thermometer reaches 145 degrees, producing a hot pink center (for me and my husband) and a juicy medium to medium well for the rest o the family. My dad takes the burnt ends!
Prime Rib Red Wine Gravy: Remove aromatic solids from the roasting pan and discard, reserving pan juices. Combine 3 tablespoons all-purpose flour, 1 cup red wine. in a jar with a tight-fitting lid, shake mixture until well blended. Place the pan on the stove top covering the back and front burners, heat both burners to medium. Deglaze the pan with the wine flour mixture, making sure to scrap all the browned bits to collect all the rich flavor. Add more wine or beef stock if gravy is too thick, salt and pepper to taste, serve with roast and mashed potatoes!