I don't like most granola bars because they are either too sweet, to crunchy, have too much fiber or are tasteless! I recently tried Clif Bars for the first time and surprisingly, found them to be a nutritional energy bar, with really great flavor. I prefer their gooey texture compared to traditional granola bars, the only draw back for me is that they are ridiculously expensive. Priced at $2.00 per bar in retail stores, I'm more inclined to buy a Snickers Bar for .98 cents.
Filled with all kinds of "good for your ingredients", and really delicious. Most folks are happy to pay the price for such a great product given the nutritional value of the energy bar compared to a candy bar. Nonetheless, given a choice I'll end up picking the less expensive snack, and feel guilty later for eating it! The only thrifty way I've found to buy Clif Bars is at my local wholesale market. The 24 count variety pack, wholesale for about $20.00; bringing the price per bar to about .83 cents.
I wanted to create a similar but less expensive version, using organic ingredients resulting in a high fiber, naturally sweet energy bar, filled with the ingredients I like, and that are good for me and my family. We'll call my version, "Cliff Bars" as they are my attempt to replicate the recipe. The recipe makes 24 bars and my cost for wholesale ingredients calculate to about .43 cents per bar. Buyers remorse assuaged, the homemade version hit the mark, they taste awesome!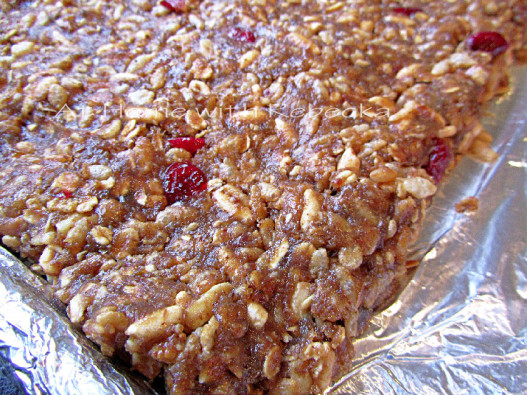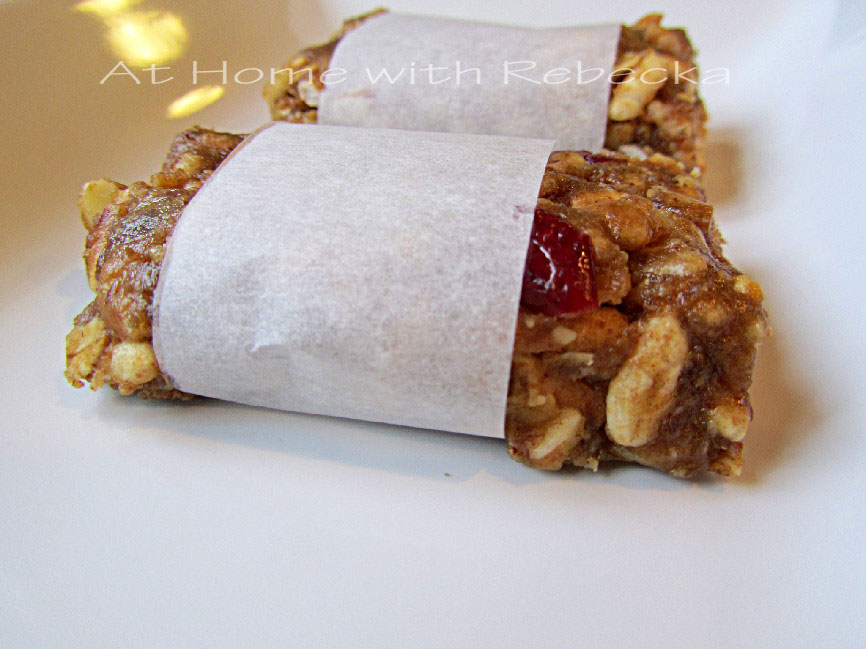 Homemade (knockoff) Cliff Bars
Ingredients
1

cup

Coconut Date Snacks Rolls

made from mashed dates, rolled in shredded coconut and topped with an almond

¼

cup

water

1

cup

creamy peanut butter

½

cup

almond butter

½

cup

brown rice syrup

1

teaspoon

vanilla extract

⅛

teaspoon

almond extract

1 ¼

cup

puffed rice cereal

1

cup

crispy rice cereal

1

cup

whole oats

quick-cooking oats are fine

¼

cup

coarsely chopped peanuts

¼

cup

coarsely chopped almonds

¼

cup

coarsely chopped dried cherries

2

tablespoons

ground flax-seed meal

pinch

salt
Instructions
Cover a rimmed cookie sheet with aluminum foil and spray with non stick cooking spray, set aside

Heat water in a small sauce pan over medium heat, add coconut date snacks to boiling water, stir until snacks break down and become a paste, add pinch of salt, and remove from heat

In a medium skillet, combine the peanut and almond butters, heat until smooth, add date paste, rice syrup, and blend to a thick paste, remove from heat and stir in almond and vanilla extract

In a large mixing bowl combine all dry ingredients, mix with spoon or hands to distribute evenly

Pour wet ingredients over dry ingredients, mix with spoon or hands to combine, turn mixture into prepared baking sheet and press firmly to pack into pan

Allow bars to cool for an hour and cut into bars, store in an airtight container or wrap individually in plastic, store in the refrigerator
Notes
I used Coconut Date Snacks Rolls (found in the natural food or baking isle in most markets) to make the date puree, since they were already in my cupboard. Substitute: 1 cup chopped dates and add ¼ cup shredded coconut.