"If you've been blogging for any length of time, chances are pretty good that you've heard of WordPress. But, what exactly is WordPress? And why do you need it?"  
During my recent move from Blogger to WordPress and becoming the owner of a self hosted blog, I've asked myself that very same question a multitude of times.  Who better to answer the question than my friend, Christina Arnold, professional web designer and my personal "WordPress Migration Coach".  Mom to 6, Wife, RN, learning to deal with a chronic illness...one day at a time.  A gifted Blog designer who's expertise includes, web design, organizational printables, print design, ad/banner design, media kits, social media marketing, homemade soy candles, handcrafted crochet & knit items.  Christina also hosts a blog about health, wellness, kids, family, recipes, crafts, organization, book reviews, product reviews, and giveaways at Spilled Milkshake and Spilled Milkshake Designs, Club-Content, and Mom Blogger PLR.
Due to Christina's attention to detail, insurmountable patience, and her unshakable determinedness, I'm finally able to call WordPress my new blog home. Despite my dimwitted nature when it comes to the technical aspects of blog design, and my pre-professional WordPress migration debacle; Christina proved to be a miracle worker, by averting my haywire mess. 
Note worthy information:  Christina believes, "that a professional blog design is able to capture the spirit of your blog and be appealing to your readers, and that an awesome blog design shouldn't be expensive."  My thoughts exactly!!  Please join me in welcoming my guest, Christina!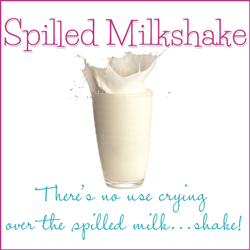 If you've been blogging for any length of time, chances are pretty good that you've heard of WordPress. But, what exactly is WordPress? And why do you need it?
In its most basic explanation, WordPress is a program that controls your little space on the internet. While originally designed for blogging, WordPress can actually do anything you need - a blog, a web store, a membership site, a directory...the list goes on and on. This nifty little free program can and will do anything you need on the world wide web.
If you've become serious about your blogging, whether because you're hoping to generate some income from advertisements or you'd like to boost sales of your products through blogging, you need to use WordPress. There are other free, and maybe easier to learn, places out there to have a blog...but they are not suited for income-producing blogs. Blogger is extremely common as is WordPress.com (do NOT be confused, WordPress.com is a free blogging platform - and NOT what you need to make the switch to), but both limit your ability for ads and in the case of Blogger, your content is controlled by Google and can be taken down if Google feels you've violated a policy. It has happened.
Most people feel intimidated because they don't understand how to make the switch. There are several steps and things can go wrong. But, that is no reason to continue blogging on a free site! I'm going to break it down for you so you can see it really is easy peasy.
Your own domain name. If you already have a domain name, great! If not, you'll need to purchase one from a registrar.
Sign up for a hosting account. In order to have your own little space on the internet, some computer somewhere needs to 'host' the files for you so that everyone everywhere can see them. This is called hosting. (I offer hosting of $4.95/mo - for more information on C-C's Hosting, please see this.) Other hosting companies include HostGator, BlueHost, and DreamHost. You'll need to set your domain nameservers to your hosting company's nameservers.
Backup your blog. Instructions for WordPress.com. Instructions for Blogger.
Install WordPress. Log in to your cPanel and install WordPress using Fantastico DeLuxe or Simple Scripts.
Install your theme. WordPress has tons of free themes and even more paid ones. To get things going, it's ok to choose a free theme. You can always change later.
Set your permalinks. Read this article if you're not sure how.
Import your blog posts, comments, and pictures. You'll be using the import feature of WordPress. You'll find it under Tools --> Import in the left hand navigation menu of your WordPress dashboard.
Set up your menus, widgets, and plug-ins.
Update your RSS/Email feed.
Enjoy your new blog.
Once you've got everything imported, take some time and look through things. It's likely that something may not have imported exactly as it should. You should also take note - all of your images in your blog posts are linked to your old blog. There is no way to change that except to go into every single blog post and upload the images and correct the links. It is much easier to leave your old blog active (it's free, after all) so all the images will be visible.
Another important consideration after transferring to WordPress is your homepage display. Different WordPress themes use different methods to display particular posts and images on your homepage. You can see an example of what I mean here - see the slider, the featured posts with thumbnails? If you have chosen a theme that has a homepage design of anything other than showing full blog posts or excerpts, you will have to go in and edit your last several posts to make sure the images and excerpts show as you want them to. You will only need to do this for as many posts as you have set to display on your homepage. Until you do that, you will not be able to see the proper display of your homepage.
Spilled Milkshake Designs offers WordPress Migration Services where I'll do all of the moving for you, including editing of up to 10 recent posts to make sure your theme displays as you want it to. I've moved many blogs and the process usually takes about an hour. If you like, you can even purchase your domain name and web hosting through Spilled Milkshake Designs and I'll do it all. You just send me a payment and I take care of all the rest. You'll be blogging on your very own WordPress blog in about an hour!!
Thank you so much Rebecka for this opportunity to guest post!!
Christina
http://spilledmilkshakedesigns.com
http://www.etsy.com/shop/SplldMlkshakeDesigns
http://spilledmilkshake.com
http://club-content.com
http://mombloggerplr.com
http://www.etsy.com/shop/BLOGmodaMyBlog
Thank you Christina for guest posting today and for your patience with me.  I feel blessed to call you my friend!  To all my readers old and new, my advice to you when moving to WordPress, hire a professional!!