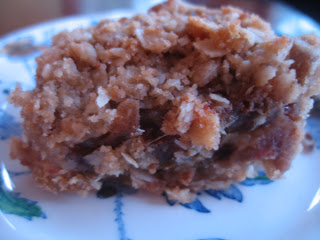 My mother has been making this Date Bar recipe for holidays for many years. These delicious date bars have all of the components of the perfect bite! Salty, sweet, crispy Oates paired with creamy sweet dates deliver a deliciously decadent dessert/snaking experience.
This is one of my Kraft Video Cooking Creme recipes that unfortunately, never made it into the challenge; instead it ended up on the editing floor. My Chile Rellenos con Camarones never made it into the challenge either. Ugh! Both videos were editing nightmares! Many hours of hard work rendered useless by my less than stellar video editing abilities. But, as luck would have it, the recipe is absolutely delicious with the addition of the Kraft Original Flavor Cooking Creme!
Preheat oven 375 degrees
Crumb Topping
3 cups rolled oats
2 cups flour
1-½ cups brown sugar
1 teaspoon salt
1-½ teaspoon vanilla
1-½ cups vegetable shortening or oil
1 teaspoon baking powder
In a large mixing bowl, crumble all ingredients together and set aside
Date Filling
2 pounds dates
½ cup water
½ cup sugar
1 10 ounce tub Kraft Original Cooking Creme
Pit dates by mashing with a large knife, mix with water, sugar and Kraft Original Flavor Cooking Creme until well blended, spread ½ the crumb mixture into a square sided baking pan, spread date filling over crumbs, cover dates with remaining crumb mixture, bake for 30 minutes.
Makes 32-36, 2 inch square bars.