And, Balsamic Pesto Brussels Sprouts, and Cranberry Relish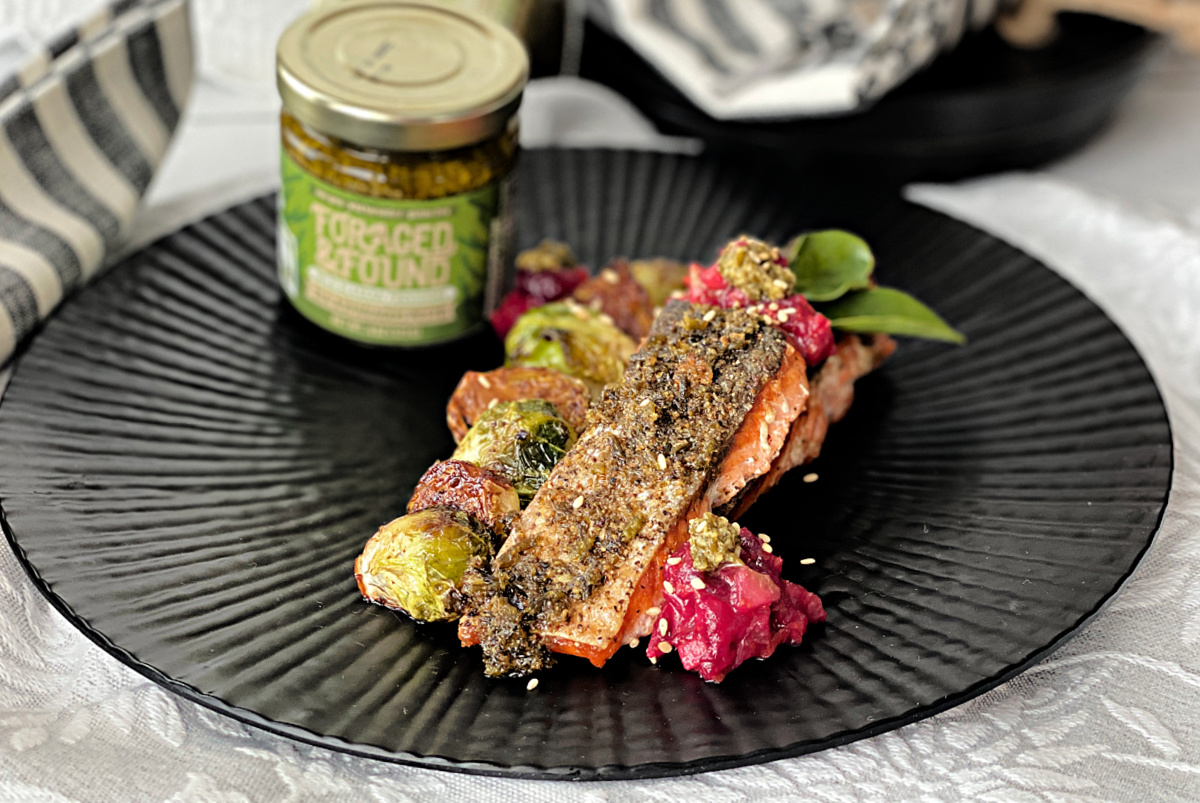 SEA ASPARAGUS PESTO
I've fallen in love with Sea Asparagus Pesto, created by FORAGED&FOUND. I envisioned the flavor of the kelp based pesto to taste like the sea, but was amazed by the product's incredibly fresh and delicious flavor with no aftertaste whatsoever. It tastes just like homemade pesto.
Thank you, Foraged & Found for closing me to be apart of the Eat Wild Blogger Recipe Challenge and sponsoring the contest with free product for testing.
KELP IS THE NEW KALE
Nowhere in the world is premium superfood more abundant than in the wilds of Southeast Alaska. Non-GMO, gluten-free salsas, pickles, and pesto are packaged securely in recyclable, glass jars because this women-owned business is committed to sustainability and environmental stewardship. The richness of the environment is reflected in the unique flavors you'll find from Foraged & Found.

Liven up your recipes with our uniquely nutritious and delicious wild-harvested sea asparagus pesto. Perfect on pasta or as a marinade, if you enjoy fresh-from-the-sea umami flavor you're gonna love this pesto.

Information courtesy of Foraged and Found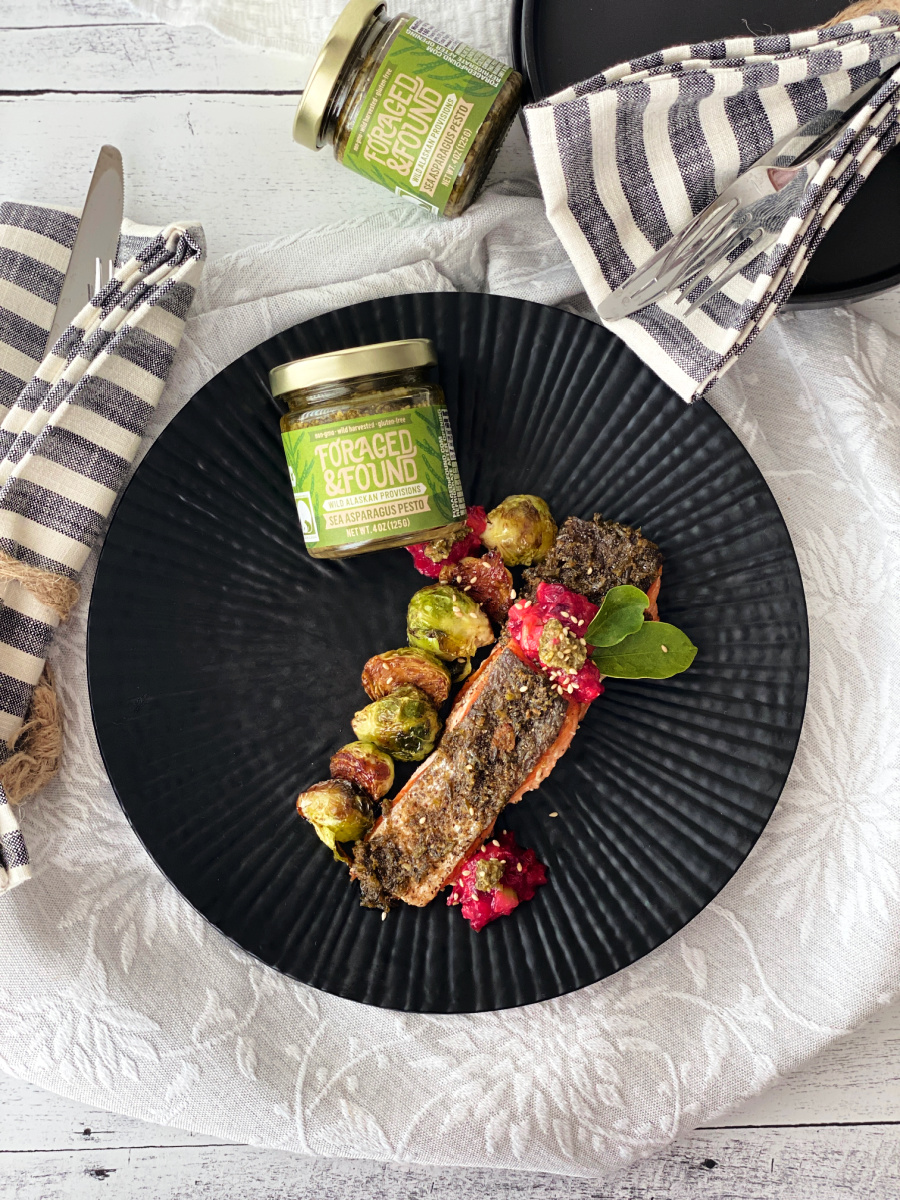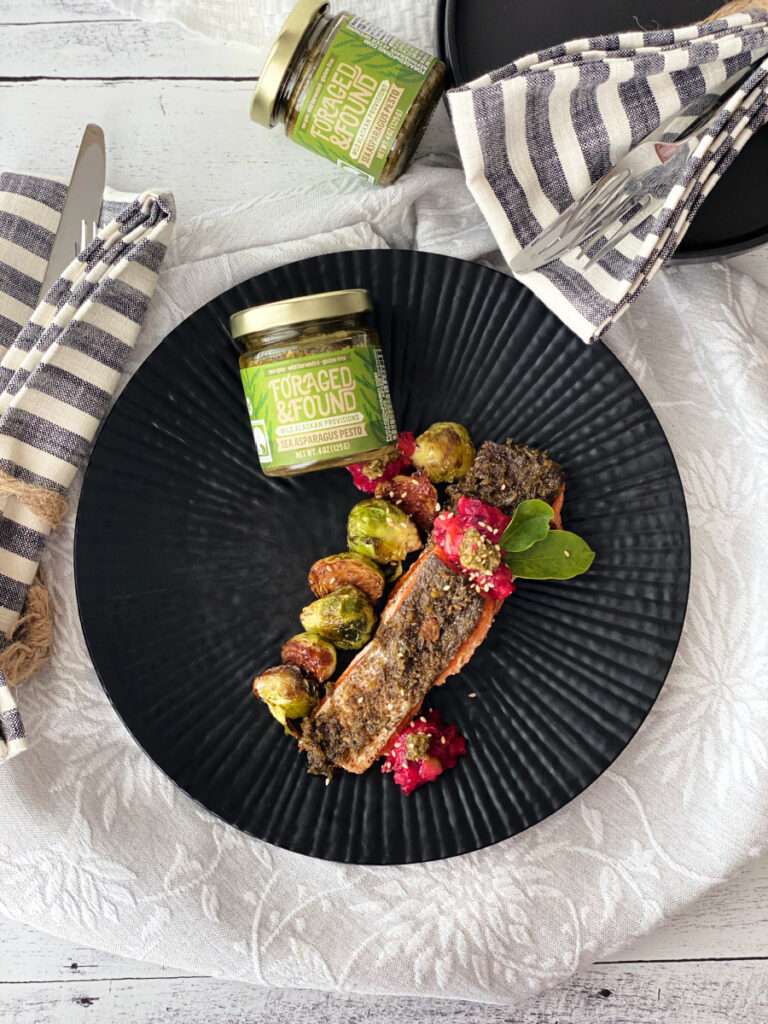 MY ENTRY
My recipe submission for the FORAGED&FOUND Blogger Recipe Challenge 2021, Entree Category is Crispy Skin Salmon with Sea Asparagus Pesto, Balsamic Pesto Brussels Sprouts and Cranberry Relish.
The combination of fresh Alaskan Salmon and Sea Asparagus Pesto is a marriage made in heaven, and a new family favorite. The crispy skin will blow your mind. Drenched in the pesto butter sauce accompanied by the slightly sweet balsamic pesto brussel sprouts and the tartness of the cranberry relish; the dish is dripping with umami flavor. You're going to love this pesto!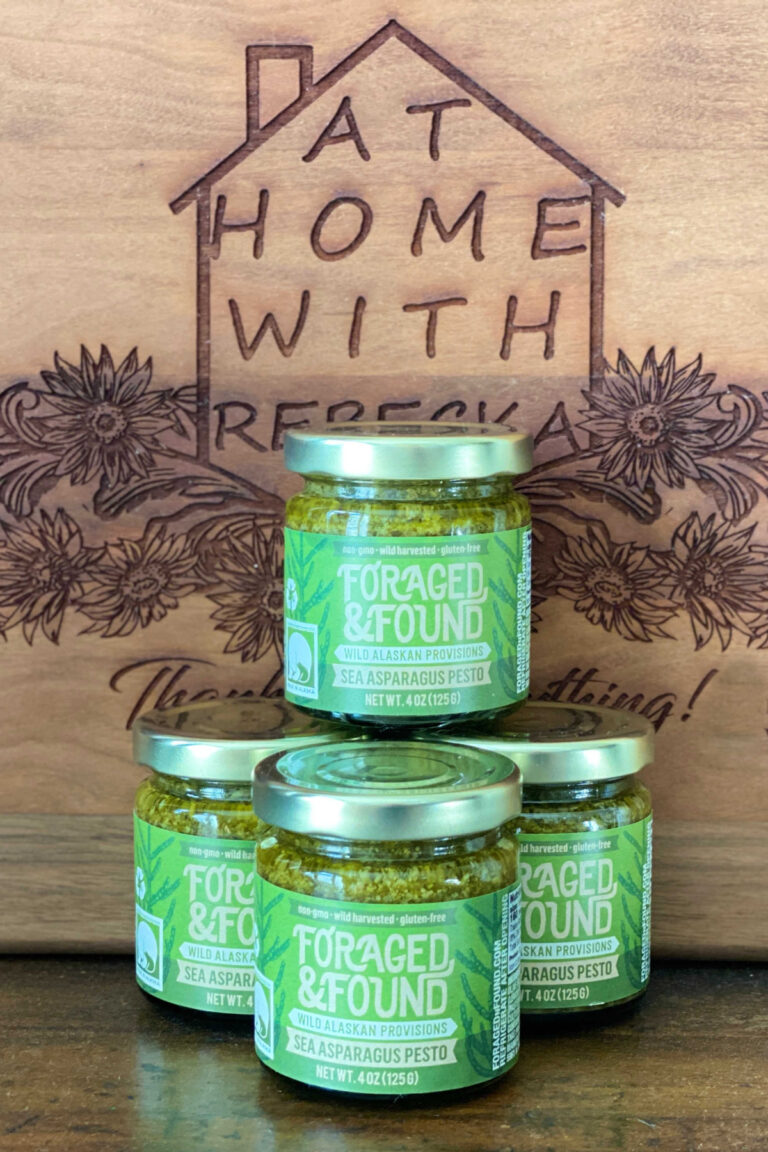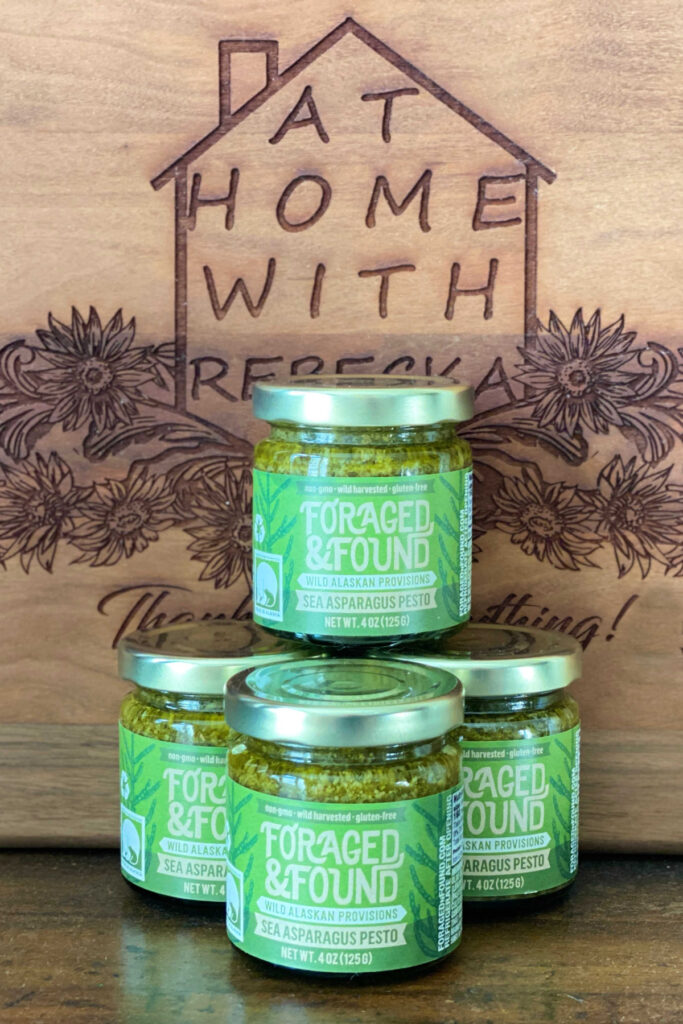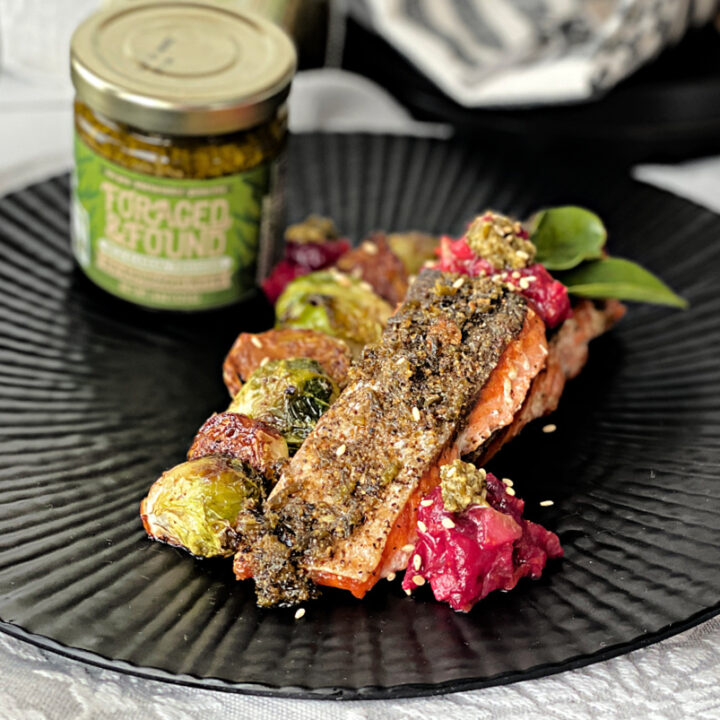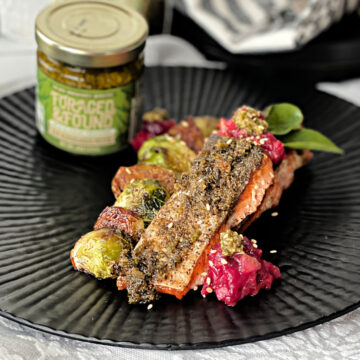 Crispy Skin Salmon with Sea Asparagus Pesto, Balsamic Pesto Brussel Sprouts and Cranberry Relish
Ingredients
½-1

pound

Alaskan Salmon, skin on

cut into 4 filets

1-4

ounce

jar, Sea Asparagus Pesto

divided

2

cups

brussels sprouts

cut in half

⅓

cup

celery

fine chopped

1

cup

fresh cranberries

1

teaspoon

sushi ginger

fine chopped

1

orange

zested, and juiced

1

tablespoon

sugar

2

tablespoons

butter

½

cup

olive or peanut oil

divided
Instructions
The Salmon
Remove salmon from packaging. place on a large cutting board lined with paper towel. Remove any pin bones fro the spine of the fish with tweezers. To find bones, run your fingers gently over the fish flesh. A good fish monger will remove the scales but be sure to check and remove any that remain.

Pat the skin and flesh dry with more paper towels. Place the fish uncovered, skin side up in refrigerator for 10-15 minutes. This will dry the fish to achieve perfect crispy skin.

Slice the fish into 4 equal portions. Right before cooking, salt the fish. Adding salt too early will release the fishes natural moisture and the skin will not get crisp.

Add enough oil to completely cover the bottom of a hot cast iron pan (about ¼ cup). Place the salmon into the pan skin side down. Using a spatula, gently press the fish to enable the skin to cook evenly. Cook 7 minutes without turning. Flip the fish over and cook 1 minute longer. Flip one more time to reheat the skins before plating. This method is tried and true-perfect crispy skins every time.
Pesto Butter Sauce
Using the same cast iron pan, turn off the heat and remove all but 1 teaspoon oil. Add 2 tablespoons butter to the pan and melt over low heat. Add two tablespoon Sea Pesto and stir to combine. Keep warm.
Cranberry Relish
Zest the orange into a small bowl. Add chopped celery and fine chopped sushi ginger. Stir

In a small sauce pan, combine cranberries, sugar and juice from one orange. Cook over medium heat until the cranberries burst, stirring occasionally.

Add the cook mixture to the celery and zest mixture. Stir to combine and set aside until ready to plate the dish.
Brussel Sprouts
Cut the Brussels sprouts in half. Heat medium saute pan to medium high. Add 2 tablespoon oil. Place the sprouts cut side down and cook for 5-7 minutes without turning. Brussels sprouts will become beautifully caramelized. Flip the sprouts and add 1 teaspoon balsamic vinegar and 1 teaspoon Sea asparagus Pesto. Stir to combine. Remove from heat.
Plate the Dish
Serve the crispy skinned salmon with brussel sprouts, cranberry relish, a drizzle of balsamic, more pesto, and spoon of pesto butter sauce.

Garnish with thin sliced sweet kumquats or sliced oranges. ENJOY!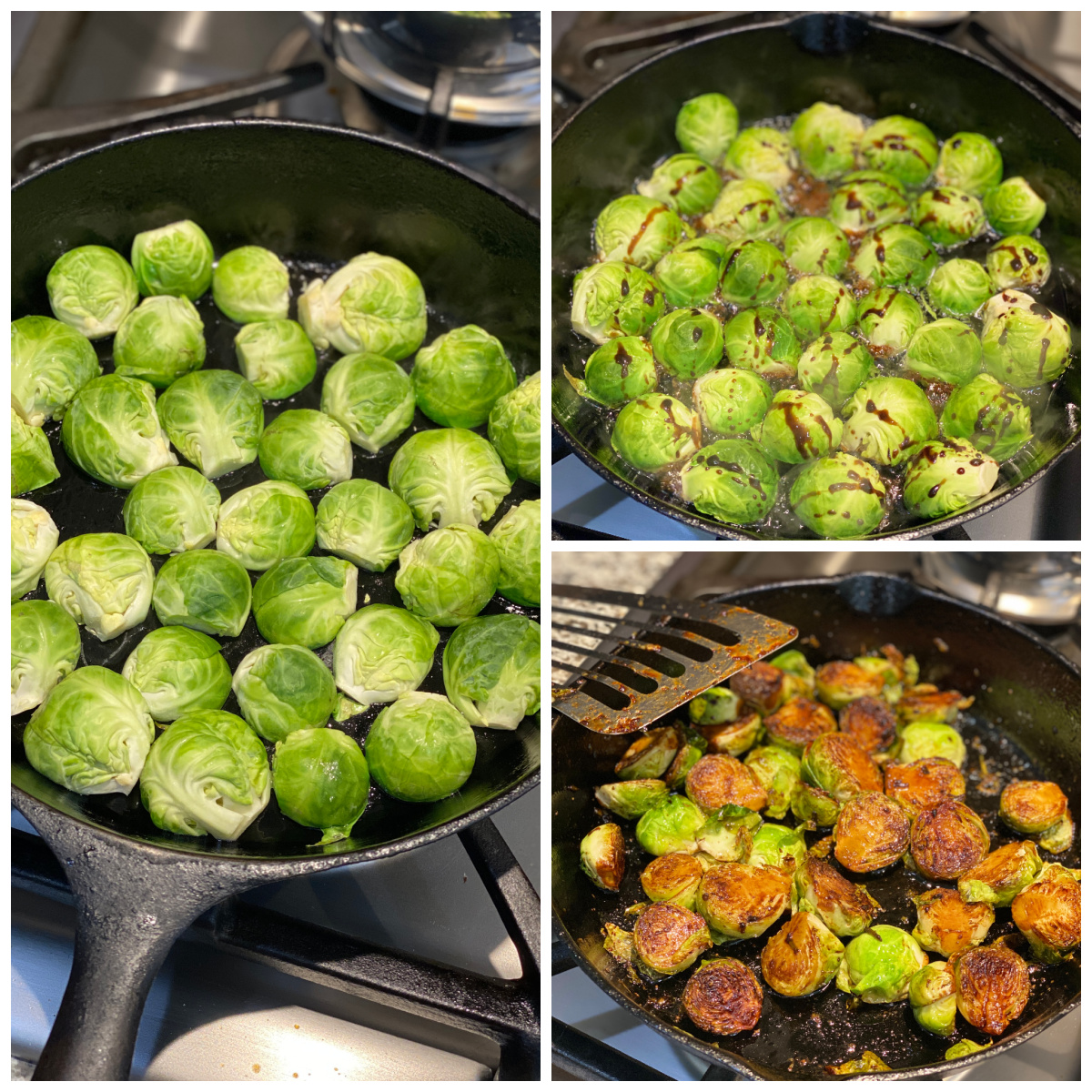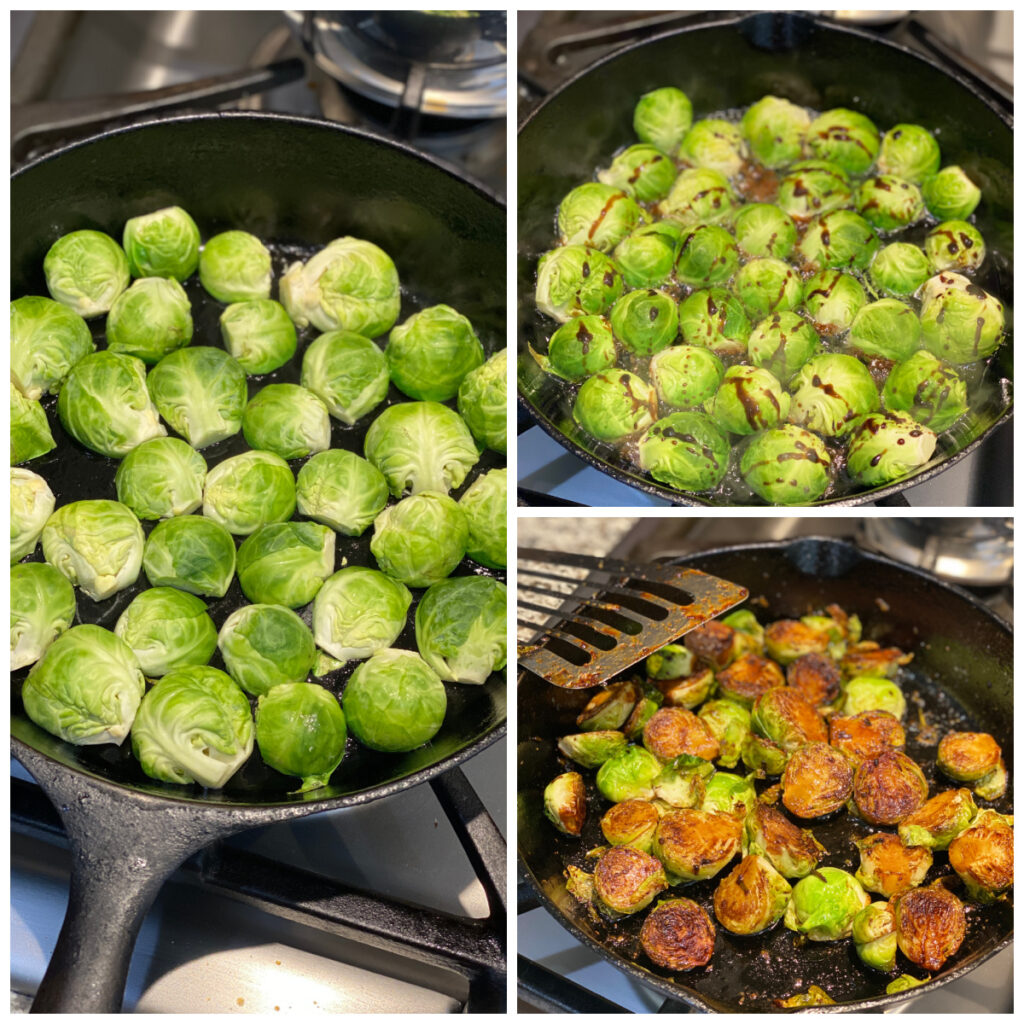 BE SURE TO FOLLOW FORAGED&FOUND
Foraged&Found: http://foragednfound.com/
Facebook: http://www.facebook.com/ForagedNFound/
Instagram: http://www.instagram.com/foragednfoundak