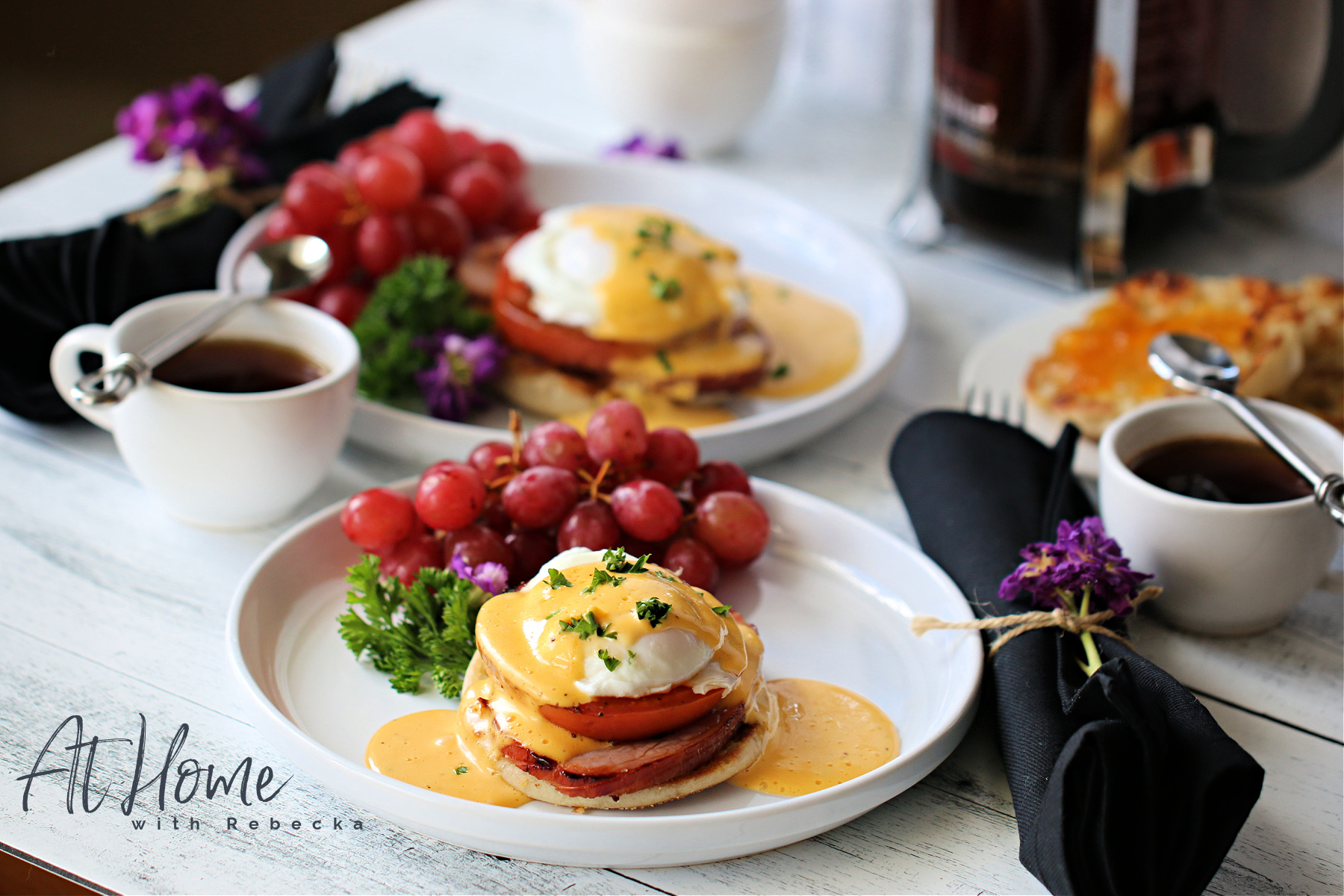 Restaurant Quality Breakfast for Two
There's nothing more indulgent than ordering Eggs Benedict for breakfast or brunch during the holidays, a birthday or any special occasion.
The flavor of luscious hollandaise sauce spooned over decadent poached eggs, savory thick-cut ham, and tomato slices all served on a toasted English muffin; along with a French press coffee and fresh fruit combine to make a quintessential Valentine's Day celebration meal for two.
Lucious Hollandaise Made from Scratch
Making this delightful dish at home with restaurant quality Eggs Benedict for two is a cinch using an electric blender; and the entire meal is on the table in less than 30 minutes. Did I mention this recipe is a showstopper?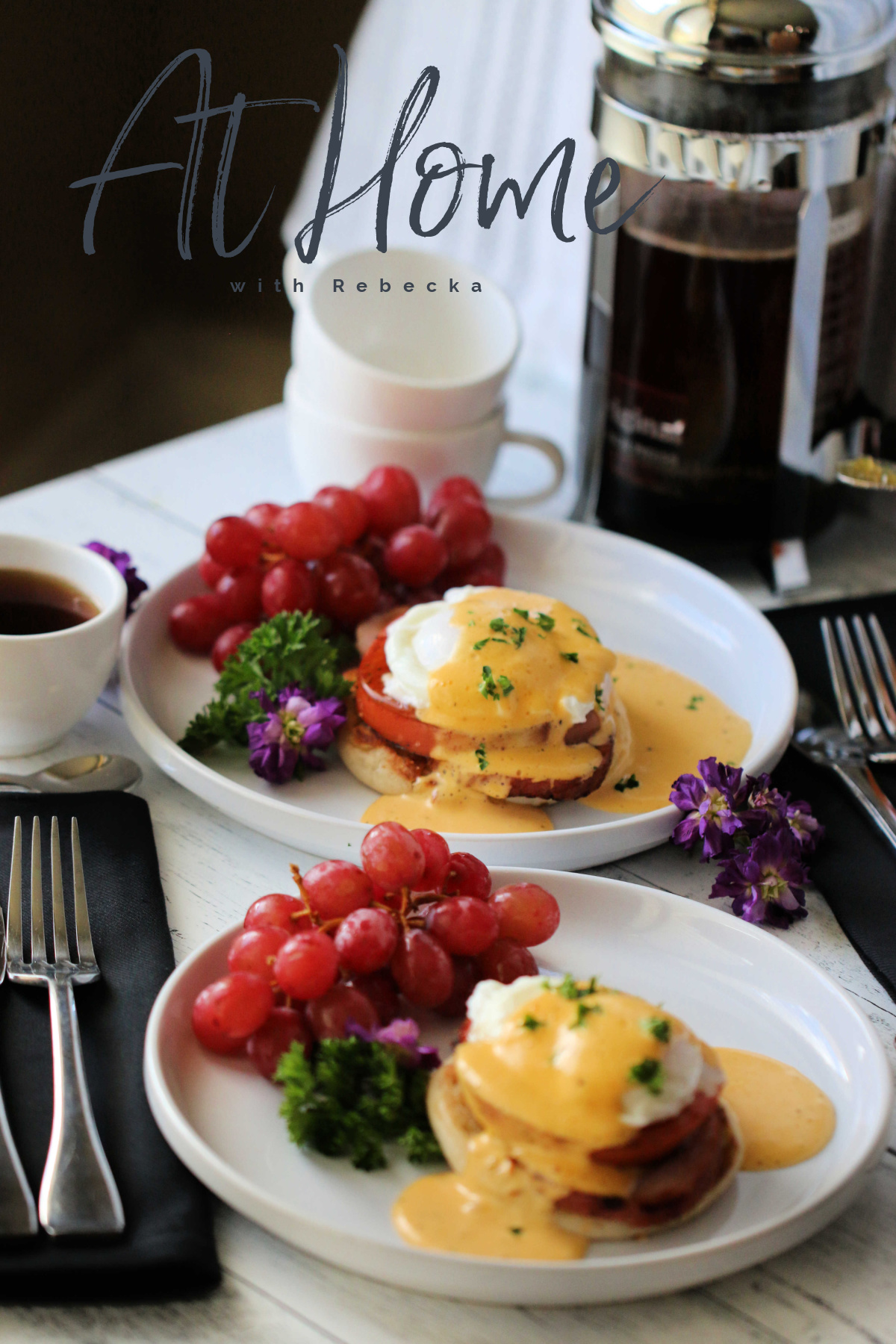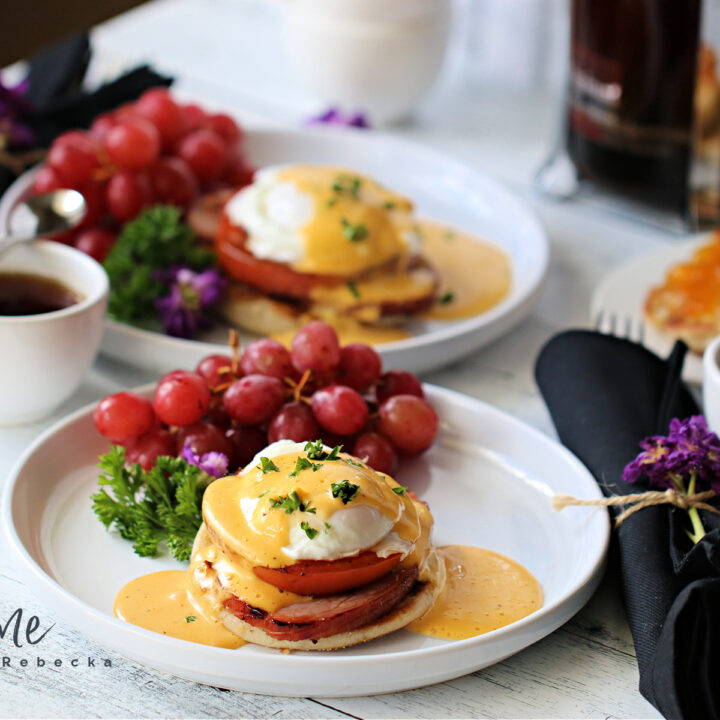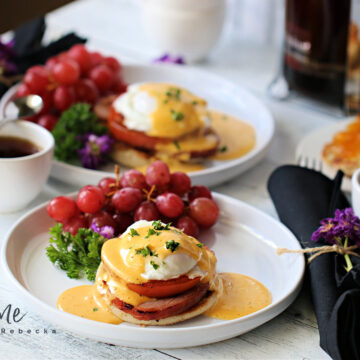 Easy Eggs Benedict
Ingredients
Electric Blender Hollandaise Sauce
3

egg yolks

¼

teaspoon

dijon mustard

1

Tablespoon

lemon juice

½

cup

melted butter, plus 2 tablespoons

½

teaspoon

hot sauce
Poached Eggs- Muffins -Etc.
2

English muffins,

toasted

1

teaspoon

butter

for English muffin

2

Thick cut ham slices

2

Thick cut tomato slices

large beefsteak tomatoes or heirloom work best

2

large eggs

1

teaspoon

distilled vinegar
Instructions
Electric Blender Hollandaise
Melt butter in a microwave safe bowl for 1 minute

Combine egg yolks, mustard, lemon juice, hot sauce in a small blender container. Cover and blend for 5 seconds.

Set the blender to high speed and pour the melted butter in a thin stream into the eggs until the mixture thickens. Taste for seasoning. Add a pinch of salt to taste.

In a large sauce pot, boil 2 cups water, turn off the heat and place the covered blender container with the hollandaise in the warm water until ready to serve. Stir right before serving

In a medium sauce an bring 2 cups water to a boil. Add 1 teaspoon vinegar to the water. Swirl the water with the end of a spoon to created a vortex. Gently drop 2 eggs into the water and cook for 3-4 minutes, swirling the water over the eggs to cook evenly.

Adding vinegar to poaching water makes the whites firm even faster to prevent them from dispersing in the water.

Remove poached eggs from water and drain on a paper towel

Toast the english muffins and spread with butter

Cook the ham slices for 3 minutes on each side. Remove from pan. Heat the tomato slices in the same pan for 3 minutes each side
Build the Benedict
Start by placing a toasted english muffin on a plate. Add the ham first, tomato slice, then the poached eggs. Spoon hollandaise sauce over the tops and ENJOY!
Notes
Serve with French Press Coffee
This post is featured in the incredibly informative publication, fyi50+ Magazine a Senior Life Magazine committed to inspiring, informing, and entertaining the 50+ audience. To read my monthly recipe article(s), subscribe to the online magazine, or to order the hard copy version, visit this LINK.
This post may contain affiliate links. That means if you purchase an item through these links, I may earn a commission at no additional cost to you. Please read the full disclosure policy for more info.