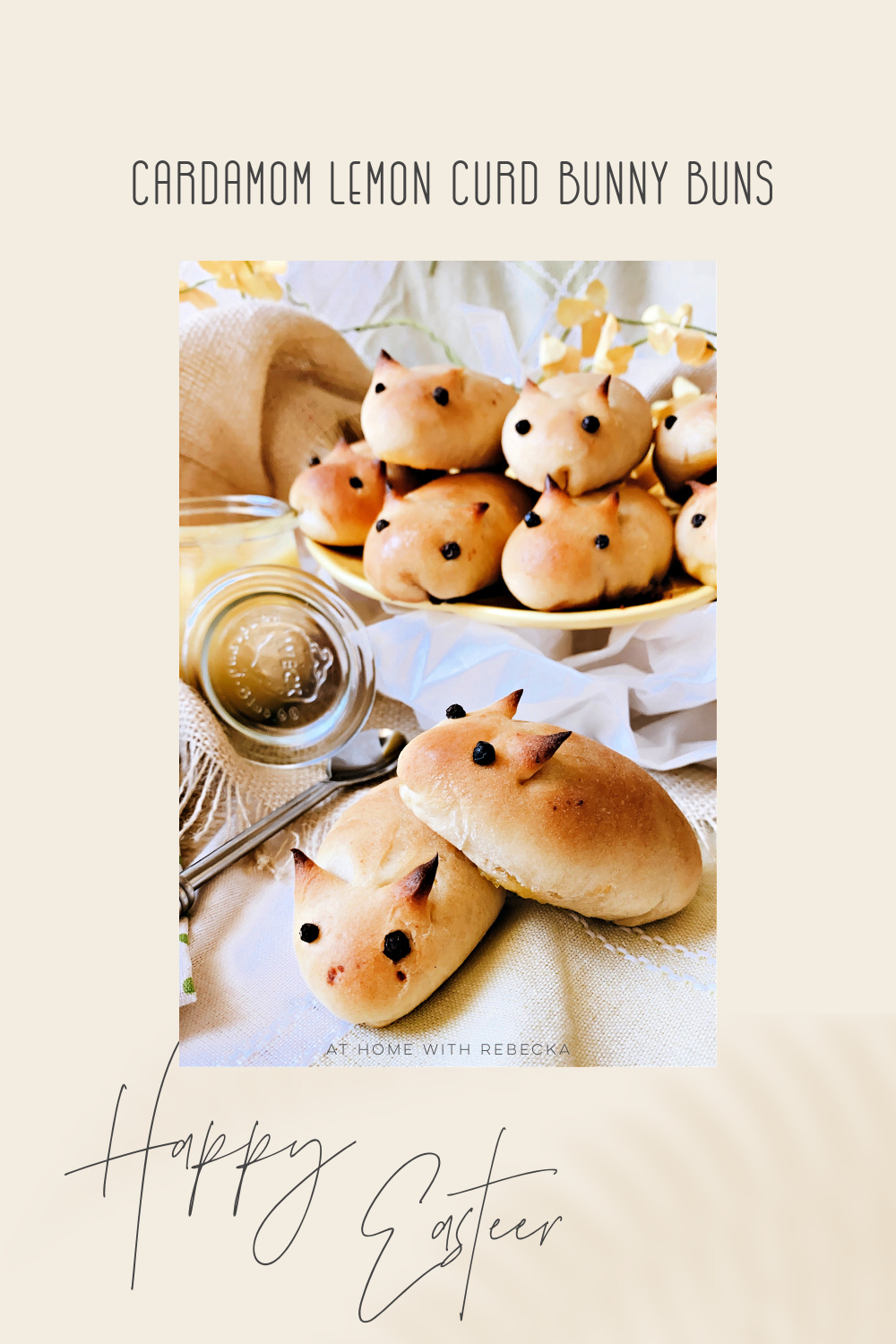 Easy Easter Baking
Easter is just around the corner and the perfect time to bake a batch of Easter bread for friends and family.
These darling CARDAMOM LEMON CURD BUNNY BUNS are super easy to make and they taste delicious. The soft-sweet dough is filled with my easy microwave lemon curd and baked until they are perfectly golden brown. If you're in a hurry, the buns can be shaped without cutting the ears and adding the currents for eyes. Another time saver, use store-bought lemon curd for the filling.
Be sure to serve the buns with extra lemon curd and a hot cup of Earl Gray tea.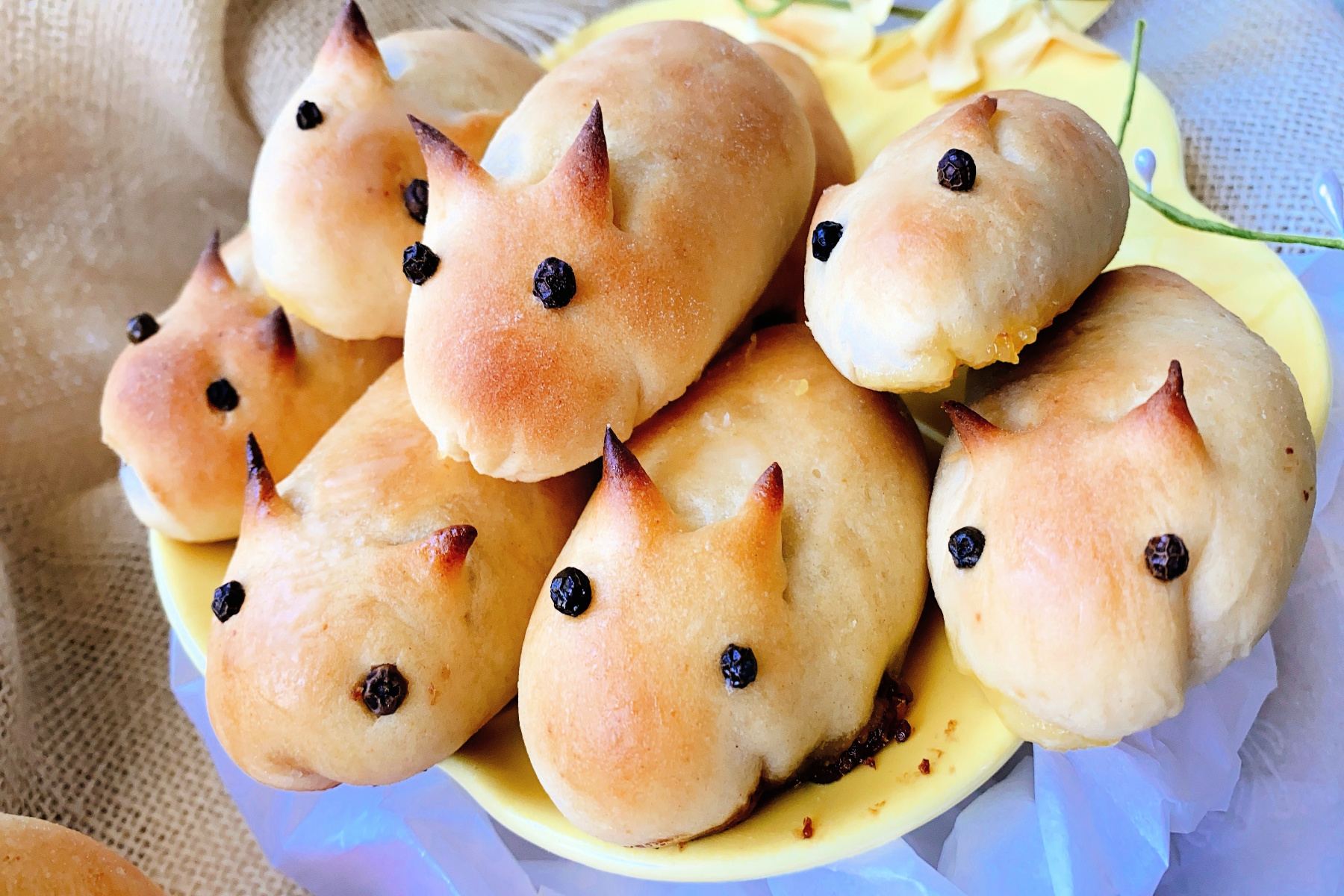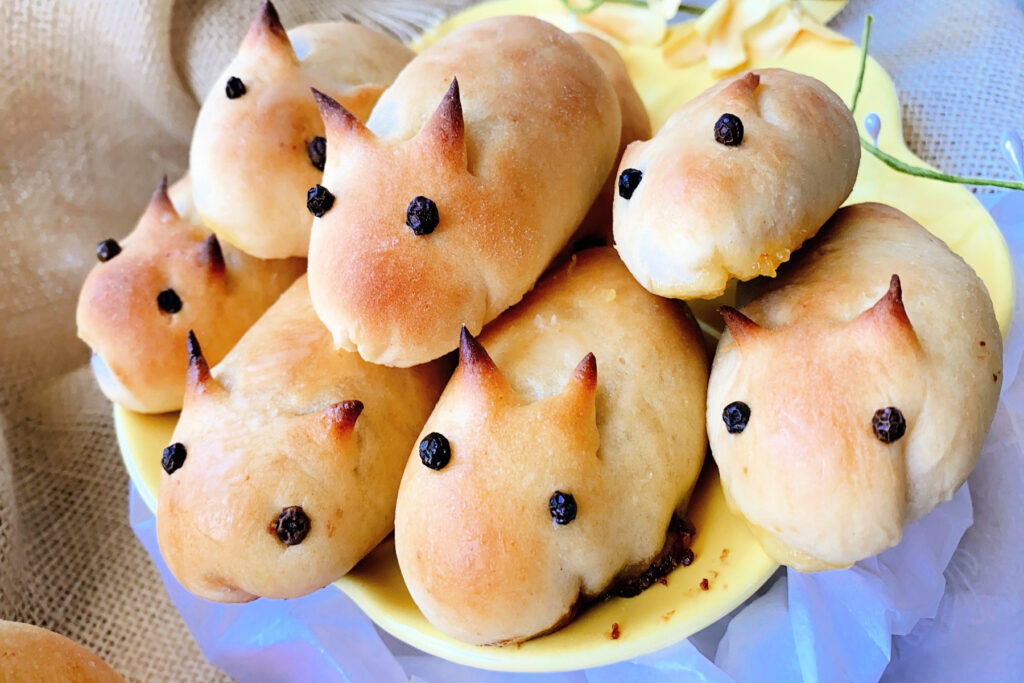 This post is featured in the incredibly informative publication, fyi50+ Magazine a Senior Life Magazine committed to inspiring, informing, and entertaining the 50+ audience. To read my monthly recipe article(s), subscribe to the online magazine, or order the hard copy version, visit this LINK.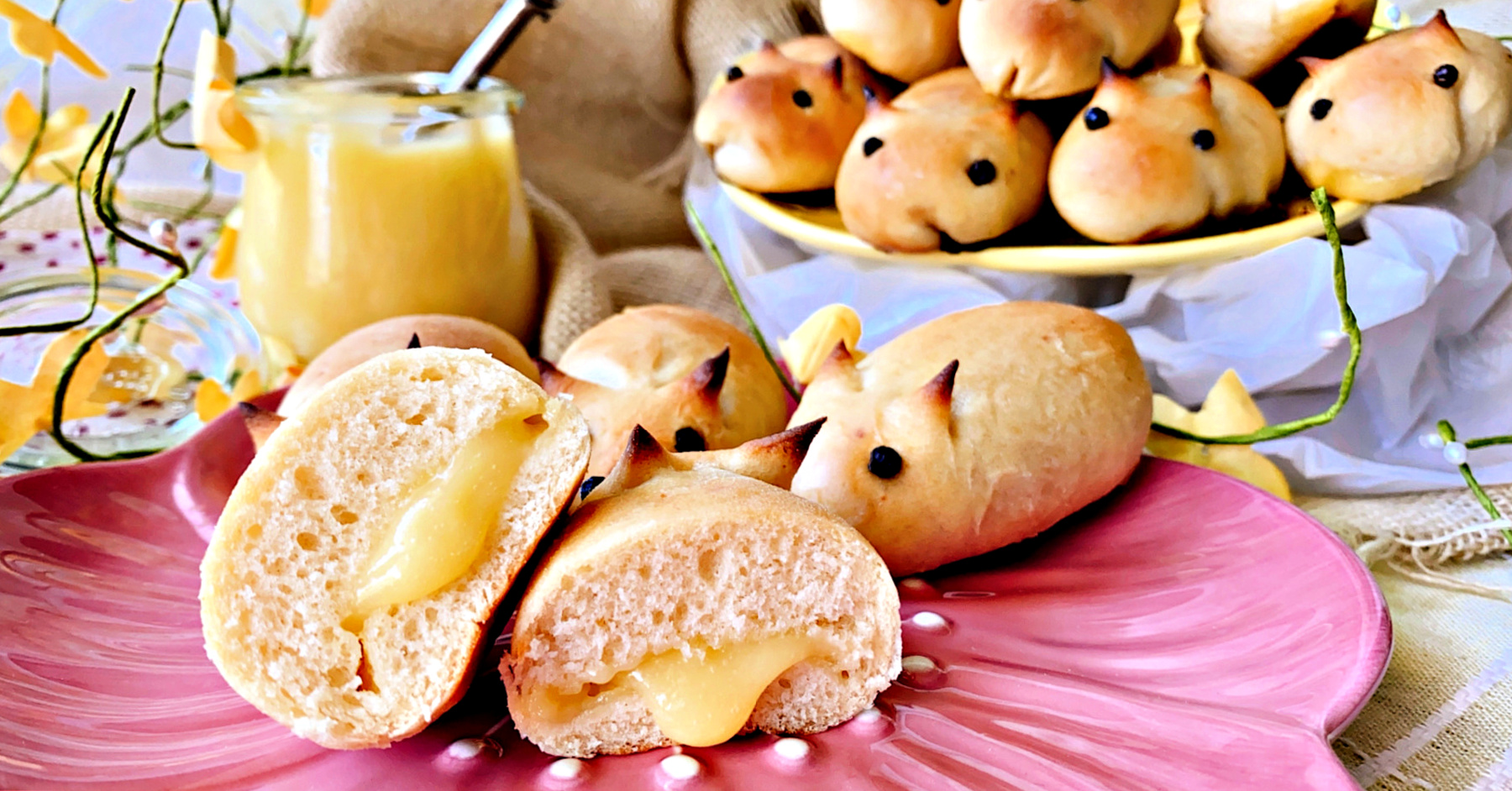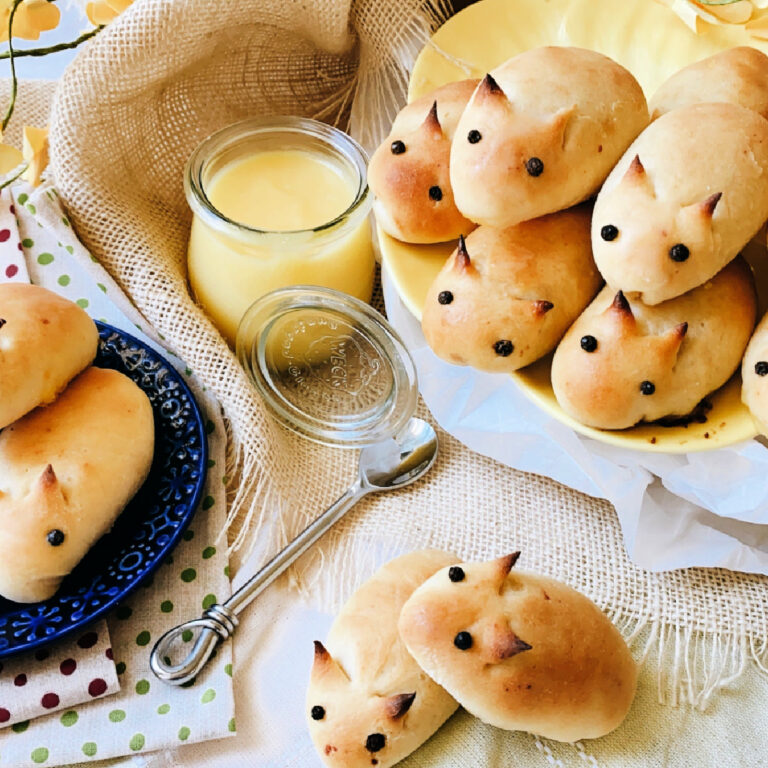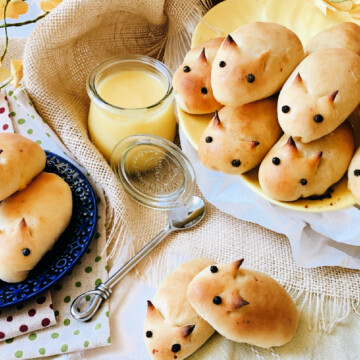 Cardamon Lemon Curd Bunny Buns
My inspiration for this recipe comes from my favorite holiday Easter and my love of baking with my kids and grandkids.
Ingredients
1

cup

plus 2 Tablespoons water - 100 degrees F

⅓

cup

vegetable oil

2

Tablespoons

Red Star Yeast

¼

cup

sugar

1

teaspoon

salt

1

egg

3 ½

cup

King Arthur Bread Flour

1

Tablespoon

ground cardamom

⅓

cup

melted butter

½

cup

prepared lemon curd or EASY Microwave Lemon Curd Recipe Below

3

eggs

1

cup

of sugar

1

cup

fresh Meyer lemon juice

3

teaspoon

lemon zest

½

cup

unsalted butter

melted

¼

cup

dried currants for bunny eyes
Instructions
Easy Microwave Lemon Curd:

In a microwave-safe bowl, whisk together the sugar and eggs until smooth. Stir in lemon juice, lemon zest, and butter. Cook in the microwave for one-minute intervals, stirring after each minute until the mixture is thick enough to coat the back of a metal spoon.

Remove from the microwave, and pour into small sterile jars. This step can be done the day before if using homemade lemon curd. Store up to three weeks in the refrigerator

For the Dough:

In a medium glass bowl, combine the water, oil, yeast, and sugar. Gently stir a couple of times with a rubber spatula and allow the mixture to rest for 15 minutes. After 15 minutes the yeast will be bubbly. In your stand mixer, add the bubbly yeast mixture, salt, egg,  flour, and cardamom. Using the dough hook, knead the mixture at medium-high speed until it forms a ball.

Place dough on a lightly floured surface and roll into a long snake shape. Cut it into 12 equal pieces. To make a small-sized bunny bun, cut the 12 pieces in half again.

Preheat oven to 400 degrees F.

Flatten a dough ball about 5" in diameter for the larger bunny bun, or 3 inches for the small bunny bun, making sure the edges are thinner than the middle.

Place 1 tablespoon lemon curd in the middle of the larger buns, or use 1 teaspoon for smaller buns. Don't overfill.

Gather up the dough around the filling, pinching to seal well. The dough should be moist enough to form a good seal, but if not brush the edges with a tiny bit of water

Flip the bun over, and form into a longish oval shape, rounding out any bumps if needed. Pick the side of the bun that looks best for the 'face' of the bunny.

Insert dried currants for eyes. Using a sharp pair of clean scissors, lay the point almost flat against the top of the bun lengthwise, right behind the eyes.

Snip two 'ears' taking care not to cut through the dough into the filling. However, too shallow a cut, and the ears won't stand up during baking.

Place the bunny buns on a parchment-lined cookie sheet and bake in 400F. oven for  12-15 minutes or until golden brown.

Remove cooked bunny buns to a cooling rack. Brush with melted butter and serve with more lemon curd
Notes
For gluten free version: substitute wheat flour with your favorite rice or oat flour
Recipe Makes: 16-20 buns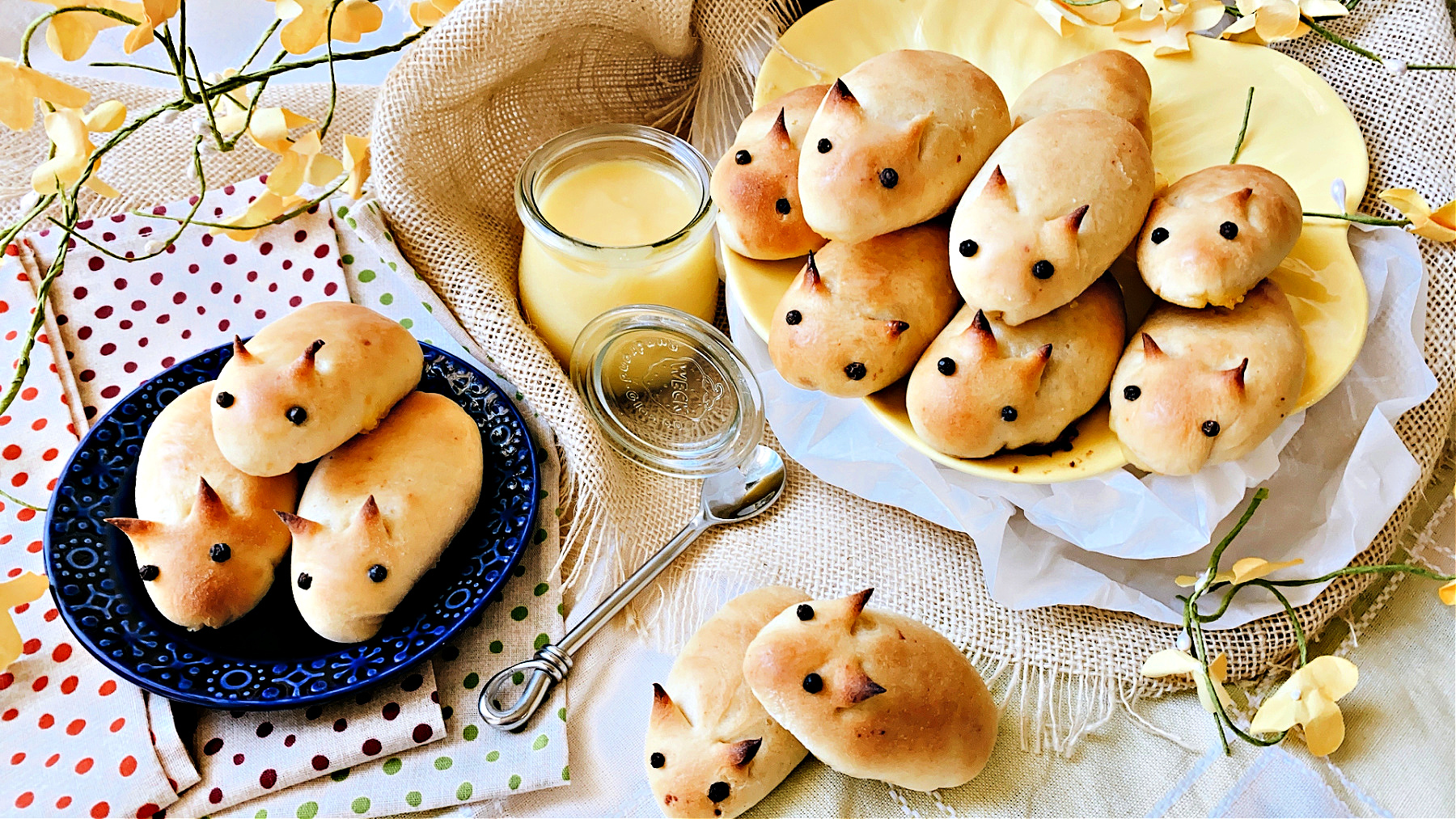 Happy Easter to all my followers, family, and friends.
Romans 10:9 Chapter If you declare with your mouth, "Jesus is Lord," and believe in your heart that God raised him from the dead, you will be saved.
Luke 24:6 Chapter Parallel Compare He is not here; he has risen!