Pumpkin pie soup is the perfect soup for fall! The rich pumpkin flavor, balanced by pumpkin pie seasoning and a savory base, is pure nirvana!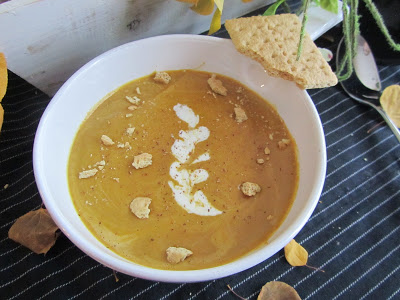 Pumpkin Pie Soup is ridiculously easy to make, tasty, and one of my favorite Fall recipes.
I posted the original recipe all the way back in October 2011. It's such a delicious and heart warming dish, I just had to share it again.
To learn more about the origin of this recipe visit my original post HERE.
Pumpkin Pie Soup
2016-10-06 03:15:33
Ingredients
Pumpkin Pie Soup
serves 6
1 tablespoon vegetable oil
45 ounces canned pumpkin
1/2 cup white onion
1/2 cup carrot
1/4 cup celery
2 teaspoons chicken base (substitute vegetable stock for vegetarian version)
4 cups water
1 cup apple cider
1 1/2 cups heavy cream
1/2 teaspoon ground nutmeg
1/2 teaspoon ground ginger
1/2 teaspoon ground clove
1/2 teaspoon ground allspice
1 1/2 teaspoons ground cinnamon
3/4 cups granulated sugar
Instructions
Roughly chop onion, carrot, and celery, add vegetable oil to a heavy bottom 5 quart stock pot, cook vegetables on medium high heat, until onions are translucent, do not brown
Season with salt and pepper
Add water, apple cider and chicken base to vegetables, stir and cook for 5 minutes. Lower heat to medium and add canned pumpkin and spices, stir to combine and cook for 5 minutes more.
Remove from heat and blend ingredients with a immersion hand held blender until mixture is smooth, return to heat
Reduce heat to low and return stock pot to stove top, add heavy cream and simmer for 30 minutes.
Serve with ginger snaps or graham crackers and a dollop of whipped cream.
Notes
Enjoy your bowl of this hot liquid heaven!
Adapted from Inspiration: Chef Joe
Adapted from Inspiration: Chef Joe
https://athomewithrebecka.com/