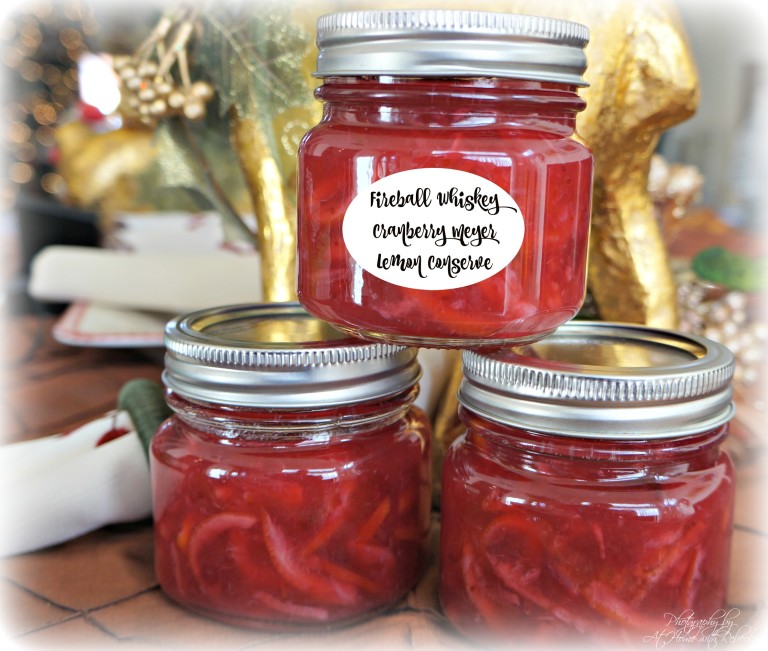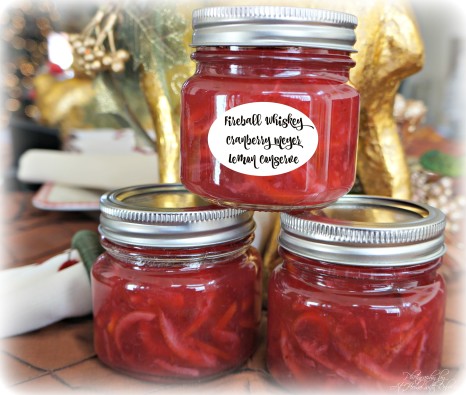 FIREBALL Cranberry Meyer Lemon Conserve...the perfect cranberry side dish, just in time for your holiday feast.

I've been in the kitchen the past few days doing my best to put up four bushels of home grown Meyer lemons; I can't believe there are still more lemons on the tree.
Guess what the neighbors will be getting from Santa this year?
In addition to my regular Holiday recipes, I decided to create something new for my holiday feast, featuring my homegrown Meyer lemons. A twist on my traditional cranberry sauce recipe, I added 3 cups of thinly sliced Meyer lemon skins to a 16 ounce bag of fresh cranberries then spiked the mix with some warm, cinnamon goodness, Fireball Whiskey! The combination of flavors, taste like Christmas on a spoon! It's the best cranberry conserve/sauce I've ever made and it will go perfectly with my Christmas Garlic Prime Rib Roast.
Fireball Whiskey Cranberry Meyer Lemon Conserve...You'll need to try this one... it's a winner!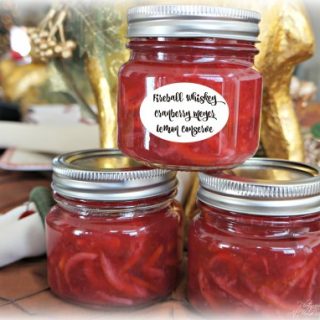 Fireball Whiskey Cranberry Meyer Lemon Conserve
Scrumptious version of cranberry sauce with cinnamon heat
Ingredients
1 16

ounce

bag fresh cranberries

about 3 cups

3

cups

thinly sliced Meyer lemon peel

4

cups

sugar

2

cups

fresh squeezed lemon juice

¼

cup

bottle lemon juice

2

cups

water

2

whole cinnamon sticks

broken into thirds

5

whole cloves

1 1

" sprig fresh rosemary

1

cup

Fireball Cinnamon Whiskey

2

packages liquid pectin
Instructions
Wash lemons in cool water

Juice lemons, measure and reserve

Thinly slice reserves lemon peel

Strain lemon juice to remove pips

Combine lemon juice, sliced lemon peels, cranberries, sugar, water, cinnamon stick and whole clove

Bring to a boil, reduce heat and simmer for 30 minutes

Add Fireball Cinnamon Whiskey and fresh rosemary

Bring to a boil, stirring to combine

Add pectin and bring back to a boil, cook 2 minutes

Check gel by adding a small amount of mixture to a cooled plate. If mixture holds its shape fill sterilized jars and process jars in a hot water bath for 15 minutes. If the mixture is still not setting, boil additional 2 minutes.
Notes
If NOT canning the recipe save in airtight jar/container and refrigerator for up to 2 weeks or use immediately.
Conserve is soft set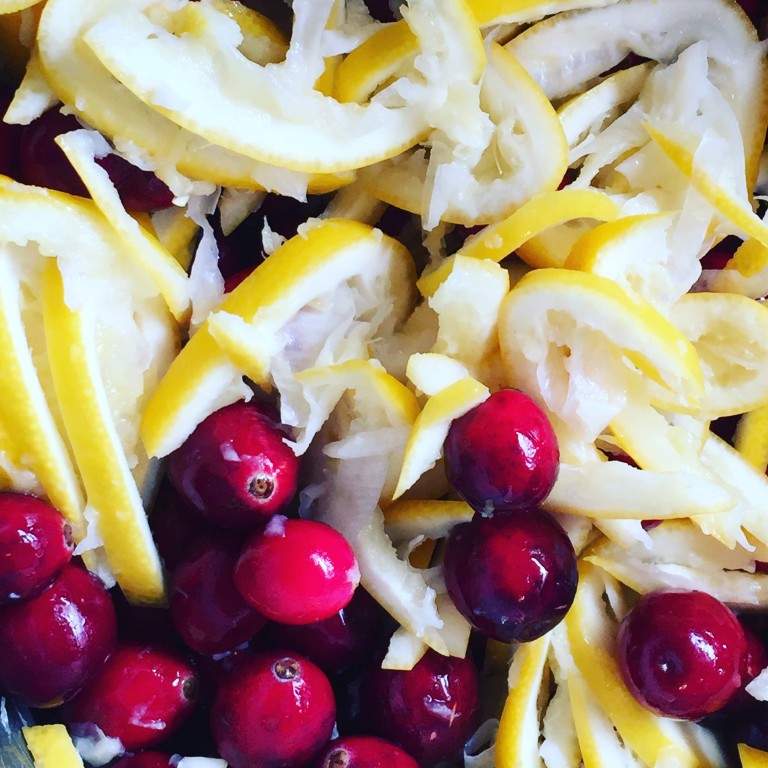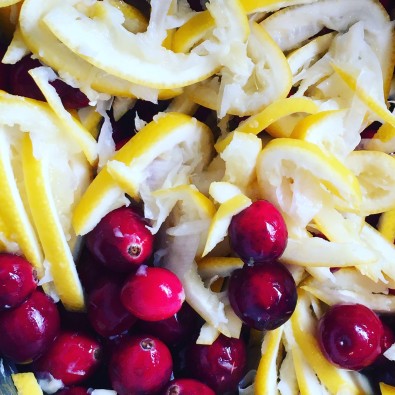 Looking for more lemon recipes for the holiday? Here's the shortlist I've baked and canned this week: Meyer Lemon Habanero Jelly, Lemon Marmalade, Lemon Cake Bars, and Gingerbread Cake with Lemon Cream Glaze, just to name a few. I've also put up two giant jars of preserved lemons...recipes to follow, and plan to make a few more lemony desserts.