World Food Championships 2015: My Food Sport Journey, PART 1 ...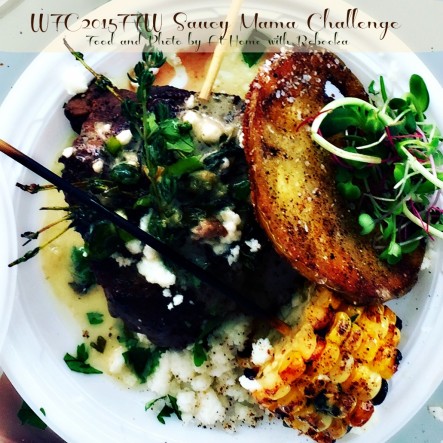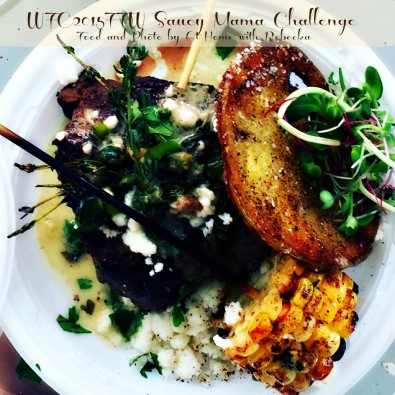 I began my World Food Championships 2015, "Food Sport" journey, November 2, 2015 in Celebration FL, at the First Annual, Food Fight Write Bloggers Conference. Nine days later, I left the Kenmore Kitchen Arena a bonafide Food Champion, placing 4th in the World, in the Top Ten Category of Bacon! It was a fun-filled, action packed journey, with so much to share I can't fit all the delectable details into just one post. This is the first installment of my food sport journey; stay tuned for more, as I will be sharing ALL of my WFC winning recipes over the next few weeks.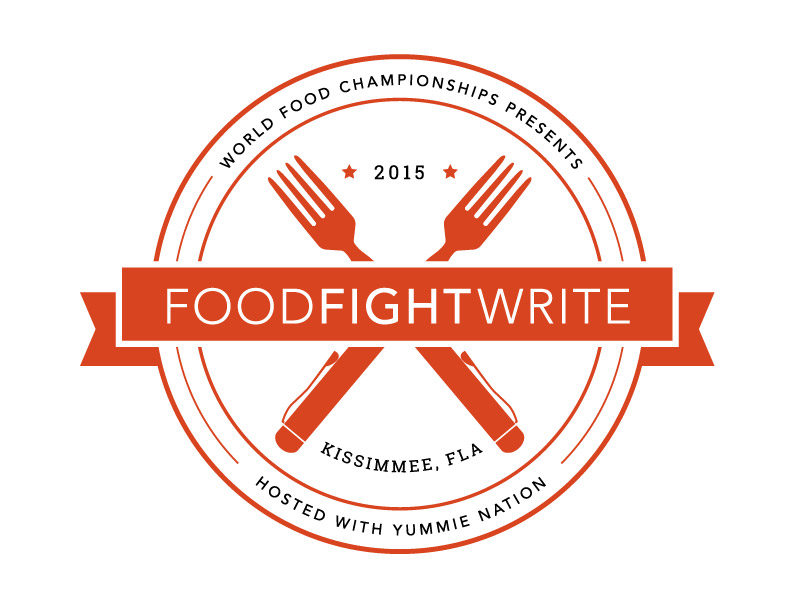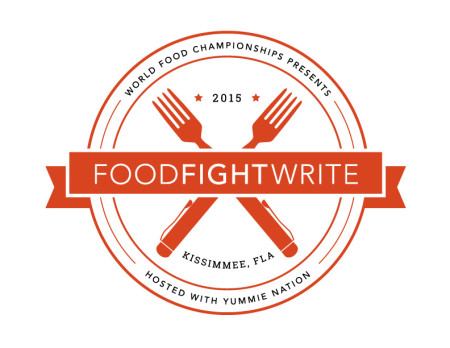 Arriving from every neck of the wood, we all converged on Celebration Florida for the World Food Championships Blogger Summit 2015. Each of us was expected to roll out our pens, put on our aprons and throw it down in the Kenmore Kitchen Arena as the Opening Round Competition of this year's World Food Championships! When they said we would be treated to 3 jam-packed days of "Yummie" info, demos and competition, they weren't kidding. We hit the ground running the first day, with professional Head Shots and we didn't stop moving until the World Food Championships, WELCOME RECEPTION held at the Westgate Ship Wreck Island Waterpark, where the winners of the First Annual Saucy Mama, Blogger Competition were announced.
WFC FoodFightWrite showered us with three days of VIP treatment; they wined and dined us on delicious farm to table offerings from around the Florida Gulf region. My Yard Farms, and the Happy Egg Company, were just two of the fabulous companies represented. We were treated to some amazing guest speakers, the likes of...Emily Ellen, Food Network's "Food Network Star," and "Cupcake Wars" winner (just a few of her accolades), and Norway's own, Manuela Kjeilen creator of the blog, Passion4baking. Her blog was named Norways most beloved blog in 2011. We also heard from 2013 World Sandwich Championship winner, Jennifer Dascevich, Owner Shubee's Coastal Bar and Grill; shared tips on how to prepare and survive the trials of food competition as well as, expert tips from other, past WFC Top Ten winners.
One of the most memorable moments of the conference was sharing lunch with killer whales, at Shamu Stadium! Florida's Sea World, Executive Chef Hector Colon served our group, tastes from every food vendor in the park. I'm happy to say it's the best "Park" food I've ever eaten; next time you're visiting Shamu, try the Lobster Mac and Cheese.
Mike McCloud the President and CEO of MMA Creative and the mastermind of the World Food Championships, shared his vision for the future of food sport as well as, his genius scoring technic for WFC food judges the "EAT Methodology", and finally introduced us to a new face in Kenmore Kitchen Arena...the professional Cheferee.
In conjunction with WFC, Beth Clinton Peterson, Owner of Yummy Nation, and the 2013 World Recipe Champion, spoke about how winning WFC Recipe 2013 has changed her life as a food blogger and competitor. She also shared the exciting news of partnering with one of my favorite social media gathering places, the Foodie Blogroll. Yummy Nation has a bright future in store.
Our three day food blogger event, culminated in the First Annual Saucy Mama Blogger Challenge. Special thanks to Barhyte Specialty Foods and Collete Harris for supplying us with a choice of six Saucy Mama's, off the chain, mustards, marinades and dressings, to create their best sauce for Kansas City Steak Company, stunning filet mignons.
Amy Green and Jessica Iannotti, the leading ladies of FoodFightWrite and their team ...offered bloggers a "real" competitive cooking experience, one that exemplified what competitive chefs deal with on a regular basis. It's one thing to write about food competition but entirely another to experiencing a competitive event first hand. As a food blogger and food competitor, food sport is the hands-down winner over blogging however, that all hinges on the fact that I struggle to be a good writer and find myself taking days to finish a post, agonizing over punctuation and word choice. Getting in the kitchen with a set of sharp knives and a pantry full of food stuff is exhilarating, and there's no time to question punctuation! After six years of hard work and determination I finally made it to the show...this being my first hands-on competitive cooking experience.
Ask to bring only a fork and pot holder, we had very little information when preparing ideas for our recipes. Competitors were informed that they would be grilling or sautéing Kansas City Steaks, Filet Mignon with the use of Saucy Mama products. My competitive nature and detail oriented personality took control several weeks prior to the event. After perusing the Saucy Mama website for recipe ideas I chose the Peppercorn Marinade, and even ordered a bottle to do a practice run. What I didn't expect, was to have a few twists and turns thrown our way before the competition. NO Peppercorn marinade was to be found..talk about leveling the playing field. I was back to square one, cooking with a sauce I had only tasted the day before. To make matters more challenging, we found that there were only three or four bottles of each Saucy Mama product to be shared with 40 competitors. Yikes!
Minutes before the whistle blew, we were shown to a meager table set with an assortment of veggies, a few utensils, pot holders and a few "funny" knives to use for the challenge. Thankfully, I had my Hammer Stahl Knife set with me, and I didn't have to fight my competitors for a "not so" sharp knife. I wasn't worried about fitting over ingredients as I has already purchased some fresh corn on the cob and two jumbo green tomatoes, a cube of Cotija cheese, jalapeños, poblano peppers, butter and some limes. These items kept me away from the fray at the table of food fighting bloggers. The last step for me was to get my hands on a bottle of Saucy Mama, Poblano Ranch.
In food sport, competition may be fierce but in the end we're all still friends! I agreed to share a bottle of Poblano Ranch with a fellow competitor Amy Barrett! THANK YOU!! We both had enough to make our sauces and we didn't have to fight over it! I just love that!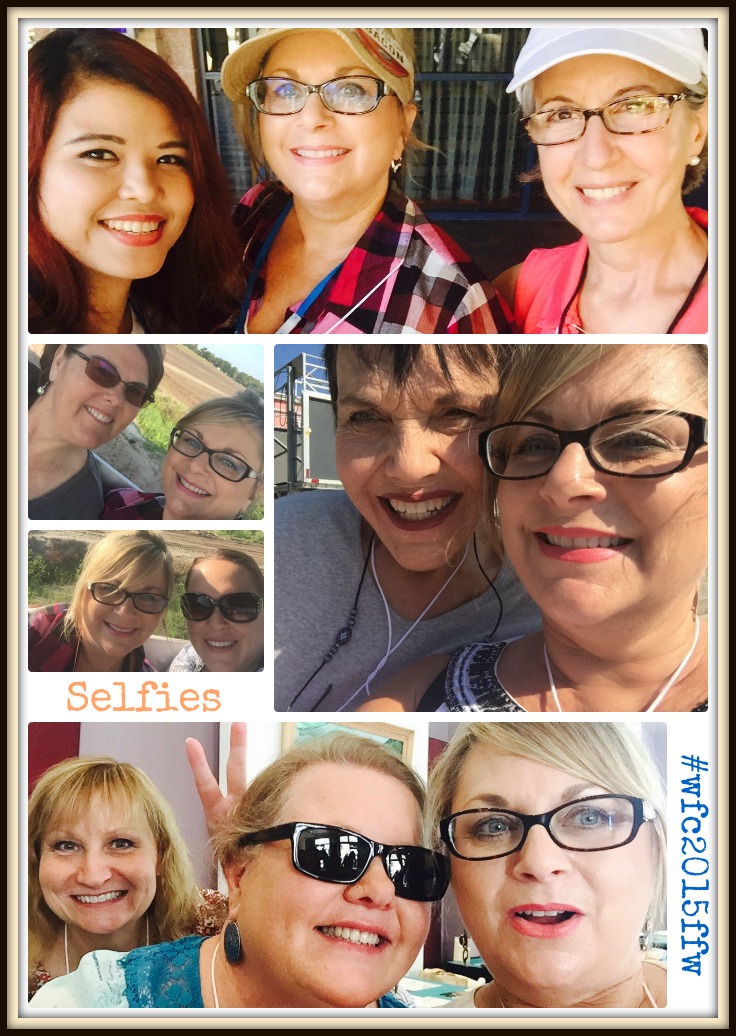 My Sante Fe Filet with Poblano Ranch Pan Sauce, Roasted Corn Skewers and Corn Fried Green Tomato Chips... Won FIRST PLACE!! What? I was stunned when they announced my name and so happy to win the competition.
Ken Hulme, The Kilted Cook won Second Place with his reverse seared filet (I tasted it...it was delicious), and Cho Wut Yee, Wutyee Food House took home Third Place, with her Smokey Garlic Filet! Cho came all the way from Yangon, Myanmar to be a part of the blogger conference. She is a well known TV food personality in her country and has a following of over 220K on Facebook. She is also one of the most beautiful and charming young women I've ever met.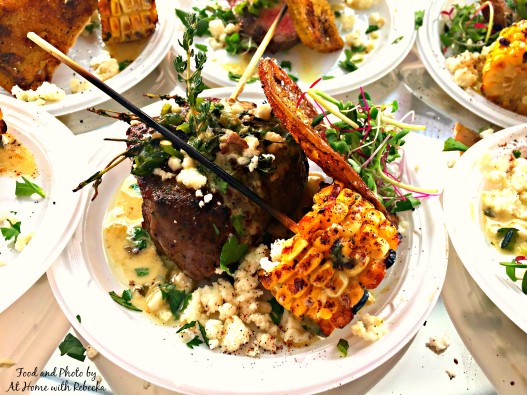 This Gamma learned a new trick at the conference! Special thanks to Wendy O'Neal from Around My Family Table for teaching me how to take better SELFIES!! I owe you one!!
Also, special thanks to; Laura Peterson from Pink Cake Plate for sharing some BAD HAIR DAYS with me in the Florida heat and humidity. Dear Lord, we wished it was cooler! To Lisa Keys from The Good Grief Cook for sharing so many special moments together at #WFC2015ffw & #WFC2015, and your gracious heart with me. Finally, to my beautiful Lady Nann (Nancy Judd) for your winning spirit!
Finally, My World Food Championships 2015 recipe for this FIRST PLACE WINNING DISH!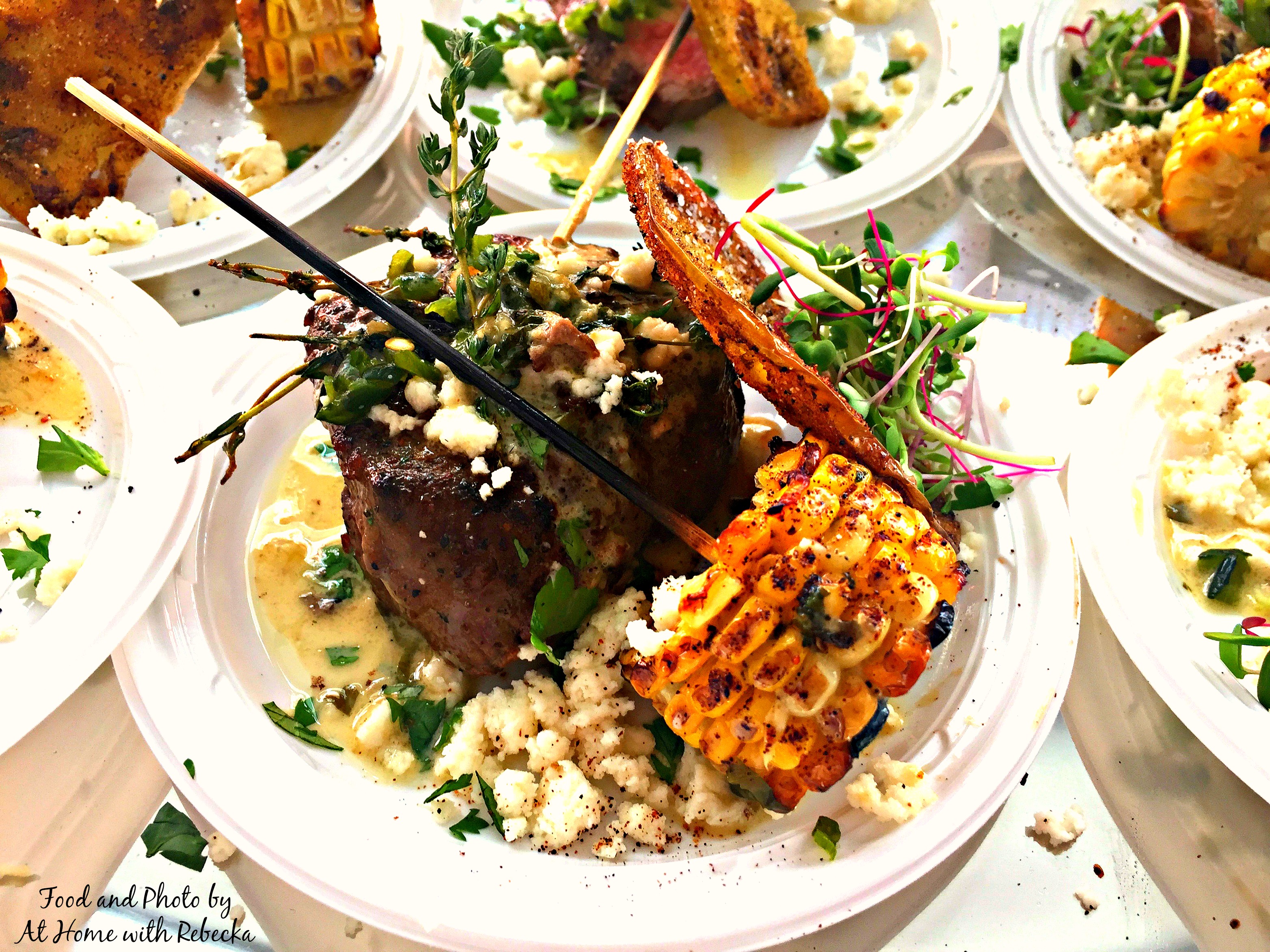 Sante Fe Filet with Poblano Ranch Pan Sauce, Roasted Corn Skewers and Corn Fried Green Tomato Chips
1ST Place -Award Winning Recipe World Food Championships 2015 FFW-Saucy Mama Blogger Challenge
Ingredients
3

Kansas City Steaks Filet Mignon

1

cup

Saucy Mama Poblano Ranch Dressing

5

cloves

garlic

smashed and chopped, divided

½

cup

chicken stock

divided

1

cup

olive oil

divided

½

cup

butter

1

large poblano pepper

roasted and peeled

1

jalapeno pepper

roasted and peeled

2

ears fresh corn

1

large green tomato

½

cup

fine corn meal

2

limes

one sliced for garnish and the other juiced

3

tablespoons

Cotija cheese

1

teaspoon

red chili powder

1

bunch thyme

1

bunch cilantro

Sea salt and fresh ground pepper to taste

long tooth pick skewers
Instructions
Heat grill to 400 degrees

Season the filets liberally with sea salt, rest for up to 1 hour at room temperature

CORN: Roast corn in husks for 10-15 minutes, remove husks and cut corn into 1-inch rounds

Skewer each round with a long tooth pick, grill 2-3 minutes to char kernels. Set aside until ready to plate

PEPPERS and Poblano Ranch SAUCE: Roast jalapeno and poblano peppers until black char. Put roasted peppers in a plastic baggie and rest for 5 minutes. Remove from baggie and peel skin. Do not rinse peppers in water as it removes the flavor. Dice peppers and blend together with 3 tablespoons butter, 1 teaspoon garlic, 1 cup Saucy Mama Ranch dressing, ¼ cup chicken stock and juice from one lime. Cook over medium heat till hot, keep warm

GREEN TOMATO: Slice green tomato very thinly

In a small mixing bowl blend ½ cup corn flour with ¼ teaspoon salt and pepper

Heat ½ cup olive oil in sauce pan. Dip cut tomatoes into corn flour, and coat evenly. Cook in hot oil until crisp. Drain on paper towel, sprinkle with sea salt

FILET MIGNON: Heat a non-stick or cast iron skillet on medium high heat. Add 2 tablespoons olive oil to pan, add filets. Sear on one side for 3-5 minutes depending on the size of the filet. Using tongs, flip the filet and cook another 3 minutes, add springs of thyme, remaining garlic cloves and 3 tablespoons butter. Bast the filet with butter and continue to cook 3-5 minutes or until cooked to rare or medium rare. Rest filets for 5-8 minutes

Deglaze pan with remaining ¼ cup chicken stock, scrapping up all the brown bits from the pan. Add pan juices to Poblano Ranch sauce to create the best pan sauce... ever!

TO GARNISH: Place cooked filets on plate, stand a fried green tomato next to filet, add roasted corn skewer. Drizzle the filet, corn skewer and plate with Poblano Ranch Pan Sauce, sprinkle with Cotija cheese and chopped cilantro. Add more thyme sprigs and a lime wedge. Sprinkle with a dash of red chili powder and serve.
Remember to stop by for another installment of my WFC winning recipes. There's still so much to share!