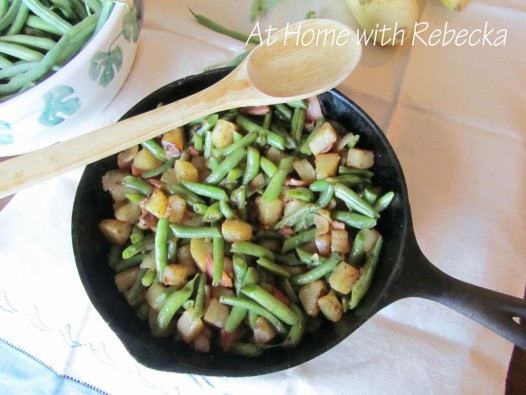 This recipes is one of my favorite summer fresh creations. Filled with flavorful memories of hot summer days in the garden with mom, the crisp cut green beans snap alongside the creamy texture of the sauteed potatoes and onions.  Bacon rounds out the dish with its savory smoke flavor.   
The simple flavors of summer express themselves in perfect harmony in this basic side dish!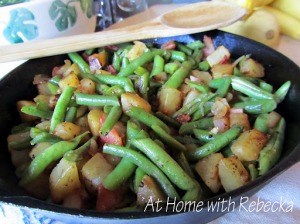 Sharing the dish for lunch with my son, I prefer mine with a splash of red wine vinegar and a sprinkle of scallions. My son gobbled his share right from the pan.
Fresh Cut Green Beans, Sauteed with Potatoes, Bacon and Onions
Recipe
serves 4
1 pound fresh green beans
1 medium white onion
3-4 medium potatoes
¼ pound bacon
2 tablespoons butter
red wine vinegar
2-3 scallions
salt and pepper to taste
Method
Cook bacon in a large cast iron skillet over medium heat until crisp, remove bacon and all but 1 tablespoon bacon fat

melt 1 tablespoon butter in pan

add potatoes and onions and cook covered, stirring frequently until potatoes are tender but not soft.

add cut green beans, remaining 1 tablespoon butter, cover and cook for 12-15 minutes, stirring occasionally

salt and pepper to taste

serve with red wine vinegar, garnish with chopped scallions
DELISH!!