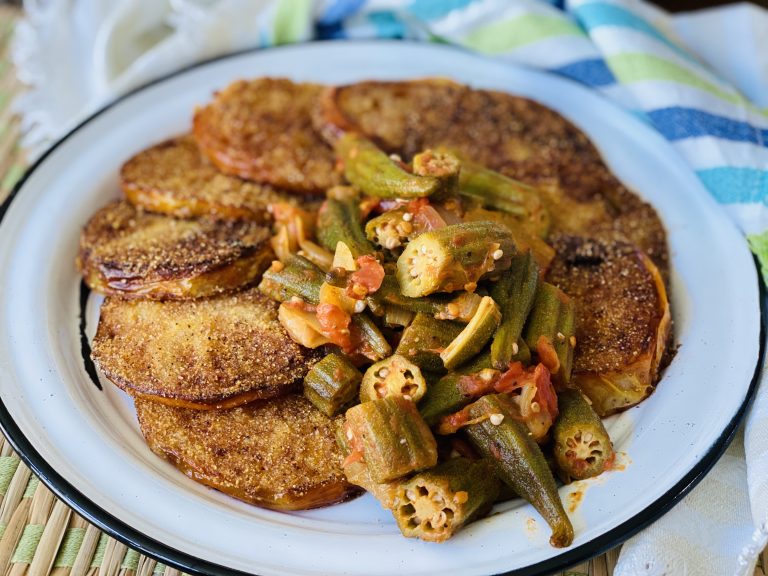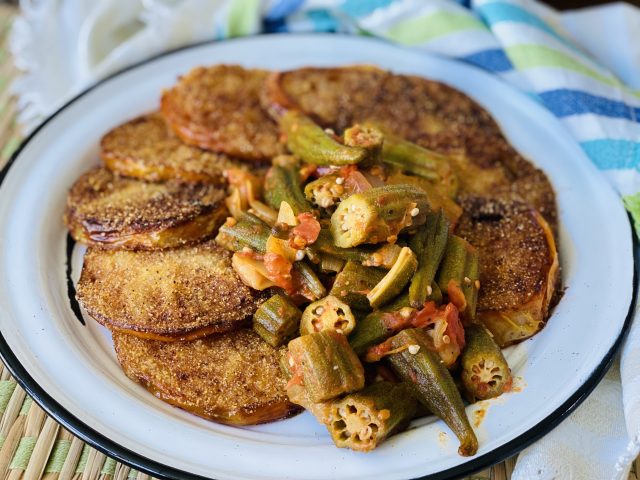 My Fried Green Tomato Addiction
My fried green tomato addiction is no secret as you search through my recipe archives. I love them so much that I've posted several different recipes to my blog over the years.
I'm blessed to live in the South where green tomatoes are available at the local grocer almost year-round, so my addiction is well feed.
Late Summer Harvest
For those of you that live in cooler regions of the country, you have just a few weeks left to harvest those late summer green tomatoes from your garden or pick some up at the local farmers' market.
Recipe Versions
For more fried green tomato recipes just type fried green tomatoes into the SEARCH bar to see at least five different versions.
This version is one of my favorites. The combination of the two tomato flavors is incredibly delicious married with the okra and sauteed onions.
Versatile
The recipe is versatile enough to serve for breakfast, lunch, or dinner. Eat them as is or add a couple of poached eggs for breakfast, a few slices of fried spam for lunch, and grilled steak or chicken at dinner.
Fried green tomatoes with sautéed okra and fresh red tomatoes make my belly happy.
Six Ingredient Recipe
The recipe is super easy to make and utilizes just six ingredients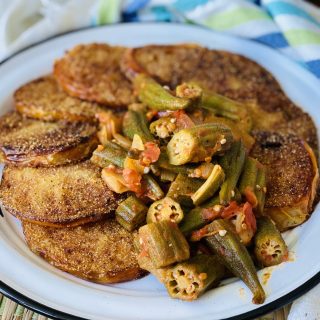 Fried Green Tomatoes with Okra and Red Tomato
Ingredients
2

large green tomatoes

sliced thinly

1

cup

chopped red tomato

1

cup

fine cornmeal

½

pound

okra

rinsed, towel-dried, cut into ½ inch pieces

¼

cup

chopped white onion

1

cups

of vegetable oil

plus 2 tablespoons

salt and pepper to taste
Instructions
Heat large skillet over medium-high heat. Add 1 cup vegetable oil. Heat until oil is very hot but not smoking

Slice green tomatoes thin and dust each side with cornmeal and fry in hot oil till crisp. Continue the same method for the remaining tomatoes. Add more oil if necessary

Drain cooked green tomatoes on paper-lined plate and season with salt and pepper

Heat a second large skillet over medium-high. Add 2 tablespoons vegetable oil and a single layer of chopped okra. Cook okra until nicely browned turning several times. Remove okra from pan. Add 1 tablespoon oil to the same skillet and saute chopped onion till translucent. Add red tomatoes and cook the mixture until tomatoes are soft. About 3 minutes

Return okra to the pan and toss to combine. Cook mixture for an additional 3 minutes.

Season with salt and pepper and serve immediately with fried green tomatoes.
Notes
Cooking the okra separately over high heat reduces the sliminess and enhances the okra's sweetness from caramelization