Prime rib roast is an elegant, succulent roast to serve for the holidays.
Smothered in garlic and cooked to perfection; Christmas dinner is not complete without my perfectly cooked Prime Rib Roast.
The Christmas sideboard includes other family favorite recipes: Homemade cranberry sauce, creamed onions, green bean casserole, sour cream mashed potatoes, spinach-artichoke bake, and baked sweet potatoes, just to name a few. Of course, we can't forget about the pies for dessert!
What are you cooking this Holiday Season? 
If you don't have a menu plan yet, this prime rib roast recipe would be a wonderful choice!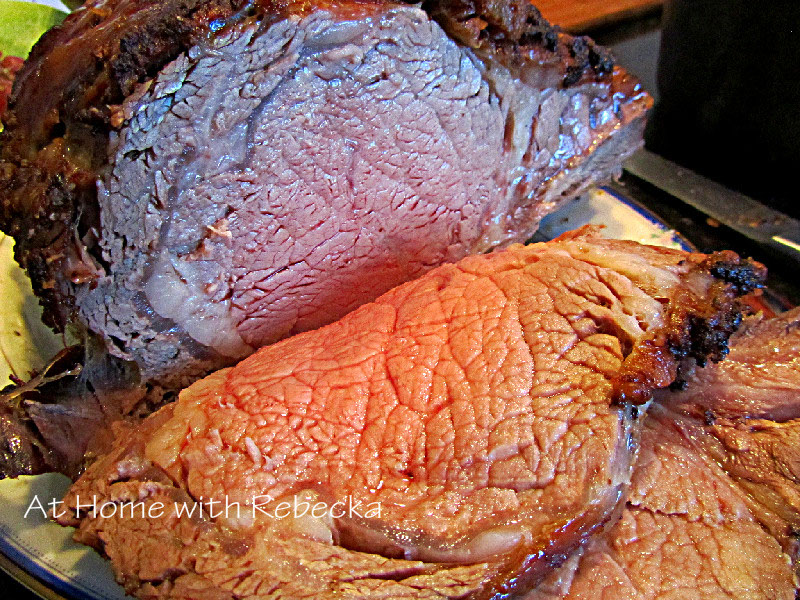 Garlic Infused Prime Rib Roast with Red Wine Gravy
Simply ingredients prove to be the best when cooking a rib roast.
Ingredients
Prime Rib Roast

1 16-20

pound

bone in prime rib roast

5

large heads peeled

and grated garlic

¼

cup

coarse ground sea salt plus a few pinches for veggies

1

tablespoon

fresh grated pepper

2

tablespoons

olive oil

Aromatics: 1 large onion

3 large carrots, 4 stalks celery, 2 bay leaves, 1 cup water or beef bouillon.
Instructions
Pat dry a room temperature rib roast using paper towels or a clean cloth

pre-heat oven to 450 degrees

place a large wire roasting rack into large roasting pan

roughly chop all aromatics and toss into the bottom of the roaster, add fresh ground pepper to taste, drizzle with extra virgin olive oil

In a small mixing bowl, combine garlic, ¼ cup sea salt and 2 tablespoons olive oil. Combine to create a thick paste

Cover entire rib roast with garlic rub, massaging firmly

Place meat on roasting rack, loosely cover with aluminum foil

cook in 450 degree oven for 35 minutes, do not open the oven door but reduce heat to 400 degrees and continue cooking until internal meat thermometer reaches 140-145 degrees. About 3 hours

Remove tin foil 20 minutes before serving, test for doneness. If desired temperature is acceptable, remove roast from oven and loosely cover with previously used tin foil and then cover foil with a clean dish towel

allowing roast to stand for 30 minutes or up to 1 hour before serving,

The result, perfectly cooked, rare center roast and medium rare ends
Prime Rib Red Wine Gravy
Remove aromatic solids from the roasting pan and discard, reserving pan juices. Combine 3 tablespoons all-purpose flour, 1 cup red wine. in a jar with a tight-fitting lid, shake mixture until well blended. Place the pan on the stove top covering the back and front burners, heat both burners to medium. Deglaze the pan with the wine flour mixture, making sure to scrap all the browned bits to collect all the rich flavor. Add more wine or beef stock if gravy is too thick, salt and pepper to taste, serve with roast and mashed potatoes!
Notes
My family prefers medium to medium well roasts, so I generally add 10 minutes to the cooking time after the meat thermometer reaches 145 degrees, producing a hot pink center (for me and my husband) and a juicy medium to medium well for the rest o the family. My dad takes the burnt ends!