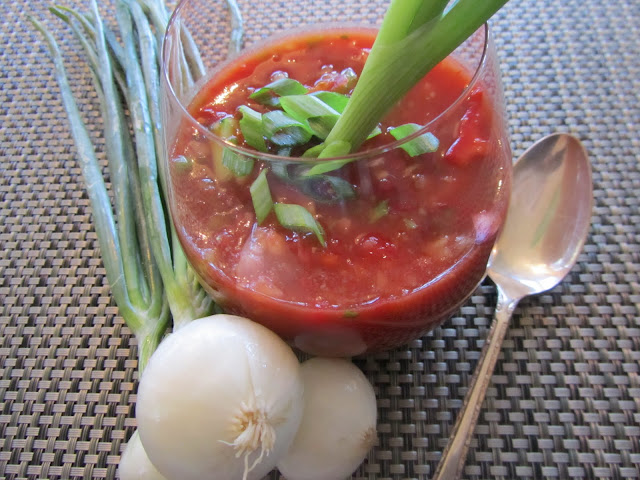 Gazpacho is the quintessential summer meal.
A cold tomato soup originating in Southern Spain from the sunny region of Andalusia. Gazpacho can be pureed until smooth or served chunky - with a variety of diced vegetables. You can give a Mexican twist to the Gazpacho soup by adding some diced avocado and jalapeno peppers. After preparing the gazpacho soup, refrigerate in an airtight container for at least 30 minutes in order to blend flavors; the soups flavors intensify the longer it rests.
To make the meal sing serve a fine glass of red wine.  Unfortunately, I was out of my favorite red from Spain so I decided on a French 2001 Appellation Saint~Joseph Offerus. A

Rhône

wine offering a powerful, earthy, gamey expression of a Syrah with a cherry finish. The full flavor of the wine stood up beautifully against the acidity of the tomato based soup.
Gazpacho Recipe
6 vine ripe plum tomatoes chopped
1 large cucumber seeded and peeled
½ large purple onion thinly sliced
1 red pepper seeded and chopped
1 green pepper seeded and chopped
Method
Chop tomatoes coarsely, seed and peel cucumber and rough dice, chop celery, onion, peppers, jalapeño and add all ingredients to a large mixing bowl. Stir to combine, salt and pepper to taste, add hot sauce to taste (optional).
Chunky Gazpacho: Pulse 2 cups of vegetables in a blender, do not purée, return blended soup to mixing bowl and stir to combine, chill soup for 30 minutes before serving. Soup is best if made a day ahead.
Garnish with fresh spring onion tops and serve cold